What Triple H And Nick Khan Reportedly Said During Talent Meeting Before WWE Raw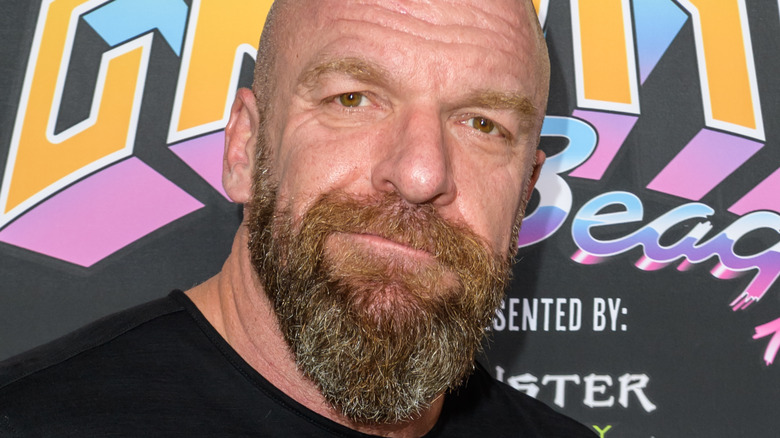 Jason Koerner/Getty Images
CNBC initially reported Sunday afternoon that Endeavor was nearing the acquisition of WWE, merging them with UFC in the process. That report was made official Monday morning when WWE Chairman Vince McMahon and Endeavor's Ari Emanuel confirmed the deal to establish a brand-new publicly traded company. McMahon quickly attempted to assure employees via email that day-to-day operations wouldn't be changing in the wake of the deal, but nonetheless, there was both a staff and talent meeting held Monday afternoon. Fightful Select now has reported details from both.
Fightful reports that WWE President Nick Khan, Chief Content Officer Paul "Triple H" Levesque, and Chief Financial Officer Frank Riddick led the employee meeting, while Levesque and Khan ran the talent meeting. During the staff meeting, it was stressed that Endeavor's purchase of the company didn't mean they were taking over creative control or production of the show. However, there weren't many other details given in terms of how this merger may affect other areas.
During the talent meeting, Khan and Levesque touted their impressive WrestleMania numbers and once again reiterated that nothing was going to change under Endeavor. That said, Vince McMahon's name was mentioned on multiple occasions when discussing those who will be in control, though once again, details were scarce in terms of what McMahon will actually be doing. Lastly, Khan and Levesque did not take any questions during the meeting.
Following such an impressive WrestleMania 39 weekend, it will be interesting to see whether or not any of these topics come up during tonight's episode of "WWE Raw" after WrestleMania, which is one the most highly-anticipated episodes of "Raw" every year.