Backstage News On When Plans For Brock Lesnar-Cody Rhodes Feud Were Developed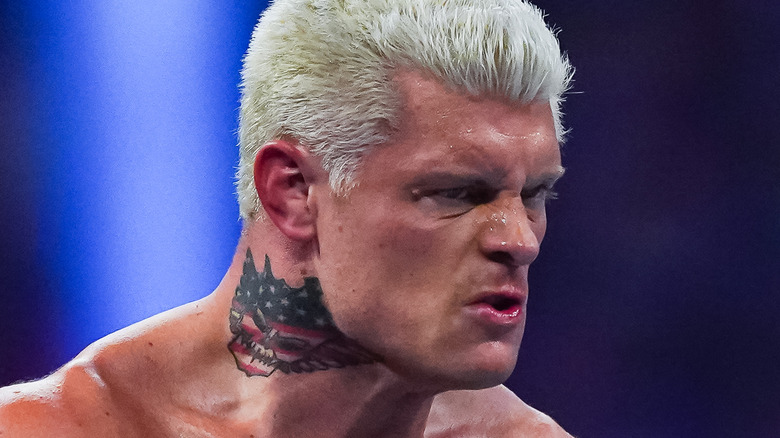 Alex Bierens De Haan/Getty Images
This time last week, most figured that Cody Rhodes would end WrestleMania weekend on top of the world. Instead, he found himself losing to Undisputed WWE Universal Roman Reigns in the WrestleMania 39 main event, followed by him being pelted with a rubber chicken, and getting wrecked by Brock Lesnar the next night on "WWE Raw." But fear not for the Codeman, as the beatdown by Lesnar appears to be the start of a program between them, and one that has evidently been in the works.
Fightful Select is reporting that the Rhodes-Lesnar program has been planned for at least a month prior to "Raw" this past week and that the two were in fact always scheduled to feud against each other. As a result, while some plans involving Rhodes were changed this past Monday, the Lesnar-Rhodes feud wasn't one of them and was not the result of any interference from Vince McMahon, who returned to creative at "Raw" to a very hostile reaction.
It was further noted that Lesnar himself had been well aware of these plans for at least a month. In fact, the former WWE Champion had changed up his presentation during that time in order to signal that a heel turn on the horizon. Among the changes to Lesnar's act included "The Beast Incarnate" refusing to engage with Omos in certain segments during their rivalry heading into WrestleMania, including backing away from Omos prior to confrontation. All in all, it appears many parties were aware of the direction long before Lesnar F-5'd Rhodes for the first time Monday.