Backstage Details On Bianca Belair, Rhea Ripley, And Others Whose Travel Issues Led To Changes On WWE Raw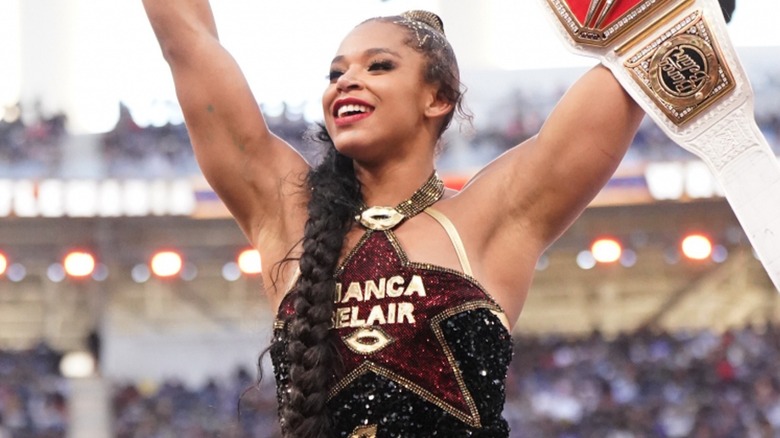 WWE
Behind-the-scenes of last night's "WWE Raw" was a bit on the chaotic side, but unlike last week it wasn't Vince McMahon at the center of it. Travel issues prompted a number of changes to the show as the creative team was still operating without full knowledge of which talent might actually make it to the arena in time to go on with any planned show segments. 
A sizable chunk of "Raw" was re-written as, according to PWInsider Elite, Sami Zayn, Bianca Belair, the Street Profits, Damien Priest, Rhea Ripley, and Matt Riddle all dealt with delays in trying to get to Seattle, Washington. Severe weather in the Orlando, Florida area was the source of quite a few of these problems with many of the talent flying out of that airport for their cross-country flights. In fact, several arrived past the point of being able to show up on "Raw," only to then turn around and hop on a Redeye flight back, effectively taking back-to-back flights that reached both coasts. 
A six-man tag match had been planned around the LWO. However, that plan had to be shelved based on the talent that was there, leading to the Rey Mysterio vs. Finn Balor show that happened in its place.
With the remaining talent available, WWE was still able to pull together an in-ring promo segment with Cody Rhodes reacting to his attack at the hands of Brock Lesnar the week prior. Additionally, new WWE Women's Tag Team Champions were crowned with Raquel Rodriguez and Liv Morgan while a Trish Stratus heel turn unfolded on Becky Lynch.