Stokely Hathaway Has A Message For The Hardys Ahead Of The Firm Deletion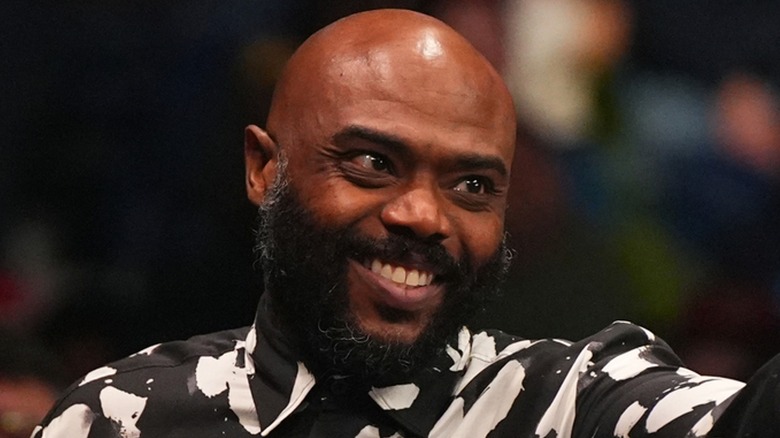 AEW
Freedom from The Firm may be on the horizon for Matt Hardy and Private Party. After pulling a fast one on Ethan Page, Hardy will have a chance to earn freedom in the upcoming match, The Firm Deletion, at the Hardy Compound, which will see Hardy, Isaiah Kassidy, HOOK, and a returning Jeff Hardy battle Firm members Page, Lee Moriarty, Big Bill, and leader Stokely Hathaway.
Needless to say, Hathaway isn't thrilled with this news. Posting a video on Twitter of himself outside the reputable Flash Dancer's Gentlemen's Club — and tagging AEW, New Japan, Tony Khan, and Janet Jackson in the tweet — Hathaway had a message for his future opponents.
"There's a special place in hell for the Hardys," Hathaway said. "Here I am, just now leaving physical therapy, not even cleared yet, and supposedly I'm in an eight-man tag at the Hardy Compound. This entire time, I've told Ethan Page not to trust Matt Hardy. Perfect example: Weeks ago, there was one last Fanta left in catering, and everyone backstage knows how much I love orange soda. But Ethan Page, because he's such a nice guy — and he is, he truly is –  he told me I should give it to Matt Hardy because Matt Hardy is a legend. And as soon as Ethan Page turned his back, Matt Hardy looked at me and laughed. So there I was, thirsty as f**k, all day, sweating like Mark Henry on the first day of June. So we, The Firm, we vow to fight every single Hardy. Except for Reby, I heard she got a gun license."
Hathaway also had words for Hardy's oldest son Maxel, threatening to remove the Hardy's Disney Channel subscription if Maxel continued badmouthing him. The Hardys haven't responded yet to Hathaway's threat.