Matt Hardy Reflects On His 'Cursed' AEW Feud With Sammy Guevara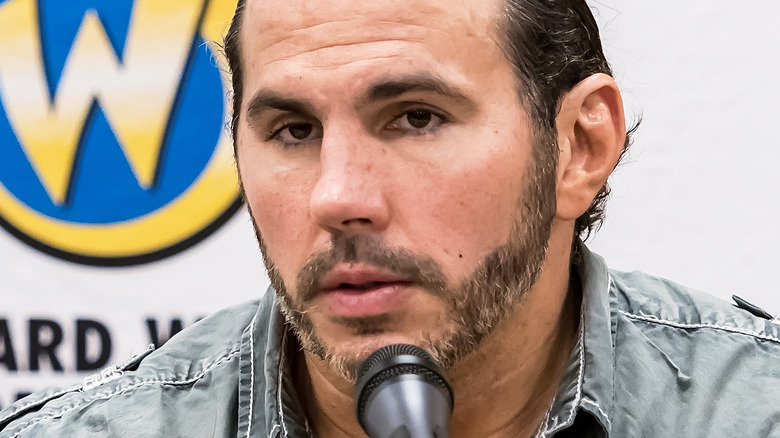 Gilbert Carrasquillo/Getty Images
Matt Hardy and Sammy Guevara battled on four separate occasions throughout the latter portion of 2020, with the former emerging victorious three times — including in their final battle at AEW Full Gear on November 7. Yet it was fairly bumpy along the way, and included moments such as Hardy needing 13 stitches to close a wound due to Guevara using the wrong chair, as well as a nasty spill during a forklift spot at All Out that September. But on a recent "The Extreme Life of Matt Hardy," he discussed the feud in retrospect, while all in all remembering it fondly.
"We did a lot of really good stuff in that program," he said. "It was, almost you know, cursed was a word a lot of people say." He then elaborated on the chair shot that led to his injury, chalking it up to an overreaction more than anything. "The thing he did with the chair, he just quickly overreacted when he threw it at me," Hardy continued. "We went in the back and we squashed it, and it was one of those things that added a lot of momentum to our deal."
That was the first of two extremely physical and downright scary spots that went awry. As mentioned, the second occurred at All Out when Guevara speared Hardy off of a raised fork/scissor lift, sending him falling toward two tables below. Unfortunately, Hardy missed one of the tables entirely, instead landing head first on the concrete. "S*** happens," he added. "It's not like it was some terrible tragedy ... there was some stuff that we could've done a little bit better, but I mean, sometimes it happens in wrestling."
If you use any quotes from this article, please credit "The Extreme Life of Matt Hardy" with a h/t to Wrestling Inc. for the transcription.