Gable Steveson Makes Cameo Appearance On WWE NXT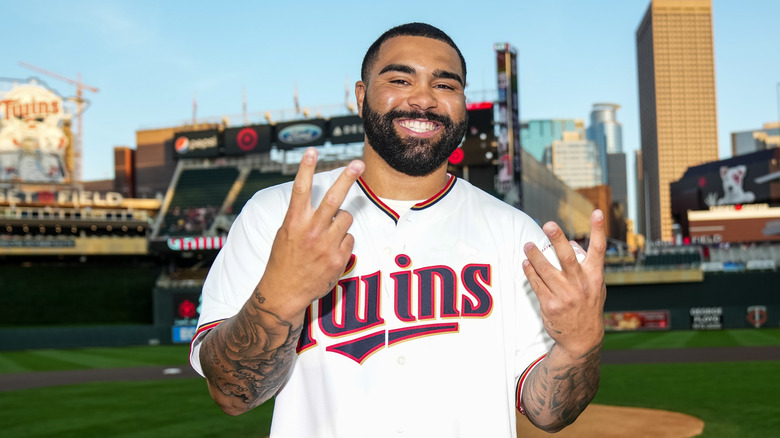 Brace Hemmelgarn/Getty Images
Amid all the uncertainty surrounding Gable Steveson's future in pro wrestling, the former Olympic gold medallist made a surprise appearance on Tuesday's "WWE NXT," showing up in a backstage segment and offering to train Eddy Thorpe for his Raw Underground match against Damon Kemp — Steveson's real-life brother.
Steveson appeared in a locker room full of "NXT" stars, who were stunned to lay eyes on the amateur wrestling phenom. 
"Hey Eddy, you could use a trainer for your underground fight in a few weeks," Steveson told Thorpe. "If anyone knows Damon, it's me! Let me know if you need something." The segment ended with Thorpe and Steveson shaking hands.
Woah!

Olympic Gold Medalist @GableSteveson just offered to train @eddythorpe_wwe for his match against @damonkempwwe 😳#NXTGoldRush pic.twitter.com/xLs3p9B7vc

— WWE (@WWE) June 21, 2023
While WWE has yet to confirm Steveson's involvement in the match, the Raw Underground bout between Kemp and Thorpe is set for the July 4 episode of "NXT."
Earlier this week, a report from "FloWrestling" suggested that Steveson was interested in a return to NCAA Wrestling, following his return to freestyle wrestling at the US Open and Final X this spring. Although Steveson had previously retired from NCAA and Olympic wrestling, he still has one year of NCAA eligibility left, meaning his return to the mat in 2024 is a real possibility. 
Furthermore, Steveson has expressed his desire to capture another gold medal for his country at the 2024 Summer Olympics in Paris, telling "MMA Fighting" earlier this year that he intends to "become one of the best American amateur wrestlers ever" and still has "a lot more left in the tank" with regards to amateur wrestling. According to "The Wrestling Observer," Steveson's return to the Olympic stage would be incumbent upon WWE clearing him and allowing him to take time off pro wrestling.
Before his return on Tuesday, Steveson was last seen on WWE programming on the December 9 episode of "WWE SmackDown" where he celebrated Kurt Angle's birthday by hosing down Alpha Academy with a milk truck.