Backstage Update On John Cena's MITB Appearance And Possible UK WrestleMania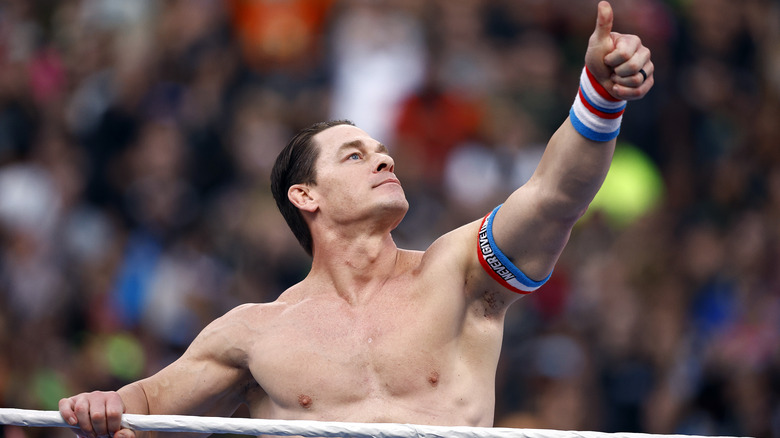 Ronald Martinez/Getty Images
Saturday's Money in the Bank 2023 event in London, England was a huge success, with Paul "Triple H" Levesque mentioning its financial success during the post-show press conference. While many people, including John Cena, hope the success of this event could lead to WrestleMania in London, it's not looking like that is in the cards anytime soon according to recent reports from Fightful Select.
Despite Cody Rhodes suggesting that Cena may know that there are plans for an upcoming WrestleMania in the U.K., it seems unlikely that'll be the case. WrestleMania will take place in the United States for at least the next two years, with next year's location set for Philadelphia, Pennsylvania. Furthermore, while the location has not been confirmed for WrestleMania 41, Fightful notes that the event is also set to take place in the United States.
While this leaves 2026 and beyond to give a WrestleMania to a European city, it seems as though that also is not in the plans. Instead, Fightful reports that it is more likely that the Royal Rumble or SummerSlam will head to the U.K., with surveys going out to determine which cities in the European country would work best for two of WWE's Big Four Premium Live Events.
Altogether, the future of major WWE PLEs heading to the U.K. remains up in the air. As for John Cena, who has now become synonymous with a potential U.K. WrestleMania, his future with WWE is similarly unknown. Fightful suggests that there are no upcoming plans for another appearance from the 16-time world champion, though Cena remains a hard-to-predict figure in the world of professional wrestling.