Teddy Long On Bill Goldberg In AEW, Suggests Familiar Foe For Retirement Match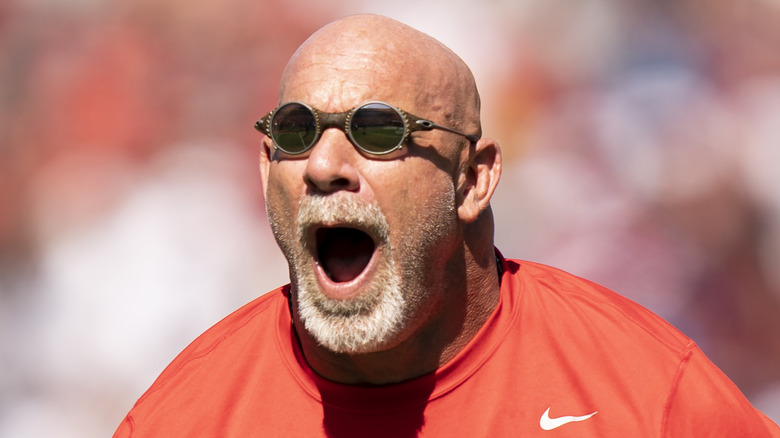 Steve Limentani/isi Photos/Getty Images
Bill Goldberg has been a free agent for the better part of 2023, leading to a lot of speculation regarding what happens next. That includes a potential retirement tour for the former WCW and WWE star, or perhaps even a stop in AEW, which has several major shows coming up later this summer. One person who does think Goldberg can make a difference in AEW is WWE Hall of Famer Teddy Long. On "The Wrestling Time Machine," Long endorsed the idea of Goldberg appearing in AEW at least once.
"There's still money in him, I still believe in him," Long said. "It's just what are you going to do with him? If you're going to use him right then you'll get the money out of him. And Bill is a guy that's been around this business a long time. He listened, he learned a lot from Bret Hart by working with him for a while. So I think, if they could come up with something for Bill in AEW, I mean, I don't know [if] he's under contract to WWE or not. But I mean, everybody's got a price man. So I think if they offer Bill the right money, he may make an appearance. I mean, what does he got to lose?" In a more surprising move, Long also endorsed Bret Hart as Goldberg's potential retirement opponent, seemingly unaware of Hart and Goldberg's controversial history.
"I don't know whether Bret wants to get back in the ring," Long said. "But I'd like ... for him and Bret Hart to have that final thing. I think that will be it because Bret is the guy that could hang. He can hang with Bret. Bret would make him look like a million dollars."
If you use quotes in this article, please credit "The Wrestling Time Machine" and provide an h/t to Wrestling Inc. for the transcription