Omos Says Brock Lesnar Doesn't Get 'The Credit He Deserves'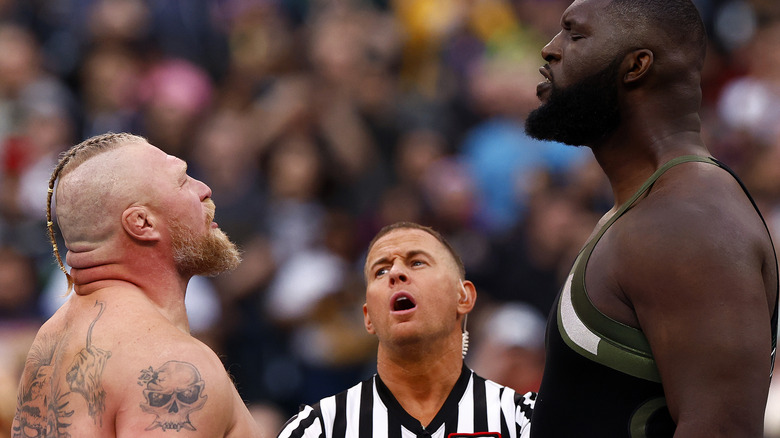 Ronald Martinez/Getty Images
Omos vs. Brock Lesnar from the second day of WrestleMania 39 in Hollywood was a cult hit amongst wrestling fans. Lesnar walked away victorious against the young giant in the most important match of Omos' career to date. In a recent interview with the Daily Mail, Omos praised his WrestleMania 39 dance partner and complimented his insight when it comes to WWE and pro wrestling as a whole.
"'[Brock] is such an amazing and talented worker," Omos told the Daily Mail. He added, "I don't think he gets the credit he deserves ... He has figured out this business to the core."
Omos then went into specific aspects of Lesnar's game that stand out to him as a performer saying, "From his facial expressions to his physicality, to his selling. He gets it." Omos also credited the wrestling legend for his adaptability saying, "He understands his role depending on where he's put ... That's the person he is."
While Brock has sometimes been labeled as difficult to work with, Omos had nothing but positive things to say about working with the 10-time former world champion. He said, "At first he was getting a feel for me and making me feel comfortable." Omos recalled, "I remember having a conversation with him about how to prepare and he just said, 'Don't worry!'"
Ultimately, Omos' experience with Brock was all about making a good impression on the combat sports icon. "I wanted to make sure he had fun. That's always my goal," Omos said before adding, "When it's fun, you want to keep on doing it."
Since his bout against Brock, Omos became a free agent via the 2023 WWE Draft and has competed sparingly on WWE TV. His most recent televised bout was his loss to Seth "Freakin" Rollins at WWE Backlash last May.