Saraya Discusses The Collaborative Nature Of AEW Creative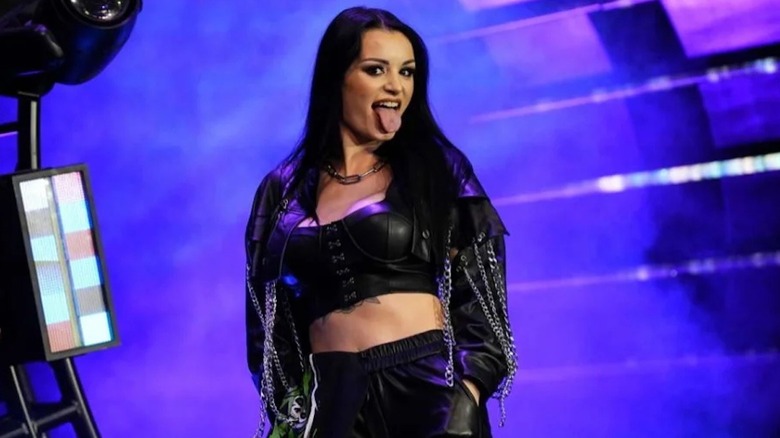 AEW
There are a number of things that set AEW apart from WWE. Aside from the different rosters and the approaches to working with other promotions, another major area that sets them apart is how each promotion handles the creative process. After spending some time in each company, Saraya has recently provided some insight into the different methods.
While speaking to "Inside The Ropes," the former WWE Superstar discussed her experience with the storylines and promos that shaped her character. Previously, stars like Miro and Mercedes Martinez have expressed how much more collaborative the process is when it comes to Tony Khan versus Vince McMahon, and Saraya agreed.
She shared that her plan was to debut in AEW as a heel, but Khan felt that she would work better in her match against Dr. Britt Baker D.M.D. as a babyface. He also wanted to pair her with Toni Storm as a way to protect the multi-time champion after the neck injury that put her on the shelf for over five years. Since the duo were real-life friends, there were no qualms about the pairing.
Then, shortly after that match at Full Gear 2022, Saraya would get her wish to turn heel. She and Storm joined forces with Ruby Soho to become The Outcasts and start a feud with the company's homegrown talent such as Baker, Hikaru Shida, and Skye Blue, to name a few. As this story continues to unfold over the course of many weeks, the "Scream Queen" says that this period is probably the most fun she's had in wrestling.
"We want to do a slow burn story," she explained. "We don't want to have a microwave story, we want to have an oven story where we take our time with it and have fun and really sink our teeth into it."
The Wind Up And The Pitch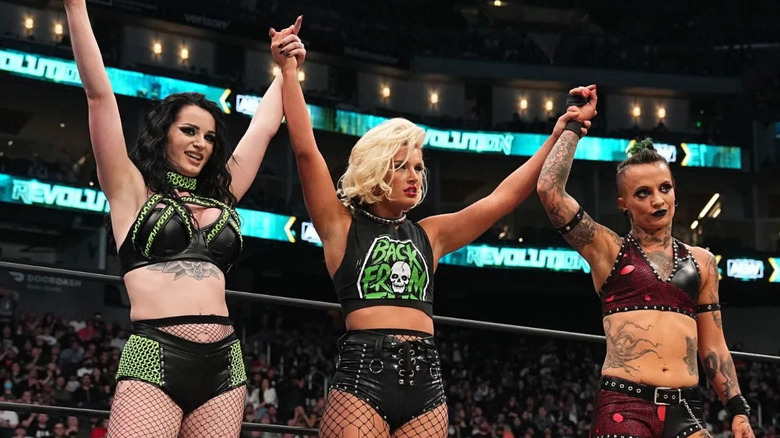 AEW
Saraya continued to discuss how compromises like her introductory angle wouldn't be possible without pitching to Tony Khan. Using her rival as an example, she said that Britt Baker "is always pitching ideas" and that results in her consistently ending up on-screen. Now that has finally started to spread to other members of the women's locker room and yielded positive results for Jade Cargill and Taya Valkyrie.
"It influences a lot of the girls because a lot of girls see that and they do it too," she said. "I feel like a lot more girls are doing that nowadays, so there's more stories being told [featuring female talent]."
Although, if some people aren't as comfortable with going directly to the big boss right off the bat, she said that other veterans such as Jon Moxley and Chris Jericho are always willing to help with workshopping ideas and adding their two cents.
"The wonderful thing is that you have Jericho and Moxley," she said. "If you ask them to help you out, maybe they'll come in with us to talk to Tony. [Then] we'll all have a conversation. Tony's always very receptive. You just have to ask. If he doesn't want to do a certain idea, he'll just be like, 'I love it, but I want to do this this week and maybe we can do that next week or the week after.' It really helps to pitch the idea to Moxley and Jericho to see if they like it ... in case we [wasting] our time."
With so many of the greatest minds in professional wrestling at their disposal in AEW, Saraya says that this process can "open more doors to more storytelling," which could make the show more enjoyable for the entire roster as well as the fans watching.