WWE SmackDown 8/04/2023: 3 Things We Hated And 3 Things We Loved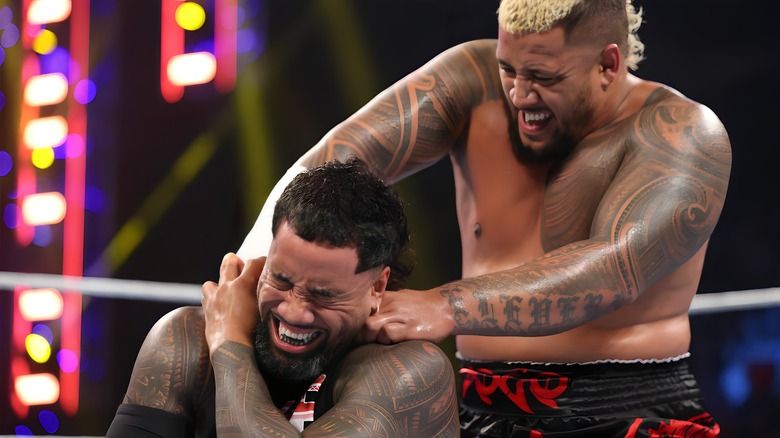 WWE
Welcome to Wrestling Inc.'s review of "WWE SmackDown," which in this case means the official go-home show for WWE SummerSlam, which kicks off Saturday night. We didn't really know what to expect from this episode; all we knew was that Jey Uso was set to appear (he did), Charlotte Flair, Asuka, and Bianca Belair were set to appear (they didn't, they just got video packages), and that LA Knight was wrestling Sheamus in what was presumably a passing of the torch from last summer's "They don't realize how badly they're misusing this guy, he should be world champion" champion to this summer's.
What we got was interesting, though as always, we didn't love all of it. If you want just the plain, obvious facts as opposed to all the bells and whistles of opinion and analysis, check out our live coverage, which tells you who won and how. For the rest of you, here are three things we hated and three things we loved about the 8/4/23 episode of "WWE SmackDown."
Hated: Knightfall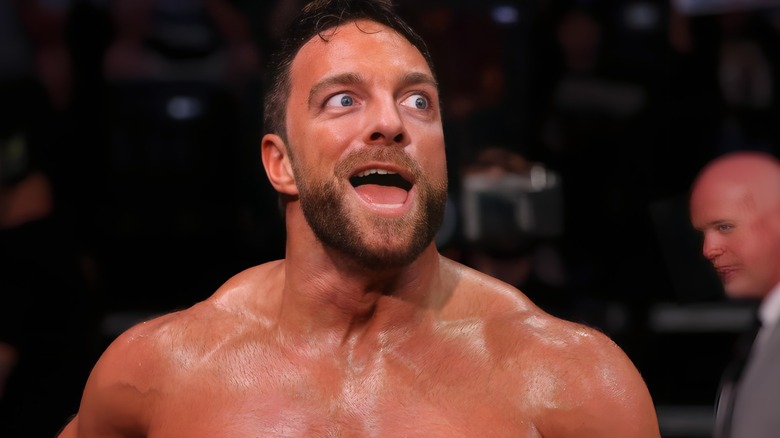 WWE
Another week, another version of "we just don't get the LA Knight hype." This week he opened "SmackDown" to talk smack about his upcoming battle royal opponents, and we really just thought it was weak sauce. But hey, the crowd continues to be into it, so good for him. And he got a win over Sheamus! Also good for him!
Less good for him was the big-time botch that happened during the match. As we've stated before, we don't like being those people who "call out" botches all the time — this is a live performance, and s*** goes wrong sometimes. But man, what a terrible time for such an overtly physical mistake. First, with Sheamus sitting on the top turnbuckle, Knight tries to jump straight to the top rope from the ring, but he clearly knows he's going to slip if he stays there, so he hops right back off. Then he climbs up the regular way and gets his feet under him, but then Sheamus slips trying to stand up and they both just tumble to the outside. Certainly none of this is anybody's fault, but it's really unfortunate that it happened just as the mythical LA Knight push seems to be finally taking shape.
Hopefully this doesn't change anything about what we presume is Knight's official coronation-to-be in Saturday's battle royal. It would be a shame to waste the supreme talents of former Impact World Champion Eli Drake.
Loved: The Suit Profits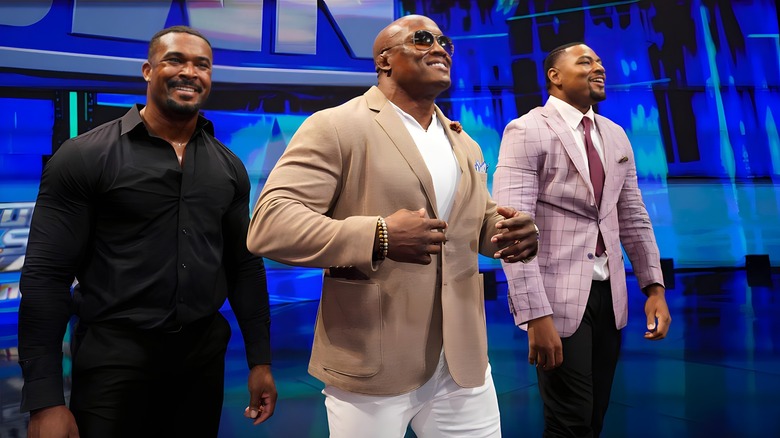 WWE
It's so good to see Sheamus, AJ Styles, and their respective stables doing something different for once, and we're hoping it actually leads to a program between the Brawling Brutes and the OC, or at least their respective leaders. Sheamus and Styles feel like a good fit as opponents, both former world champions currently laboring in the midcard, and any matches between the two should be a lot of fun.
That said, Styles still has one more Karrion Kross match to get through next week, and the Butch/Holland vs. Anderson/Gallows tag team match didn't even get a proper finish — thanks to the official debut of the Suit Profits! Montez Ford and Angelo Dawkins were back this week and absolutely wrecking fools, and the crowd loved every minute of it, particularly after Bobby Lashley made his return, as well. We're very happy the set-up is done and these guys are on TV destroying people. More of this, please.
Loved: The new Shotzi Blackheart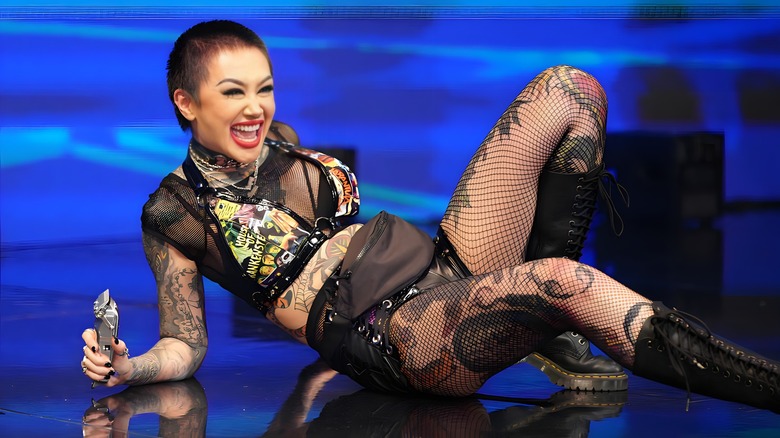 WWE
Can Grayson Waller interact with Bayley every week? Those two are great together. We like it when heels are douchebags to other heels and not just babyfaces; Waller is exactly the kind of prick who would play a practical joke on Bayley using her fear of Shotzi to make her look stupid, and that fed perfectly into Bayley not wanting to "fall for" the next one when Shotzi's tank came out on stage, only for Waller to solemnly insist that this time it wasn't him. It was good stuff; Bayley and Waller are essentially the same flavor of heel, and they play off each other well. Bayley starting to treat the MITB briefcase the way Christian treats the TNT Champioship was a nice touch, too, and we also liked the way the entire Grayson Waller Effect segment segued into the next match, with Zelina Vega revealing it was her driving Shotzi's tank. Shotzi runs off Bayley, no Bayley at ringside for Vega's match with IYO SKY. Makes perfect sense.
As for Shotzi herself, we were absolutely blown away by her new look. She looks incredible. We had a fondness for the green hair, and we're really not sure about that weird hyena laugh she's doing, but the overall effect is tremendous, and we're hoping she's able to transcend the standard WWE "crazy girl" gimmick we complained about a few weeks ago. So far it looks like she's off to a good start, and we're delighted that she appears to be coming for Bayley's hair in an act of vengeance. She's already doing "The Crow" better than Sting did. But, you know, with hair.
Hated: The wrong week for one women's match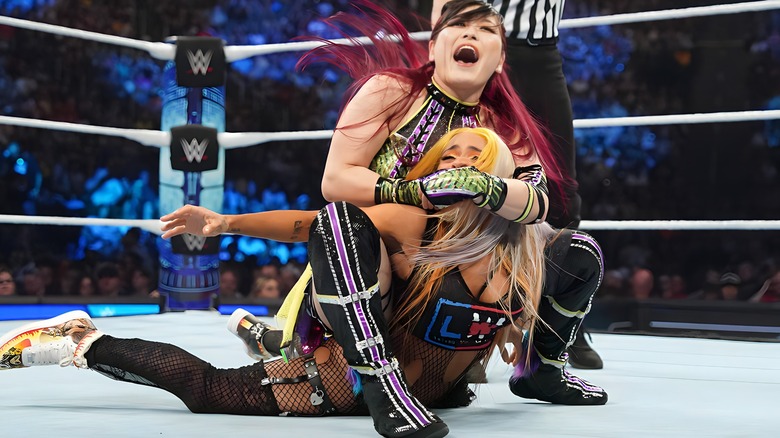 WWE
While we liked the set-up for it, the actual SKY vs. Vega match was lackluster, mostly because they didn't get very much time. The decision to have Vega pin SKY again is a bit perplexing considering we're kiiiiiiiiiinda expecting SKY to win the WWE Women's title at SummerSlam, but we suppose this could just be prematurely setting up her first championship feud. To be clear, we have nothing against Vega, and we're happy WWE seems to be high on her right now, but it still seemed like an odd choice given their respective positions in the women's division hierarchy.
Again though, the ring time is the bigger issue. With men's matches, we don't really care about ring time, because they usually get plenty of it. It's expected. We don't mind there being less actual wrestling and more promo segments, video packages, and dramatic soap opera pathos acted out by massive, beautiful Samoans, because it's different from the norm, which is men getting ring time. For women though, ring time is important specifically because it is not the norm. There's a reason #GiveDivasAChance started because of a horrifically short match. This is about addressing systemic inequality, and on a week like this one, which has seen women's wrestling rocked by the SummerSlam snubbing of Becky Lynch and Trish Stratus on one side and the LuFisto vs. AEW feud on the other, we would be remiss not to mention that there was one again only one women's match on "SmackDown," and it was a short match with a distraction finish. There was a very nice trio of video packages for Charlotte Flair, Asuka, and Bianca Belair (we particularly liked Charlotte's, which just screamed "Don't forget I'm a Flair") but video packages aren't the issue here. Matches are. Yes, promos; yes, storylines; but also: ring time. It doesn't matter whether you prefer WWE or AEW. The problem isn't limited to one promotion, it's everywhere, and it is unacceptable in the year 2023.
Loved: How pro wrestling works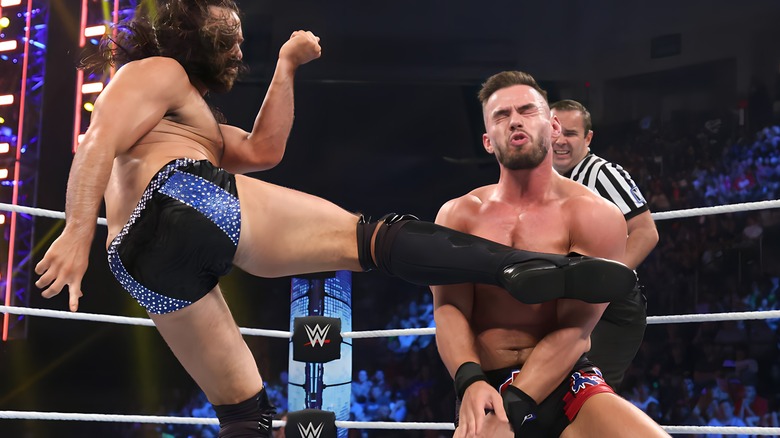 WWE
Last week we liked a Karrion Kross match, this week we like an Austin Theory match? What the hell is going on here? Honestly, we're not even really sure. We just kind of dug this Theory vs. Cameron Grimes match. It played into the opening segment with the battle royal competitors, which saw Theory to come out to taunt his opponent next week, Santos Escobar, and used the logical next sentence of that page — Escobar coming out to try and attack Theory at the beginning of Theory's match — to set up the match itself, as Grimes hit his out-of-nowhere finisher, the Cave-In, as his first offensive move of the contest after Theory had been distracted. Then, in a moment captured by surprisingly deft camerawork, Grimes folds Theory up for the pin and accidentally puts Theory's foot on the bottom rope, a picture-perfect tribute to the most famous spot from the "WWE Raw" world title match between Seth Rollins and Adrian Neville, which took place almost exactly eight years ago.
Grimes continues his assault after that, getting in almost all the remaining offense in the match, but Theory survives, takes an opportunity to knock Grimes off the top rope, hits his finisher, wins, leaves. It was perfect. He didn't cheat, he won opportunistically, and he didn't so much win as escape. He made Grimes look amazing, but Theory himself doesn't come off looking bad because he got hit with a finishing move at the start of the match. It's a fun miniature story told inside this one match, and they did an excellent job, and they both come out looking better. This is how wrestling is supposed to work.
Hated: We've got a bad feeling about this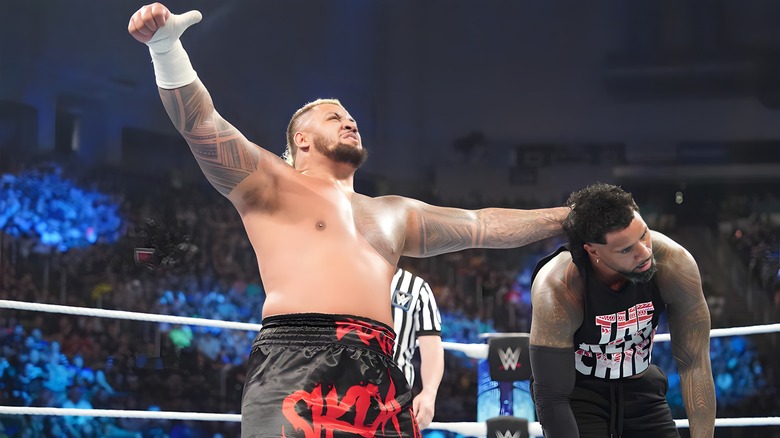 WWE
Man ... we wanted to love the Bloodline stuff this week, particularly on the eve of SummerSlam. We still want to love it. But it didn't entirely leave us feeling the way we wanted to be feeling on Friday night.
It started off great. Heyman obviously always cuts a good promo, Jey obviously always cuts a good promo, and we were really enjoying Jey trying to get Solo to understand that he's being manipulated. And it was working! Solo was ordering Paul Heyman out of the ring. This seemed like what Jey wanted. But then he superkicked Solo in the face, which ... why? I guess we get why in the simplest possible sense, but it seemed like a such a weird time to ambush your brother after you just got done telling him you love him and you think he's being used. But whatever, we could get over that.
The main event match, though, didn't work for us at all. We were hoping the "will Jey turn Solo" thread would continue, but instead it was a story about whether Solo would beat up Jey so much that he wouldn't make it to SummerSlam, which is hilarious because we all know Jey Uso is going to wrestle at SummerSlam. Jey obviously ended up winning, using the Spear in the process, and then also won the ensuing post-match fight with Solo, hitting him several times with a chair and causing the announcers to wonder if he was going to make it to SummerSlam. Which again, yes, he will be there, but now they have an excuse for why he's not there at first and then suddenly shows up, and that irritates us a bit, because it's a potential pathway to a really terrible booking decision that we're very worried will happen on Saturday. We don't want WWE doing Clash at the Castle/WrestleMania 39 call-backs where Solo shows up out of nowhere; we want him at ringside the entire time with conflicting emotions warring across his face during Tribal Combat. We didn't care who could beat each other up the most on this episode of "SmackDown," we cared about how this Bloodline situation really makes Solo feel. He's guaranteed to be a huge part of the SummerSlam match, and we want him in there as a character, not as a plot device.
Last week, the Bloodline segment gave us hope. In case you couldn't tell, this week's Bloodline segment has us a little worried. Hopefully for no reason. Fingers crossed.