Freddie Prinze Jr. Praises FTR For Making Him A Fan Of New AEW Tag Team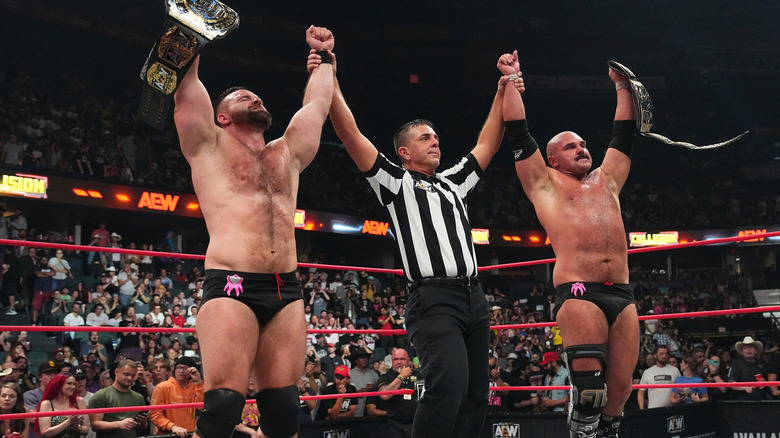 AEW
Freddie Prinze Jr. lavished praise on AEW World Tag Team Champions FTR and declared that their match against an AEW tag team made him a fan of them.
On a recent edition of his "Wrestling with Freddie" podcast, Freddie Prinze Jr. critiqued the August 5th edition of "AEW Collision," where he reserved special praise for the tag team match between FTR and the team of Big Bill and Brian Cage.
"I don't think I've ever given them, I don't know if we've given them any love on this show, outside of like, 'We respect them,'" Prinze Jr. began. "These dudes [FTR] wrestled Brian Cage and Big Bill and they made — Cage and Bill are responsible for this too — but they made them look like a team I want to watch wrestle for the next ten years. All four men did a great job in this match.
"Big Bill and Brian Cage have something that I don't think ... I think they know they have something, and they got to figure out what that is. They looked awesome as a team."
The former WWE writer said that both Bill and Cage have a great physique and look great together as a team, and then went on to discuss what made the match special.
Prinze explains what made the match great
AEW
Freddie Prinze Jr. then went on to praise FTR and dissected what they did in the match that stood out for him.
"He starts against Brian Cage, Brian Cage is just mauling him like a bear, smashing him down — here's a shoulder block, here's a clothesline, 'You ain't sh*t.' And Wheeler's like, 'Yo, I ain't sh*t. I gotta tag out.' And then Dax Harwood comes in, he's like, 'Don't worry, bro, I got you.' And Brian Cage is like, 'You ain't got sh*t.' Shoulder block, clothesline, pick you up, and then Dax Harwood is like, 'This guy is crazy strong.'"
He highlighted how FTR then did quick tags to slow down Cage, who was getting tired, explaining how a big, muscled man like Cage would use up a lot of oxygen. He said that FTR had to withstand the offense that Cage and Bill inflicted on them early in the match before they turned things around in their favor. FTR took control of the match with quick tags and eventually their opponents' energy waned. 
Prinze Jr. compared FTR's tag team performance to a Jackie Chan fight scene, and said that he had a lot of fun watching the match. FTR won the match and retained their titles after they hit the Big Rig. 
FTR will now turn their focus towards their high-profile tag team title match at All In, where they will face The Young Bucks. The tag team champions issued the challenge to the Bucks after the aforementioned match against Cage and Bill, which the Bucks accepted on last week's "AEW Dynamite."