Seth Rollins Pays Tribute To Former WWE Faction The Shield After PWI 500 Revealed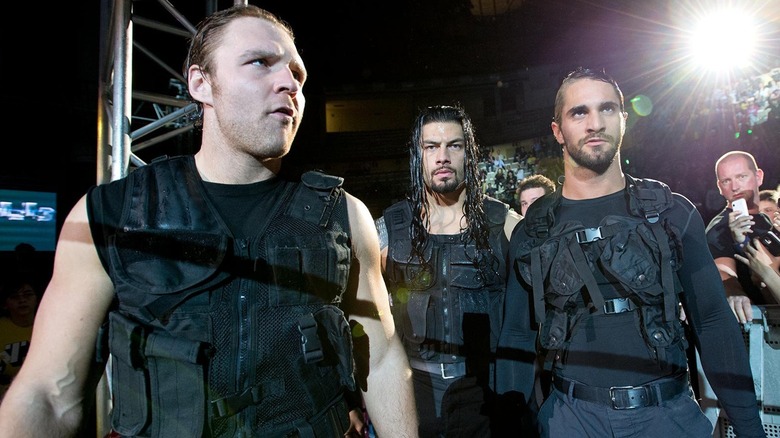 WWE
Yesterday, Pro Wrestling Illustrated released its annual PWI 500 list, ranking the 500 best wrestlers in the world, according to the publication's criteria. It's a time for everyone with some love of wrestling to argue about the subjective rankings — whether you're a fan, a wrestler, a promoter, or a pundit.
But with WWE World Heavyweight Champion Seth Rollins occupying the top spot this year at No. 1, followed by Roman Reigns in the two-spot, and Jon Moxley in at No. 3, The Shield was once again positioned as a dominant force across wrestling — even if they've gone their separate ways. But the impressive status of the three individuals who once made up such an important faction in WWE history was not lost on Rollins. Rollins hit X (formerly known as Twitter) to pay tribute to the group, nodding at what each has managed to accomplish on their own with a simple photo of their trademark pose. 
— Seth Rollins (@WWERollins) September 14, 2023
Arguably one of the most dominant trios, each member of The Shield has proven themselves to be a big-time star. While Rollins and Reigns, who is in the midst of a record-setting championship reign, have continued to shine in WWE, Moxley has turned into a cornerstone for rival promotion AEW since his arrival. He has been a three time AEW World Champion and is now the reigning AEW International Champion.
One thing for certain is that The Shield have regularly shown up in the elite tier of the PWI 500. Over the past nine years, Rollins, Reigns, and Moxley have combined to be the No. 1 wrestler on the list six times, with Rollins ranking No. 1 on three occasion, Reigns twice, and Moxley once.