WWE Raw 10/23/2023: 3 Things We Hated And 3 Things We Loved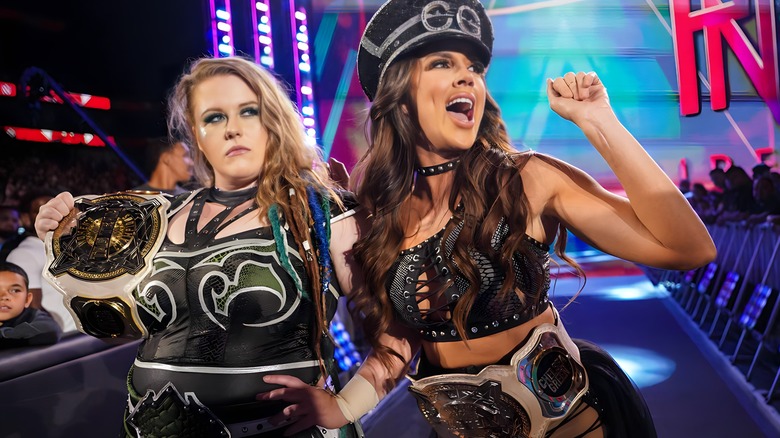 WWE
Welcome to Wrestling Inc.'s weekly review of "WWE Raw," which, for the record, would absolutely join The Judgment Day if Rhea Ripley asked us to. Just say the word, Rhea. We don't have any world titles, but we do have opinions about wrestling that we share on the internet, surely that's enough to qualify?
That's what you're about to read, by the way — the opinions of the WINC writing and editorial staff about Monday's offering from the red brand. We can't possibly cover everything and we didn't feel strongly positive or strongly negative about everything, anyway, so if you want the full story of all the things that happened on this show, check out our live coverage/results page. But did we appreciate the continuation of storylines belonging to the likes of Drew McIntyre, Cody Rhodes, and The Judgment Day? Were we enthralled by the addition of Akira Tozawa to Alpha Academy? And was there really a contract signing segment that didn't just completely suck? Here are three things we hated and three things we loved about the 10/23/23 episode of "WWE Raw."
Hated: Somebody please give Cody a different story (Miles Schneiderman, WINC senior lead news editor)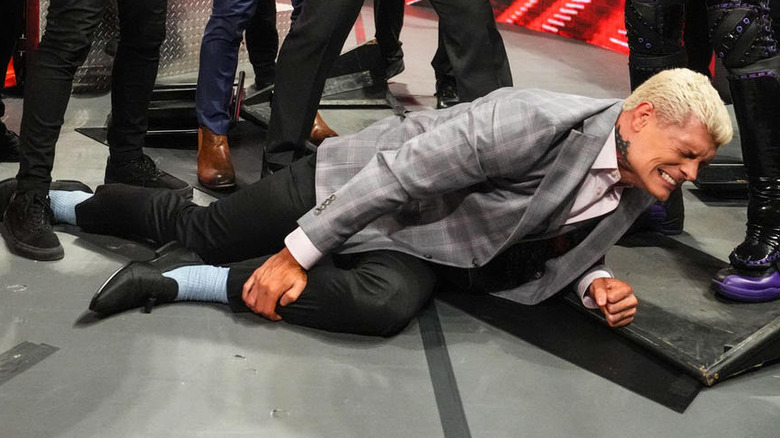 WWE
I've been really impressed with the last few episodes of "WWE Raw," to the extent that it's getting a little difficult to find stuff to hate. So, thanks Cody Rhodes, I guess?
Cody's opening segment confrontation with The Judgment Day started off promising — I really enjoyed the "that's how it feels to get interrupted" line — but it was the way it ended that made me roll my eyes. Specifically, Cody once again getting a kayfabe injury prior to his big PPV singles match against Damian Priest at Crown Jewel, which would be an entirely accurate description of what happened last time WWE went to Saudi Arabia if you replaced "Damian Priest" with "Brock Lesnar" and "Crown Jewel" with "Night of Champions." I don't know if WWE just figures the Saudis love them an "injured Cody fights from underneath" story or what, but speaking as a non-Saudi, I'm a little sick of it. The Lesnar storyline was the absolute epitome of that narrative, to Cody's long-term detriment — I watched this guy refuse to go down to Brock Lesnar with a "broken arm" at Night of Champions, and again at SummerSlam; I'm supposed to believe that a busted ankle is going to stop him from beating Damian Priest?
Cody. My dude. I'm begging you to learn a second song here. Nobody needs this story again, and it doesn't make anybody look good, least of all you. The only thing this really does it make it seem like you have brittle bird bones and/or that your gimmick is "injured," which I don't think is the image you're going for.
Loved: Finally, a good contract signing (Olivia Quinlan, WINC news writer)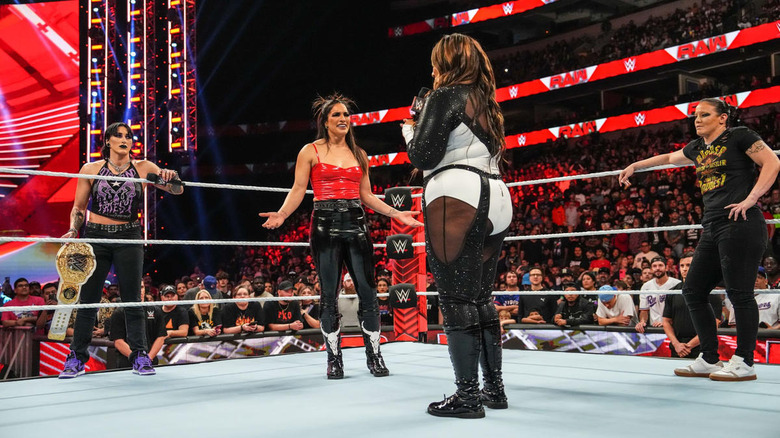 WWE
Ah, professional wrestling and contract signings. A tale as old as time.
We all know how contract signings go. Wrestlers sit down at a desk and exchange jabs with one another as a third party "mediates" things and someone winds up going through the table. Oh, and of course, they sign the contract at some point. Every one begins to feel the same as the others, and they all start to blend together –- but Monday's contract signing for the Fatal Five-Way Women's World Championship match at Crown Jewel managed to stand out far above the rest.
Adam Pearce looked to take a different approach to things, having no desk in the ring to be broken and having the challengers -– Shayna Baszler, Zoey Stark, Raquel Rodriguez, and Nia Jax –- sign the contract before having Rhea Ripley follow suit backstage at a later time. Although things didn't quite work out the way he had hoped for, the format was different than anything else I had seen, in the best way possible, and just made total sense. In fact, I'd even go as far as saying that it worked in Pearce's favor, as it made him look strong as an on-screen authority figure.
All five women involved in the segment came off looking great as well, but the one who stands out from the rest is Nia Jax. Jax said Ripley was using her as a means of squashing everyone else for her own benefit. She then went around the ring and singled out her opponents, which naturally led to a massive brawl. Jax has been floundering when it comes to her promo skills as of late, but tonight, she easily gave her best performance since making her return to WWE, if not her entire career.
Take notes, because this is how you do a proper contract signing.
Hated: Confusion and catalepsy for Nattie and Nikki (Jon Jordan, WINC news writer)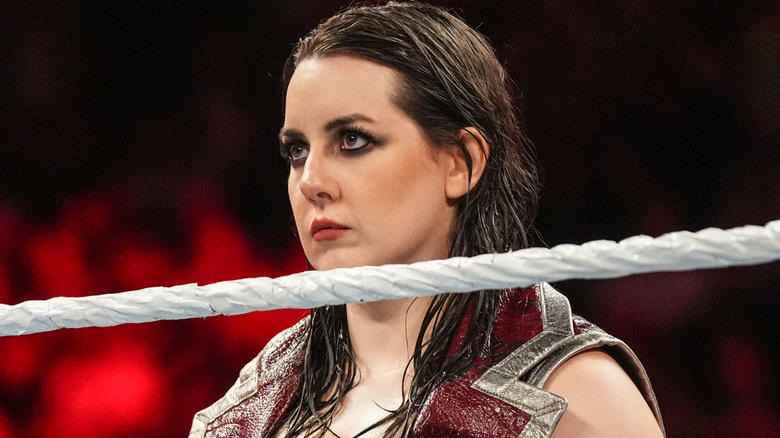 WWE
I's a good problem to have for us to force ourselves to hate something during these "Raw" reviews, but my least favorite element of Monday's show involved Natalya and Nikki Cross as a hodgepodge tag team facing Women's Tag Team Champions Chelsea Green and Piper Niven.
Mostly, this annoys me because it involved Nattie's character once again playing the "I'm confused, I've got to figure a few things out" card that they've had her play several times over the years. Worse than that, it ended up involving the heavily underused Cross (which, great for the involvement and all) as Nattie's surprise tag partner — only the former Sanity member is not doing her traditional sprint-to-the-ring-bite-the-ropes bit, but instead is waltzing ever-so-slowly to the ring in a catatonic state, staring into space for three quarters of the match, then walking off, never tagging in or getting into the mix in any way.
Earlier in the evening, Nattie wished Indi Hartwell well in her challenge for Becky Lynch's "NXT" Women's Championship, but when asked by Candice LeRae whether she was looking for a replacement partner for an injured Tegan Nox or what she was up to otherwise, she went with that "I'm confused" thing, and my eyes rolled. Why is Natalya, of all female competitors in WWE, confused about anything? She should be as confident as anyone, resolute in knowing what her next move is at any time. And maybe she is, really. Maybe this will play itself out and the Cross craziness will make sense in the coming weeks.
For now, though, all it did was lead to another loss for someone in Natalya who should be a stalwart of the division, if only she could ever, you know, not be confused and all. As for Cross, again, I'm glad she's a part of something here. I can only hope it clicks. Sleepwalking to and through a match ain't it, though.
Loved: Zayn vs. McIntyre (Schneiderman)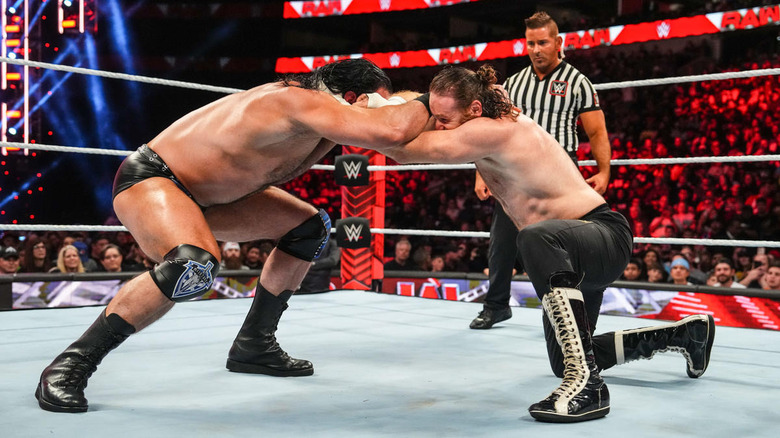 WWE
There was some pretty damn good wrestling on this episode — shout-out to Alpha Academy vs. New Day, which ruled — but for my money (unsurprisingly) my match of the night was Sami Zayn vs. Drew McIntyre.
I just continue to love the hell out of this storyline. Naturally, I could have used a little more Sami throughout "Raw," but McIntyre was all over the place — taunting Jey Uso over losing a championship due to Bloodline interference, verbally sparring with Seth Rollins backstage, and putting on a really, really solid match with Zayn that had the Dallas crowd, which was pretty hot throughout the show, at their absolute loudest by the end of it. I like that Sami got a little protection in defeat from the Rhea Ripley interference, since it definitely looked like he could have beaten Drew, while also giving McIntyre a big win prior to his Crown Jewel title match with Rollins. And I really love this stuff Ripley is doing with Rollins and McIntyre, courting both of them as potential Judgment Day members and playing them against each other for the ultimate benefit — probably — of Priest. Rhea is really coming into her own right now as a master manipulator type, and like most of her outfits, she wears it well.
I don't know, these just all feel like very real characters to me, from Ripley to Rollins to McIntyre to Zayn to Jey Uso, and I like that they're all interconnected and have increasingly complicated relationships based on their mutual histories. That's the kind of thing that really makes wrestling compelling to me, and WWE is knocking it out of the park with this one right now.
Hated: Do we really need Logan Paul vs. Ricochet pt. 2? (Quinlan)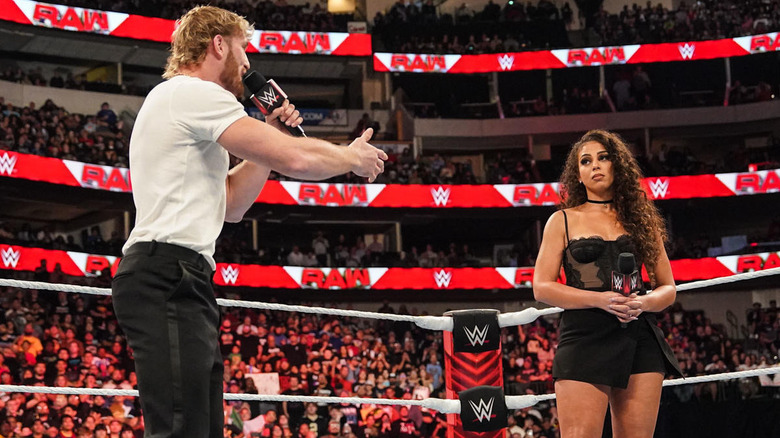 WWE
Ugh. Do we really need to see a renewal of the feud between Logan Paul and Ricochet from WWE SummerSlam?
Rey Mysterio wasn't the only member of the Mysterio family that Paul has come face-to-face with, as tonight he encountered Dominik Mysterio in the ring –- only this time the interaction went much smoother. The pair began bonding, which was all fine and dandy. That was, until Paul decided to call ring announcer Samantha Irvin into the ring and demand that she prematurely announce him as the new United States Champion. So naturally, Ricochet –- Irvin's real life fiancé -– attacked Paul and Dominik to fend them off.
I was not the biggest fan of Paul and Ricochet's program throughout the summer, but having it be renewed, even if it's just for a "Raw" match, seems unnecessary to me and a little out of the blue. Given that Crown Jewel is quickly approaching on November 4, I think that it would be more beneficial to solely focus on Rey and Paul's current storyline rather than renewing an old rivalry, especially given that the only build thus far is Paul calling out Rey and a verbal confrontation. With the brand split seemingly actually in effect these days and Rey being exclusive to "SmackDown", I understand why they didn't have another face-to-face Monday night, but even so, having Paul and Dominik do a segment with just the two of them would've been a better and more effective use of time.
Loved: Akira Tozawa, perseverance personified (Jordan)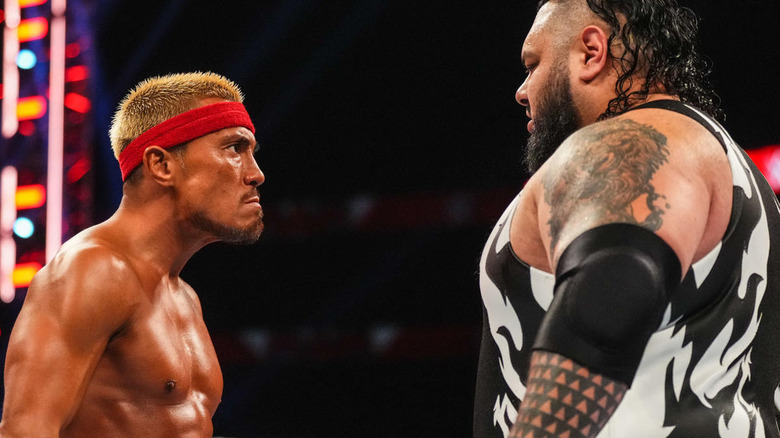 WWE
It's been said time and again in the pro wrestling world that one of the keys to success for any talent is maximizing your minutes. Jim Ross, for one, has been consistent in delivering this message on his podcasts and elsewhere for years now. Essentially, the idea is that no matter the amount of screen time or opportunity you get, be it a minute or an hour on TV, or in front of a house of 50 or 50,000, you've got to make the most of it. And I'd argue that nobody has done a better job of making the most out of what he's been given throughout his WWE tenure than Akira Tozawa.
From his debut in the Cruiserweight Classic in 2016, to "205 Live," to the wild and wacky world of the 24/7 Championship, to blink-and-you'd-miss-it backstage fly-bys, he's absolutely embraced every opportunity that's come his way. Be it a card game skit with Baron Corbin or one of his many quick-hit backstage bits, Tozawa can draw a giggle with just a look, as he did simply walking by as a more prominent angle played out, or looking terrified as someone like Nia Jax crossed his path. All of this led to his involvement with Alpha Academy last week, training with the group in a workout session led by Maxxine Dupri, dancing awkwardly, and doing what he does best: entertaining the audience. And now, as a "junior cadet" of Alpha Academy, he's getting rewarded with consistent TV time amid one of the company's up-and-coming factions (and also a very, very oversized group t-shirt).
Tozawa joined the Academy ringside for their tag team match against The New Day, and despite their loss, Tozawa drew inspiration, later interrupting a backstage segment between Bronson Reed, Giovanni Vinci, and Ludwig Kaiser and challenging Reed to a match later in the evening. Reed showed mercy at first, but after Tozawa insisted and gave him a chop Orange Cassidy would be proud of, he accepted, saying, "It's your funeral."
Of course, Tozawa got destroyed but that's not the point. Later, Gable told him he's still a champion to them and then had him "do his training," where he danced with a Dallas Cowboys-themed WWE title belt. Good for a giggle. And good for Tozawa, who will hopefully keep getting opportunities, but will definitely keep making the most of them.