Major Backlash Saves WWE Star John Cena's Movie From Warner Bros. Scrap Heap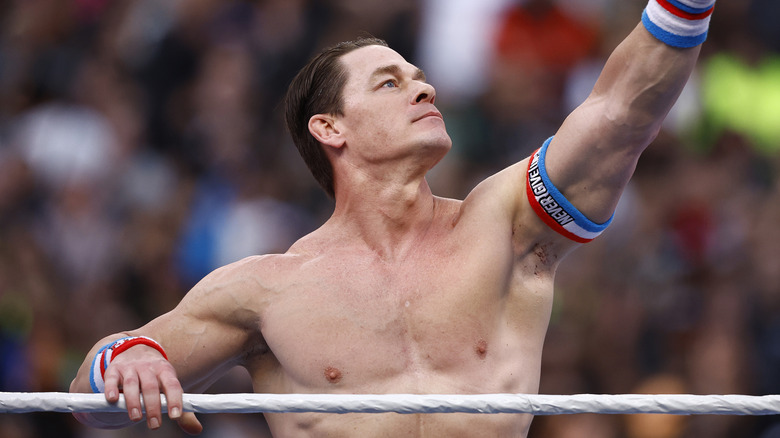 Ronald Martinez/Getty Images
John Cena may be thinking about hanging up the wrestling boots for good following his loss to Solo Sikoa, especially with the SAG-AFTRA strike now coming to an end and film productions set to resume. But as Cena returns to Hollywood, he does so as one of his films becomes embroiled with controversy, after it was reported that Warner Brothers was shelving the upcoming "Coyote vs. Acme" animated film, despite it being completed, as a $30 million tax writeoff. One day later, however, the situation has changed. 
Puck and The Hollywood Reporter report that Warner Brothers has had a change of heart regarding "Coyote vs. Acme," and will now allow the film's director, Dave Green, to shop the film to other studios. The move comes after Warner Brothers faced severe backlash from many within the film industry, including several filmmakers and talent reps canceling meetings with the studio as a form of protest. As part of the sale process, the film will screen for several prospective studios later this month, with Amazon said to be a strong contender. This would mark the first time in the nearly 100-year history of the franchise that a "Looney Tunes" project would be released by a studio other than Warner Bros.
"Coyote vs. Acme" follows the long-running "Looney Tunes" character Wile E. Coyote, who decides to sue the Acme corporation after years of their products failing him in his quest to defeat the Road Runner. Coyote hires a lawyer, said to be equally as unlucky as him, for the job, with the lawyer ultimately taking the case after learning the former boss of his law firm is now the Acme CEO, played by Cena. Will Forte stars as the attorney, while Lara Condor also stars in an undisclosed role.