WWE RAW 11/20/2023: 3 Things We Hated And 3 Things We Loved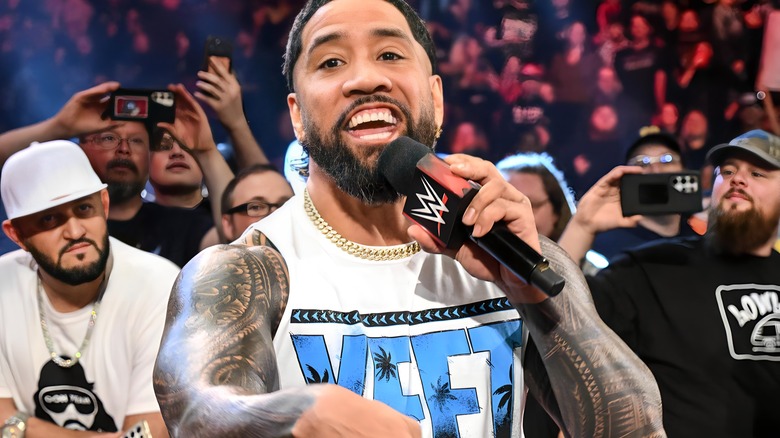 WWE
Welcome to Wrestling Inc.'s weekly review of "WWE Raw," the show where we don't actually tell you our opinions of the show, we just strongly hint at them to build anticipation. Just kidding, we definitely tell you what we thought of the show. Painstakingly going over every detail to make sure you understand all the little things that happened? Not so much. We have a whole live coverage/results page for that. What we offer you here are personal opinions and analysis by the WINC writing and editorial staff. And you should trust our opinions. We watch way too much wrestling.
So we did we think of Monday's episode? Did Drew McIntyre's show-opening promo resonate despite his heelish recent actions? Did The Miz sell us on being the babyface in an anti-bullying storyline? And most importantly, how did we feel about the extremely tell-don't-show announcement of Randy Orton's return at Survivor Series? These are three things we hated and three things we loved about the 11/20/23 episode of "WWE Raw."
Loved: Drew McIntyre's statement of intent (Kevin Tall, WINC managing editor)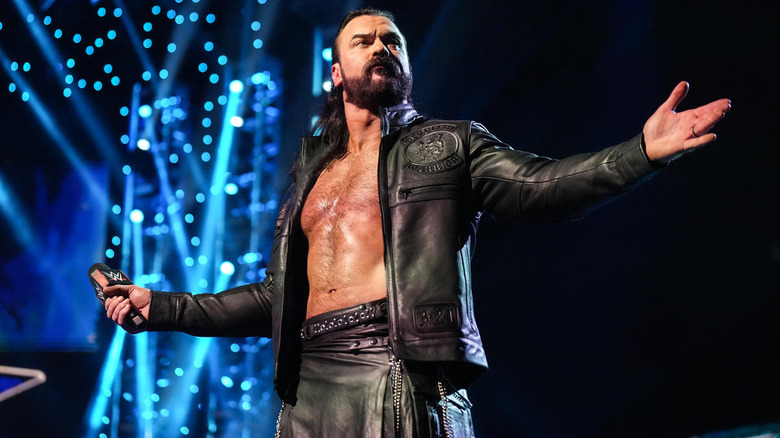 WWE
"I will talk and you will listen."
Now there's a preamble guaranteed to make sure the speaker's audience will get the message as intended. Nevertheless, that's how Drew McIntyre began his promo at the start of "WWE Raw," a speech meant to clarify his purpose in attacking Jey Uso and costing him and Cody Rhodes their shot at the WWE tag titles during their match with the current champions, Finn Balor and Damian Priest of the Judgment Day.
Over the course of his diatribe, McIntyre maintained he's the same man we've been watching since he was 22 years old, and if you have to ask the million-dollar question, then you must not know him very well. That question, of course, was whether or not he'd joined The Judgment Day, and the answer, of course, was no. They're just a means to an end, that end being "Jey Uso in a cage." McIntyre did a great job of putting the heat on the fans themselves, saying his character shift should be obvious to anyone who's been paying attention. If you're a fan of his, he needn't explain himself, and if you've turned on him — since, in this false dichotomy, there's no option to be a fan of his and not approve of his actions — then he doesn't give a damn what you think.
McIntyre's Machiavellian and near-megalomaniacal insouciance is particularly effective because he's really not wrong per sé; he just might see things differently than you. He spoke the truth, or his truth. He did indeed give Jey Uso the benefit of looking him in the eye before dropping his arse, something he never received from the former Bloodline member when he and his family cost McIntyre the greatest prize on the greatest stage — the Undisputed Universal Championship — in Cardif, Wales, (not far from his home country of Scotland) at Clash at the Castle, in front of his own family.
Why should Drew get over it?
Hated: Taking L's right before title shots (Daisy Ruth, WINC news writer)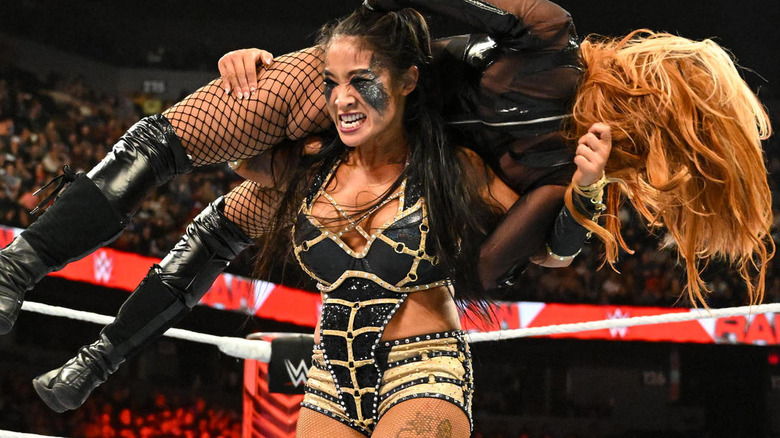 WWE
One of the best things about this week's episode of "Raw" is that there wasn't much to hate. All of the in-ring action was fantastic, and all backstage segments and promos flowed well. So I have to be slightly nitpicky here. The fact that both Xia Li and Chad Gable lost matches on Monday when they are both challenging for titles on Tuesday's episode of "WWE NXT" just stinks. Especially because it could have been completely avoided.
Why not have Becky Lynch call out Xia Li next week and do the match next Monday? Or even the week after, if Lynch isn't on the show next week after a brutal WarGames match? It doesn't necessarily matter if Li wins or loses against Lyra Valkyria on "NXT;" the story with Lynch is still there, and would even be heightened if Li somehow wins the "NXT" Women's Championship. I also am never going to be mad at Chad Gable wrestling on my TV, but the match against Shinsuke Nakamura also seemed unnecessary. Any other guy on that roster could have been fed to Nakamura to keep him strong for whatever it is he's actually doing right now. It didn't have to be Gable. While the Heritage Cup Championship on "NXT" is a sillier title with all the shenanigans always surrounding it, it's a title all the same, and probably one Gable should win. Alpha Academy on "NXT" in a continued feud with the Meta-Four would be awesome.
So while this might be nitpicky, I still don't like it. Especially when things like this can be avoided by just moving matches — or even opponents — around. The booking on the shows hasn't been terrible lately, but these two results were definitely a swing and a miss.
Loved: WWE reminds us what the second W stands for (Miles Schneiderman, WINC senior lead news editor)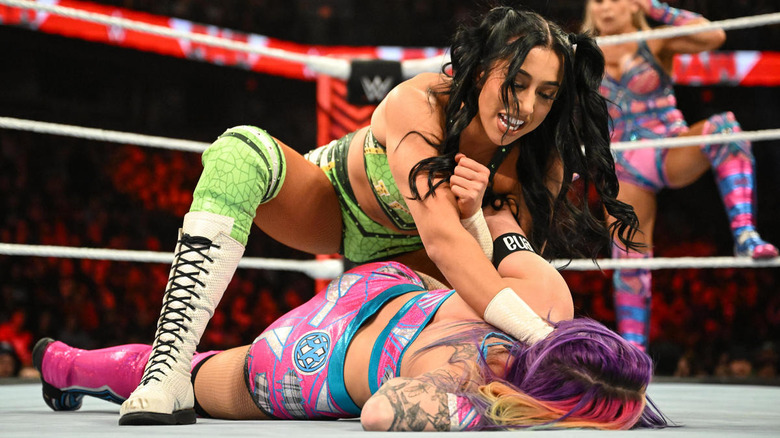 WWE
It's very funny to me that at a time when many AEW fans are becoming disheartened by the "WWE-ification" of their favorite wrestling product (particularly coming off the main event of Full Gear) WWE comes out on a random Monday night and puts on an extraordinarily wrestling-centric episode of "Raw."
For years, fans have complained (rightfully) that "Raw" is too long and doesn't include enough actual wrestling, pointing to things like match counts and bell-to-bell time. I tend to think that's just part of what WWE style has become — the company tends to go lighter on the competitive, back-and-forth wrestling bouts in their weekly programming, saving that kind of action for TV main events, premium live events, or Chad Gable matches. But they also have a tremendous stable of talent at their disposal, and it's remarkable seeing what happens when they actually use it. There were only six matches this week, but they all got significant time, and they were all high-quality. Nia Jax vs. Raquel Rodriquez had a creative and well-executed finish. Becky Lynch vs. Xia Li was almost certainly the best match of Li's career. The women's tag team four-way was extremely fun. Oh yeah, three of the six matches were women's matches, by the way. You won't see that on "Dynamite."
What's more, apart from a minor Giovanni Vinci distraction in Johnny Gargano vs. Ludwig Kaiser and an exposed turnbuckle tease in Gable vs. Shinsuke Nakamura, all these matches ended clean. No interference, no cheating, nothing; Drew McIntyre spiked Jey Uso on his head with a Future Shock and that was all she wrote. That is something you don't see every day from a WWE TV show. I personally have no problem with WWE's typical style — matches for the sake of matches often don't compel me as much as a talking segment with compelling characters can — but the company's apparent disdain for the concept of lengthy wrestling matches on weekly wrestling shows has admittedly been a weakness in their game for a while now. If "Raw" starts putting on more episodes like this one, though, taking its three-hour runtime as a mandate to put on what's basically a mini-PPV? Boy howdy. I would not be a huge fan of this development if I worked in Jacksonville.
Hated: The bully becomes the bullied (Ruth)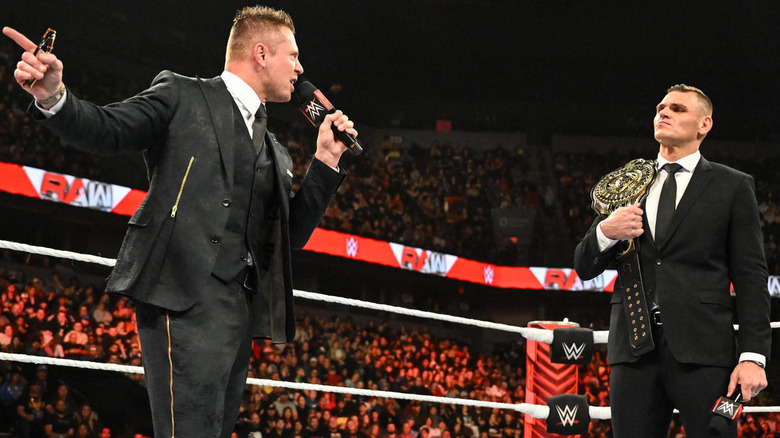 WWE
Admittedly, I have been out of the picture for a few weeks when it comes to watching "Raw," but am I to understand this show is doing a storyline about bullying, for lack of a better term, where it's THE MIZ who is being bullied?!
I had to roll my eyes at Miz coming out and talking about having respect for the fans and the locker room. It's not that I dislike him as a person or anything, he is just so great as a heel character that I'm fully invested in it, and I'm having a lot of difficulty seeing him in any other light — and I'm certain I'm not the only one. I have to admit, I really liked Miz bringing up the various legends like Shawn Michaels who held the Intercontinental title and inspired him, but everything went downhill fast for me after that.
One thing that really bothered me was GUNTHER saying that Miz "doesn't belong in this sport" and that he instead belongs with "all the other weirdos that are just like him." Huh? He was talking about Miz's 20-year career just moments before that. Better as a heel or not, I'd certainly say that Miz belongs. Also, Miz's entire thing is being a Hollywood A-lister, so saying he belongs with the "weirdos" was honestly a bit jarring to me. And don't get me started on the "USA" chants (though of course, those were at no fault of either man and GUNTHER handled them supremely well). Finally, GUNTHER just physically pushing Miz around like the big bully he is ... sir. You are a professional wrestler. Chop the hell out of him! Punch him in the face! At least Miz actually attacked him back and the low blow made sense, but man.
Overall, while I'm extremely happy to see GUNTHER defending the belt at Survivor Series... did it HAVE to be against Miz? Here's hoping for a great match, but with not one but two WarGames matches on the card, I'm thinking it's going to be sadly forgettable.
Loved: Randy Orton is the fifth man (Olivia Quinlan, WINC news writer)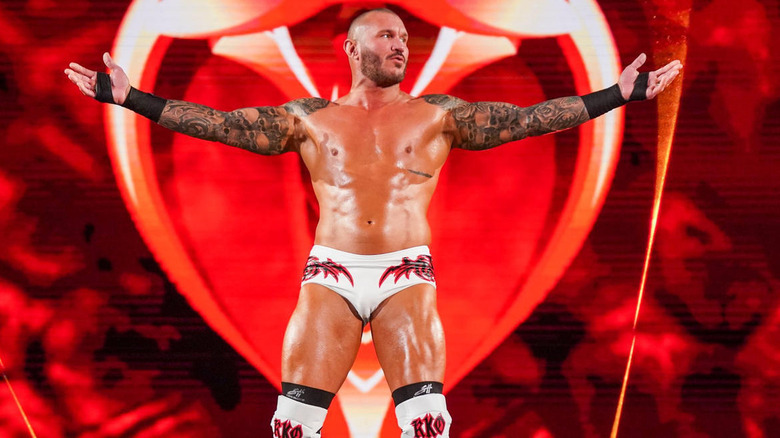 WWE
"I am so glad you have a star of the caliber level of a Drew McIntyre with you, because we're not alone. We found a fifth member, somebody that I have a legacy with. You know who I'm talking about, right? Why are you looking at me that way? You're looking at me like I'm prey, like we're prey. Did you not know that with us is the Apex Predator?"
They say absence makes the heart grow fonder, and boy, did WWE take that sentiment to heart with this segment. Normally, I would hate having to wait until a Premium Live Event to see a talent return from injury, but in this case, I actually like the way that it's being handled. Often times, I find that the dialogue in segments can come off as cringeworthy, but Cody Rhodes' statement revealing that Randy Orton would be the fifth member of his WarGames team as quoted above was the complete opposite of that to me.
Rhodes not outright revealing that Orton was the fifth member without even needing to say his name proves just how much star power "The Viper" holds, and with star power comes attention. See, if Orton had appeared on tonight's show, it would've taken away some of the anticipation heading into the men's WarGames match. It's a smart move business wise, as people (including admittedly me) will want to tune into the PLE to see his return to the company.
Hated: Randy's return announcement, rushed (Jon Jordan, WINC news writer)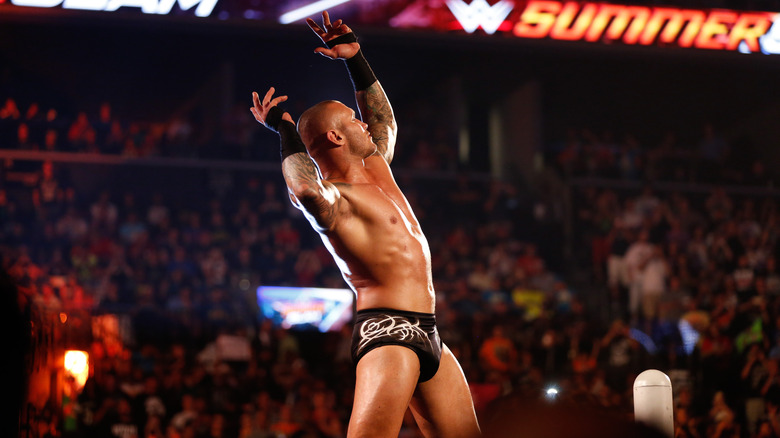 Jp Yim/Getty Images
No surprise was spoiled. No disappointing announcement was made in his place. And yet, unfortunately, excitement surrounding Randy Orton's return as the fifth member of the men's WarGames match at Survivor Series was muzzled, at least a little bit, by the manner in which it was announced — okay, hinted at — by Cody Rhodes.
Let me be clear here: Randy Orton returning at all is a huge positive. For a time, we weren't certain if that would happen anytime soon or perhaps even at all. Secondly, his fit as part of this WarGames team alongside Rhodes, Seth "Freakin'" Rollins, Jey Uso, and Sami Zayn is perfect. Plenty of history exists within the team, led by the "legacy" he has with Rhodes, a reference to their former stable. And finally, there's the business side of thing,s which says that not seeing Orton on-screen, or even via video, all while getting the crowd and the viewers at home fired up, now knowing what they have coming on Saturday night, is absolutely the move — keeping the masses hungry for the first time they hear that song and see his entrance.
But the way this came off was still less-than, and that sucks. When the main event began, I pondered aloud that it was being given a lot of time — to me, seemingly, creating some wiggle room for an Orton return. As the match went on (and was great, by the way, as they all were this week) it was clear there wouldn't be much time left at all, and the reveal and the end was majorly rushed. Rhodes barely got all of the "hint hint, wink wink" details in before the copyright graphic in the lower third was figuratively hooking him off the stage and Blake Shelton was singing on "Barmaggedon."
Bummer.
Look, it's still happening, and for that, we're all thankful ('tis the season!) But it could and should have been more impactful.