DDP Confirms Conrad Thompson Asked Him About Doing A 'Last Match'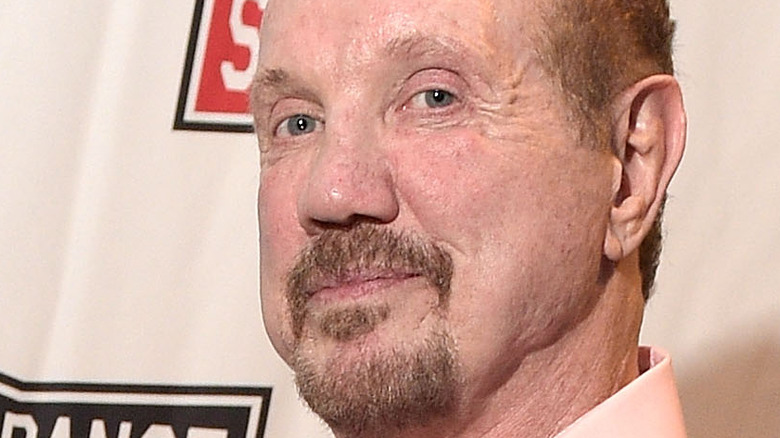 Jason Kempin/Getty Images
Ric Flair's Last Match was interesting, to say the least, with the 73-year-old wrestling legend struggling his way through his final performance, picking up the win alongside his son-in-law Andrade to defeat Jay Lethal and Jeff Jarrett. Of all the craziness involved in the final match, the scariest of all had to be the reveal that Flair had actually passed out two times due to dehydration. "The Nature Boy" spoke on his podcast, "To Be The Man," about how that led to him forgetting a lot of what was going on in the moment, having to be woken up a few times throughout.
Conrad Thompson promoted the event under Jim Crockett Promotions at the Nashville Municipal Auditorium, with over 6,000 fans in attendance. Since the success of the show, Thompson has teased having a "master plan" for future events that could include other wrestling legends having one more shot at ending their career on their terms.
Will DDP Ever Wrestle Again?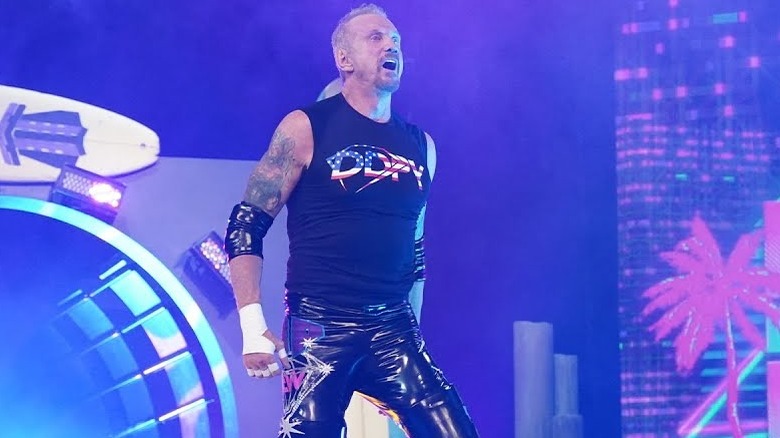 AEW/YouTube
After the show, several WWE Hall of Famers have come out and shot down the idea of being involved with Thompson's farewell match idea, including names like Booker T and Stevie Ray. Adding himself to the list, Diamond Dallas Page spoke about Flair's match during the latest episode of the "DDP Snake Pit" podcast, where he revealed Thompson had approached him as well on having an event built around him. "It's nothing I'll ever do," DDP said. "Conrad was like 'You know DDP, you'd be perfect to do one of these,' I was like 'Nah bro, I'm good. I had my last match, it's never going to be better than that.' I was lucky enough to have all my boys around me and it was fun. I'm good with that."
The WWE Hall of Famer did however get a chance to experience his own Last Match, coming two years ago on "AEW Dynamite" where he teamed with Dustin Rhodes and QT Marshall to take on MJF and The Butcher and Blade. DDP did involve himself in Flair's event, however, nailing Matt Cardona with a Diamond Cutter to an enormous ovation from the crowd.
Why wasn't Jake Roberts at Ric Flair's Last Match?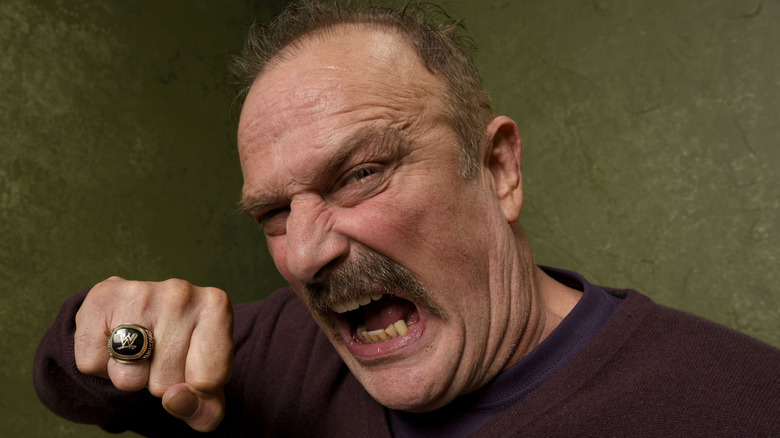 Larry Busacca/Getty Images
Page wasn't the only WWE Legend in attendance, however, as The Undertaker, Bret Hart, and Mick Foley were front row. One noticeable name missing however was DDP's podcast partner Jake "The Snake" Roberts who had his own reason for not showing up. "It was hard on him no doubt," Roberts said. "I remember my last match and I wish the hell I had never done it because I was so ashamed that I could not do the things I normally did. I felt like I was robbing the fans, cheating them out of something that I could not do so if I can't do those things, why am I even out there?"
"Some people will say 'but your fans want to see you,' yeah but they can see you on any corner they want to but let's keep it real. I wasn't invited to [Flair's Last Match] and I'm glad I wasn't because if I had been invited I'd have went. But I'm glad I didn't see Ric Flair's Last Match because I want the memory I have of Ric Flair in 1985." Flair has since teased having another match, but hopefully, for the sake of his health, this was the perfect ending and we never see "The Nature Boy" lace his boots up again.
If you use any of the quotes in this article, please credit DDP Snake Pit with a h/t to Wrestling Inc. for the transcription.