WWE Hall Of Famer Praises Bray Wyatt's Recent Work In WWE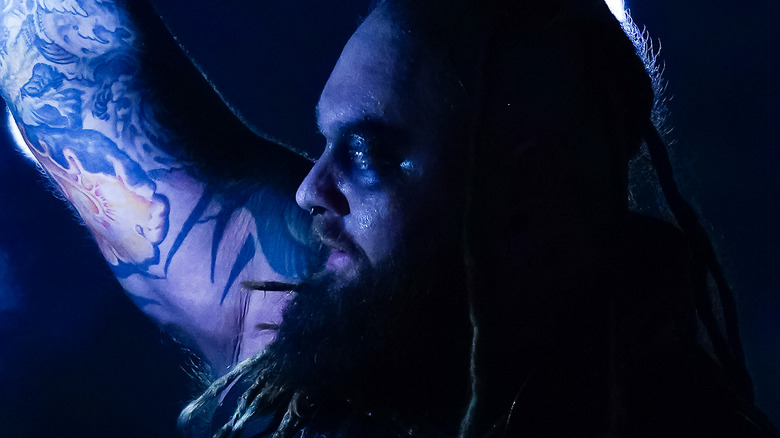 Alex Bierens De Haan/Getty Images
If you're looking for a professional wrestler who embraces character work, look no further than Jake "The Snake" Roberts. It's an aspect of the business he values greatly, and also something Bray Wyatt — who returned to WWE last October — embodies. Wyatt's return has included a feud with LA Knight, the teasing of an old gimmick, and multiple reunions (of sorts) with Alexa Bliss. Recently, the WWE Hall of Famer voiced his appreciation for everything the "Eater of Worlds" is currently doing.
"Oh, Bray's wonderful," Roberts said on "The Snake Pit." "He's got a lot to do yet, hopefully, he'll get enough room to let him do it."
Roberts is a big admirer of in-ring psychology, and he recently took AEW performers to task for their lack of character development. He believes Wyatt is succeeding in making people think.
"He's freaking people out," he continued. "Here this guy is putting this s*** together that makes you think, 'F***, this is real.'"
There are a lot of comparisons between Wyatt and Roberts for their more cerebral nature both in the ring and on the microphone. There happens to be a level of respect between the two as well.
"The one time we did get together, I gave him several ideas for some interviews and he used them! I have the utmost respect for him," Roberts added, before praising his most recent character development — stressing how crucial having time off was in order for it to work.
"Usually those transition things really suck, but his didn't suck so bad because he took some time off to do it. And he made the people want to see him back."
If you use quotes from this article, please credit "The Snake Pit" with an h/t to Wrestling Inc. for the transcription.