Nikki And Brie Garcia Would Be The Perfect Additions To Saraya's Outcasts Faction In AEW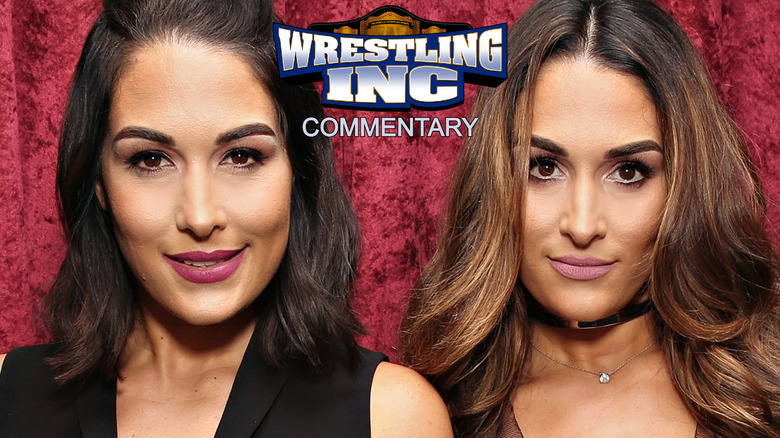 Cindy Ord/Getty Images
The Bella Twins have left WWE, and the former superstars will be known as The Garcia Twins moving forward. Following the sisters' departure from their old company, Saraya welcomed them to freedom and inflamed some of the more vocal members of the Internet Wrestling Community, who accused her of being anti-WWE. Furthermore, it led to some online speculation about the former Bella Twins making their way to AEW in the near future. But will it happen?
Nikki Garcia misses wrestling and has teased a return to the ring at some point. Now that WWE is in the rearview mirror, AEW is the obvious destination for accomplishing that goal. Meanwhile, Brie is married to AEW star Bryan Danielson, so there's a connection between the twins and the upstart company already. Plus, let's not pretend that AEW President Tony Khan isn't open to bringing in two high-profile free agents who've been critical of WWE in recent months.
That said, the Garcias joining AEW is actually a good idea for creative reasons. The timing of their WWE exit just so happens to coincide with Saraya's Outcasts faction gaining some traction on AEW television, and they could use another couple of members to boost their numbers. On top of that, Nikki and Brie joining The Outcasts aligns with the storyline that AEW is exploring with The Outcasts right now.
The Garcia Twins and The Outcasts both have roots in WWE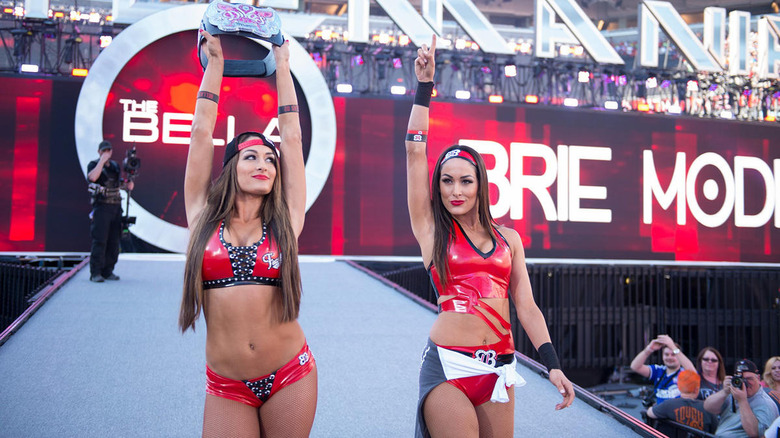 WWE
The Outcasts are essentially AEW's version of the original NWO — former WWE stars who spray-paint their rivals and have beef with their current employers' roster. With that in mind, adding the Garcia Twins to the faction makes sense. For years, the sisters were at the front and center of WWE programming and this led to them being inducted into the WWE Hall of Fame back in 2020. They're bona fide icons who've made an impact on the wrestling industry, regardless of how people feel about them.
If The Outcasts decide to recruit more ex-WWE stars to the ranks, why not bring in two of the most influential women to ever grace a WWE ring? Performers like Athena and Mercedes Mone also fit the criteria, sure, but they're beloved by the hardcore wrestling fans who make up AEW's core audience. Nikki and Bella, on the other hand, are reality TV stars who are antithetical to everything AEW represents. As such, they're the perfect heels for helping The Outcasts get some authentic heat, while simultaneously garnering more support for AEW's babyfaces.
Bringing in the Garcia Twins also makes sense from a commercial point of view. Whether you like them or not, their mainstream profile is undeniably massive and they have crossover appeal. The existence of "AEW: All Access" proves that the company is interested in producing reality television, and the Garcias' success in this field speaks for itself.
The Outcasts need to boost their numbers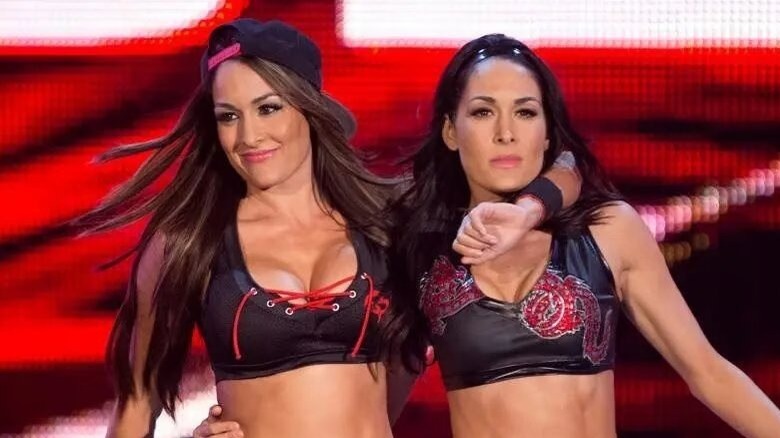 WWE
AEW is clearly building toward a faction war between The Outcasts and the AEW Originals. Britt Baker, Willow Nightingale, Jamie Hayter, and Riho have all been attacked by the former WWE stars recently, and Hikaru Shida opposed the group prior to her current hiatus. That's five wrestlers who want to beat up Saraya's group, and it's only a matter of time until The Outcasts even the odds.
Whether that's to build toward a Blood & Guts massacre, an Anarchy in the Arena brawl, or a traditional multi-person tag team match remains to be seen. Regardless of the planned match type, the Garcias are the best fit to back up The Outcasts as Saraya's aforementioned social media activity indicates that she respects them. They have history dating back to their days in WWE together, and history can add depth to storylines.
Additionally, Britt Baker idolized the Bella Twins when she was training, and this revelation presents some potentially interesting storytelling avenues that AEW could explore. Perhaps Baker can realize that her heroes aren't all they're cracked up to be and set out to kill her idols? Alternatively, she can align with them and betray her friends, finally triggering the feud with Jamie Hayter that's been teased on and off for months. AEW loves storylines that tap into reality, and Baker's fandom of the Nikki and Brie is an automatic foundation to build upon.