Konnan Calls AEW Dynamite Match Between Hijo Del Vikingo And Kenny Omega 'Pure Art'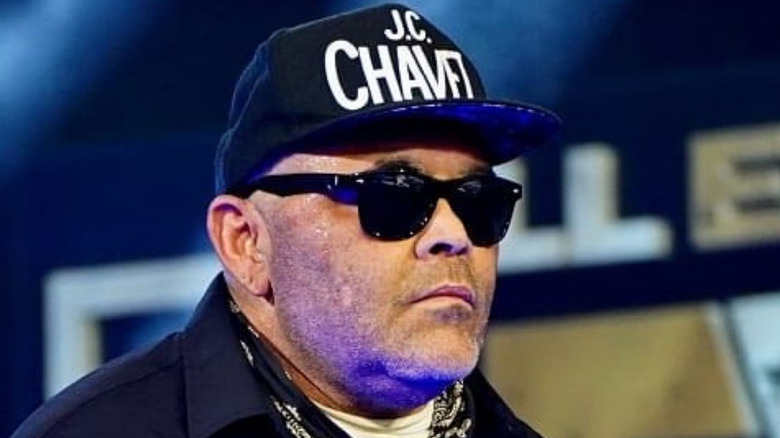 AEW
Kenny Omega versus El Hijo del Vikingo may have taken place last night on "AEW Dynamite," but even with the match in the rearview mirror, it remains the one thing everything in wrestling seems to be talking about. And while most of that talk, especially from wrestlers who tuned in, has been highly positive, perhaps no one was happier with how the match turned out than AAA booker Konnan. The lucha libre legend, and opinionated podcast host, was in attendance last night. And shortly after "Dynamite" went off the air, Konnan and Vikingo were interviewed by Lexy Nair exclusively for AEW social media, where Konnan heaped the following praise on the match.
"I've cultivated a lot of careers, from Rey Mysterio, Juventud Guerrera, Psicosis, the Lucha Brothers, Taya," Konnan said. "And he [Vikingo] is the next one to comes out of the AAA promotion, who in one night made a name for himself in a classic match that was pure art. It was beautiful to watch." It remains to be seen whether Vikingo can reach the heights of Mysterio, but the 25-year-old is off to a great start. Even before last night's bout with Omega, Vikingo had been establishing himself as one of the best luchadores in the world, having held the AAA Mega Championship for 470-plus days while having acclaimed matches with the likes of AEW's Rey Fenix. It seems clear he will have even more notoriety following last night's performance.
As for Konnan, he will follow this appearance on AEW social media with an appearance in WWE next week, as he's expected to induct the aforementioned Mysterio, a long time friend of Konnan's, into the WWE Hall-of-Fame.