Sami Zayn And Kevin Owens' WrestleMania Main Event Was Bigger Than Daniel Bryan's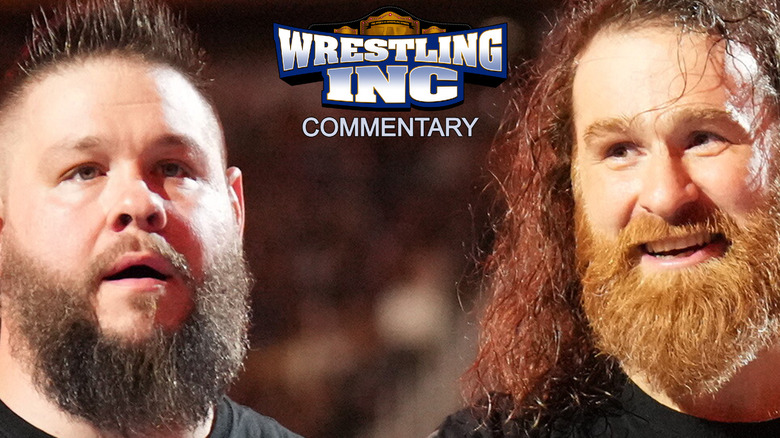 WWE
Nine years ago, WrestleMania XXX ended in the image of Daniel Bryan — the eternal underdog, the massively popular fan favorite who had been unfairly held down by WWE management until they simply couldn't deny him any longer — raising his two newly-won title belts in the air, having just defeated Randy Orton and Batista in the main event to capture the unified WWE World Heavyweight Championship. It was one of the most moving, inspiring moments in WWE history, the culmination of a story that will live forever in wrestling history. It was magical.
It was also fully eclipsed this past weekend at WrestleMania 39 by its spiritual successor, the image of Sami Zayn — the massively popular fan favorite who had been unfairly held down by WWE management until they simply couldn't deny him any longer — and his best friend and tag team partner, Kevin Owens, each raising their two newly-won title belts in the air, having just defeated The Usos to capture the Undisputed WWE Tag Team Championship. This moment was more moving, more inspiring, the culmination of an even better story that will somehow live even longer in wrestling history. It was, quite simply, more magical.
To recognize this is not to take anything away from Daniel Bryan or WrestleMania XXX, both of which remain spectacular. But the completion of Bryan's journey, while incredible, has nothing on the destiny realized by Owens and Zayn on Saturday night, and such greatness, ironically, deserves to be acknowledged.
A story that earned its ending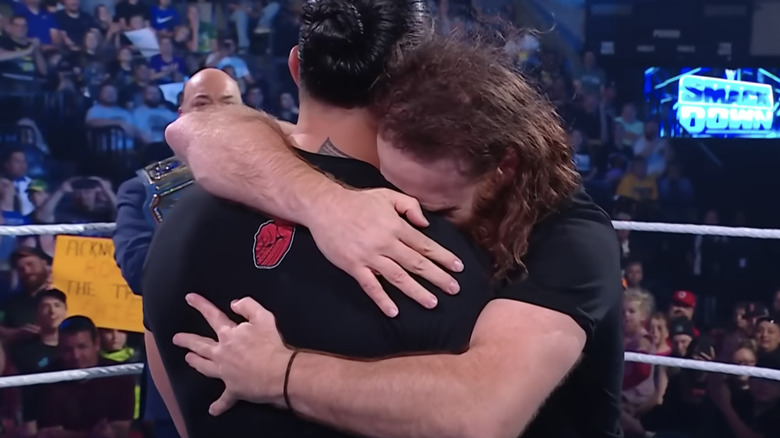 WWE/YouTube
YEStleMania and WrestleZaynia both came to fruition due to massive internal shakeups that nobody could have expected. The difference is that CM Punk left WWE in January, while Vince McMahon left WWE creative in July.
Punk's abrupt departure opened up a massive hole at the top of the WrestleMania card, and Bryan's popularity made him the man to fill it. WWE was also dealing with a fanbase on the verge of revolt, not least because by the end of the 2014 Royal Rumble, it was clear that Bryan's underdog story — which by all rights should have been written to culminate at WrestleMania –  had been unceremoniously dropped. WWE's last minute pivot to something fans were actively demanding made the story miraculous and empowering, but it never felt cohesive or planned.
We don't know what would have happened with Sami Zayn if Vince McMahon had retained creative control in the summer of 2022, but it's undeniable that McMahon's departure was followed almost immediately by Zayn suddenly being allowed to share the screen with Roman Reigns. This programming decision was something that Zayn has cited multiple times as the moment the story began to take off. And because it happened over the summer, the story was able to progress and expand naturally over time, gradually building to a satisfying conclusion — not least because WWE, in a rare moment of logical and beneficial fan rejection, kept what was clearly the story's original ending: a tag team championship match.
The tag titles take center stage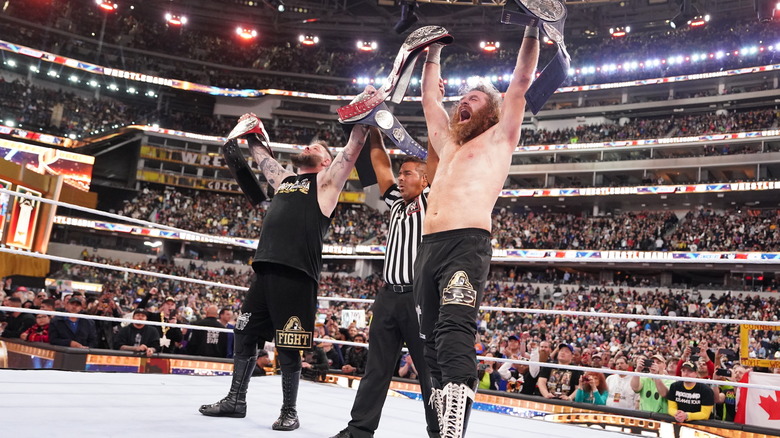 WWE
While many believed that the Bloodline story could only be done justice by Zayn defeating Reigns for the world title, the narrative centrality of other characters like Kevin Owens and Jey Uso — as well as the story's themes of family and loyalty — demanded a tag team format. And while there were questions, right up until Night 1 of WrestleMania 39, about which match would be the main event, in the end there was no choice. The story was too rich, the fans too invested in these characters, the payoff to the past year of television too dramatic, for anything but Zayn and Owens vs. The Usos to take the top spot.
The result was the first WrestleMania main event for a tag team championship in history, and the first tag team main event of any kind since Hulk Hogan and Mr. T teamed up at the very first WrestleMania in 1985. In a business where success tends to be measured in time, Zayn and Owens vs. The Usos was also the longest tag team match in WrestleMania history. For tag team wrestling — a style with a long history of being disrespected or even just ignored at wrestling's biggest annual show — it's a massive milestone, an acknowledgement that the format can achieve greater heights than a collection of ladder spots. Even WWE's own tag team talent recognize this match as an indication of how far we've come.
Daniel Bryan's WrestleMania main event will always be one of his greatest moments. But Sami Zayn and Kevin Owens' main event is a great moment for the industry, and its legacy will (hopefully) be that it changed the future of tag team wrestling.