CM Punk Has Reportedly Laid Out Scenarios For Potential AEW Return
AEW
Will CM Punk return to AEW? That's been the big question surrounding Tony Khan's promotion since the fallout from All Out last September. And while Khan has remained quiet about Punk's status with the company, there has been so much talk in recent weeks about Punk from those involved with AEW that the casual observer might start to believe there could be an opening for the former two-time AEW World Champion to return to the locker room. Punk himself also seemed to drop some hints about possible resolutions via social media. However, after a quickly-deleted Instagram post stirred up trouble backstage, the idea of a Punk return to AEW seemed once again on shaky ground.
However, according to Fightful Select, Punk has been in contact with AEW, reiterating a desire to resume wrestling. And while there remains a lot of backstage tension and hurt feelings, several different scenarios have been laid out that could make it possible. There have been indications that Punk is open to burying the hatchet with The Elite, who were at the center of All Out's fracas, and doing business with Kenny Omega and the Young Bucks in the big-money feud many wrestling insiders have had their eyes on. However, outside of regret expressed by Omega and the Bucks, there haven't been any clear indications as to whether they'd be onboard with such a plan.
CM Punk Potential AEW Return Faces Complications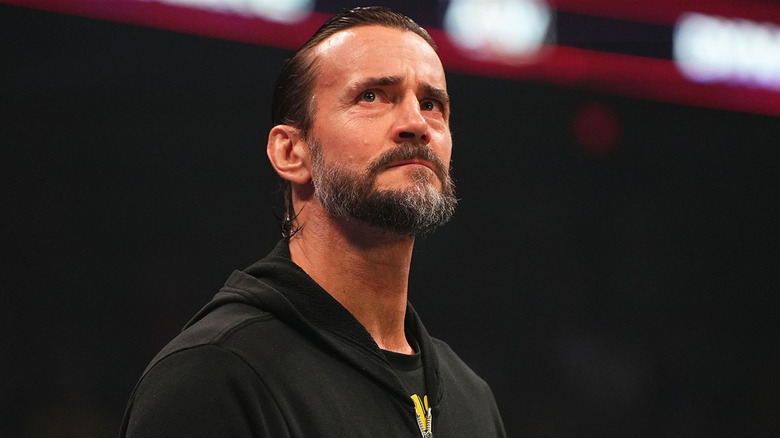 AEW
Another alternative would see Punk avoiding that trio altogether and operating on his own end of AEW — something a rumored third show on Saturdays or even "AEW Rampage" could assist with — but there's only so much space for The Elite and Punk to remain apart before their paths eventually cross. And that doesn't even begin to factor in issues with Chris Jericho and Jon Moxley, stemming from the Instagram post, that complicate Punk resuming his AEW in-ring career.
With the wrestling bug biting Punk hard lately, he has expressed an openness to wrestling elsewhere, although what the parameters over such an arrangement would be are a mystery. There were rumblings of a contract buyout many months ago that could open Punk up for a leap back to WWE. But there is also the possibility of Punk playing a major role in the rebuild of ROH, which Khan now owns and operates as its own entity. That brand could certainly use some star power as it attempts to attract more subscribers to Honor Club.
Dax Harwood has also been pushing for Punk to be back in the fold. His latest idea is to have Punk in the middle of things enough for a program involving FTR and The Elite heading to All In at Wembley Stadium this summer. But there are obviously a lot of problems that need to be solved first before any such discussion really takes place on that front.