MJF Addresses Possibility Of Goldberg Coming To AEW In Deleted Tweet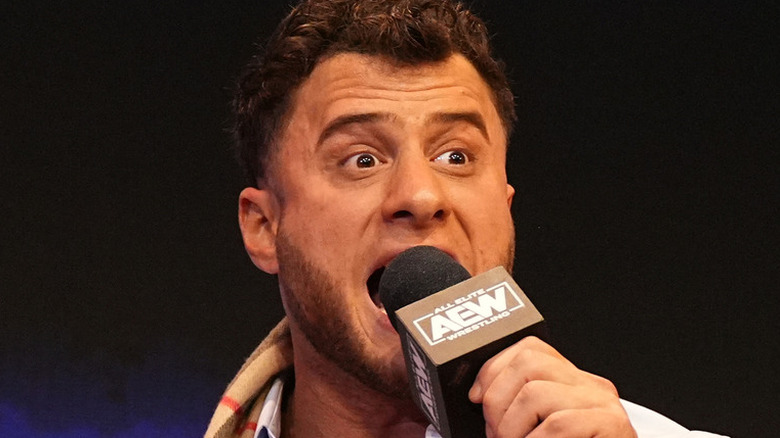 AEW
Ever since it was revealed that Goldberg's contract with WWE had expired and the WCW legend was a free agent, fans have been tossing around the idea of a Goldberg appearance in All Elite Wrestling. AEW President Tony Khan even discussed the idea earlier this month, leaving the door open for Goldberg to work in AEW. While there's no substantial information that points to this actually happening yet, AEW World Champion Maxwell Jacob Friedman addressed the possibility in a now-deleted tweet (via WrestlingNewsCo).
"I'd beat the living s*** out of this 'roided up Jew," Friedman wrote, in response to a report that Goldberg was in Los Angeles taking meetings on potential events for a supposed retirement tour. Shortly after posting the tweet, Friedman removed it from his timeline. The AEW World Champion has previously called out Goldberg during past interviews, stating that the former WWE star would have "panic attacks" while holding a microphone.
In recent days, talk of an MJF vs. Goldberg match has heated up, with industry insiders such as Booker T discussing the potential of the bout. In addition to MJF, Booker put forward the idea of CM Punk as another possible opponent for Goldberg, eyeing the company's United Kingdom debut at Wembley Stadium as the perfect showcase for a Goldberg appearance in AEW.
As of now, Goldberg hasn't mentioned the possibility of heading to AEW, instead putting forward the idea of working with independent promoters to put together an international tour, including a possible stop in Israel. Goldberg reportedly met with international promoters during WWE WrestleMania weekend to discuss the idea.