WWE RAW 9/11/2023: 3 Things We Hated And 3 Things We Loved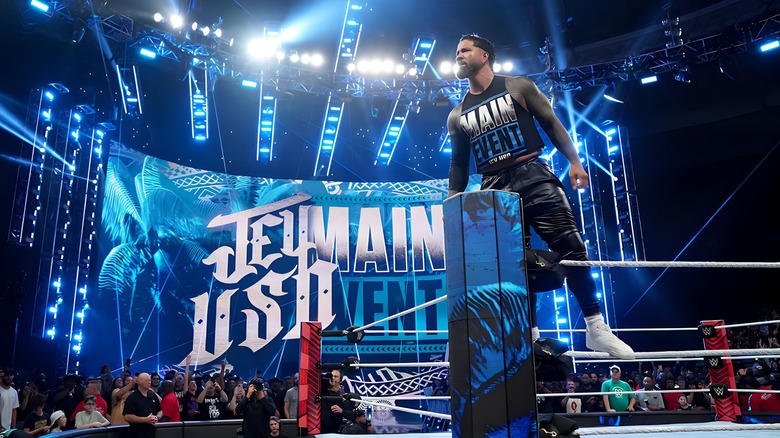 WWE
Welcome to Wrestling Inc.'s weekly review of "WWE Raw," aka the show that you don't really have to watch between now and January, but you will anyway because you're an obsessed weirdo just like the rest of us! And man, nothing says "Monday night in mid-September" like an episode of "Raw" where you feel every minute of those three hours. As you may have guessed, the Wrestling Inc. crew was far from thrilled with the final "Raw" of the McMahon ownership era — we couldn't even muster up an opinion, good or bad, about Nia Jax returning to WWE TV, which is certainly a thing that happened — but we were still able to find plenty of things we enjoyed, along with the things that we ... enjoyed somewhat less.
As always, for the full, unbiased results of the show, you can go to our live coverage. This space is for our writers and editors to express their opinions and provide some analysis on things that stood out Monday night. So without further ado, here are three things we hated and three things we loved about the 9/11/23 episode of "WWE Raw."
Loved: Things making sense (Miles Schneiderman, WINC senior lead news editor)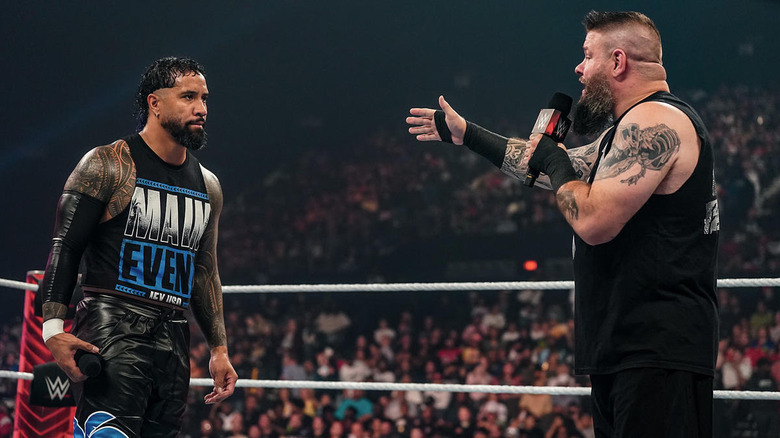 WWE
There were some aspects of the show-opening segment involving Jey Uso and Kevin Owens that I could quibble with; namely, the fact that it was pretty obvious where it was going. As soon as Judgment Day came out, it was obvious that they were going to have a match against Uso and Owens, and as soon as that match became official, it was obvious that Judgment Day was going to win because of Uso and Owens not being on the same page. Like, we've all been watching this kind of thing happen in matches involving current or former Bloodline members for literal years now, we know the drill, right?
But for all that, I'm still interested in this chapter of the Jey story, because it makes sense. It makes sense to follow last week's emotional scene of Sami Zayn forgiving Jey with this week's promo from Owens, who made it clear that he knows what it takes to earn redemption after doing terrible things, and Jey still has a lot of work to do. It makes sense that Owens would give Jey a chance, and end up being disappointed. It makes sense that the Judgment Day would want to recruit Jey, and it makes sense for every babyface on the roster to assume Jey would jump at the chance to join a new Bloodline. I like that Jey isn't even hinting that he actually wants to do that, and my theory about a WarGames setup with Jey on the babyface team against the Judgment Day is looking more and more likely, so I'm not complaining. All of this Jey stuff makes sense. Which is more than I can say for his brother's storyline on "SmackDown."
Hated: The Miz really needed to get his win back over Akira Tozawa, huh?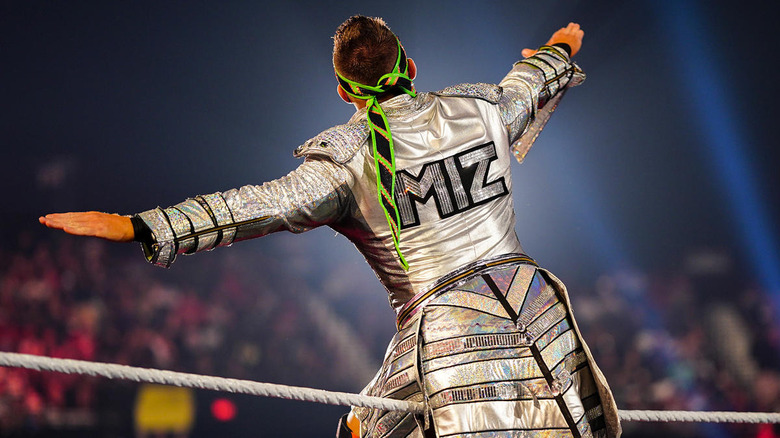 WWE
With all the great things The Miz has been up to lately in his ongoing feud with LA Knight — from his fantastic cosplays to the utter ridiculousness of hosting "John Cena" on last Monday's episode of Miz TV (I'm sorry, "you can't see him" jokes will never NOT land with me) — his work Monday night just completely fell pointlessly flat with me. First of all, poor Akira Tozawa. The former WWE 24/7 Champion didn't even get a comedy spot. I might have been more okay with this if I at least got a chuckle out of the match.
For a squash (and you knew that was coming from a mile away) it went on for far too long before The Miz hit a Skull Crushing Finale and pinned the former cruiserweight. Meanwhile, anyone expecting to see Knight ahead of their match on "WWE SmackDown" on Friday was sadly mistaken. Knight's music didn't hit and the megastar didn't waltz down the ramp; despite Knight's Payback victory over Miz, he still could have used a promo victory before the match, especially after Miz ran him down a few "SmackDown" episodes ago.
I wish there was more I could even say about this match, but there really isn't. I can say it did nothing to make me more excited for Miz and Knight's rematch on "SmackDown" this week, something I actually forgot was happening at one point. If we're going to be running this Payback match back, you need to keep your fans excited about it, and a squash victory over Tozawa, with absolutely no comedy involved, just wasn't it.
Loved: Drew McIntyre Giving Us Something New (Matthew Carlins, WINC News Editor)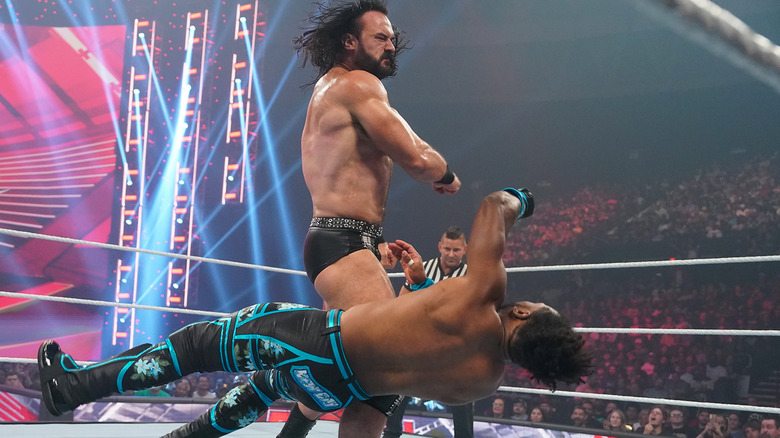 For the first time in a long time, Drew McIntyre is getting the chance to do something new with his character, and I'm enjoying what I'm seeing.
Monday night's "Raw" saw McIntyre come face-to-face with Xavier Woods and Jey Uso in separate backstage segments. The former led to a match against Woods later in the show, which McIntyre won. Uso, meanwhile, gets his shot against McIntyre next week, and prior episodes have shown McIntyre simmering over the actions of Kofi Kingston and Matt Riddle, a slow burn that is almost certainly leading to only one destination: a McIntyre heel turn.
That sounds great to me, because McIntyre's on-screen persona has been relatively unchanged since the start of the biggest babyface push of his WWE career, which led to him winning the men's Royal Rumble match in January 2020, before the official start of the COVID-19 pandemic. I think McIntyre has done a good job preserving an air of menace during this babyface run — he's been a good guy, yes, but for the most part, he's been able to maintain a character that fans can still believe is dangerous. The moment is coming, however, when he's going to be able to fully unleash the heel side of himself once again.
HATED: Please WWE ... Not Another Thrown Together Women's Tag Team (Olivia Quinlan, WINC news writer)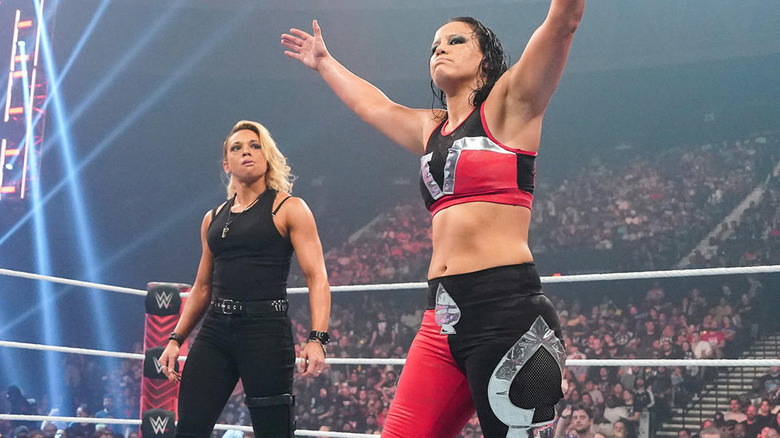 WWE
Look, don't get me wrong. Shayna Baszler and Zoey Stark are easily two of my favorites in the women's division. While I do think a partnership between them is cool in theory, I'd rather see them both built up as singles stars, especially because they both recently had partnerships with Ronda Rousey and Trish Stratus, respectively. I'd much rather see Stark feud with Stratus (which I honestly expected to happen after they split up) and Baszler put on some bangers with Rhea Ripley or IYO SKY.
Furthermore, while I want Baszler and Stark to both have a singles run, I can't say I was a fan of the former's match against Chelsea Green. I can understand having Piper Niven run interference for Green as her "tag team partner", but she seemed to be pulling the focus away from Green, and if that was the case, I don't understand why Baszler didn't just face Niven instead. In fact, seeing Baszler conquer a bigger opponent would've made more of a splash in my eyes, anyway.
Loved: Yes, more Gable vs. GUNTHER, please and thank you (Schneiderman)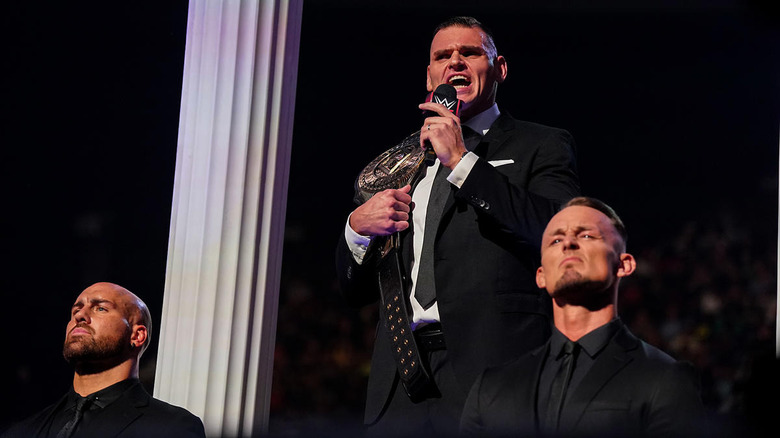 WWE
This was, overall, a pretty drab, boring episode of "Raw," at least for me. Where it found life, though, was basically any time Chad Gable and GUNTHER were on screen. Their promo exchange, which started with GUNTHER's championship celebration speech and turned into him accusing Gable of being a terrible father for wanting his family to come watch him lose again, was absolutely excellent and included some of Gable's best work on the mic as an earnest babyface who wants another shot at the belt. The subsequent brawl ended up bringing out Tommaso Ciampa to help Gable and Otis, and the six-man tag match that came out of that was probably the best contest of the night, and ended with Gable notching yet another win over Imperium, tapping out Giovanni Vinci. All in all, it seems like we're heading for a fourth GUNTHER vs. Gable match for the Intercontinental title, and I really hope they let Gable win this time now that GUNTHER has officially broken the Honky Tonk Man's record. He's the perfect guy to hold that championship, and it's officially time for GUNTHER to move on to bigger and better things.
Admittedly, I'm not sure how and why Ciampa fits into this whole thing. Him helping the Academy came out of nowhere, and I'm struggling to come up with a reason for it beyond "they needed another babyface for the six-man." Johnny Gargano remains resolutely off TV, but it seemed like there was yet another DIY tease Monday night, with the finish of the six-man resembling the finish of the tag title match at "NXT" Takeover: Toronto in 2016, where Ciampa and Gargano won the belts. Does that mean anything? Or is this just all they could find Ciampa to do right now?
Wild theory: Ciampa turns on Gable and joins Imperium, replacing an ousted Vinci. Wilder theory: Ciampa turns on Gable and Gargano returns as a heel, setting up Alpha Academy, who have Maxxine Dupri, against an evil DIY and Candice LeRae/Indi Hartwell. That would rule.
HATED: We DON'T Want to Talk About Interrupted Promos (Ruth)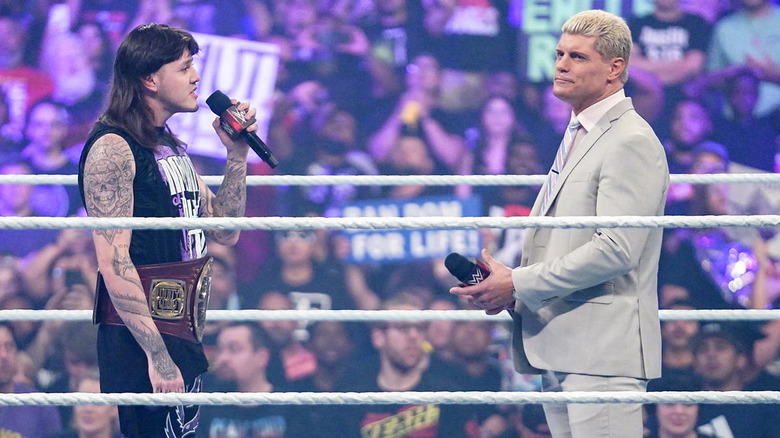 WWE
Disclaimer: I'm marrying Cody Rhodes' number one fan, and I look forward to Rhodes' segments (most of the time) because it makes the person sitting next to me very happy, which makes wrestling more enjoyable. So of course, when we saw "Raw" was supposed to be opening to Rhodes coming out to ask Norfolk what they want to talk about, I was excited. Then he didn't. Which is fine, he was still advertised at the top of the show, so it had to be coming at some point, right?
Well. Not exactly.
Rhodes comes out, gets all the fancy pyro, the massive "WHOOOOA!" and all the other good stuff. He's in the ring, gets on the mic, and drops the line. Then Judgment Day's music hit, and I audibly groaned. Because I actually was pretty curious as to why Rhodes decided to pull all the strings and call in all his favors to get Jey Uso to "Raw." There's also still the mystery factor of who is going over to "WWE SmackDown" in Uso's place — could it be Rhodes himself, possibly to get closer to Roman Reigns?
We didn't find out the answers to either other those questions tonight, because Dominik Mysterio and JD McDonagh came out to the usual massive chorus of boos and said something about Uso joining Judgment Day. Rhodes then went on the offensive on Mysterio, was attacked by McDonagh, and sent both of them flying out of the ring.
Once again, we get an interrupted promo within no more than 20 seconds of someone talking. When the trope is overused, as it is right now in both WWE and AEW, it's one of my biggest wrestling pet peeves. We had already seen that at multiple points of the night, so this didn't work for me in that regard. If I could have at least gotten an answer from Rhodes about why he wanted to bring Uso over to "Raw," and then the interruption came, I would be a little more satisfied by this segment. But sadly, my curiosity remains unquenched. If you're not going to let Rhodes finish the story ... at least let him finish his damn promo!