WWE SmackDown 9/01/2023: 3 Things We Hated And 3 Things We Loved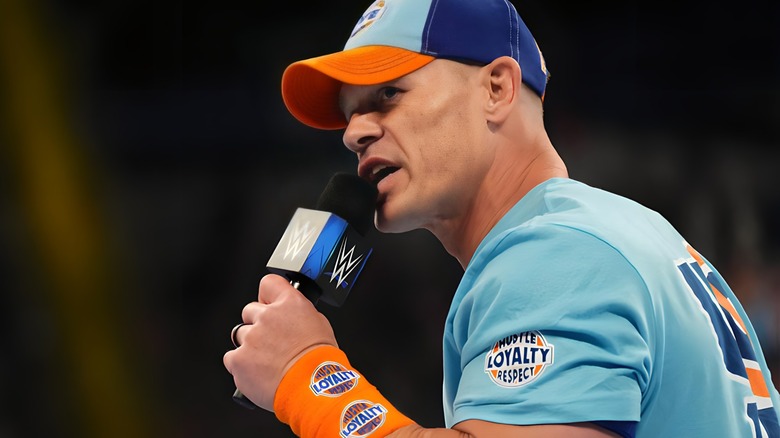 WWE
Welcome to Wrestling Inc.'s weekly review of "WWE SmackDown," the final piece in our first full week of collaborative wrestling show reactions! We're on the doorstep of Payback, which looks to be the first main roster PPV without a Bloodline match since Extreme Rules 2022, almost 11 months ago. That's unfortunate for the blue brand, because it means "SmackDown's" primary contribution to Payback is the Austin Theory vs. Rey Mysterio feud, so of course, PLE match or no PLE match, our primary storyline is about Jimmy Uso, because Bloodline. Also John Cena is here, that'll be fun, right?
As always, we're not going to touch on everything that happened on "SmackDown" in this column; you can go to our live coverage for something more comprehensive, and after all, do you really have to ask whether we enjoyed a Sami Zayn and Kevin Owens match? But what follows are the things that stood out the most — three things we hated and three things we loved about the 9/1/23 episode of "WWE SmackDown."
Loved: The Bloodline branching out from the never-ending saga (Liam O'Loughlin, WINC news writer)
WWE
The Bloodline saga has cooled off in recent weeks, with the absence of Roman Reigns and the departure of Jey Uso placing WWE's longest-running storyline on the back-burner. And after months of interactions between both Uso brothers, Reigns, Solo Sikoa and Paul Heyman, the latest edition of "WWE SmackDown" finally allowed two of the family members to mix it up with other members of the Friday night roster in a much-needed new direction.
In his eagerly-anticipated return, John Cena was interrupted by Jimmy Uso in a heated promo segment, teasing a potential match between the pair down the line. Uso would then find himself in the crosshairs of AJ Styles backstage after interrupting OC member Mia Yim's meeting with WWE official Adam Pearce — but it was his little brother Solo Sikoa who intervened and attacked Styles, setting himself up for a  "SmackDown" main event against the former WWE Champion. Sikoa would continue his dominance on the main roster, defeating Styles in a hard-hitting bout thanks to some timely interference from Uso. To close the show, Uso landed a superkick and a top-rope splash on Styles.
One major criticism of the Bloodline since WrestleMania 39 and the controversial decision to continue Reigns' historic title reign has been that the characters involved have been orbiting almost exclusively around one another. But with the two central players on indefinite hiatus, Uso and Sikoa made the most of their opportunities and breathed new life into the blue brand, while the inclusion of Styles into the mix could see 'The Phenomenal One' renew his entertaining rivalry with Reigns from 2016 later this year.
While there is no timetable for Reigns or Jey to return to WWE programming, it was a nice change of pace to see The Bloodline still featured on "SmackDown" but allowing fans of the rest of the roster to remain invested in the meantime.
Hated: John Cena Is Back ... And I'm Already Sick Of It (Matthew Carlins, WINC News Editor)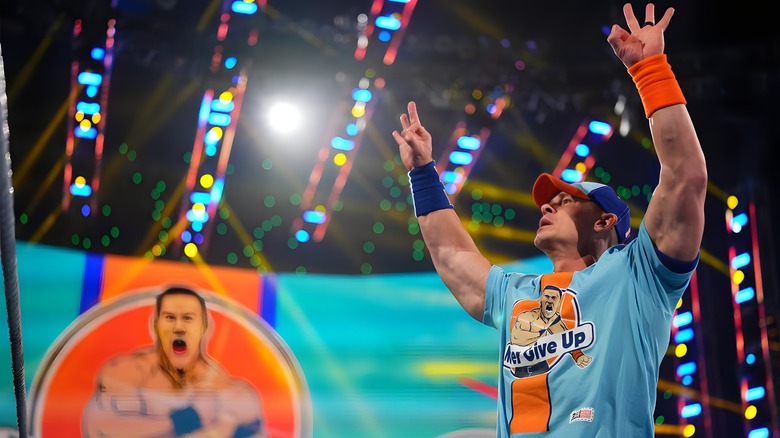 WWE
John Cena made his return to WWE programming Friday night, and it didn't take long for him to wear out his welcome with me.
Telling Jimmy Uso "The wrong Uso quit" and then dropping him with the Attitude Adjustment is such a perfect microcosm of classic Cena big-dogging that tears down almost anyone who's unfortunate enough to find themselves in his path. It's rarely fun or enjoyable, but that's Cena. We've seen his act, virtually unchanged, for over a decade now, and there's little hope of getting any fresh material at this point in his career. Maybe I still have a bad taste in my mouth from Cena's ill-fated and fruitless feud with Austin Theory and their disappointing match at WrestleMania 39, but Cena's presence on "SmackDown" immediately felt hollow and exhausting to me.
I'm admittedly one of those fans who's only been able to endure so much of Cena. When he was in his prime, and the undisputed top star in WWE, there were often times when I just could not take any more of him. Sometimes that would lead to me just avoiding WWE programming for weeks or months at a time. Of course, my current employment situation now takes that option off the table, so here I am, facing the reality of dealing with him for at least a couple more months.
Loved: Shotzi's new look (Olivia Quinlan, WINC news writer)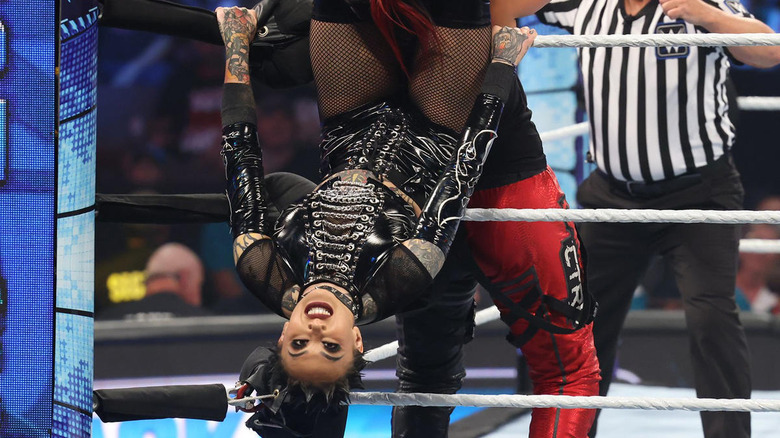 WWE
I've been a fan of Shotzi for quite some time, but her character in recent times had been getting pretty stale, and I was ready to see her do something different. Well, Friday night, I got my wish, and she did not let me down.
From the moment she entered in her classic tank for her match against Bayley, Shotzi was fired up (so to speak) and ran down to the ring signaling that we were in for a fun ride. Instead of doing the usual opening match lock-up-and exchange-submissions routine, Shotzi blasted Bayley with offensive moves almost straight out of the gate. She kept this fierce offense up throughout the rest of the match and gave what was one of her best in-ring performances over the last while — not forgetting to throw out a couple of howls throughout the bout.
Shotzi went all in with this new character, and it massively paid off. She clearly considered even the smallest of details, from the way she smiled and laughed to her wolf-like movements between hitting moves. If that wasn't enough, she was sporting a cool, spiky new hairdo and a black ensemble covered in studs, which if you ask me was the perfect visual accompaniment for her new attitude.
Hated: An Off Knight (Daisy Ruth, WINC news writer)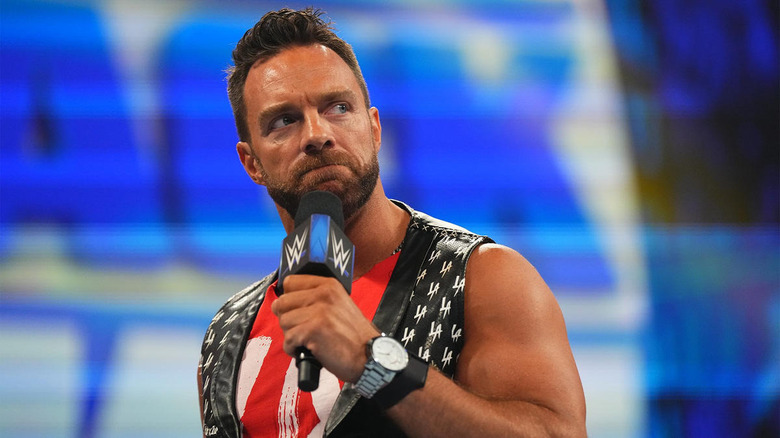 WWE
Unlike some of us here at Wrestling Inc, I am a big fan of LA Knight. Tonight, however, in a rare occurrence for the former Eli Drake, The Miz destroyed him on the mic. Miz is, of course, a formidable opponent when it comes to promo work, and coming off an (admittedly, from this LA Knight girlie), excellent segment on "WWE Raw" on Monday complete with a fantastic Knight cosplay and impression by Miz, this just wasn't Knight's night.
LA needed to come back with something excellent following Miz's cosplay, and his "little giblets" line and Maryse innuendos just didn't land, though of course you'd never think that with the live crowd's response. Knight even seemed to stumble through an important portion of his promo, when he spoke about his time spent roughing it in roach-infested apartments as he navigated his way through the wrestling world to get to WWE. His stumbling over his words was extremely noticeable and took me out of the promo.
The Miz then really began to heat up, saying he "crushes the hopes and dreams of superstars all the time." The part about sending Knight back in time was a bit strange, but the visual inspired by Miz's lines about Knight practicing promos in his mirror with a hairbrush was a straight KO.
Of course, Miz went for a cheap shot after the promo battle, and Knight countered, but Miz did end up hitting a Skull-Crushing Finale. That was surprising to me, but actually, I didn't hate it. Knight got up and attacked Miz and the two had to be pulled apart on the stage, so Miz didn't get the last laugh, but he certainly proved himself a worthy opponent to Knight during his meteoric rise.
This promo battle didn't make me any more or less excited for their match at Payback tomorrow, but I do think it'll be a good one. This is a great feud for Knight if WWE still isn't certain what direction they want to take him. But I did hate this segment as a big fan of Knight, and it was a bit cringe-worthy to see him stumble when he really needed to shine. Yeah.
Loved: Grayson Waller and Austin Theory's new tag team has plenty of legs (O'Loughlin)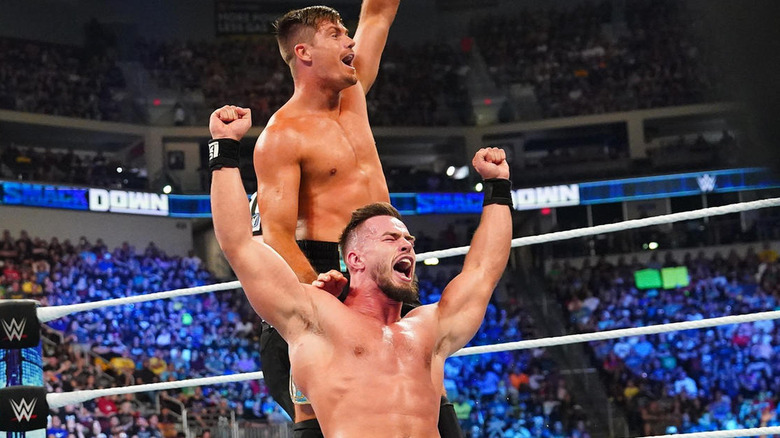 WWE
If there's one thing WWE needs to further establish on both "Raw" and "SmackDown", it's a deep tag team division — and Friday night's show in Hershey was certainly a step in the right direction. With the current Undisputed WWE Tag Team Champions Kevin Owens and Sami Zayn in a seemingly never-ending program with The Judgment Day over on the red brand, there's a definite need for depth on "SmackDown" to give the Canadian duo a longer list of formidable challengers.
The new team of Austin Theory and Grayson Waller got off to a winning start on "SmackDown" against Rey Mysterio and Santos Escobar, with the Aussie standout gaining his first pinfall victory on the main roster courtesy of a rolling stunner. While on the surface Theory and Waller are two singles stars with somewhat similar heel personas who have been thrown together as a means to an end, if you dig a little deeper, there could be some genuine legs to their partnership as a regular fixture.
Waller has been an unbridled success since moving up to the blue brand, sharing the stage with some of the biggest names in the business including John Cena, Logan Paul, and Edge. His confidence on the microphone, despite having only been on WWE television since making his debut on "NXT" in 2021, is up there with the very best the company has to offer. While his work once the bell rings is exciting and Waller plays his part well, Theory is a more polished in-ring athlete and has already held singles gold in WWE, but has fallen off a cliff from a presentation standpoint in recent months since his clash with Cena at WrestleMania 39.
Theory has also proven to be at his most entertaining when working alongside bigger personalities. During his second run on the developmental brand, Theory teamed up with the likes of Johnny Gargano and Indi Hartwell as part of The Way, which allowed him to showcase his versatility as a performer. Even his previous on-screen relationship with Vince McMahon painted Theory in a better light than some of his more recent performances. A partnership with Waller, who possesses a similar cocky and brash attitude, but with more confidence and presence behind him, could be the best way to revitalize Theory's stagnating career in WWE.
Could we have witnessed the formation of future tag champs on Friday night? Time will tell, but their debut as an on-screen pairing certainly showed plenty of upside.
Hated: Nope, f*** this (redux) (Miles Schneiderman, WINC senior lead news editor)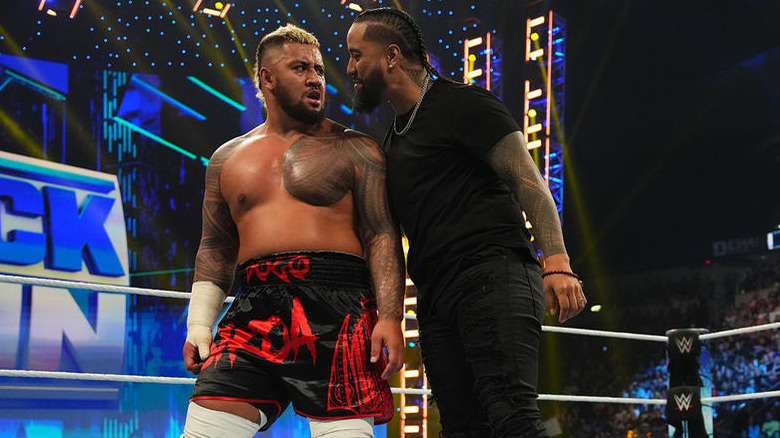 WWE
I know, I know. I turned heel on the Bloodline story at SummerSlam, then I was back on board the following Friday, and now I'm turning heel on it again. Who am I, Jimmy Uso?
The worst part is, I was fine with everything until the very end of Friday's "SmackDown." Jimmy's new theme song rules, he reiterated his reasons for costing Jey the title at SummerSlam, which are reasons I still agree with, and then he got into an altercation with AJ Styles that ended in Styles getting unexpectedly beaten down by Solo Sikoa. Fine. Solo telling Jimmy he's out of the Bloodline when they say he's out of the Bloodline is ... weird, considering he's felt pretty damn out of the Bloodline since he kicked Roman Reigns in the face at Night of Champions three months ago, but whatever. Jimmy tells Solo nobody tells him what to do and walks off, which is great. We have a sort-of heel version of Jimmy who did the wrong thing for the right reasons and is now acting like a dick because his twin brother isn't around anymore, but he's also not aligned with the cousin and younger brother because they are still the worst. Good characters stuff; not what I'd have done, but if they had left it there and just given Solo a clean win over Styles in the main event, it would have worked.
Instead, Jimmy shows up at the end to help Solo win and acts like he wants back in the Bloodline. Which is terrible.
Not only does it not work within the logic of the character as seen over the past three months, it doesn't make sense with the logic of any of the characters as seen on this same episode. You can't have Solo attack someone to help Jimmy and have Solo act like they're still a team while Jimmy resists the idea, and then have Jimmy attack the same person to help Solo and have Jimmy act like they're still a team while Solo resists the idea. How does that idea not immediately get crumpled up and thrown in the garbage can? Solo goes backstage and is like "Hey, you're actually still in my stable, so I'm going to beat people up on your behalf," and then a couple segments later, he's trying to Samoan Spike Jimmy in the throat because Jimmy helped him win? What? Does Jimmy want to be in the Bloodline or not? Does Solo want him in the Bloodline or not? I'M SO CONFUSED.
More than that though, I'm just so tired at the very idea of another weeks-long storyline involving whether one of the Usos is loyal to the Bloodline or not. I can't do it anymore, y'all. I have been the world's biggest Bloodline fan for like a year now, and even I can't take an "Is Jimmy back in the Bloodline" story right now. I have no idea why the character would want to be back in the Bloodline in the first place after what he said about Roman at the beginning of this episode, so he's probably manipulating Solo or something, but even if that's the case, they're still going to drag it out over like a month, because apparently the only thing WWE has learned from the success of this storyline is "loyalty-related cliffhanger GOOD." And between Bray Wyatt and CM Punk and everything else going on right now, I don't have the energy to care about it.
As we've seen, it's possible they'll get things back on track as early as next week, so we'll see what happens, but man. This sucks.