The Greatest Heel Turns In The History Of Pro Wrestling Ranked
In the world of pro wrestling, there are few story devices as useful and as celebrated as a good heel turn. A heel turn can best be described as when a character, firmly established as a good guy (aka a babyface), joins the dark side.
Sometimes this can be solely for storyline reasons, simply a logical narrative device designed to propel the story forward. Examples of this include the likes of Kevin Owens turning on Chris Jericho back in 2017 during the Festival of Friendship. Other times, however, it can be used essentially as a fail-safe for any wrestlers whose current presentation is missing the mark. This is best shown through Roman Reigns' recent Tribal Chief run, erasing any memory of his previous and quite clunky babyface push. Whatever the reason why, here are pro wrestling's greatest and most memorable heel turns from across the world, ranked.
12. Tommaso Ciampa claims his moment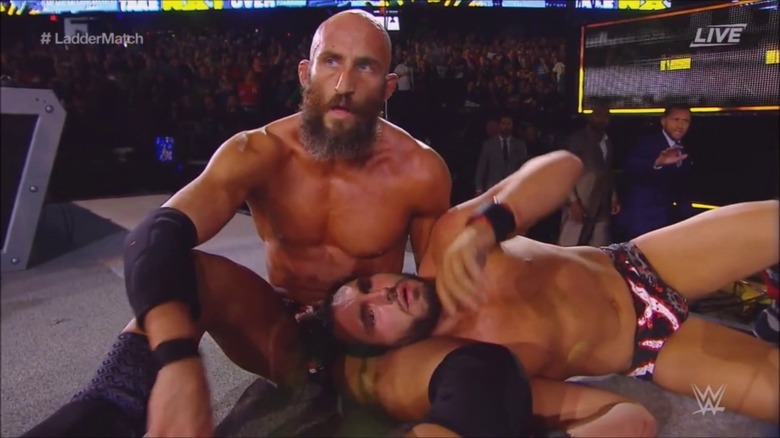 WWE
With the Triple H helmed era of NXT now firmly in the rear view mirrors, many have been reminiscing about the NXT of old. The formerly black and gold brand was, for a time, the perfect intersection of indie talent and WWE style production. It would also serve as the home for some of modern professional wrestling's most dynamic and engaging feuds. One such feud was the multi-year saga played out between Tomasso Ciampa and Johnny Gargano, the former Team DIY. DIY had helped put the NXT tag team division on the map with their stellar series of matches with The Revival. However, following their back-to-back defeats at the hands of the Authors of Pain, things would immediately go sideways.
Just as the credits rolled on "NXT Takeover: Chicago," Ciampa would whisper to Johnny that "This isn't our moment, it's my moment." He would then take his long time friend, and proceed to slam him head first into the entrance set's LED board. The boos and jeers from the crowd rained down like a monsoon, only increasing as the beatdown continued. The image of Ciampa, mid-psychotic break, cradling his shellshocked former friend in his lap is haunting and depressing. It would prove to be the genesis of one of NXT's greatest feuds and one of the black and yellow era's finest moments.
11. Austin Idol betrays Jerry Lawler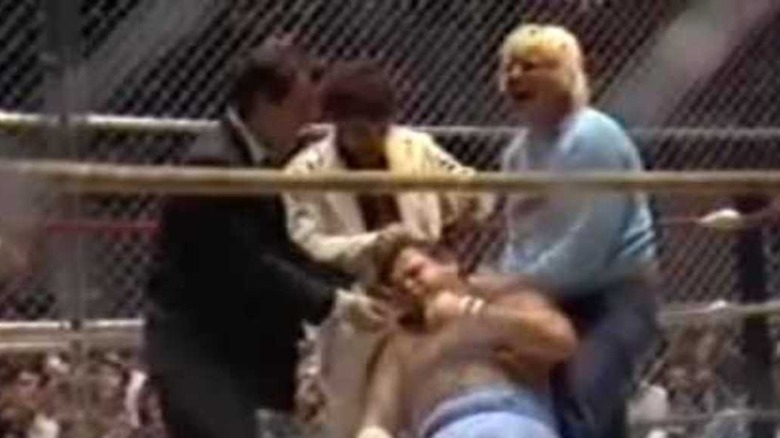 WWE
The American Wrestling Association, better known as the AWA, is truly a treasure trove of some truly legendary professional wrestling. One such example of this high quality was the legendary blood feud between Jerry "The King" Lawler and Austin Idol. In the winter of 1987, Idol would betray Lawler — later aligning himself with Paul E. Dangerously. He would follow up this shocking turn by claiming the AWA Southern Heavyweight Champion in the finals of a multi-man tournament. This newfound gold would place Idol back in the crosshairs of Lawler, who claimed the title that April in a brutal chain match.
Both men opted to settle things for good in a hair versus hair steel cage title match at the Mid-South Coliseum. Things were looking good for Lawler until Tommy Rich, an ally of Idol's, emerged from under the ring to help him score the win. Following his tainted victory, the duo would batter Lawler and shave his head, much to the disgust of the Coliseum crowd. 
Idol's heel turn is a classic example of old school booking. It's good ol' fashioned southern blood and guts wrestling at its finest and is definitely worth a watch.
10. Kevin Steen betrays El Generico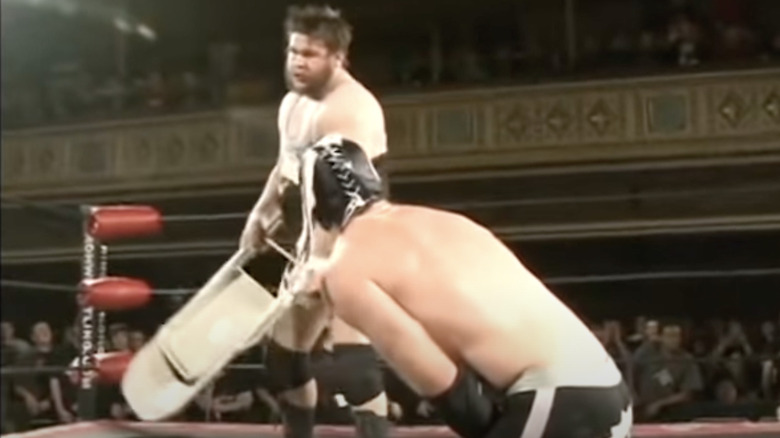 ROH
There are only three certainties in life; death, taxes, and Kevin Owens being there to ruin Sami Zayn's life.
From almost the beginning, the careers of the former Kevin Steen and the former El Generico have been forever intertwined — with, more often than not, Kevin taking the legs out from underneath his supposed best friend. There have been many examples of this, from as early as Ring of Honor to the early days of NXT. But fewer moments have been as simple and iconic as the first time Kevin Steen stuck the metaphorical blade in Generico's ribs.
The late 2000s weren't exactly going well for Mr. Wrestling, losing many major singles and tag matches, the latter alongside El Generico. This would all change when, at Final Battle 2009, Steen would finally snap following a loss to the Young Bucks. Hopping on the mic to say a few words, Steen would look El Generico in the eyes and tell him "...I hate your f****** guts." He would then batter his now-former friend with a steel chair, cementing his turn to the dark side. Even a decade later it still stands as a legendary moment and the first shot in one of ROH's finest feuds.
9. Prince Devitt forms the Bullet Club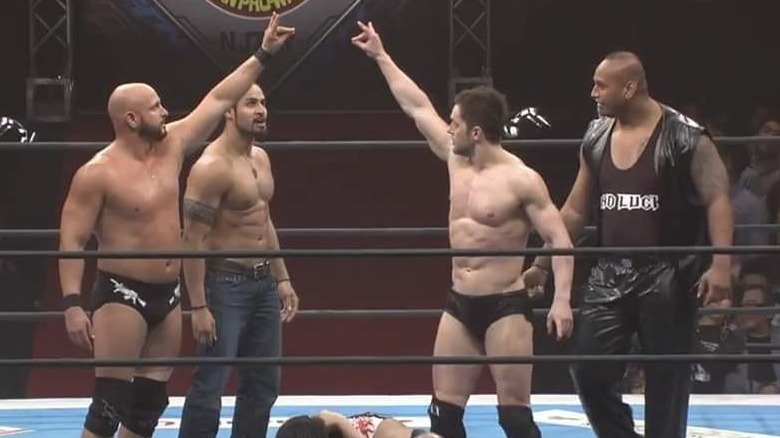 NJPW
In the 2010s, Bullet Club dominated the pro wrestling landscape, first in Japan and eventually in the United States. Even to this day, the faction, its legacy, and its and merch still have a ubiquitous presence in the world of pro wrestling. Their genesis would occur in late-2013 in NJPW, due to the machinations of one Prince Devitt.
While definitely attaining success in New Japan, the self proclaimed prince was far from satisfied with his career trajectory. The only thing holding him back, as far as he was concerned, was his Apollo 55 tag team partner Ryusuke Taguchi. Following a loss to the Time Splitters at Invasion Attack 2013, Devitt would attack Taguchi and subsequently align himself with Bad Luck Fale. The duo would soon be joined by "The Machine Gun" Karl Anderson and the ruthless Tama Tonga, officially forming Bullet Club. 
From there, the career of Prince Devitt reached new heights, as did Bullet Club as a faction. Over the next decade, the likes of the Young Bucks, AJ Styles, Kenny Omega and Cody Rhodes would all join the club. A subsection of the group, known as the Elite, would eventually become the core talent for the genesis of All Elite Wrestling,
8. The breakup of the Rockers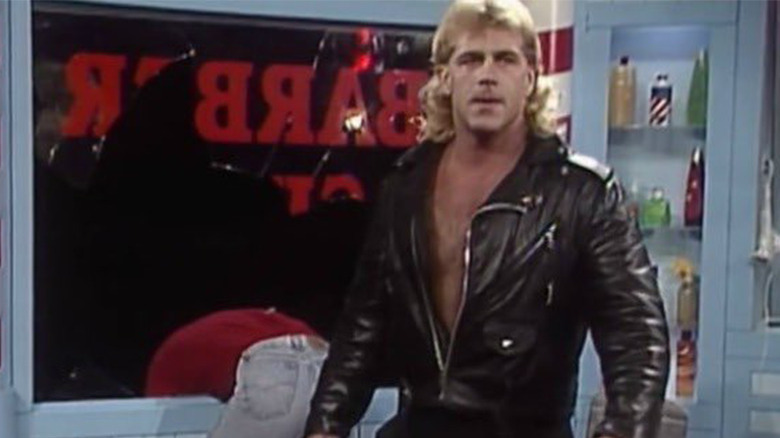 WWE
Before Shawn Michaels became the WrestleMania headlining sequin enthusiast we all know and love, he was one half of the Rockers with Marty Jannetty. From the NWA to the AWA, the Rockers helped to revolutionize tag team wrestling in the late '80s and early '90s. However, as noted in Michaels' book "Heartbreak & Triumph," after some rather one-sided financial obligations, WWF would opt to split the team up.
This schism would go down on a 1991 edition of Brutus Beefcake's Barbershop segment, where the Rockers addressed some recent issues. Following a faux apology, Michaels would deck Jannetty with Sweet Chin Music and chuck him through the Barbershop's glass window. Seeing as Michaels wanted to stay in the WWF and Jannetty didn't, it was clear who the breakup was benefiting. Following this breakup, Shawn Michael's Heartbreak Kid persona would quickly take shape and would soon dominate the forthcoming Attitude Era. To this day the Barbershop window moment is still remembered fondly, especially when another prominent tag team breaks up.
7. Chris Jericho attacks Shawn Michaels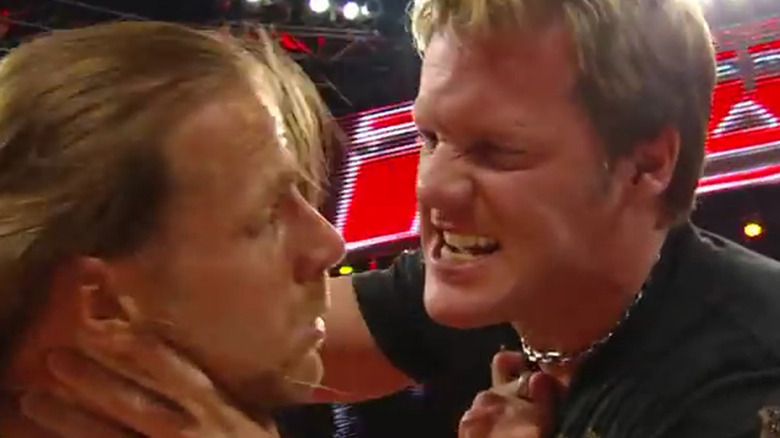 WWE
Very few pro wrestlers have successfully reinvented themselves as frequently and with as much ease as Chris Jericho. Time and time again, the legend has successfully updated his look, his promo style and even his move set. But long before the Wizard was turning heads on Wednesday nights, he was making life hell for Shawn Michaels. Following his win over Ric Flair at Wrestlemania XXIV in 2008, which forced Flair into retirement, Michaels had drawn the kayfabe ire of a few WWE superstars, most notably Batista, who had been close with Flair. Things took a turn, however, when Michaels faked a knee injury to defeat Batista in a match that saw Chris Jericho as the special guest referee, kicking off a memorable storyline.
Jericho and Michaels were both babyfaces, but after confronting Michaels about his deception, it was Jericho who turned heel, hitting Michaels with a low blow during an interview and sending him flying head-first into the obscenely expensive Jeritron 6000. This would be the catalyst for Jericho's now legendary heel run and his 2008 feud of the year with Shawn Michaels. Jericho would cement this change by wearing a clean cut suit and adopting traits similar to Anton Chigurh from "No Country for Old Men." Even more than a decade later, this heel turn and subsequent run is still seen as some of Jericho's finest work.
6. The Mega Powers explode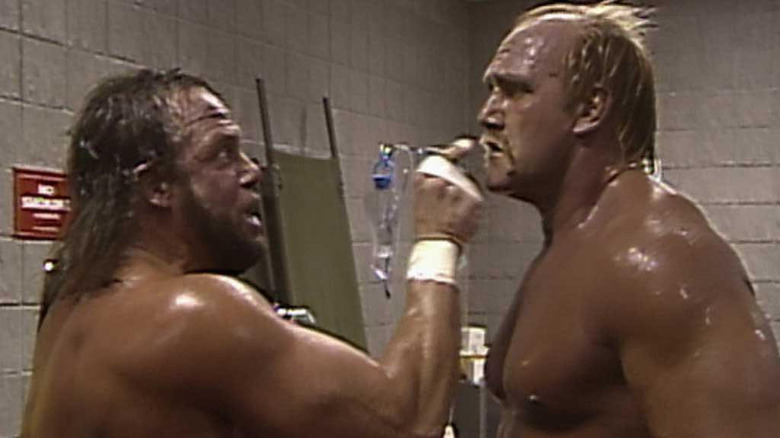 WWE
In terms of steady buildup and eventual payoff, the rise and fall of the Mega Powers is truly of WWE/WWF's finest storylines. In the late '80s, there were few wrestlers as popular and integrated with pop culture as Hulk Hogan and "Macho Man" Randy Savage. "WrestleMania IV" would prove to be Savage's coronation as top guy, as, with Hogan's help, he would successfully claim the WWF title. This would lead to a successful year-long run for Savage as champion, also teaming with Hogan as the Mega Powers. 
Things would take a turn however when Savage's manager, the lovely Miss Elizabeth, began escorting the Hulkster as well. This didn't sit well with Savage, who would only grow more and more paranoid towards his supposed friend and tag partner. Following an accidental elimination from Hogan at the "Royal Rumble" and Hogan tending to an injured Elizabeth, Savage could take no more. During a segment set backstage in WWF's medical area Hogan and Savage would get into a violent screaming match. This would eventually turn into Savage blindsiding Hogan when his back was turned, fully imploding the Mega Powers. This would set up their now legendary encounter at "WrestleMania V," where Hogan would defeat his former friend for the title.
5. Stone Cold's deal with the devil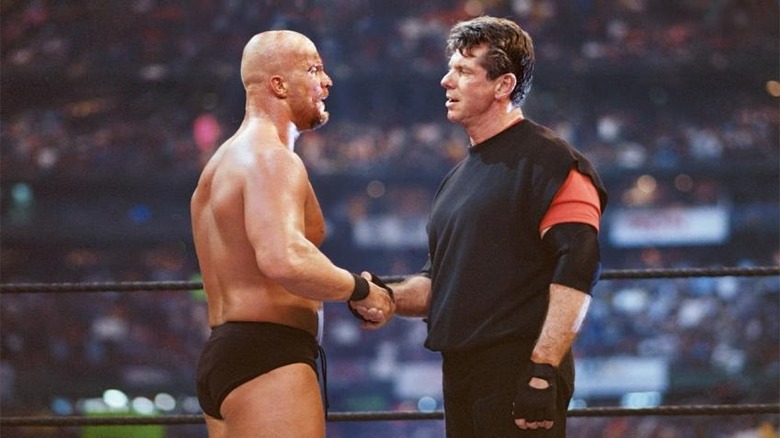 WWE
Can a wrestling heel turn still be legendary even if the run that follows it isn't particularly great? In the late '90s and early 2000s. there were no two wrestlers more over than The Rock and "Stone Cold" Steve Austin. WWF most definitely knew this, and would heavily market "WrestleMania X-7" around their next blockbuster main event encounter. Going into that year's Mania, Austin had made one thing abundantly clear — he needed to beat The Rock by any means necessary.
What ensued was a brutal fight, which saw both men take each other to the absolute limit. The match would reach its shocking conclusion when Vince McMahon, long time rival of Austin, would get involved. But in a shocking twist it, Vince lent aid to the Texas Rattlesnake via a steel chair. Austin proceeded to batter the People's Champ, leaving him and bloodied heap on the ring canvas, pinning Rock for the title. Austin would cement this turn by, as Jim Ross would exclaim, "shaking hands with Satan himself!" While the run that followed was undoubtedly subpar television, there's no denying the staying power of this legendary moment.
4. Andre the Giant aligns himself with Bobby Heenan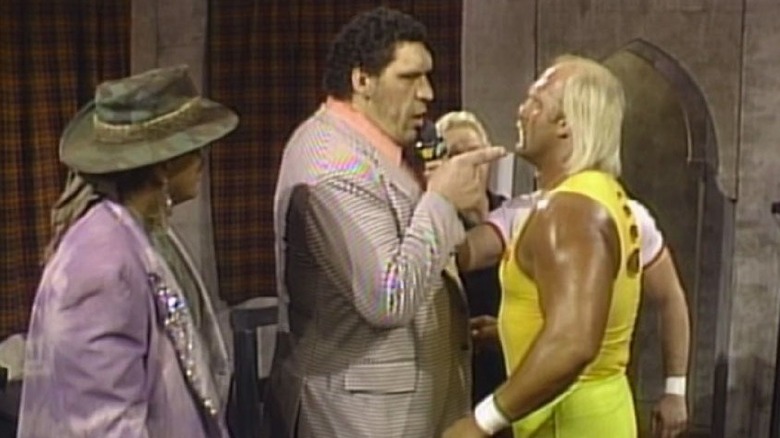 WWE
Following his rise to pro wrestling prominence in France, André Roussimoff migrated to the United States, where he got scooped up by the WWWF. He was special attraction babyface, billed as "The Giant" for his size and would team with fellow star Hulk Hogan. This friendship would be referenced on screen quite often, with André even celebrating Hogan's 1984 title win against The Iron Sheik.
André wouldn't stay a babyface forever, though, which leads us to the events of 1987 and the build to WrestleMania III. Following a series of heated interactions between André and Hogan over who the bigger star was, André would make a drastic move. On an edition of "Piper's Pit," André would come out flanked by Bobby "The Brain" Heenan — much to the shock and revulsion of Hogan. Bobby Heenan, often referred to as wrestling's finest heel manager, had been feuding with Hogan for quite some time already. So to see Hogan's friend now aligned with the lowest of the low came as quite the heart-wrenching reveal. André then proceeded to challenge Hogan for the title at WrestleMania III and would complete the betrayal by ripping the Hulkster's shirt. Considering the success of Mania III, it's safe to say that this heel turn definitely helped to move the needle. 
3. Mr. McMahon screws Bret Hart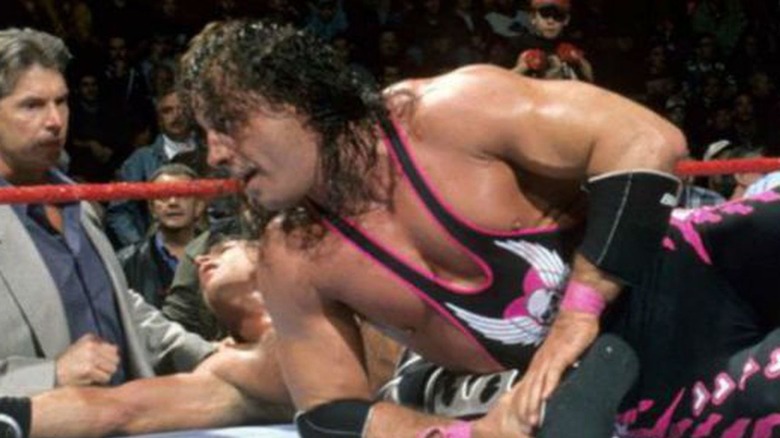 WWE
Some heel turns can change a career, but in the case of the Montreal Screwjob it helped to change the face of wrestling. To say that Shawn Michaels and the Bret "The Hitman" Hart didn't get along would be a severely gross understatement. Much of their now legendary backstage heat has been documented in various articles and in Vice's "Dark Side of the Ring." From the infamous "Sunny Days" promo to legitimate fist fights, the duo seemed primed to end one another for real. This heat would reach a fever pitch in late 1997 ,when Bret Hart was officially looking for the door. With a deal from WCW, the WWF's main competitor, in the works, Bret's time in Stanford was coming to an end. This meant he'd need to drop the WWF Title sooner rather than later, which was a source of great discussion behind the scenes.
With Bret's departure set in stone and not wanting to drop the belt in his native Canada, WWF management needed to think fast. This meant many proposed options, including a DQ finish and Bret relinquishing the belt on the next episode of "Raw." However, near the conclusion of their match at "Survivor Series 1997," Michaels would put Hart in the Hitman's own hold, the Sharpshooter. Before Hart could even react, Vince McMahon ran to the timekeeper's area and forced him to ring the bell. In one foul swoop, Bret was screwed out of the Title, Michaels would scamper away champion, and Vince McMahon was revealed as the real life chairman of the WWF. It was a controversy that radiated shockwaves so strong that they are still felt even to this day. 
2. Seth Rollins joins the Authority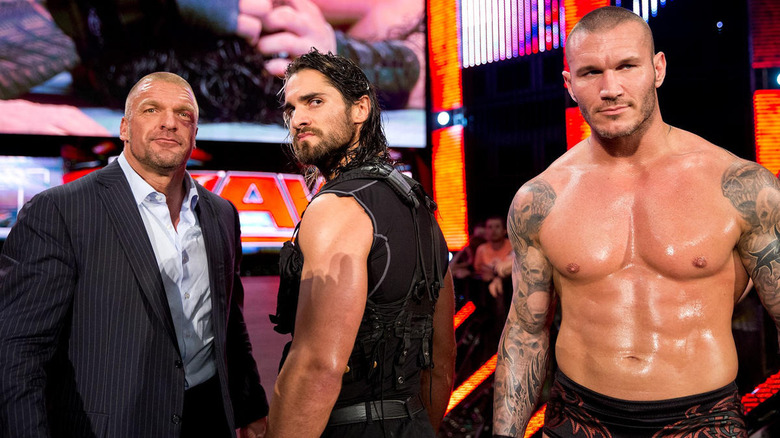 WWE
In recent memory, they have been few stables that have accomplished as much together and separately as the Shield. The trio of Dean Ambrose, Seth Rollins and Roman Reigns would quickly make a name for themselves on the main roster in the early 2010s. From their debut at Survivor Series 2012 onward, the Hounds of Justice were unstoppable — racking up several high profile wins. Some of their biggest being at the expense of the then-recently revitalized Evolution lead by WWE's corrupt COO Triple H. Following a loss at WWE Payback 2014, Triple H would confront the trio on the following episode of Monday Night Raw.
It's worth noting that during their then-most recent feuds, there had been some fairly heated infighting amongst the Shield. This led to speculation that Dean would end up betraying the group which, as we'd soon find out, was not the case. It would be none other than Seth Rollins, who battered his "brothers" with a steel chair, officially aligning himself with Triple H. This would officially dissolve the Shield as a trio for the first time, leading to each man getting their own singles push. Considering how far Ambrose (now Jon Moxley), Rollins, and Reigns have gone, it's hard to deny this heel turn's long term impact.
1. Hulk Hogan is the third man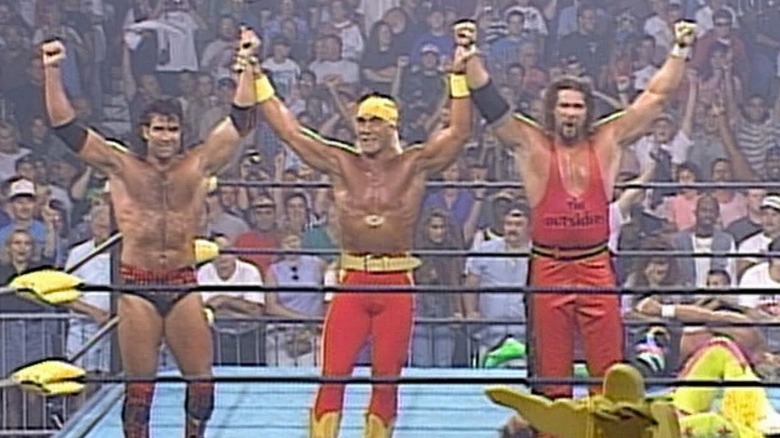 WWE
So ingrained was the heroic image of Hulk Hogan in pop culture, that it was nearly impossible to imagine the Hulkster on the dark side. However, with the '80s long over and the '90s well underway, it quickly became clear that Hogan needed to evolve.
Now a member of World Championship Wrestling, Hogan's once beloved babyface persona was growing blander by the day. Enter Scott Hall and Kevin Nash, a duo of former WWF alumni — known there as Razor Ramon and Diesel — who had recently jumped ship to WCW. Billed as two invaders, the destructive tandem would soon begin teasing the arrival of a mysterious third man. At Bash at the Beach 1996, Hall and Nash would take on the trio of Sting, Randy Savage and Lex Luger. Near the conclusion of the match, Hogan would make his way to ringside, only to shock the world by aiding Hall and Nash. This resulted in a glorious cascade of garbage littering the ring, as fans booed Hogan's descent into darkness. From this heel turn would rise the game changing faction that would eventually be known as the New World Order. The nWo would quickly become a marquee fixture of WCW and a major highlight of the Monday Night Wars.