The Latest Backstage AEW News Regarding Fallout From Backstage Fight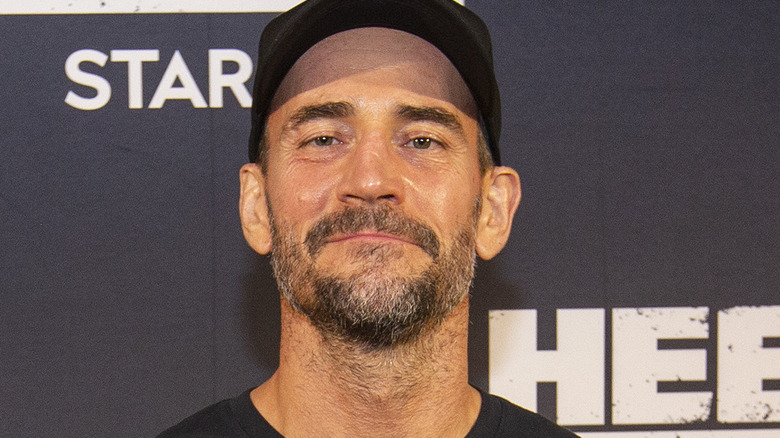 Barry Brecheisen/Getty Images
CM Punk took the wrestling world by storm this past Sunday during the All Out post-show media scrum. He not only called The Elite (Kenny Omega and The Young Bucks) "irresponsible EVPs," but accused them of leaking stories to the press about the manner in which he influences Tony Khan's decisions. As you might expect, The Elite didn't take kindly to his comments, leading to a physical altercation between them, Punk, and his longtime friend, Ace Steel. Omega and the Bucks, along with several other talent and backstage personnel, were subsequently suspended for their involvement.
Accounts have since varied about what exactly happened during the fight, with people close to either side giving different details, including word from Punk's camp that the Bucks kicked down his locker room door. However, Fightful Select has been able to shine some insight into this, writing "those that have been in touch with CM Punk and Ace Steel have softened on the stance that the Young Bucks definitely kicked down the door." It has since been clarified that "kicking down the door" was more of an expression that was used to illustrate the fact that the Bucks shouldered or otherwise forced their way in to confront Punk, who was in no mood to talk to anyone.
How Is The Rest Of The Roster Feeling About The Whole Situation?
Fightful is also reporting that talent hasn't been told what exactly the future holds for Punk, who is now the former AEW World Champion after being formally stripped of the title on Wednesday's "AEW Dynamite" — though it's unclear whether this was done due to his behavior at the scrums or due to an injury that would have sidelined him anyway. Company employees are supposedly "under the impression that it's all pending an investigation," and said they were told "unless Punk's suspension is unpaid or he's fired, it's superficial considering he'll be out of action well into next year."
"Punk had long been rubbing the locker room the wrong way," Fightful reports, but one of their sources suggested he's hardly the root of the company's backstage problems, which "had reached an all-time high when Punk was gone." Neither Punk nor The Elite were mentioned on this past Wednesday's edition of "Dynamite," but there was reportedly a "much more positive vibe" backstage, with many members of the roster just wanting to move past the whole thing.
Kenny Omega, Michael Nakazawa, and Christopher Daniels, all of whom have been suspended, were set to be part of the Tokyo Game Show in Japan to promote the upcoming AEW Fight Forever video game, but as of this writing, there is no word if this is still the plan.