10 Things That Should Happen In WWE's Royal Rumble 2023
The Royal Rumble, for many fans, is the most highly anticipated WWE event of the year, right alongside WrestleMania. For one thing, the format allows for non-fans to jump in and get the lay of the land in terms of who certain talents are. Additionally, many in-ring performers have used the Rumble as a venue to really establish themselves as main event level talents. The match just oozes excitement as every time the clock hits zero, you can never be sure what's about to happen. Anything from an unexpected debut to a crowd shaking return to a long awaited stare-down is possible and that's where the fun comes in.
Wrestling is at its best when it's unpredictable and few matches do it better than the Royal Rumble match. The upcoming Rumble especially has the potential to be one of the best yet, especially under Triple H's full creative control. Presented here are just a few ideas for moments that we feel would make the Royal Rumble match even better.
The Bloodline implodes
The Bloodline storyline has been the lifeblood of WWE's weekly programming for quite some time now, and it isn't hard to understand why. Much like the best episodic television shows, this has been a story that's taken its time getting to the finish line. From Roman's alliance with Paul Heyman to his subsequent indoctrination of The Usos to his double champion status, it's been quite the ride. Things have been even more interesting since the addition of Solo Sikoa and Sami Zayn being named an Honorary Uce. Following some internal drama regarding Sami's loyalties, all seems well for the Bloodline, especially following this year's Survivor Series.
However, if there's one matchup where loyalty goes to die a death, it's the Royal Rumble match. One can only imagine what will happen when Sami is once again confronted with a potential Kevin Owens encounter. Additionally, will any Bloodline members seize the opportunity to go to the WrestleMania main event, even if it means going one-on-one with the Tribal Chief? Bear in mind, given that the titles are unified, there are no other roads to the main event other than a date with Roman. We already saw what happened to Jey Uso when he attempted it two years ago and the consequences were more than severe. 2022 might've been a banner year for The Bloodline, but 2023 might just end up being the beginning of the end.
Cody Rhodes returns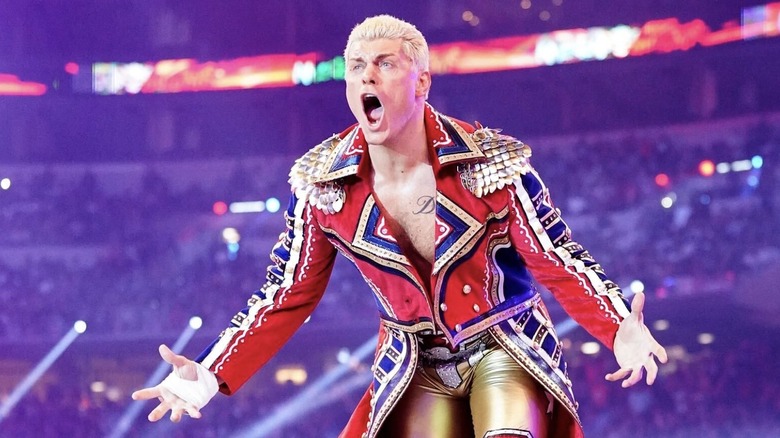 WWE
In early 2022, the wrestling world was rocked by the news that Cody Rhodes was departing All Elite Wrestling, the company he'd helped found. Following a bizarre period of free agency, Rhodes opted to depart following a superb TNT Title ladder match with Sammy Guevara. Soon after, where Cody would land next became a hot topic, with many rumors swirling that he was en route back to the WWE. Even with Seth Rollins in desperate need of a marquee WrestleMania opponent, fans were kept waiting for what felt like 50 years. Needless to say, Cody's eventual return on the first night of WrestleMania was definitely a sight to see and hear.
Following a gutsy performance at Hell in a Cell, Rhodes was written off television to accommodate his torn right pectoral tendon. Wrestling through an injury, though inadvisable, definitely cemented Rhodes as a top babyface for the company, definitely worthy of a title run. So what we have here is a surefire main eventer in need of a grand reintroduction, so what better venue than Number 30 in the Royal Rumble? Cody making his grand return from injury John Cena-style would be just the thing to turbo charge his already-highly anticipated comeback.
Bron Breakker debuts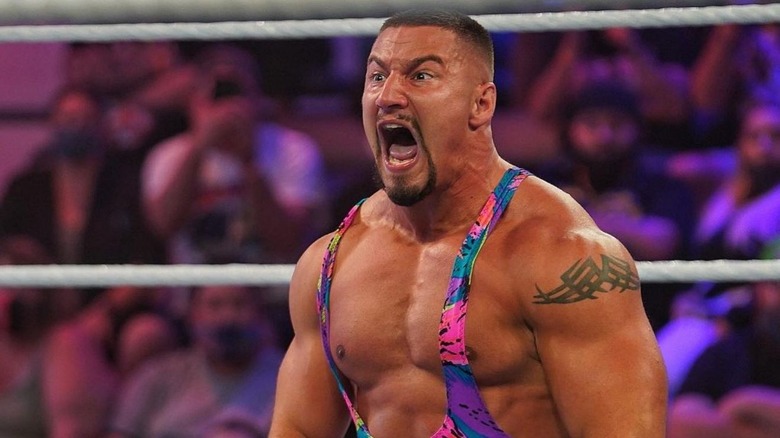 WWE
Since his arrival on the inaugural episode of "NXT 2.0," people have had Bron Breakker marked down for imminent greatness. Bronson, the real life son of Rick Steiner, has had an impeccable in-ring track record in only a short amount of time. Breaker possesses a stellar look, freakish strength, and unbelievable agility, as well as a blunt promo style very similar to his father and uncle. His character, evident through the singlets he wears, is an obvious throwback to '90s WWE, and is honestly a very welcome one. His "NXT" Title reign has been a joy to watch, resulting in some stellar matchups with the likes of Tommaso Ciampa and Tyler Bate.
There's very little subtlety about Breakker and that's honestly what's made him such a joy to watch on weekly "NXT" television. He's already gotten a chance to shine on the main roster via a few "Raw" appearances, with many hoping for an eventual call up. The Royal Rumble has proven itself to be a great place for debuts — just ask AJ Styles — so it'd make perfect sense for Breakker. While there's only a 33 and a 3rd% chance of this happening, it'd still be cool to see it happen.
The setup for Rey versus Dominick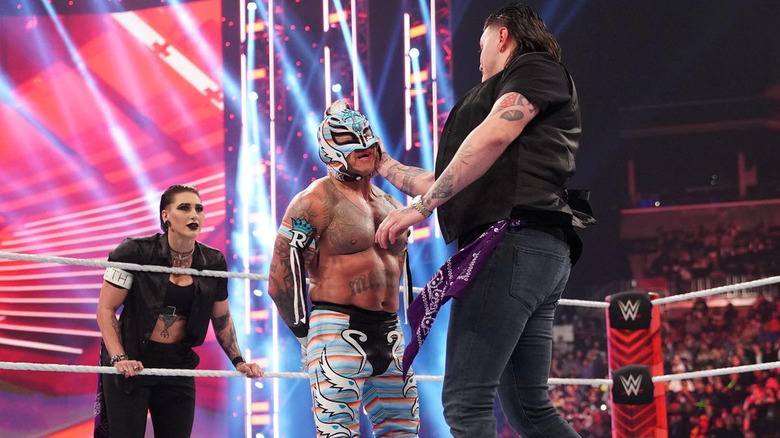 WWE
It wouldn't be the holiday season without a healthy dose of family drama, so would the Mysterio family please stand up? Following their betrayal of Edge, The Judgment Day set their sights on Rey Mysterio and his freakishly tall son Dominik. During this feud, Dominik's alignment began to fluctuate as tensions were rising between Dom and his "uncle" Edge due to an ill-timed spear. Additionally, it seemed as though Rhea Ripley was slowly luring Dom towards her. Things finally popped off in grand fashion at Clash at the Castle, when Dom opted to betray his father and Edge.
The following week, The Judgment Day came out with Dom alongside them, fully indoctrinated by them and with Rhea Ripley calling herself his new papí. Rey opted to retreat to "SmackDown," leaving Dom on "Raw," but even this wouldn't preempt further attacks with the most recent occurring on Thanksgiving. All signs are pointing to a father versus son matchup at WrestleMania, and what better way to set things in motion than the Royal Rumble? Frankly, either Rey or Dom could eliminate the other by surprise and it'd be a perfectly efficient setup for their eventual matchup.
Uncle Howdy comes to visit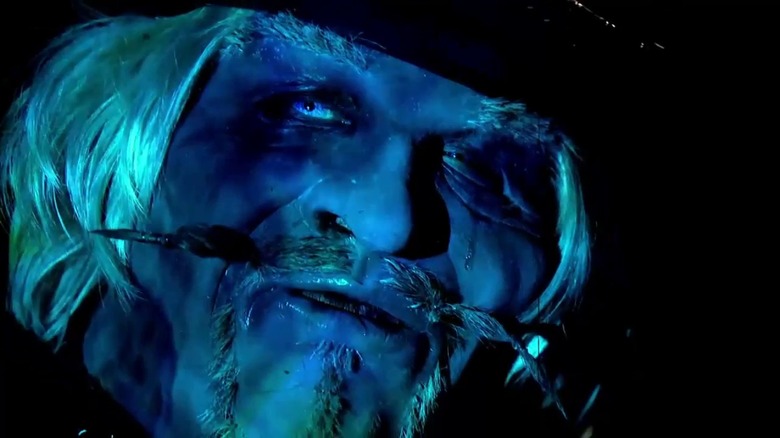 WWE
Bray Wyatt is back and is showing signs of being more mentally unhinged than ever, if that's even possible. However, despite his best efforts, it seems as though there's someone who doesn't want Bray to change, that being Uncle Howdy. Just exactly who or what Uncle Howdy is hasn't been fully explained yet, with some speculating he's another one of Bray's split personalities. His cryptic dialogue heavily indicates he knows who Bray really is at heart and shouldn't fight what he truly wants to be — a monster.
In recent weeks, it seemed that despite his best efforts to fight it, the evil of Uncle Howdy has been pushing Bray to do terrible things again. With his powers seemingly growing by the day, perhaps we'll see Uncle Howdy in the flesh as a Royal Rumble entrant. Could we end up seeing multiple appearances from Bray via his different personas, much like Mick Foley in the 1998 Rumble? Also, there's also the chance of us getting our first look at whatever Uncle Harper turns out to be. Bray's story has been a slow burn for sure and the Rumble would be the perfect chance for him to put his foot on the gas.
An NXT showcase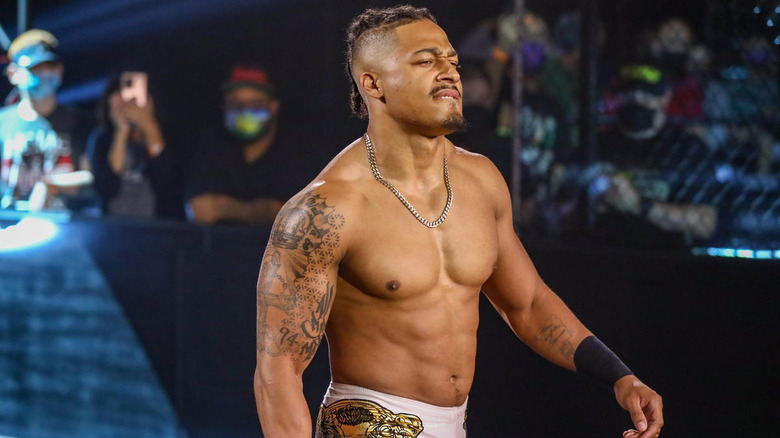 WWE
Since Vince McMahon's departure from WWE, Triple H has been hard at work bringing the company's vision in line with his creative sensibilities. This has included re-rebranding "NXT," ditching the 2.0 from its name, and retiring the Skittles colors the brand had been using. Given their recent course correction, the Royal Rumble could prove to be an excellent place to give some up and comers some needed exposure. We already mentioned Bron Breakker, but there are definitely others who could benefit from that bright Rumble match spotlight. Even if it's not yet a formal promotion to the main roster, it could serve as an effective test for which talents are connecting.
For example, Cameron Grimes has been eying the main roster for sometime now and this could provide him the perfect on ramp. Additionally, there's Carmelo Hayes, who has more than proven himself as a show stealing performer and at an impressively young age. Perhaps it's time for Kofi Kingston to pass down his now-yearly Rumble save spot to Hayes, who could potentially work wonders with it. Just imagine if Andre Chase and one of his Chase University students encounter Chad and Otis from the Alpha Academy — the jokes frankly write themselves. The possibilities are honestly endless and, if done properly, any of these could make for some crowd pleasing moments.
Factions collide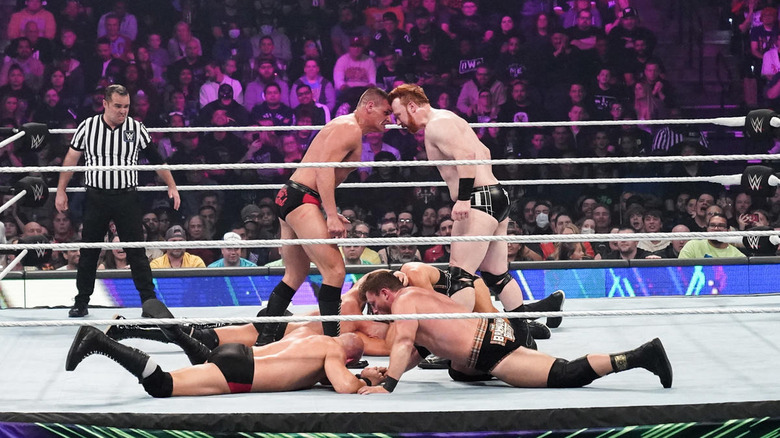 WWE
From The Bloodline to The Judgement Day to Imperium to The Brawling Brutes, WWE is currently in a gold rush of dominant factions. We already mentioned the potential for Bloodline related drama being a Rumble focal point, but there's other creative avenues as well. Given their brutal battle within War Games, a Rumble stare down between the Bloodline and the Brawling Brutes wouldn't be unwelcome. There's also the chance we could see Imperium enter the fray as well, especially with the trio having unfinished business with Sheamus and the Brutes. Any chance to see Sheamus and GUNTHER resume their still unfinished hoss fest saga is definitely an enticing prospect.
As if that wasn't enough, The Judgement Day has yet to interact with the Bloodline or Imperium, so there's definitely room for that as well. Heel versus heel encounters are typically rare within WWE, so the chance for one-off interactions and fights is more than intriguing. From Damien Priest potentially duking it out with Solo Sikoa to GUNTHER super-chopping Dominick out of his boots, the sky's the absolute limit. The Royal Rumble, at its heart, is the equivalent of a hyperactive kid playing with his crate of pro wrestling action figures. So why not just dump the whole crate in and see what happens?
Edge returns (again)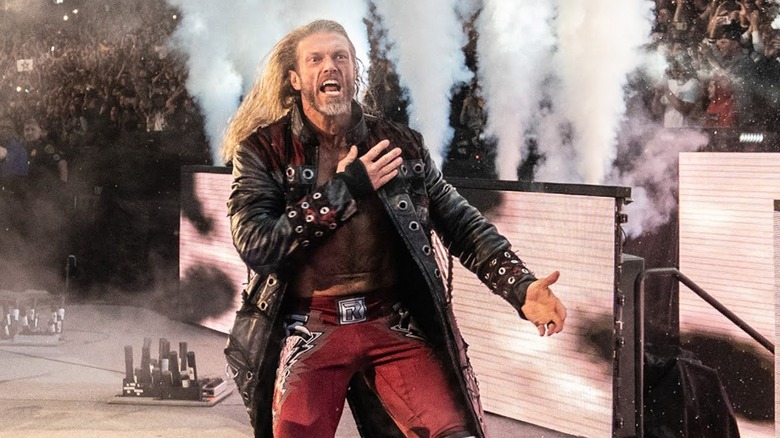 WWE
If it ain't broke, don't fix it. Edge has had a habit lately of taking short stints of time off and then popping back up, typically in theatrical fashion. Ever since the heartbreaking conclusion of his I Quit match with Finn Balor at Extreme Rules, the Rated-R Superstar has been AWOL from weekly television. This was due to the savage attack committed on his wife Beth Phoenix, which forced him to throw the match. Since that time, The Judgement Day has been running roughshod over WWE, making life hell for the likes of AJ Styles and Rey Mysterio.
With Edge having been out since early October, perhaps it's time for him to make his return (again) and take his revenge. While admittedly trodden ground for sure, Edge's return entrances are a guaranteed crowd pop regardless of the time or place. As a bonus, you could have Beth make her comeback as well, either accompanying her husband or by returning in the Women's Rumble. The Judgment Day would likely be less than pleased to see their former-leader back which would only add to the drama. WrestleMania season just wouldn't be the same without Edge, so a Rated-R Rumble comeback would be the perfect way to kick things off.
Austin Theory: Iron Man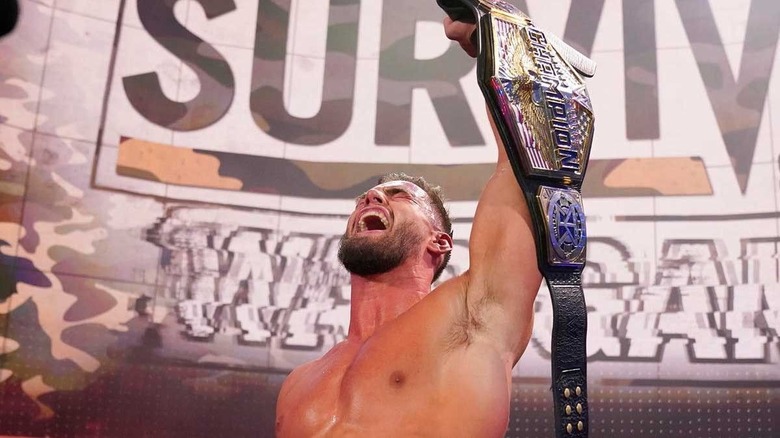 WWE
One talent whose push has seen some rapid fire course correction has been the former-Mr. Money in the Bank, Austin Theory. Yes, ever since Vince's resignation, A-Town has most definitely been down as Theory was quickly booked into a sizable losing streak. The height of this rapid fire nerfing reached its peak when, following two previous failed cash in attempts, Theory cashed in for the United States Championship and lost. Many fans were quick to see this as a clearcut burial but were soon forced to eat those words.
Following this loss, Theory ditched his smiling selfie routine and adopted a much meaner persona, out to prove his dominance. This resulted in Theory winning the United States Championship in a triple threat match against Seth Rollins and Bobby Lashley at Survivor Series. Theory's push seems to be back on track and, with the correct presentation, could result in a new top star. A perfect way to cement this new direction could be to have Theory enter the Rumble match from the number one spot. While typically reserved for babyfaces, lasting from number one all the way to the end would be an effective way to cement Theory's stardom.
Matt Cardona returns
Triple H's still-newfound control over WWE has resulted in many things, not the least of which being the return of several previously released talents. From Karrion Kross to Braun Strowman, Hit Row to Bray Wyatt, many familiar faces have been pouring back into the WWE universe. This has resulted in a much denser roster and more interesting weekly television, two things WWE was in desperate need of. One talent who fans have been eying a return for is, the man formerly known as Zack Ryder, Matt Cardona. Since his release in 2020, Cardona has reinvented himself on the indies, winning both the GCW and NWA World(s) Championships.
Given his elevated status, and his heightened physique, many fans feel he'd be a better fit for the WWE than he was previously. These return rumors have been so widely persistent that even Cardona himself has poked fun at them on his Twitter. It's not unfair to say that Zack Ryder never met his full potential in WWE, but maybe Matt Cardona can. Additionally, this could serve as a reintroduction for Cardona's real life wife Chelsea Green, who became an integral part of his presentation. Surprises are always welcome in the Royal Rumble and the potential for a Broski comeback would be just fine by us.