Seth Rollins Weighs In On Possible WWE Returns Of FTR And CM Punk, WWE 2K23, Hell In A Cell Match Against Cody Rhodes & More! - Exclusive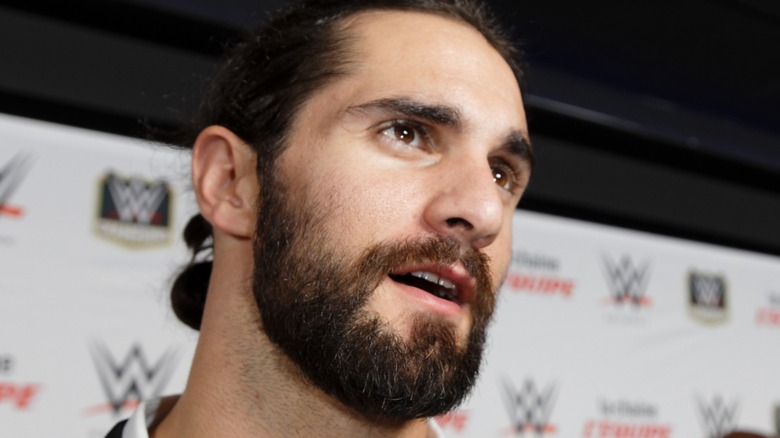 Sylvain Lefevre/Getty Images
Cody Rhodes' Return To WWE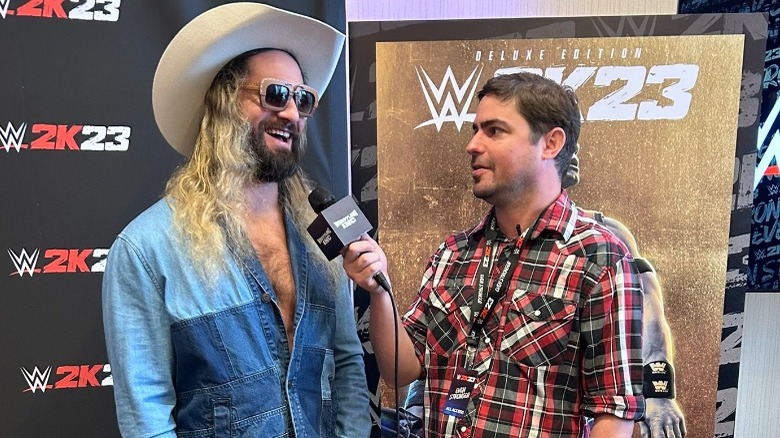 Wrestling Inc.
Nick Hausman: Seth, thank you for the time.
Seth Rollins: Howdy, partner.
How do you describe this look, Seth?
This is a dripping cowboy, baby.
Drip-
Come on, man. Look at me. I look great. I got the hair out. I got the chest hair out. I got the denim, got the belt buckle, the boots. I got me a hat. I feel good, man. Nah. I got into Brock Lesnar's closet and took everything out of there, and that's why I look the way I do.
And you live to tell the tale?
Live to tell the tale. Now I snuck in there overnight, I saw some things, and then got out of there before he woke up in the morning. He's like a sleeping bear, you know?
Well, we are all assuming you're going to win the Rumble tonight.
Yeah. Are we? I don't think we are. I think Las Vegas has a different betting favorite, but in my books — because I'm the bookkeeper of my books — I'm the favorite. So bet on that.
How do you feel about everybody favoriting Cody over you?
This is a guy who hasn't wrestled a match in I don't know. When was Hell in a Cell?
It's been a while. I was there.
The last time we saw him, he was black and blue all over. He hasn't wrestled a match. He's just going to come back in, throw 29 other dudes over the top rope, and go on to WrestleMania? Seems a little farfetched to me.
Did he win your respect with that match when he was working with that torn pec?
Look, I never had any disrespect towards Cody Rhodes. The only disrespect I had for Cody Rhodes was that he tried to come in and steal my spotlight. I shouldn't say "tried to steal it." He tried to use my spotlight to catapult himself to where he wants to go. So there's nothing more selfish in the world. Don't let anything fool you. Cody Rhodes is a selfish S.O.B. He's not coming back for anything but himself.

Thoughts On FTR & CM Punk
Talking about comebacks, I wanted to get your thoughts on a couple free agents real quick.
Let them.
First of all, April — FTR, their contracts coming up. Is that a group you'd like to see back in WWE, somebody you could see yourself across the ring with in the next couple years?
Yeah. Great talents. Hell of a tag team. Good guys. Always had a good relationship with them. I'd love to see them come back if they want to come back and hang out with us.
Well, I know you're a Midwest boy with ROH roots. We don't know what's going on with CM Punk, but you guys have had some barnburners in WWE. Would you like to see Phil Brooks back at WWE?
Oh, Philly Phil. Stay away. Stay away, you cancer! Get away from me forever!
Wow.
Yeah, no, I don't like Phil. I don't like Phil. He's a jerk. Oh, did we just figure that out? Did we just figure that out? Everybody in the room is like, "Oh no, dude. Did he say that?" Yeah, no, he's a jerk. Come on. We figured it out over there. We knew it over here. I don't want him back. Go do something else. Bye-bye. Bye-bye. See you later.
Here's a Spindrift and a muffin. There we go. That's an All Out joke.
Oh, he had the Spindrift, didn't he?
He had the Spindrift when he was eating that-
Oh. And he has the muffin. He was muffining. Yeah.
He was eating the muffin. He was covered in blood-
Yeah.
And he was in my face about my improv career.
No, no, no. Sorry. I won't be that harsh.
It's fine, man. Last thing. 2K23, what do you think of the game? What's it mean for you to be in it this year?
Oh, the game's sick, man. It keeps getting better. It's like up and down. They're always trying new things at 2K, trying to figure out what's going to be the best recipe. These next-gen systems though were unreal. So just the mods of all the characters, they look beautiful. The gameplay is incredible, at least what I saw today. Didn't get a chance to jump in the WarGames match. I think that was the one thing I wanted to dabble in when I saw kind of the highlights, but I look great, my wife looks great, the game plays well; it's all a win.