Cody Rhodes Joining Forces With Former WWE Tag Team Champions For Upcoming Live Events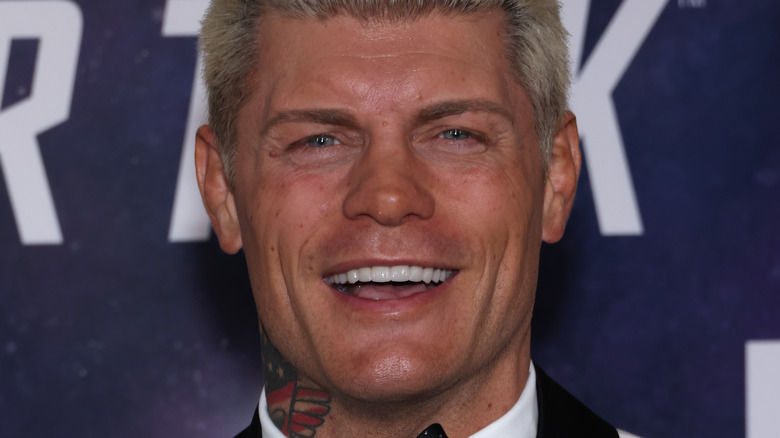 David Livingston/Getty Images
Give or take a WrestleMania main event, and debate regarding whether he, Sami Zayn, or both should be in it, there's kind of a bit going on with Cody Rhodes right now. But the Codeman still has time for some of the simpler pleasures in life, including reuniting with some friends of his old friends for an upcoming live event.
And because he is a man of the people, Rhodes himself decided to deliver the good news Wednesday afternoon on Twitter, announcing, complete with pictures, that he'd soon be teaming with Luke Gallows and the man who the bright lights love the most, Karl Anderson.
"Just got word I'll be in trios action coming up on select WWE live events...and my partners, first time ever, these bruddas...March 4th in Syracuse, NY," Rhodes wrote.
While this will, in fact, be the first time Rhodes, Gallows, and Anderson have ever teamed together in trios action, the three were all, at various points, members of the famous Bullet Club stable in New Japan Pro-Wrestling. Anderson was a founding father of the group in May 2013, and even briefly the leader of the stable, while Gallows joined in late 2013. Rhodes joined Bullet Club in December 2016 and eventually became part of the sub-faction The Elite, which helped launch another wrestling company years later.
In the meantime, however, the Codeman will sit back, likely light up a cigar, and watch this weekend's Elimination Chamber premium live event unfold. The show has huge implications for Rhodes, the men's Royal Rumble winner, as it will determine whether Sami Zayn or Roman Reigns, who will duke it out for the Undisputed WWE Universal Championship, will face him in the main event of WrestleMania 39.