AEW Dynamite 7/19/23: 3 Things We Hated And 3 Things We Loved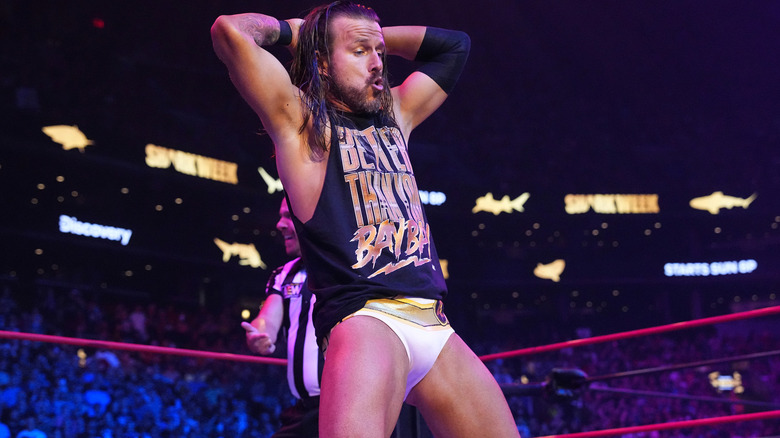 AEW
AEW runs five PPVs each year — possibly six in 2023, depending on the All In situation — but we haven't been excited for any of them the way we were excited for this week's "AEW Dynamite." Jack Perry was apparently fighting HOOK for the FTW Championship outside the parking lot, which was disappointing, but we had the finals of the Blind Eliminator Tag Team Tournament to look forward to (featuring MJF and Adam Cole, possibly our favorite wrestling odd couple since Sami Zayn walked into the Bloodline's locker room) and of course, the third annual Blood & Guts match, which just so happened to double as the AEW debut of former IWGP World Heavyweight Champion (and longtime Kenny Omega soulmate) Kota Ibushi. We've been fans of Ibushi for many years, and last year's Blood & Guts was our favorite AEW match of 2022, so we were obviously hyped.
For the plain old results of this week's show, you can check out our live coverage. But for those who want to know whether the show lived up to our expectations, here are three things we hated and three things we loved about the 7/19/2023 episode of "AEW Dynamite."
Hated: Should've stayed in the parking lot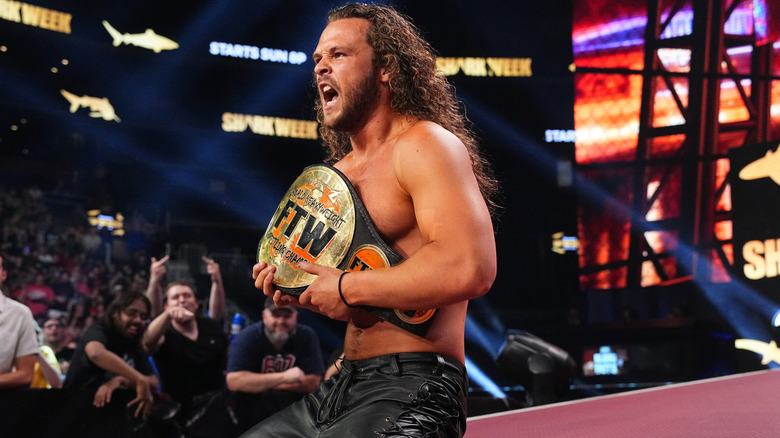 AEW
We're still not sure what to make of the new Jack Perry. We loved the fact that he turned heel on HOOK, but despised his first heel promo. We thought the parking lot stuff had potential if it kept going, but Wednesday's match took place in the ring. And while we're theoretically into him coming out to Beethoven, the initial tease of the old Jungle Boy music, followed by the theatrical burying of his old persona in the desert, came off as both overdramatic and unnecessary. Perry already said, weeks ago, that it was the last time we'd hear the Jungle Boy music. His promo already made it clear that he was playing a significantly different character, and that Jungle Boy was effectively dead. Couldn't he have just come out to new music and been done with it?
Anyway, the match itself was entirely forgettable, mostly because there wasn't enough actual drama involved (or wrestling, for that matter) to justify the screwy finish. HOOK works way better as a dominant bad-ass who chokes his enemies out in ten seconds than as a regular babyface wrestling a regular match — either this thing should have been shorter, to play to his strengths, or it should have been longer so they had more time to incorporate character beats. We also spent a not insignificant amount of time confused about the rules. Do "FTW rules" mean you can win the title on a count-out? We remember them as being a sort of hardcore, "anything goes" kind of thing, but the only weapon that was used was the FTW title belt itself, and that happened while the ref was down.
Oh, well. This is probably not the end of the feud, and hopefully their next match won't get stuck at the bottom of a loaded card. AEW tends to do this kind of thing, where the first big match in a feud is short and disappointing but the follow-up gets more time and more creative attention, so we can stay optimistic for now. FTW Champion Jack Perry has potential; it just kind of sucks that this is how HOOK's undefeated streak goes out.
Hated: Tony Khan officially stops caring about women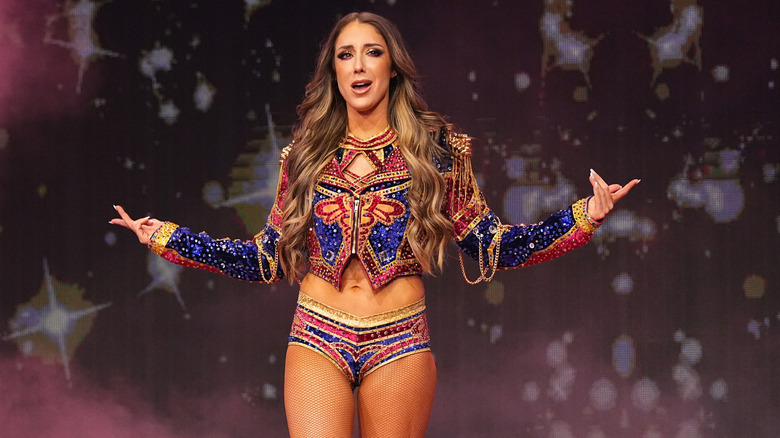 AEW
You know how we're always saying that AEW should do more squash matches? Well we didn't mean they should give Britt Baker ONE MINUTE of extremely awkward in-ring time and then be done with the women's division for the night. That is some monkey's paw s*** right there. First Tony Khan comes out with that completely bogus list of excuses as to why they didn't do a women's Blood & Guts this year, and then he books a wrestling show in 2023 with 66 seconds of women's wrestling. 66 seconds. On a two hour show. There wasn't even a promo segment or a video package involving women, nothing. The only other women who even appeared were Renee Paquette and Kris Statlander, who basically stood around next to the Best Friends, Orange Cassidy, Darby Allin, and Nick Wayne, saying nothing and listening to the announcement of her latest uninspired "AEW Rampage" opponent. AEW has been bad on this issue before, a lot, but we're not sure they've ever been this bad.
There's a scene in the film "Waiting" where Justin Long's character, a low-wage restaurant server, receives an insultingly low tip from a pair of customers who had been rude to him throughout their meal. In a fit of anger, he catches up with the couple on their way out the door and tells them they forgot their change; when they respond that it's his tip, he presses the tiny amount of money in their hand and tells them to keep it, because "You obviously need this more than I do." That's how we feel about the AEW women's division right now. You know what, Tony, if this is all you've got, just don't bother. Stop insulting us. Book your whole show without women. You obviously need the TV time more than they do.
Of course, we'd never actually say that to Tony Khan, because we actually do want all these women to be employed and continue collecting checks from the billionaire who pays them. Lord help us if he ever starts to believe he could cut the women's division entirely without making Twitter mad at him.
Loved: DOUBLE CLOTHESLINE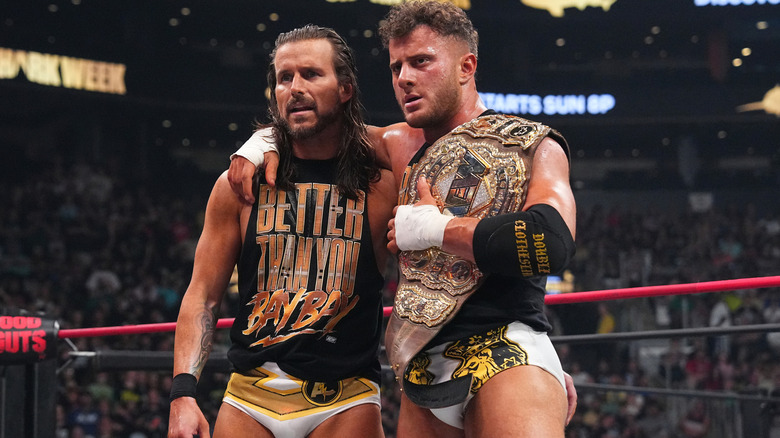 AEW
Adam Cole and MJF bonding via product placement (this time at a Chinese restaurant) is a gag with rapidly diminishing returns, but the ship got righted in a hurry via their backstage Renee Paquette interview, followed by their entrance. Matching trunks! Matching jackets! A mash-up theme song! MJF's pure, unadulterated delight at the theme song, in particular, is the stuff of instant wrestling legend — as is what happened when they unlikely brochachos got in the ring with Sammy Guevara and Daniel Garcia and engaged in an impromptu, delightful dance-off.
And yet, somehow, the best was yet to come. This might be a hot take, but we legitimately think this was the best match of MJF's career. Yes, he's had good in-ring showings before, most notably the Iron Man match against Bryan Danielson, but we can't stress enough how wonderful it was to see an AEW match structured entirely around story beats and character work, and MJF was the straw that stirred the drink. We loved his early heelish dive tease, which paid off massively late in the match when Cole convinced him to face his fears and actually do the dive — a callback to the Chinese restaurant segment, because this storyline continues to somehow build vital character moments into its thinly-veiled advertisements. We loved the number of times they teased but failed to deliver the double clothesline until finally hitting it to win the match. We loved that MJF got the pinfall for the first time in the tournament, cementing his partnership with Cole more than any mash-up could. We love that Cole, preparing to hand MJF the world championship, was mesmerized by it long enough for MJF to notice and immediately become protective and paranoid, and we love that Cole talked him down, the two of them hugged it out, and FTR showed up to provide them with a common enemy — one that MJF has history with, no less.
Just awesome. Everything about this was awesome. Give them the titles, AEW. Keep this going as long as you can. Because we still have no idea which of these guys is ultimately going to turn on the other. All we know is that we love this version of MJF way more than they guy who used to cut the same heel promo in the ring every week, and that 2023 continues to be The Year of Tag Team Wrestling.
Loved: Jericho unappreciation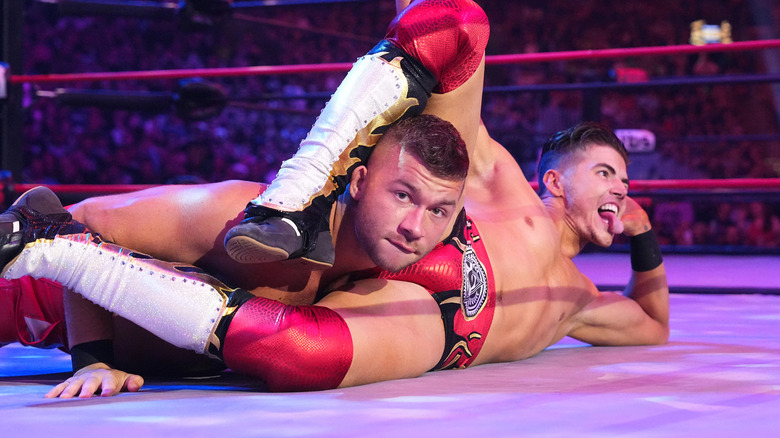 AEW
The other nice thing about the Blind Eliminator tag tournament finals was that the post-match also advanced the story of Chris Jericho and the Jericho Appreciation Society. Jericho was on commentary for the match, clearly trying to reconnect with and show his support for Garcia and Guevara. His commentary had a different tone than it usually does when Jericho calls matches involving wrestlers in his stable — he sounded gentler, less irritated with his former pupils when something bad happened them, more earnestly regretful. Unfortunately, he had also been caught on film hanging out with Don Callis earlier in the episode, and when Jericho walked onto the ramp to support Garcia and Guevara after their loss, both men deliberately chose to ignore him and keep walking, mirroring Jake Hager turning in his purple hat last Wednesday.
A couple weeks ago, we lambasted Jericho for what we believed he was doing: Setting up an angle with Don Callis to get himself into the Blood & Guts match, aka AEW's hottest angle, in place of the injured Bryan Danielson. We would like to formally apologize to "Le Champion," as it turned out he was doing nothing of the sort. Instead, he appears to be doing a slow and surprisingly poignant angle with the other members of the Jericho Appreciation Society, as they pull away from him in response to his association with the company's most despised heel. That's ... that's pretty great, actually. We're can get onboard with this.
Hated, sort of: Blood & Guts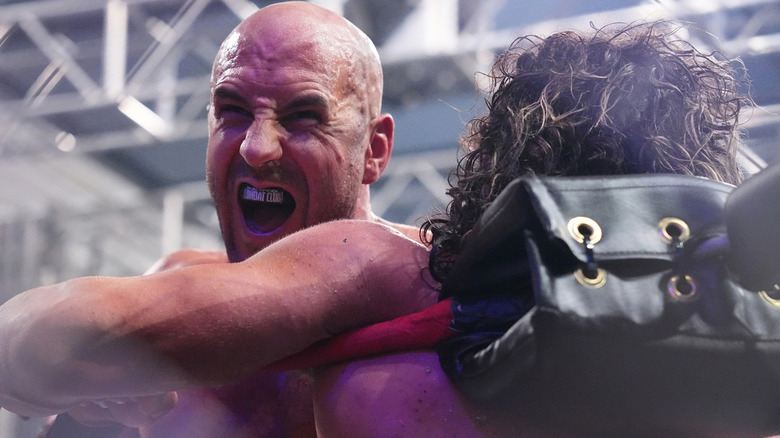 AEW
Last year's Blood & Guts, ironically contested between Jericho and the Jericho Appreciation Society and a babyface Blackpool Combat Club with Eddie Kingston by their side, was a somewhat flat overall match with a finish that we loved with our entire heart. We couldn't tell you basically any of the spots that led up to it, but we know every detail of the finish, because it found a really creative way to grow certain characters, specifically Kingston. This year's Blood & Guts had much more to recommend it during the larger body of the match, but it was the finish that fell a bit flat.
There were a few things that threw Blood & Guts off for us. The problem with 5 vs. 5, especially on TV, is you can't showcase everyone; some people are going to be doing more interesting things than others. And while we expected that going in, we weren't expecting one of the people who didn't really get featured to be Kota Ibushi, who didn't totally look himself in his AEW debut (by which we mean he looked like someone who hadn't wrestled in four months). Omega was heavily involved (and he wore Ibushi's colors, which was sweet) but Ibushi's only real moment was when he first entered the match, punching every member of the BCC on his way to saving Kenny from Jon Moxley and his insane bed of nails. Aside from that, he spent a lot of the match in the background, didn't even interact with Omega that much, and wasn't really involved in the finish. As people for whom Ibushi's participation was obviously a major draw, that was disappointing.
As for the finish itself, we can't say it wasn't creative, but it was also very weird. After PAC, the BCC's last minute Danielson replacement, got accidentally hit with a move by Claudio Castagnoli and then got into a shoving match with his alleged teammates, he ended up walking out of the match, even using bolt cutters to open the cage door. So that's ... different. When he left, Don Callis, who had been on commentary, hastily ordered his client Konosuke Takeshita, to leave the ring as well. That left the Golden Elite with a 5-3 advantage, which they quickly used to beat up and choke the life out of Wheeler Yuta until Moxley supposedly surrendered the match (we say supposedly because the camera didn't catch it).
So ... that's it? The great story of the Elite and the Blackpool Combat Club, and it ends with the heels briefly fighting from beneath before being brutally overpowered and executed by the babyfaces? Really? That's just an incredibly anti-climactic ending; we're starting to hope this isn't the end of the feud so they can come up with something better.
But also, Loved: Blood & Guts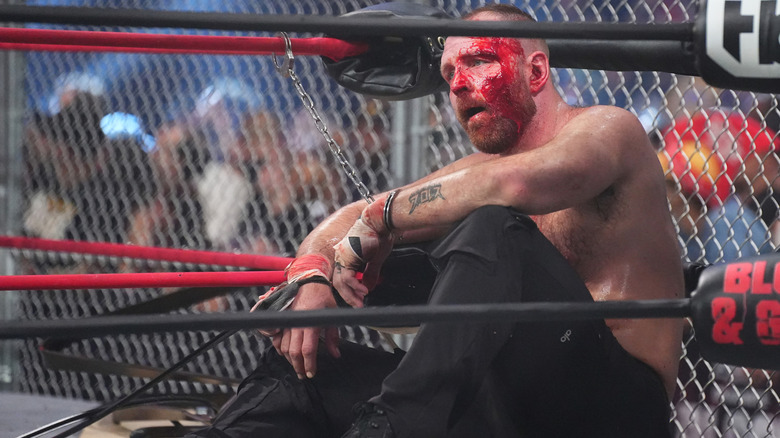 AEW
All the above aside, the actual Blood & Guts match really did rule. Starting things off with Omega vs. Castagnoli was inspired, as they gave us some excellent non-hardcore wrestling before Jon Moxley came in and started pouring broken glass on the mat. It's a bit of a shame that AEW does so much hardcore stuff so often that this is what Blood & Guts needs to do to elevate the violence level, but we were obviously expecting it and in the gross-out factor never hit critical levels, even with the bed of nails in play. Moxley, of course, bled everywhere and on everything, but he was the only one who got serious color (at least until Yuta in the closing moments). The Young Bucks did Young Bucks things, which they do well if you're into that kind of thing, and in the end, the visible heroes of the conquering good guys were the core Elite trio of them and Omega. But the MVP of the match, indisputably, was PAC, who was doing cool stuff basically at all times and performed the match's highest spot — a double stomp from the top of the inside of the cage through an opponent lying on a table in the ring — in a manner that only someone with his unique degree of body control could pull off. He looked so good that it actually made a weird amount of sense for Callis to pull Takeshita as soon as he saw PAC leave the ring.
In fact, the more me think about it, the more okay we are with the finish of this year's Blood & Guts. We always want finishing sequences, especially for big matches like this one, to say something about one or more of the characters involved, to move them forward in their development and ultimately help change them. That's partially why it was always going to fall flat upon first seeing it, because the ostensible heroes of the story didn't change or grow, or really have any dramatic character moments at all.
But that's the thing: The Elite were never the ones with the character arc in this story. Aside from Kenny getting revenge on Callis, the only dramatic stakes any of them had were resolved weeks ago when Adam Page rejoined his former team (fittingly, it was also Page choking out Yuta with a chain at the end, similar to what Moxley had done to him). What matters is not who wins the match, what matters is why, and The Elite won this match because PAC and Takeshita left. The BCC, who are still relatively new to being heels, couldn't trust their heel cohorts. They aligned themselves with people who willingly walked out on a fight. The main character of Blood & Guts, as it turns out, was Moxley, the man who threw in the towel because he knew the match had become unwinnable, and who sat in the aftermath with a look of stupefied contemplation on his face, as though he was wondering how it had come to this. Eddie Kingston might be in Japan right now, but this finish plays directly into the questions Kingston had been asking Moxley before he departed: What happened? What kind of person are you? Do you realize how far you've lowered yourself? Those same questions were written on Moxley's face as he realized the depths to which he had fallen, the "allies" with which he'd chosen to surround himself and his fellow members of the BCC.
That's the interpretation we're going with, anyway. It's the one that makes sense in terms of why Blood & Guts ended the way it did. We'll see if it plays out like that, but we wouldn't be at all surprised to see Moxley veering back toward babyface territory soon — though he'd damn well better wait until Kingston comes back.