AEW Dynamite 7/26/23: 3 Things We Hated And 3 Things We Loved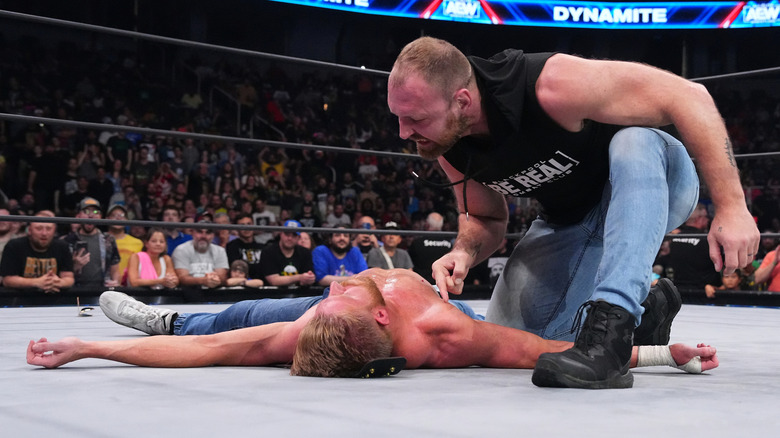 AEW
Welcome to Wrestling Inc.'s weekly review of "AEW Dynamite!" Coming off the heels of the third annual Blood & Guts match, not to mention MJF and Adam Cole emerging triumphant from the Blind Eliminator Tag Team Tournament (and apparently last weekend's Ring of Honor pay-per-view, which would come off as way more important than those other two things if you judged by this episode alone) we had lots to look forward to this week. Five matches were announced ahead of time, including Britt Baker vs. Taya Valkyrie, Orange Cassidy vs. AR Fox, Darby Allin vs. Swerve Strickland, PAC vs. Gravity, and the Official Death Before Dishonor Fallout triple threat tag team match involving the Blackpool Combat Club, the Lucha Bros, and Best Friends. Plus, we would hear from Cole and MJF!
That is a lot of stuff to go through, particularly when you're trying to figure out what the best and worst parts of the show were. Which matches were great, and which failed to meet expectations? Which storylines were advanced, and which stalled out? The cold, hard facts reside in our live coverage; around here, we provide the answers to those questions in the form three things we hated and three things we loved about the 7/26/23 episode of "AEW Dynamite."
Hated: Somebody tell Jack Perry he's not hardcore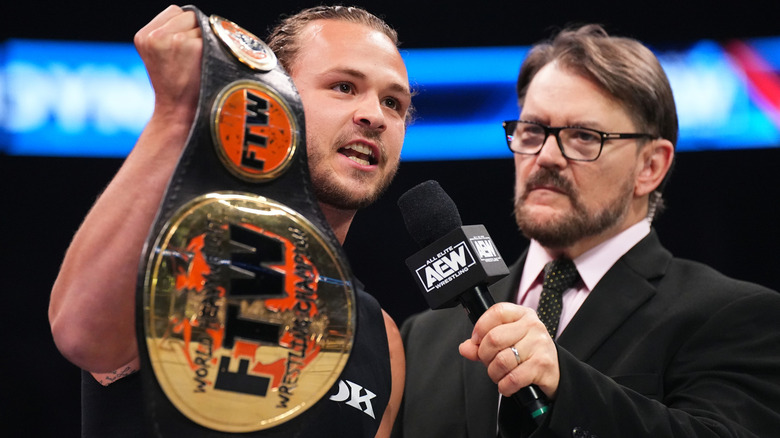 AEW
So now that he's the FTW Champion, it was apparently time to try "let's give Jack Perry a microphone" again, and predictably, it went about as well as it did the first time. Maybe worse. It should be impossible for anyone to be as bad as Jack Perry is at playing a heel wrestling character; the technology should not exist. And yet here we are. He just does not sound convincing as a heel — or rather, as this specific brand of heel. He can't sell it. The material is bad, but we're not sure he could sell it if it was good. The dude was also all over the place content-wise Wednesday night, especially as regards the FTW title itself, which he first said he never wanted, then said he'd elevated, and then said had never been held by anyone nearly as good as he is (a classic case of undercutting his own accomplishment), but mostly, the problem was simply that the entire promo felt fake. And that was before he was interrupted by some guy who we needed commentary to tell us was Jerry Lynn.
If you had us make a list of things AEW needed, the absolute last item on that list would have been "more old ECW guys." Don't want it, have no need for it. We have all the respect in the world for Lynn, but we have zero desire to watch him work a 2023 wrestling TV show. The only saving grace here is that this might be leading up to Taz taking the FTW title back from Perry and retiring it forever, but we will "love" that when it happens, not before.
Loved: The friendship disease is spreading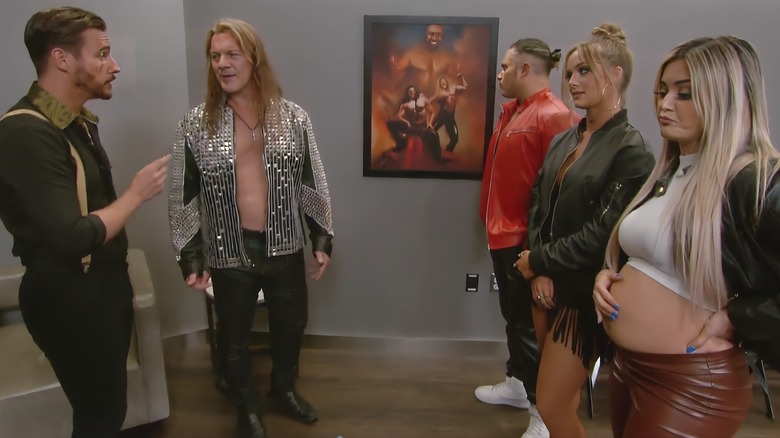 AEW
This week's episode of "Dynamite" was poorer for its dearth of MJF/Adam Cole content, but we did get a segment between the two in which MJF (a) cut a blistering promo against FTR, and (b) offered Adam Cole an AEW World Championship rematch no matter what happens in their tag title on Saturday's "Collision." (FTR also cut a promo on MJF, but nobody cares.) The segment was fun, especially now that Roderick Strong is starting to actually snap, but we don't know how to feel about MJF offering Cole the title match, and we will reserve judgment until we see how Saturday goes down.
We will, however, go so far as to say we're still really enjoying the story of Chris Jericho being torn between the Jericho Appreciation Society and Don Callis. Of course, we're starting to realize why we enjoyed it — Jericho may have held back from joining the BCC/Elite feud when he had the chance, but he does seem to have realized that, between MJF/Adam Cole in AEW and The Bloodline in WWE, stories about divided loyalties are kind of all the rage in wrestling right now. But even if he's just trying to ride the trend, we can't really blame him for it, and we enjoyed this week's developments, which began when Calls convinced Jericho to team with Konosuke Takeshita against Sammy Guevara and Daniel Garcia. This naturally drew the ire of those members of the JAS who hadn't already turned in their purple hats, and we got a strangely moving scene in which Jericho's appreciative lackeys let him known that sometimes henchmen want to feel appreciated, too. We think the thing that really sold it was the normally silly "Daddy Magic" Matt Menard spending the entire scene staring at the painting Callis had given Jericho, then bluntly responding to Jericho's question "You think this is easy?" with "Yeah, it looks pretty easy. Figure it out."
Glorious. 10/10. We hope we live to see a world where all wrestling stories are love triangles.
Hated: The match that quality forgot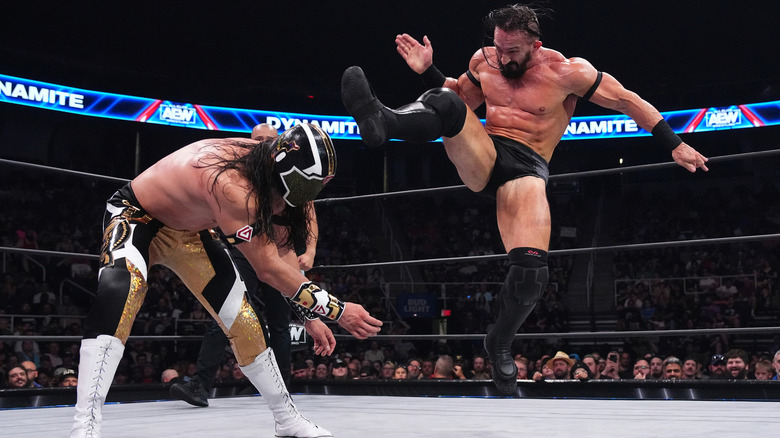 AEW
PAC vs. Gravity might have been the worst PAC match we've ever seen. No, we're not kidding. Yes, we saw his WWE matches with Enzo Amore. At least those had some kind of point, some kind of reason for happening beyond an internet joke that hasn't been relevant in five years. This match didn't advance any storylines, even though it could have; PAC just started a program with the Blackpool Combat Club, who were shown backstage watching the match but didn't do anything else, either during or after the bell. It didn't really seem to be about introducing Gravity to the AEW audience; he got a couple impressive spots in, but this was far from a showcase match for him. It didn't even seem to be about just putting on a good match. It wasn't a good match. It was a slow, boring match, and the only thing we felt when it was over was relief.
No, this match was about one thing and one thing only, and that's the fact that back in WWE, PAC (back when he was called Adrian Neville) was known as "The Man That Gravity Forgot." Do you get it? Because there's a luchador named Gravity? That's why PAC kept saying things like "Remember me?" and "Forget me not." Because his WWE nickname used to be about gravity forgetting him, and there's a luchador named Gravity, DO YOU GET IT?
Matches like this are often a product of AEW booking more for the live audience than the TV audience, and it usually shows because the live audience is losing their collective minds. Not this time. This time, Tony Khan finally aimed too directly for the terminally online demographic, and the live crowd mostly sat on their hands waiting for something to happen. And again, there are ways this could have been done well! It could have been dumb and fun! We love stuff that's dumb and fun! But it wasn't, because there was no actual creativity involved. There was just a rich nerd playing with his action figures, making them re-enact a s***post he read on a message board.
Loved: Killshot and Dante Fox, together again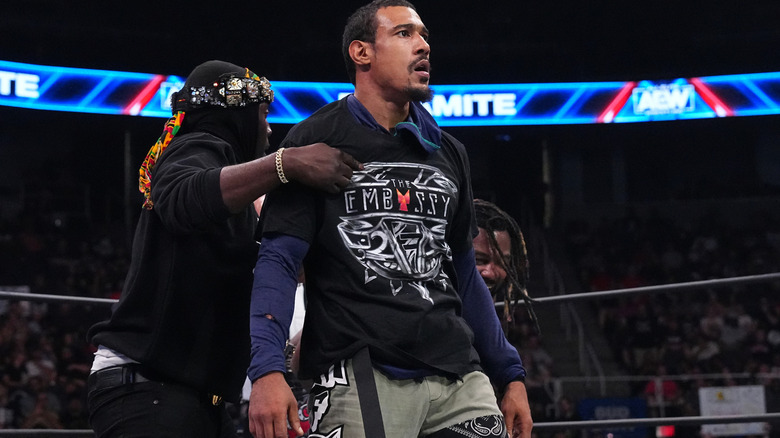 AEW
Question: Is it hypocritical to rag on PAC vs. Gravity because it appeals directly to a very small part of the wrestling landscape, then praise another match because it appealed directly to a very small part of the wrestling landscape that we love and care about? Answer: Maybe! But we would argue that in 2023, more wrestling fans still care about "Lucha Underground" than still care about PAC's old WWE nickname, and anyway, it's not really the same thing. Remember, Tony Khan already booked a weirdly specific "Lucha Underground" nostalgia match back in January, when he had Swerve Strickland take on AR Fox in a match that openly referenced their "Lucha Underground" feud as Killshot and Dante Fox, respectively. That was a one-off. This, though — Fox turning heel and joining Swerve's stable, the Mogul Embassy, helping him defeat Darby Allin in the process — this is Killshot and Dante Fox teaming up again. This is an actual change in status, an actual storyline, and one that could actually get Fox on "Dynamite" more often. We love this. We want more of it. Do not f*** this up, Tony.
And yeah, we should mention that the match between Strickland and Allin was really good, though we're not still not Darby fans. We liked what Taz pointed out on commentary: That it's hard to take Allin seriously as a gothed-up loner when his Friends list includes Sting, Orange Cassidy, and CM Punk. No matter how closely Allin lives his gimmick, there's still something about him that will always feel inauthentic to us, and we're not sure there's a solution for that. He just might not be our bag. But you know what is? Strickland and Fox working together. Push them to the MOON.
Hated: Just a massive bummer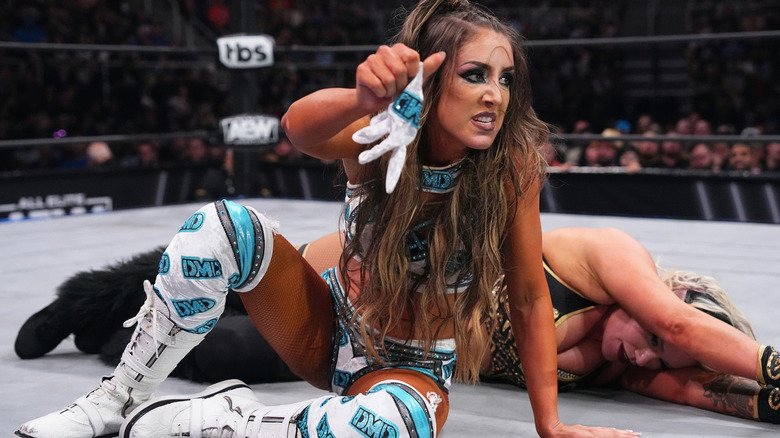 AEW
The AEW women's division continues to be our personal monkey's paw. In our review of Saturday's episode of "AEW Collision," we expressed our excitement over Taya Valkyrie challenging Britt Baker to a match on "Dynamite." Our exact words were, "Hopefully they get more than a minute."
Well, they got more than a minute. And by the time the match was over, we kind of wished they hadn't.
It physically pains us to write this, but the match between Baker and Valkyrie was actively bad. Not "difficult to get invested in because of the lack of build," though that was mostly true. Not "disappointing because of the lack of discernible women's division storytelling coming out of it," though that was definitely true. It was just bad. The two wrestlers had no chemistry together at all, and both of them had moments where it looked like they didn't really want to be there. There were several botched spots, including a big one heading into the first commercial break, but more alarming was the more basic stuff that had a distinct "just going through the motions" feel to it. Baker is just not having anything resembling a good run right now. We've never been on the Britt hate train — well, not since she turned heel, anyway — but she's giving her bad-faith critics free talking points these days, from her in-ring inconsistencies to being featured on AEW TV more than the rest of the division. Also, Britt Baker is a great heel but a terrible babyface, did we not learn this lesson years ago?
Meanwhile, Taya just lost another big match and now feels completely irrelevant, which was not what we thought we were going to be writing four days ago. And there are still no storylines for the division unless you count the Nyla Rose vs. Hikaru Shida video package, which you should not. Just a terrible showing from everyone involved at a really, really bad time for that to happen. Not great.
Loved: There's about to be a whole new meaning to 'freshly squeezed'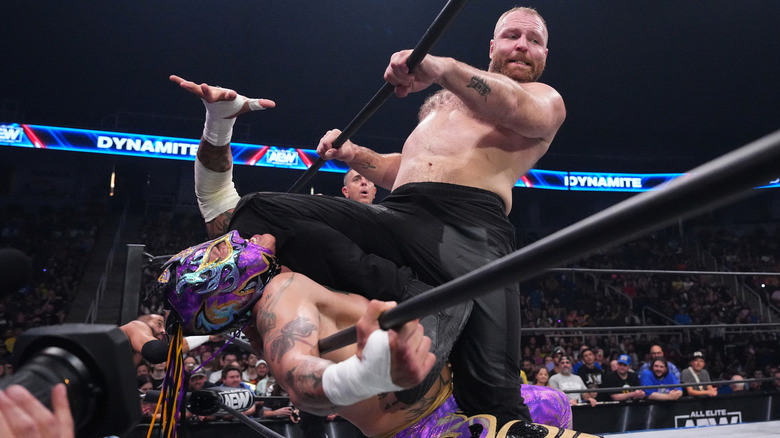 WWE
We didn't like everything about the Best Friends/Blackpool Combat Club angle that bookended this week's "Dynamite." The opening segment was overbooked, with Fox teasing his heel turn but not following through (yet), then Allin coming out to yell at him, then Jon Moxley showing up to murk Cassidy, all happening in the wake of the Fox/Cassidy match itself. We don't like that the BCC, despite their unaired handshake segment with the Elite following Blood & Guts, now suddenly find themselves in a feud with uber-babyface Cassidy, having apparently learned little to nothing from the Elite storyline. And we actually hate the fact that all of this is apparently the result of something that happened on ROH Death Before Dishonor.
That said, Cassidy vs. Fox was a ridiculous amount of fun, and so was the main event, which pit Best Friends (Cassidy's allies) against the Lucha Bros (PAC's allies) against Moxley and Claudio Castagnoli. It was entertaining chaos with a distraction finish, but we won't even complain about that because the Lucha Bros are back on "Dynamite" winning TV main events instead of being wished away to the ROH cornfield. (So much love for "Lucha Underground" alumni on this episode, we're into it!)
As for Cassidy, if he wasn't officially a main event player in AEW, a program with the BCC basically cements it. And while we're not sure how we feel about any of those guys taking the International title, we have to admit that they're the perfect next chapter in the story of Cassidy's unprecedented title reign pushing him to his breaking point. And honestly, maybe it doesn't matter that the BCC didn't learn from the last feud. Maybe they're in a place now where they're just obstacles for other characters to overcome (or to not overcome), and that's fine. We feel a little bit for Orange, though. He's about to dream of just having an injured hand.