WWE Payback 2023: 3 Things We Hated And 3 Things We Loved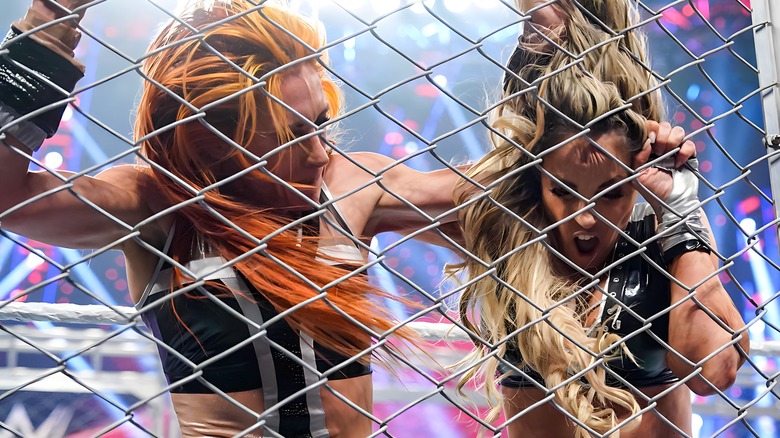 WWE
Welcome to Wrestling Inc.'s review of WWE Payback, the show so big and important you only get opinions from two of us this time! On Saturday night, four championships were defended, one months-long feud concluded, one top star returned, and John Cena got involved in the Miz/LA Knight match for some reason! Also he pretended to be a backstage interviewer and everyone was forcibly reminded that he's a legitimately good actor now. It was fun times.
Even with only six matches on the card, we're not going to go in-depth on everything here, mainly because we have strong opinions on certain things and less strong opinions on others. Our live coverage of the show has all the information you need if you're just looking for a re-cap, and you should also check out our biggest winners and biggest losers. If you're here, though, it's because you're interested in our personal opinions and analysis on what we liked and what we didn't. With that in mind, here are three things we hated and three things we loved about WWE Payback 2023.
LOVE: Sami Zayn and Kevin Owens Play Up to Yinzers (Daisy Ruth, WINC news writer)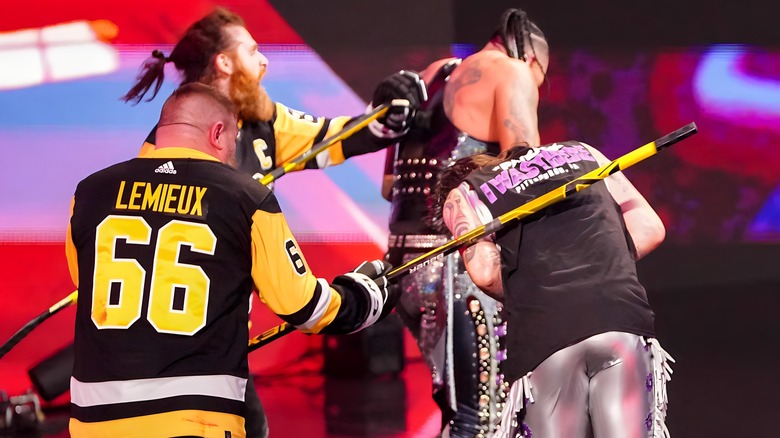 WWE
I'm not sure how to start this opinion off other than saying I'm from Pittsburgh. Straight up, bleeding black and gold, full-blown Yinzer, who may or may not have also been involved in a few Steel City Street Fights in my day. Now living in Florida, I knew Payback was going to make me extremely homesick; my first WWE live event was in that very arena. But I wasn't prepared for how big Sami Zayn and Kevin Owens would make my little Yinzer heart swell with pride for my home.
The thing about Pittsburgh sports fans is, we're pretty insufferable. If you're around a Pittsburgh sports fan, you'll know about it within 10 minutes of speaking with us. We'll pop for anything involving our teams. So when Zayn and Owens popped out from behind the barricade wearing Sidney Crosby and Mario Lemieux jerseys, respectively, I was almost immediately up off the couch, hollering in excitement. The addition of hockey sticks (Payback was held in the Penguins' home, PPG Paints Arena) in a street fight was just too good. What a perfect, brutal weapon. The visual of Owens dripping blood all over a Penguins jersey? It was just too good. It's a photo that needs to be framed and hung up on the wall outside the Penguins' locker room with all the other iconic photos of Penguins in history.
Of course, before the hockey sticks even came out, Finn Balor pulled out a bunch of Terrible Towels from a garbage can under the ring. The visual of Balor twirling the towel like he was at a Steelers game was fantastic ... before he stomped on it. Anyone who stomps on the Terrible Towel on the gridiron is cursed, however, so we'll see if that curse carries through to the wrestling world. It was wonderful to have fellow Yinzer Corey Graves on commentary for this, as well, ad Michael Cole talking smack on the Pittsburgh Pirates was ... deserved. Graves even called Dominik Mysterio a "jagoff," or, a jerk, in our lingo. The only thing that would have made it better was a Pat McAfee appearance, heavy Pittsburgh accent and all.
The match itself was a brutal spot-fest, and it's tied for my match of the night with the women's steel cage match. The ending was a bit overbooked for my taste, but the Judgment Day storyline moving forward makes up for that.
Hated: The end of the line (Miles Schneiderman, WINC senior lead news editor)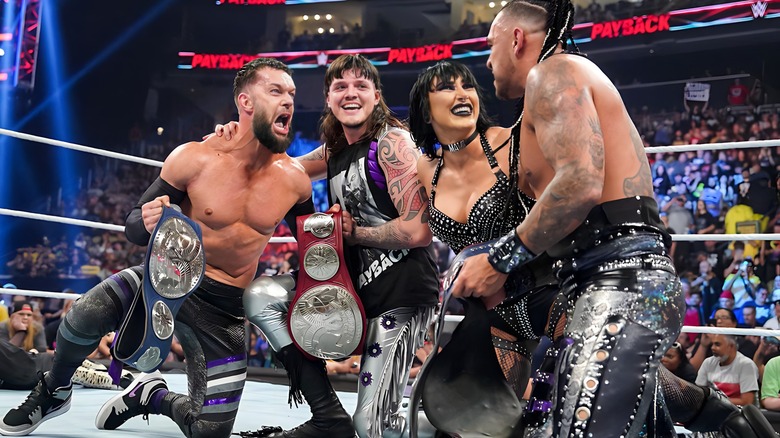 WWE
I really, really enjoyed the tag team championship street fight between Sami Zayn and Kevin Owens and The Judgment Day. I thought it was probably the best match of the night (it's that or Lynch vs. Stratus) and one of the best WWE matches of 2023, which continues to be just an amazing year for tag team wrestling. There are so many things I loved about it. And yet, when the bell rang, it was hard for me to feel anything other than disappointment that the reign of Zayn and Owens had come to an end, and that it had ultimately given us few, if any, actual stories involving two of WWE's most compelling characters.
As I've talked about before, while Zayn and Owens have been treated as top stars on "WWE Raw," regularly main-eventing the show against (almost always) The Judgment Day, they haven't really had the chance to do a lot of storytelling or character work. Their onscreen personas have remained largely unchanged since WrestleMania, with their stories consistently centered around their opponents — first The Bloodline, then The Judgment Day. As much as Zayn, for example, has been elevated to new heights over the last year, he doesn't feel like one of WWE's main characters the way he did earlier this year.
To be clear, I love The Judgment Day. I'm stoked for their success (Finn Balor being a Grand Slam Champion now is particularly cool). But I also know that Zayn and Owens have always wanted to be WWE Tag Team Champions together, and they've talked about how badly they wanted their run with the belts to be meaningful and memorable. Unfortunately, that didn't really happen. After WrestleMania, I thought Zayn and Owens would elevate the tag team division to a new level of importance in WWE, but that didn't really happen either. And now, in the hands of The Judgment Day, I'm worried the titles are going to once again be marginalized, rarely defended and primarily used as props. The match was excellent and made me happy. The title change leaves me concerned, and somewhat disappointed.
HATE: Knight, Miz, Cena leads to ... Nothing? (Ruth)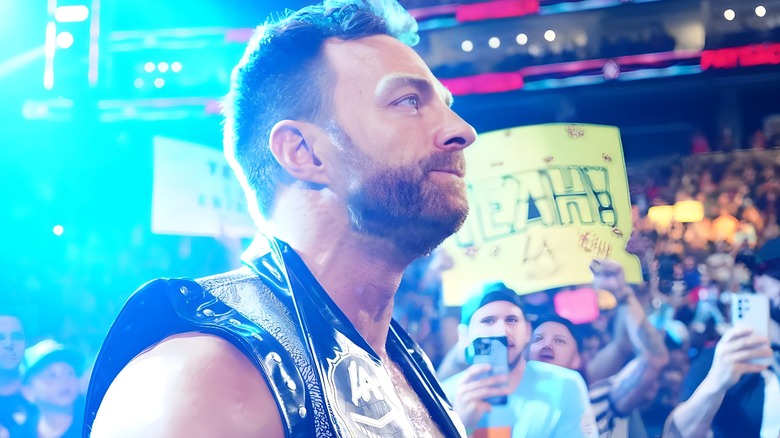 WWE
On Friday, I wrote about my humble opinion that The Miz absolutely destroyed LA Knight on the mic during a promo battle on "WWE SmackDown," and darn it, I'm back at it again to talk smack on a Knight segment. Thankfully, this time, it's not really Knight's fault, so I can hold on to my fan club membership card.
While we were made aware on that same episode of "SmackDown" that Cena would be guest-hosting (whatever that always ends up meaning on these premium live events, anyway) Payback, we weren't made aware of him becoming the special guest referee in the Knight vs. Miz match until the A-Lister came down the ramp to interrupt Cena. Cena played it straight for most of the match, pulling Miz off Knight before the count of five in the corner, then pulling Knight off Miz. Something just felt off about it. Should Cena have helped fellow babyface Knight defeat Miz? It kind of felt that way. There was a point in the match where even commentary mentioned they forgot Cena was the referee, and I don't disagree with that.
There was also tension between Cena and Knight during the match. At a point in the bout, both Miz, then Knight, almost ran into Cena, but at the conclusion of the match, when Knight and Cena were on the stage, it seemed like Knight should have just clocked Cena. WWE did have Knight working heel for a while there before this absolutely meteoric rise of his. And though (some) fans are just happy to see Cena back in the company, there are many of us who would love to see the "Peacemaker" star work as a bad guy for a while.
When Knight didn't immediately shake Cena's hand on the stage following the match and seemed to be talking a little trash to him, I wanted something to happen so badly, and nothing did. This match overall was largely inconsequential and left me wondering why Cena was even involved, as the feud itself was hot coming off segments on both "WWE Raw" and "SmackDown" this week. WWE needs to give Cena a direction if he's going to be around for months during the Hollywood writer's strike ... and fast.
Loved: Monday night main event (Schneiderman)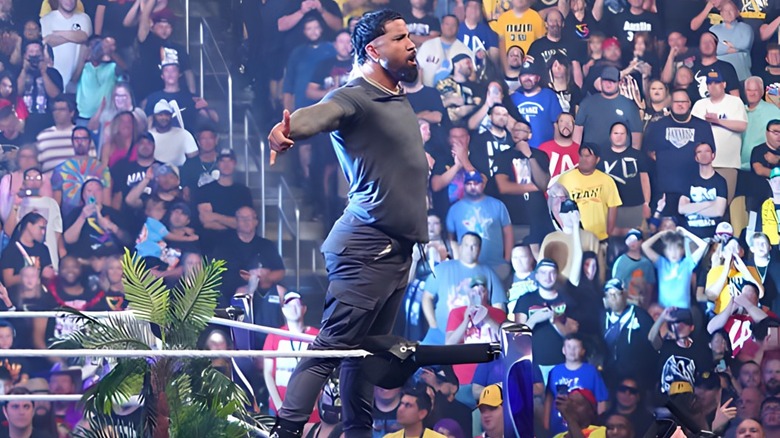 WWE
It is objectively hilarious that WWE couldn't bring themselves to keep Jey Uso off TV for more than a couple of weeks (and even funnier that Grayson Waller felt the need to point it out). I also don't see how it makes a lick of sense for Cody Rhodes to have used his "clout" or whatever to bring Jey back to WWE, only on "Raw" this time. But honestly, who cares? Jey being back is great; WWE's programming has suffered without him, and it's a good sign for his newfound singles career that the company felt the need to rush him back so soon. More than that though, it's great because it brings some much-needed change, both to Jey and to "Raw."
You may have heard, probably from me, that Monday nights have been a bit stale at the top of the card lately. It's been all Judgment Day, all the time, usually in matches with some combination of Seth Rollins, Cody Rhodes, Sami Zayn, and Kevin Owens. Jey's arrival shakes that up. My guess is that we're setting up a WarGames match with The Judgment Day on one side and Zayn, Owens, Rhodes, and Jey on the other, but that's just speculation at this point. Either way, we should at least get guys like Balor and Priest in the ring with someone new, and it would also be fun to see Jey wrestle heels like Shinsuke Nakamura or The Miz.
Or at least, I presume it will be. Because this is kind of the test, isn't it? The Usos are split hard now. Jimmy is on "SmackDown," Jey is on "Raw," and for the first time in a long time, Jey's going to get stories with people who aren't his family members. It also seems like WWE is treating Jey like the top star he's clearly become. So now it's time to see him do it. I'm pretty sure he can, and I'm excited to go on the journey, but as all fun things should be, it's a little scary, too. A lot of people say The Bloodline story is beneficial to the company because it elevates people and creates new stars. Well, now it's time to see if Jey Uso is really the star he appears to be, once you separate him from his brothers and Roman Reigns.
But of course, the most important thing is that he's on the same show as Zayn again. Give me all the Jey/Sami interactions, WWE. Make me feel all the feelings.
LOVE: Becky and Trish Leave It All In The Cage (Ruth)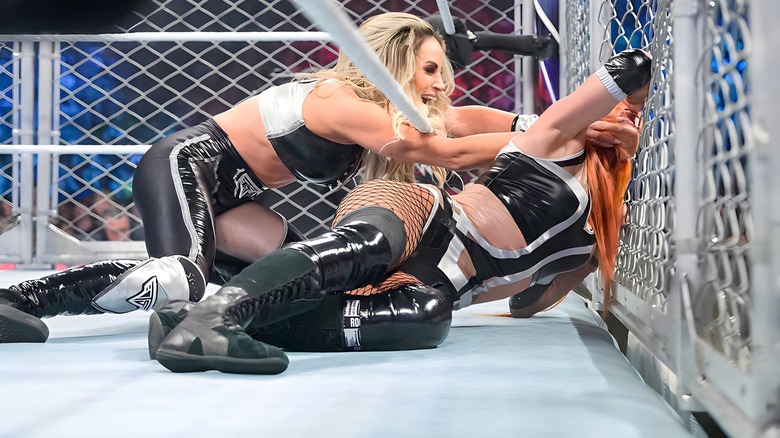 WWE
Trish Stratus made it known she wanted to have a cage match for the first time in her career during this run, and she absolutely gave it her all in an incredible match with Becky Lynch that had this lifelong women's wrestling fan feeling 11 years old again. This match made me as happy as I was at that age, being allowed to stay up late to watch Stratus main event "WWE Monday Night Raw" with Lita for the first time in 2004. Back then, I was amazed that women could do that. Now, women's wrestling DOES. THAT.
Stratus made the most out of her first (and potentially only) cage match, selling like crazy and taking insane bumps. Stratus' forehead had imprints of the cage within the first five minutes of the match. It looked brutal. Stratus hitting all of her top hits from over the years is always nice, but the homage to Victoria with the Widow's Peak to Lynch was a perfect touch, and was even followed by Lynch hitting a Twist of Fate to honor Lita.
I personally am also a sucker for cage escape spots, especially since they don't happen too often anymore. Lynch and Stratus had some great escape attempts at the top of the cage, including Stratus getting her legs caught at the top in an intense spot. The superplex and Manhandle Slam from the top were amazing to see, as well, with Lynch delivering both of them and Stratus taking the bumps like the champ she is.
This match made history, it was iconic, and it's up there for my match of the night on what I thought was a full-on excellent show.
Hated: An overall lack of story progression (Schneiderman)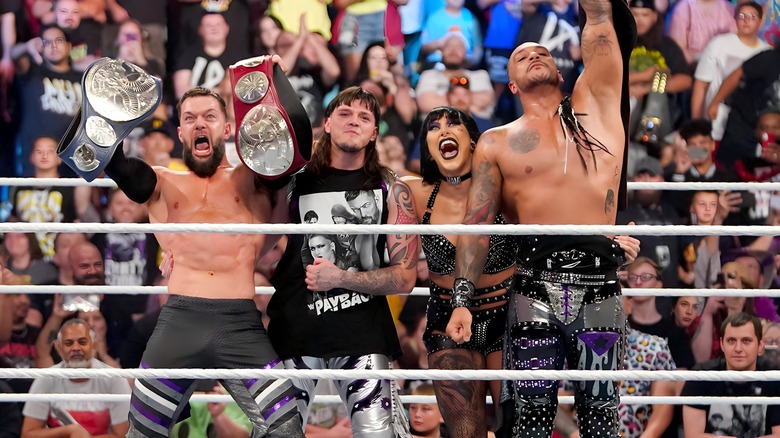 WWE
Overall, I thought Payback was a pretty damn good show, with several good matches and at least two legitimately great ones. But I'm having a hard time getting over the general lack of progression we saw in the majority of the angles we had going in.
And I want to stress, I'm talking about the stuff we saw. I think it's fairly likely that some of these feuds will be continuing; Raquel Rodriguez teased she wasn't done with Rhea Ripley yet in a WWE online exclusive, and Shinsuke Nakamura apparently attacked Seth Rollins after the show went off the air. But having these developments take place outside of the actual Payback broadcast so we have to learn about them through other sources diminishes the impact of Payback itself. We shouldn't have to be told after the fact that something happened to cause a story to continue when it sure looked like it ended with a clean pinfall in the middle of the ring.
Meanwhile, even what few ongoing stories did progress didn't progress very far. The Judgment Day, for example, won the tag titles, and the conflict in the group seems to have been resolved again as a result. The teased changes Ripley promised if they came away without gold won't happen, and so we're just left with the latest example of JD McDonagh helping them win a match without being asked to, which is a story beat we've now seen at least 65 times in a row. So did we really get anywhere? Rey Mysterio vs. Austin Theory had basically nothing going from a narrative standpoint. Even Jey Uso's return didn't really give any indication of his next storyline, ditto for John Cena so far, and Cody Rhodes is still wandering around with nothing to do a month after SummerSlam.
Payback had a lot of excellent in-ring action, but its narrative hooks left a lot to be desired. If the only actual idea WWE has right now is "The Bloodline again, but goth," it's going to be a long football season.