The Most Surprising Losses Of Triple H's Career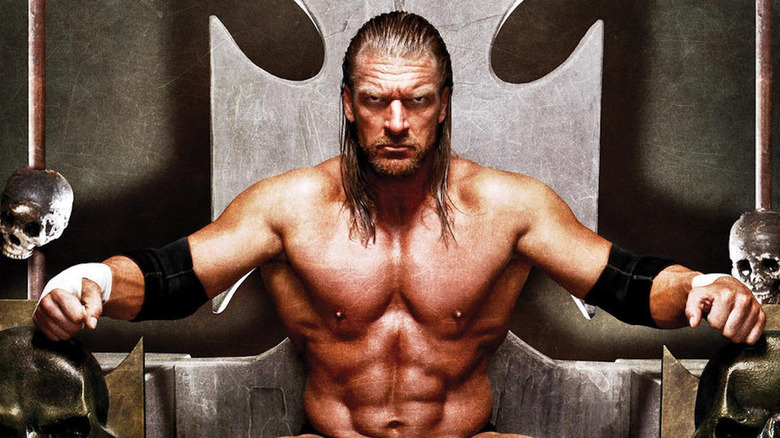 WWE
Before he was Chief Content Officer — and the long-awaited savior to those who just wanted something different to a Vince McMahon-dominated WWE Universe – Paul Levesque was Triple H (née Hunter Hearst Helmsley, Jean-Paul Lévesque, Terra Ryzing, et al). He was "The Game." He was "The Cerebral Assassin." He was a founding member of not one, but two of the most influential factions in the history of the business in D-Generation X and Evolution. He was part of The Authority, evolving his heel persona as part of a collective in the vein of Mr. McMahon himself. He was the foil to what the people wanted, in storyline, only adding to their jubilation when eventually, it all paid off. And of course, he was the driving force behind "NXT," a revolutionary developmental brand responsible for so many of today's upper echelon superstars — in WWE and beyond.
But above all, like him or not, Triple H was one of the most decorated and revered performers in the history of WWE, building and rebuilding himself to the point of credibility where losses seemed unlikely at best and oftentimes, impossible. Still, as we've chronicled previously for The Undertaker, Hulk Hogan, and others, even the most unstoppable forces are conquered from time to time in the wild world of WWE. And with that, let's take a look at the most surprising losses in the Hall of Fame career of Triple H.
1. Hunter Hearst Helmsley vs. The Ultimate Warrior: WrestleMania XII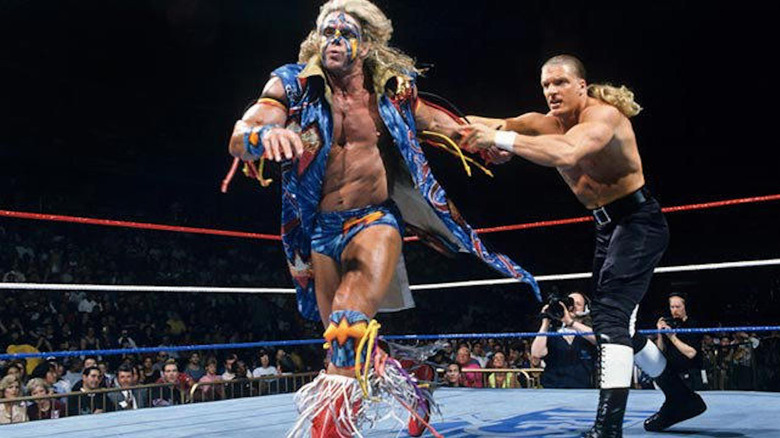 WWE
Pre-Curtain Call, Helmsley was well on his way to becoming a big-time heel in the WWF and giving him the responsibility of working with a returning Ultimate Warrior at WrestleMania tells you enough about the favor he was in at the time. Having been away for four years, Warrior's return was a big deal with a ton of fanfare. So a loss here for Helmsley wasn't as surprising from a result perspective as it was the manner in which it went down.
Helmsley enters with a debuting Sable as McMahon, on commentary, quickly begins to tee up the scenario at hand. What kind of shape is Warrior in? Can Helmsley execute the Pedigree on a man of his stature? Warrior's physical appearance was never to be questioned, but from a stamina perspective what was about to happen was probably the best he could do at this point. Following the trademark Warrior entrance to hype the crowd, Helmsley attacks before the bell, shockingly hitting a Pedigree on Warrior, not yet out of his entrance jacket, but the budding trademark finisher is completely no-sold. From there, it's a Warrior match on fast forward. Warrior delivers one punch, three straight clotheslines, a shoulder tackle, the gorilla press, the splash, and we get a 1-2-3. The match was 1:39 from bell to bell.
"I'm not too sure that Hunter Hearst Helmsley knew what hit him," McMahon would utter. In the moment, the loss seemed like a momentum killer, but Helmsley got back on track with a win over Duke "The Dumpster" Droese on "Raw" and knocked off Marc Mero (who had acquired the services of Sable) at In Your House 7 just a few weeks before a public goodbye to Diesel and Razor Ramon would take care of that whole derailing thing after all.
2. Hunter Hearst Helmsley vs. Jake The Snake Roberts: Raw, June 3, 1996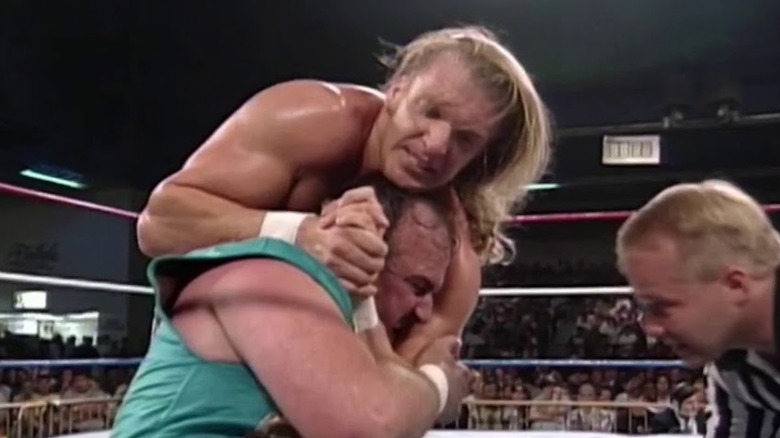 WWE
The result of this opening round contest for the King of the Ring tournament, even knowing what we know now about the repercussions from the kayfabe-breaking sendoff for Diesel and Razor Ramon, is still surprising, especially given some of the nuances throughout the match.
Looking back on anything just (literally, just, in this case) prior to the dawn of The Attitude Era is a little odd, knowing right where the key players ended up. For example, the other opening round match on this episode — the newly anointed "Stone Cold" version of Steve Austin taking on a Bob Holly persona in between "Sparky Plugg" and "Hardcore" — was surprisingly competitive. Austin was just tightening the screws on the new character and even McMahon yelping, "Stone Cold!" sounded unnatural at this point.
The big tell in Helmsley versus Roberts should have come when Helmsley's entrance wasn't even shown in favor of footage of Clarence Mason, Esq. and his claims of assault against then-WWF President Gorilla Monsoon. McMahon points out that Helmsley appears to be "in awe of the skills of Jake 'The Snake'" and then takes it a bit further, going out of his way to credit Roberts on his comeback to the WWF "despite his 43 years of age." (When have you heard that type of overt nod to a wrestler's advanced age before or since?) Mysteriously, during a commercial break, Helmsley takes control of the match with little pushback before Roberts hits a DDT out of nowhere for the pin. Roberts goes on to lose to Austin in the tournament Final, who proceeds to deliver one of the greatest promo ever, and The Attitude Era is born. Meanwhile, Helmsley is sporadically used for weeks until suffering a "Raw" losing streak to a trio of true immortals in Ahmed Johnson, Freddie Joe Floyd, and The Stalker!
3. Triple H vs. The Rock: Backlash 2000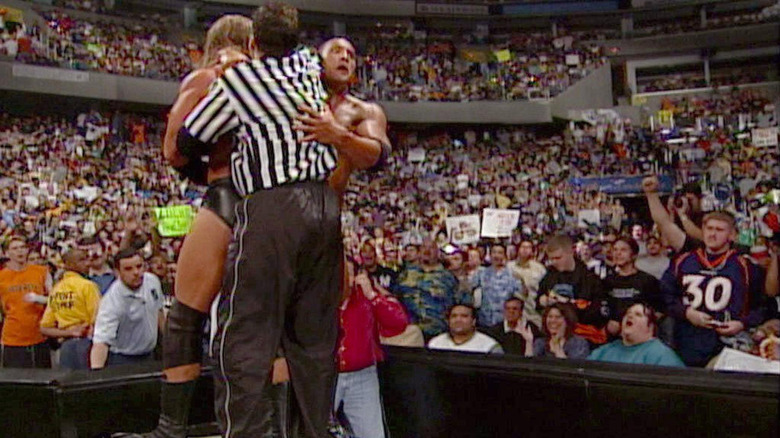 WWE
Ah, it's the dawn of the McMahon-Helmsley era in full effect. The surprise in this match is that Triple H had absolutely everything going in his favor with not just Stephanie, which was common practice by this point, but also Vince in his corner, and Shane as the guest referee. Even Linda, upholding whatever valor might be left in the McMahon name at the time as the contrarian to the evil of the others, trying to even the odds by putting "Stone Cold" Steve Austin in The Rock's corner was seemingly thwarted when Vince announced that Austin would not be appearing after all, just as the match was set to begin.
With the cards stacked against The Rock, it was clear that it would take all sorts of hoopla for Triple H not to win, and all sorts of hoopla is exactly what we got. The Rock was a force at this point, so the fact that he battled through was no shock to anyone — and a double Rock Bottom on HHH and Shane through the Spanish announce table was a pretty damn cool spot that seemed to turn the tides. Eventually, though, Vince hits the ring for a low blow, HHH hits a Pedigree, and Pat Patterson and Gerald Brisco come out with referee shirts on, only to join in on the beatdown after an unsuccessful three count. After Vince blasts The Rock with a chair, finally, Austin makes his way to the ring with chair shots for all, including a pair for Hunter before he heads backstage. Linda joins the fray with Earl Hebner in tow, shoving Steph down, and then Rock hits a spinebuster and The People's Elbow. From there, it's an oddly slow 1-2-3 from Hebner and all odds are defied and The Rock is your new WWF Champion.
4. Triple H vs. Hulk Hogan: Backlash 2002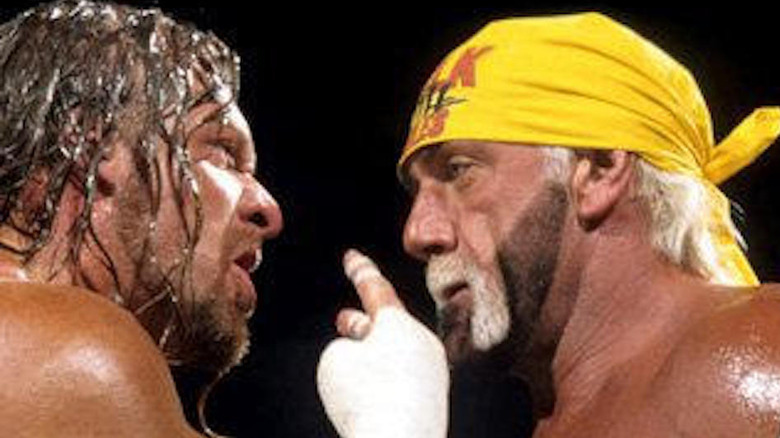 WWE
Maybe the biggest surprise here is a 48-year-old Hogan capturing his sixth championship with the company after his return looked as close to an impossibility as there is in the wrestling business for so long. But the events of WrestleMania X8 the month prior, when the momentum gained from Hogan and The Rock lighting the SkyDome on fire rekindled a Hulkamania flame long thought to be dead, plus Triple H capturing the Undisputed WWF Championship from Chris Jericho in a main event that Hogan and Rock's performance made history forget, set the wheels in motion for this one.
Obviously, it was time to take advantage of Hogan's regained popularity, but another Rock versus Hogan this would not be. It did, however, advance a couple of storylines, if nothing else, with interference from Jericho and The Undertaker. The latter made the biggest impact with a chair shot and would go on to eventually capture the title from Hogan less than a month later at Judgment Day.
The title run for Hogan didn't captivate the masses as the company might have hoped and it being as short as it was took away from Triple H's previous reign of a month as well. It can be argued now that at this stage of his career, Hogan didn't need a championship reign to stay popular with nostalgic fans. Nevertheless, his popularity soon dwindled and Hogan would temporarily leave the company in August of the same year.
5. Triple H vs. Goldberg: Unforgiven 2003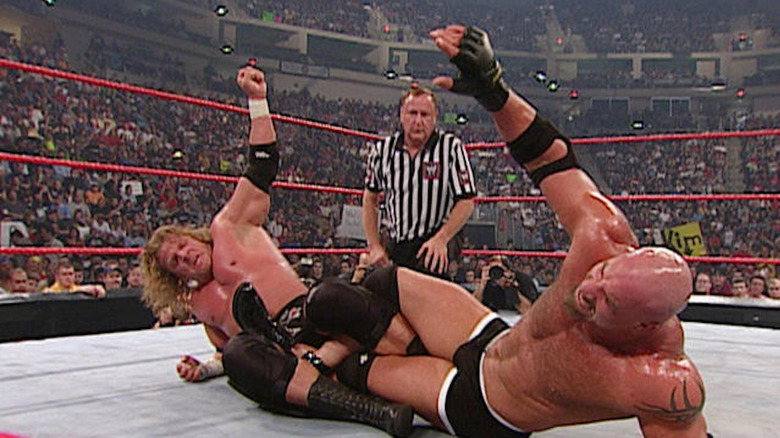 WWE
This one won't ever be remembered as a wrestling classic as one might quickly surmise about a Goldberg match that went nearly 15 minutes, but it makes the list nonetheless thanks to the result. The feud began when "The Game" retained his title in the Elimination Chamber at SummerSlam thanks to his trademark sledgehammer and some help from Evolution. The next night on "Raw," Goldberg sought revenge and demanded a title shot, which HHH granted under one condition: A Goldberg loss would mean he'd have to leave the company. That was surely not happening at this point in Goldberg's career, which maybe takes away from the surprise element a bit, but we're sticking with it as him going over Triple H in a World Title match in WWE is certainly something most never thought they'd see.
The additional stipulation of champion's advantage not being in play, as a disqualification or count-out finish would also see HHH lose his title, effectively eliminated any chance of interference from his Evolution counterparts. Still, "The Game" was able to get away with a sledgehammer shot after a ref bump, but it was largely no-sold by Goldberg who hit a spear to turn the tide right after. After following that up with a jackhammer, that was it. Goldberg grabbed WWE gold for the first time in his career and Hunter would have to settle for a rematch at Survivor Series. Unsuccessful there as well, he'd finally overcome Goldberg at Armageddon, with a little assistance from Kane, who had been thrown into the mix since the previous singles matches in this feud were met with little fanfare.
The best thing to come out of all of this was a rekindling of the HHH and Shawn Michaels rivalry, culminating in an epic three-way at WrestleMania XX, which just so happens to be next on our list.
6. Triple H vs. Shawn Michaels vs. Chris Benoit: WrestleMania XX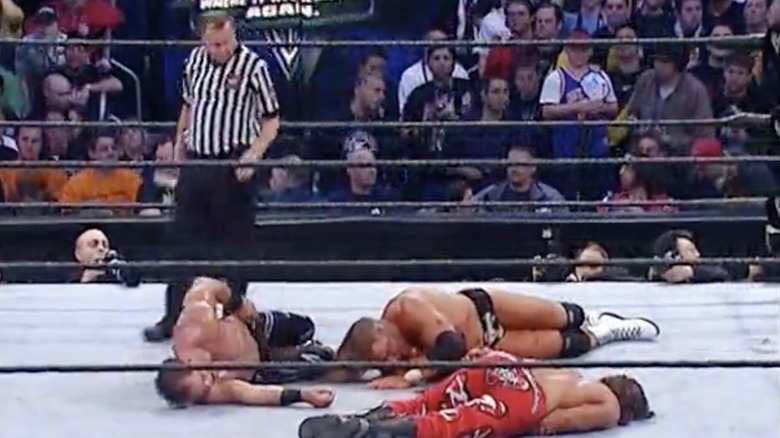 WWE
Following a Michaels versus Triple H Last Man Standing match for the World Heavyweight Championship at the Royal Rumble which ended in a draw, Benoit ran the table from the No. 1 spot to win the Rumble and surprise everyone by defecting from "SmackDown" to show up on "Raw" the next night. His intent to challenge for Triple H's championship marked the beginning of the era in which the Rumble winner would vie for the title of his choice. Michaels immediately argued for a rematch and found his way in after superkicking Benoit before he could sign a contract, inking his own name instead with Benoit laid out at his feet.
The match itself marked the first time a World Title had been defended at a WrestleMania in a Triple Threat match. Given the history between Michaels and HHH, even despite their feuding in recent years, Benoit was a clear underdog, especially since the idea of the former DX counterparts teaming up wasn't at all farfetched. That came to pass when they hoisted Benoit overhead outside the ring and through the announce table, allowing Michaels and Hunter to try to settle the score one on one as Benoit recovered. He'd come to life just in time to break up a pin attempt after a Triple H Pedigree.
After a festival of false finishes, Benoit dumped Michaels over the ropes and ultimately reversed a Pedigree into the Crippler Crossface, getting HHH to tap out after what seemed like an eternity in the submission. The decisive finish to a fine match, putting Benoit over clean against two icons, and the feel-good moment as Benoit and WWE Champion Eddie Guerrero celebrated together afterward would be tarnished forever, like everything else Benoit, thanks to his involvement in the most horrific event in wrestling history a little more than three years later.
7. Triple H vs. Shelton Benjamin: Raw, March 29, 2004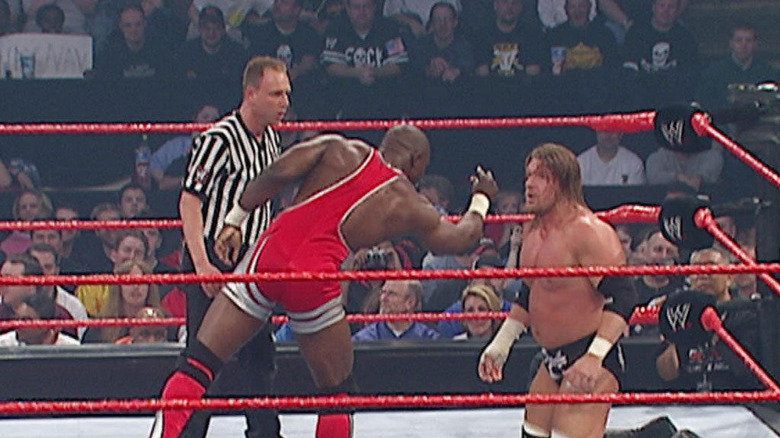 WWE
The 2004 WWE Draft broke up The World's Greatest Tag Team and shifted Shelton Benjamin over to "Raw," where he'd make his in-ring television debut in a main event showing against Triple H. While Benjamin would go on to three straight victories over "The Game," launching him into high profile storylines against fellow Evolution members Ric Flair and Randy Orton, it was their first encounter — the only win by pinfall of the three — that stands out as a shock to this day.
Triple H had actually been drafted to "SmackDown," seemingly breaking up Evolution, but was traded back to "Raw" almost immediately, reuniting the faction and setting up this showdown with Benjamin. Of course, this meant a backstage beatdown from HHH's cronies, further diminishing the chances for Benjamin in their match later that night. The showdown was hyped up to be a big deal throughout the show, with Benjamin getting encouragement from the likes of Mick Foley and then-World Heavyweight Champion Chris Benoit, with the champ factoring into the decision by thwarting a Flair interference attempt. By and large, however, HHH put the shine on the up-and-coming Benjamin, stunning the crowd and earning this match its place in history (or at least on this list).
While it may not have elevated Benjamin into the stratosphere as a singles star as might have been intended, it certainly boosted his credibility, which has sustained itself all these years later as Benjamin is regarded as one of the most underrated performers in WWE history.
8. Triple H vs. Randy Orton: No Mercy 2007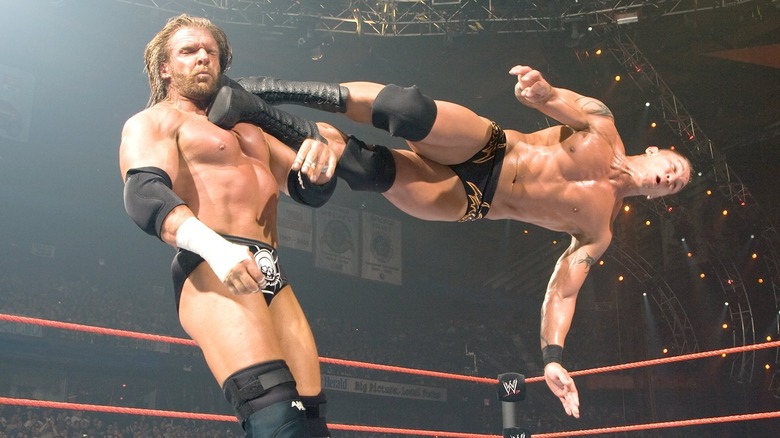 WWE
No Mercy was centered around John Cena having to vacate the WWE Championship due to injury and Vince McMahon simply awarding the title to Orton, though General Manager William Regal did clarify that Orton would have to defend the title that evening. Cue: "The Game," hitting the ring already dressed to compete against Umaga later on in the show, interrupting Orton's rant about nobody deserving the belt more than him. After bullying McMahon to approve a match right then and there, Triple H accomplished World Title victory No. 11 of his career with a rollup.
Later in the show, McMahon informed HHH that his match with Umaga was still on, only now it would be for the WWE Championship. While "The Game" would ultimately retain the title, "The Samoan Bulldozer" more than took a chunk out of the champ, attacking his ribs throughout, before succumbing to a Pedigree when all was said and done. Only, for Triple H, it wasn't, because following the next match, while icing those injured ribs, McMahon informed him that Orton was invoking his rematch clause and that return engagement would be tonight's main event, a Last Man Standing match.
In a brutal affair featuring spots with announce tables, steel steps, and chairs, Orton would ultimately prevail over an exhausted HHH to capture the title for the second time that evening. Usually, these odds-stacked-against-a-wrestler scenarios are primed to benefit said wrestler in the end, but that was not the case for HHH on this occasion — and history would repeat itself to that end shortly thereafter.
9. Triple H vs. Randy Orton vs. John Cena: WrestleMania XXIV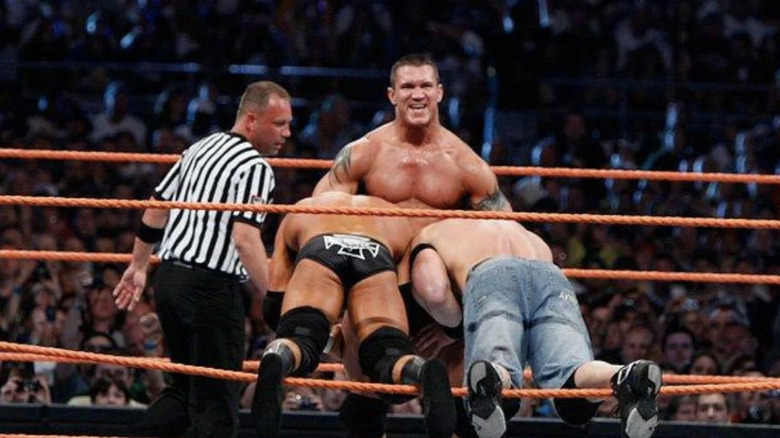 WWE
With both Triple H and John Cena battling back from major injuries, plus a heel Randy Orton as the defending champion, the prevailing thought heading into this Triple Threat was that one of the babyfaces would come away with the title. But that was not to be. Cena earned his way into this match following a Royal Rumble win in his surprise return from a torn pec muscle (though initially, he used his title shot at No Way Out and won by disqualification, ultimately setting up this pseudo-rematch), while HHH punched his ticket by winning in the Elimination Chamber. Pair all that with the fact that Cena got the royal entrance treatment, complete with a marching band, and HHH's entrance being, well, a Triple H WrestleMania entrance, and you might have placed a large wager on Orton not coming away as the victor. (Note: If you gamble on pro wrestling matches, you might have a problem.)
With each man hitting his trademark moves throughout the contest, this was truly a back and forth (and back again) battle. Triple H strayed from his usual bag of tricks at one point, slapping an Indian Death Lock on Orton before Cena broke that up as the match raced toward its crescendo. The end result came after false finishes for both faces including the finale, a Pedigree on Cena that went for naught when Orton hit not an RKO, but a punt out of nowhere and got the pinfall to retain.
While the outcome was a bit surprising on account of the successful returns from injury for both Cena and HHH, the latter would go on to win back his championship in a return engagement with these two (plus JBL added to the mix to make it a fatal four-way), by pinning Orton at Backlash.
10. Triple H vs. Sheamus: Extreme Rules 2010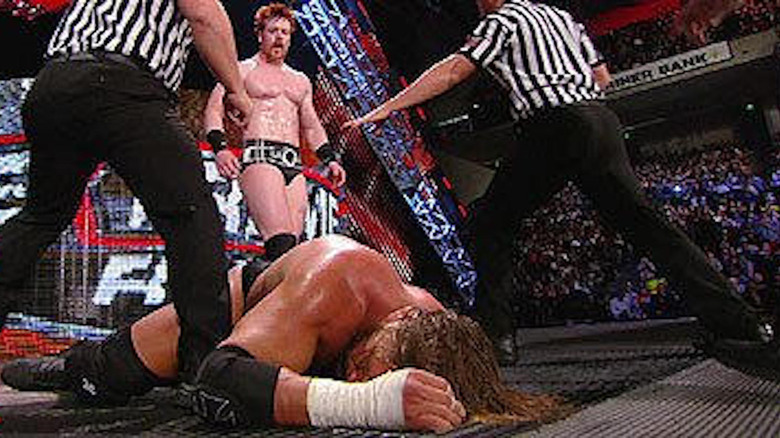 WWE
The setup here was an angered Sheamus blaming Triple H for his WWE Championship loss at Elimination Chamber, which led to a failed attempt at revenge at WrestleMania, which begat a lead pipe attack on "Raw," and finally a Street Fight at Extreme Rules. The surprise in this one came as a result of an underdog story going unfulfilled as, with the match seemingly set to go on first and HHH's music already playing, Sheamus attacked "The Game" with a lead pipe again backstage thereby forcing the match to go on later.
When the match finally did go down, Triple H even showing up following the attack from earlier in the show still wasn't a sure thing, and Sheamus hit the ring wanting the referee to go ahead and raise his hand as the winner. A battered HHH made his way down after all and the fight ensued, despite what appeared to be a left arm injury for "The Game." With all of this weighing against him, it sure looked like Triple H was set up to overcome the odds but things wouldn't go down that way.
Instead, with less than the usual arsenal of weaponry fit for a Street Fight stipulation, Sheamus would prevail after a series of (as yet unnamed) Brogue Kicks and added another after the fact to HHH, who needed to be stretchered out. Though we didn't fully know it at the time, this would mark the end of Triple H's run as a full-time wrestler, so looking back, it's fitting for him to go out on his back, as they say, ever-so-literally with the stretcher touch to boot.
11. Triple H vs. Curtis Axel: Raw, May 20, 2013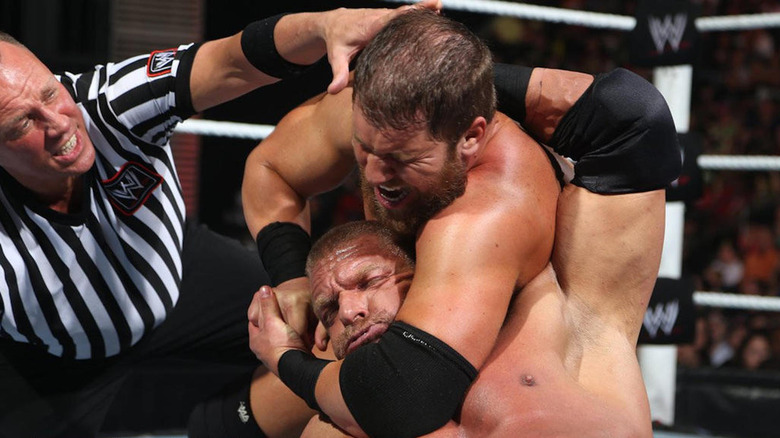 WWE
That's right, Curtis Axel defeated Triple H. He defeated him twice, in fact! Axel, recently repackaged from his days as Michael McGillicutty, was re-debuting as "a Paul Heyman guy" and seemingly was set for a big push. Just having a match against a future Hall of Famer on his first night under the new gimmick would certainly double down on as much.
HHH was coming off the third match in his trilogy against fellow part-timer Brock Lesnar the night before in a steel cage at Extreme Rules; it was a loss from which he'd still be selling the damage here a day later. That, one would think, would have been the tell. A win over a severely compromised anyone wouldn't do much for Axel, and the performance by Triple H showing signs of being supposedly concussed by Lesnar was pretty over the top. The finish was rather forgettable, with a disoriented HHH trying to get his bearings outside the ring, pouring water on his head and flopping like a fish while trying to get back into the action. As trainers advised him to shut it down, the referee counted him out and Axel was named the winner.
This prompted an angle for the pseudo-retired Triple H, with family trying to get him to stop competing altogether. Eventually, Axel would beat him again when Vince McMahon called a stop to their return engagement. The pair of wins over "The Game" didn't do a lot for Axel, whose pedigree as the son of Mr. Perfect and grandson of Larry "The Axe" Hennig was understated throughout a career highlighted by an underwhelming Intercontinental Championship run and time spent as one half of The B-Team alongside Bo Dallas. From here, Triple H would go on to establish The Authority, never to speak of the ramifications from that concussion ever again.