Matt Riddle Released By WWE, Had Reportedly 'Burned Through Too Many Chances'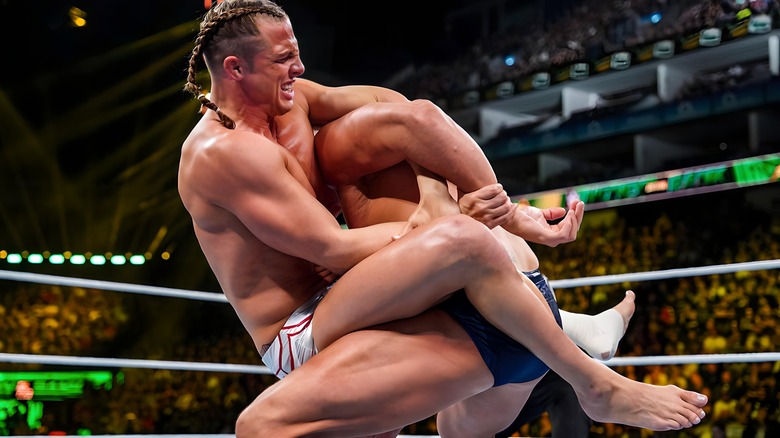 WWE
Matt Riddle is gone from WWE.
In a statement released on Twitter, Riddle announced his departure and thanked his fans for all the years of memories. The move follows mass talent cuts by WWE on Thursday, when the promotion released at least 22 stars or prospective stars in the way of its acquisition by Endeavor and merger with Ultimate Fighting Championship.
Riddle, himself a former UFC fighter, began training as a professional wrestler almost a decade ago and signed with WWE in 2018. Over the course of his career, he won the "NXT" Tag Team Championship with Pete Dunne (now known as Butch), the "Raw" Tag Team Championship with Randy Orton, and the WWE United States Championship. His WWE run was also characterized by prominent accusations against him during the #SpeakingOut movement, his real-life feud with Seth Rollins, and his multiple drug suspensions, the most recent of which came in 2022 and resulting in him being removed from television. Riddle returned on the "WWE Raw" after WrestleMania 39, but with a somewhat diminished role in the absence of his injured partner, Orton.
Riddle made headlines earlier this month for an incident at JFK airport and hadn't been seen on television since. Despite reports that his absence was not related to the airport altercation and that he was making his return to "WWE Raw" this week, Fightful Select is now reporting that Riddle hasn't been backstage or on the road with WWE since he was pulled from weekend events and the September 11 episode of "Raw." Fightful claims Riddle was not planned for a return and not part of WWE's creative plans following the incident, despite the fact that he was in the middle of a storyline that had seen him teaming up with Drew McIntyre, and says one source cited Riddle as having "burned through too many chances while in WWE."