Booker T Weighs In On WWE NXT & AEW Dynamite Going Head-To-Head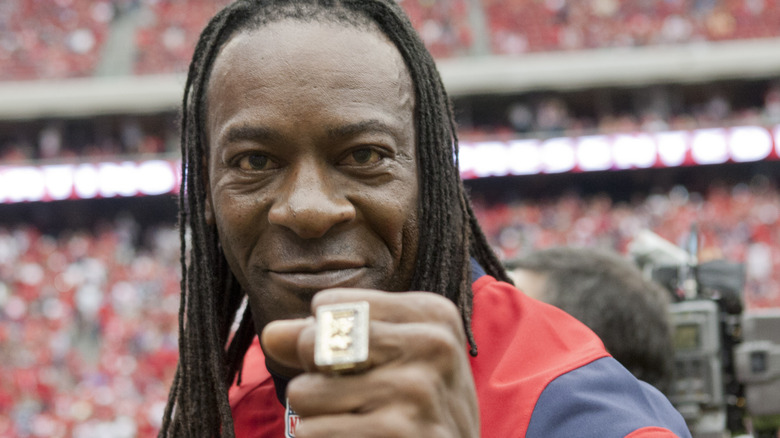 Bob Levey/Getty Images
Booker T thinks that "WWE NXT" is set to bring in over one million fans tonight in its head-to-head battle with AEW's "Title Tuesday" edition of "Dynamite." On the latest "Hall of Fame," the WWE Hall of Famer guessed that "NXT" will be viewed by 1.3 million viewers.
"I think [NXT will beat "AEW Dynamite" in the ratings] because that match between Adam Copeland and Luchasaurus, that's not really a marquee match that I want to see," Booker explained. 
"You're gonna get that hardcore fanbase tuning in but how hardcore is that fanbase?" Booker asked, noting that it will be hard to hold even hardcore fans' attention with WWE promising the likes of John Cena, Cody Rhodes, Paul Heyman, Asuka, and possibly even The Undertaker. Booker also believes that Copeland undercut both his farewell in WWE and his debut in AEW by not leaving enough room between the two moments.
"What's the love affair with Adam Copeland? He hadn't been gone, he hadn't been out of the people's eye," Booker wondered. "We just saw Adam Copeland work not too long ago so it's not gonna have the CM Punk effect. 'Outta sight, outta minda, can't wait to see him do it one more time.' He just did it!"
Copeland has appeared on both "AEW Dynamite" and "AEW Collision" since his debut at AEW WrestleDream on October 1, both times to address his former friend AEW TNT Champion Christian Cage, who sicked his goons Luchasaurus and Nick Wayne on Copeland at the end of Saturday's "Collision" ahead of Copeland's match against Luchasaurus on the special "Title Tuesday" edition of "AEW Dynamite."