WWE Raw 10/16/2023: 3 Things We Hated And 3 Things We Loved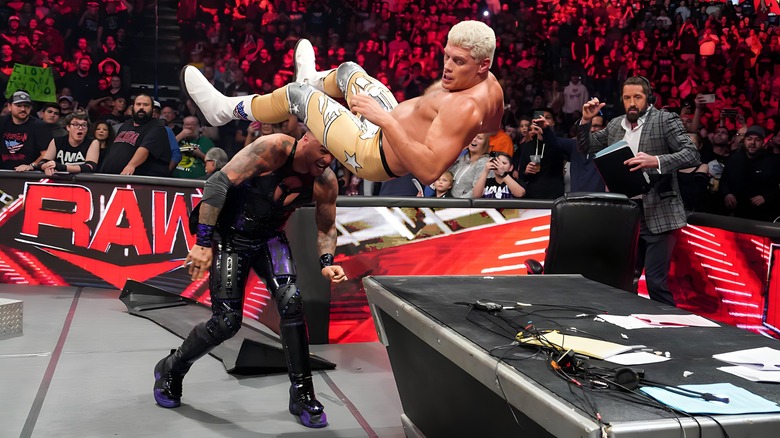 WWE
Welcome to the season premiere of Wrestling Inc.'s weekly review of "WWE Raw!" In case you were wondering, it's the season premiere because it's exactly like every other edition of our weekly review of "WWE Raw," but it takes place at a very specific time, which has no true significance. Hope that clears things up. That said, there were some pretty big matches on the docket Monday night, including a tag title match, an Intercontinental title match, and Johnny Gargano's first televised match in five months. Not sure why you expected John Cena or The Undertaker or anything; it's the season premiere of "Raw," not a random episode of "NXT."
Anyway, the question is, what did the WINC staff think of Monday's offering? After all, if you just want the facts of the show, you'd be reading our live coverage results page by now. But you're here, which means you want opinions. Here are three things we hated and three things we loved about the 10/16/23 episode of "WWE Raw."
Loved: More Women's Tag Teams (Daisy Ruth, WINC news writer)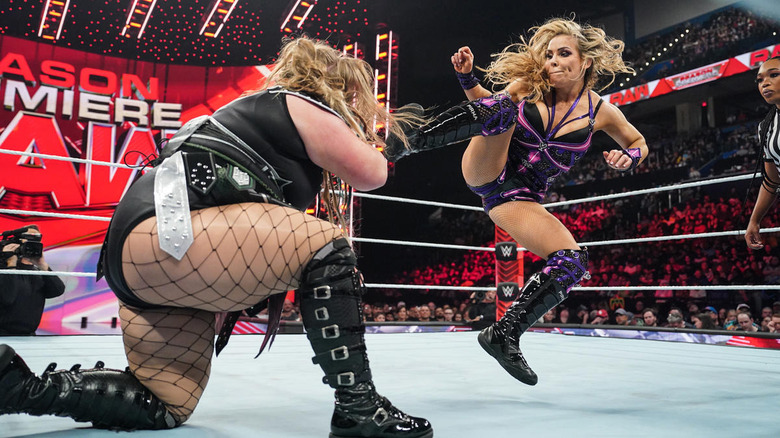 WWE
For what seemed like a more simple (but great, don't get me wrong at all!) match on "Raw" Monday night with Piper Niven taking on Natalya, there was a lot of great stuff all around. First of all, Niven and Chelsea Green are just gold together and really enjoyable. It's what came after the match that really elevated a simple story for me, however.
When Tegan Nox came out to protect Natalya from a beatdown, it was a pleasant surprise that just made sense. Natalya showed her respect for Nox a week or so back, so Nox backed her up this time. It was slightly unexpected, but definitely not unwanted. It's consistent storytelling. And of course, there is always a need for more tag teams in the women's division.
In a time where most tag teams are just thrown together, even this simple storyline with Nox and Natalya would be helpful if they're going to potentially partner up. They would be an inoffensive team, in my humble opinion, even though I'm ready for Alba Fyre and Isla Dawn to come take those "cursed" belts around Halloween. This might not be the most newsworthy thing to come out of "Raw" on Monday, but it was just enough for me. Seeing more women on the roster consistently on the weekly shows is ALWAYS a "love" in my book.
Hated: Boo, Oklahoma City (Jon Jordan, WINC news writer)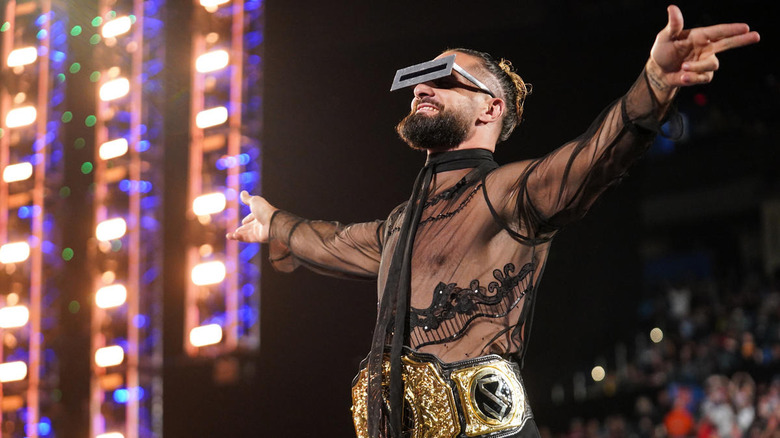 WWE
Aside from a few nitpicks, "Raw" was a solid show this week. The Oklahoma City crowd, on the other hand, absolutely sucked.
Look, staying hot for a three-hour wrestling show can be tough, but these folks were flat from the onset. Why show up if you're just gonna sit on your hands all night? I'm not asking for insane post-Mania crowds with chants for beach balls or attempts to hijack the show by any means, but there was plenty to get behind Monday night, and they fell short for the majority of the show. Forget about the fact that someone like Johnny Gargano had no chance whatsoever in front of this group, getting next to no reaction as he entered for his match against Ludwig Kaiser (side note: Gargano's got zero equity as a singles wrestler on "Raw" at the moment, so this DIY reunion better get hot real quick). Forget about the only effort this crowd collectively put together tonight — a "We love Mami" chant for Rhea Ripley — absolutely falling flat right out the gate. Forget about an opening match that crushed between Shinsuke Nakamura and Ricochet, with crowd spots, tables smashed, nunchucks, etc, getting a marginal response at best. This crowd couldn't even sing Seth Rollins' song with any tangible emphasis. And whether you like that or not (personally, I find it a bit annoying), it's not like it's hard. "Oh. Ohhhhhh. Oh. Ohhhhh." Rinse, repeat.
If a show sucks and the crowd does in turn, fine. But that wasn't the case tonight. Oklahoma City, you were just flat, so boo to you! Maybe only Jim Ross himself could have gotten these people out of their seats.
Loved: All things Sami Zayn (Miles Schneiderman, WINC senior lead news editor)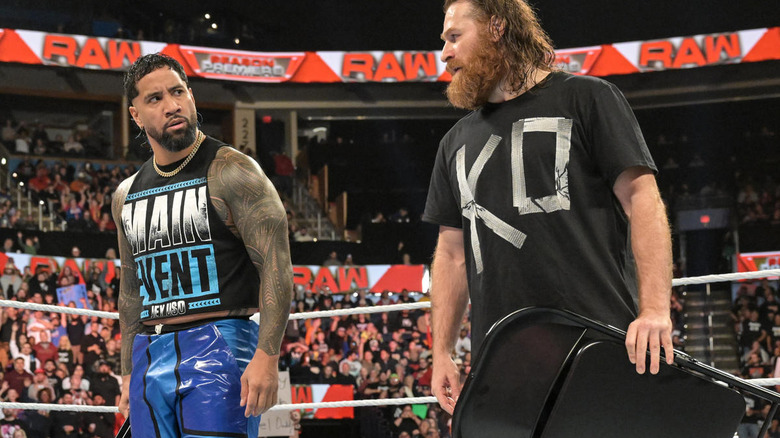 WWE
I know, shocking. It's pretty standard for my favorite part of any given wrestling show to involve Sami Zayn, but if he doesn't like it, he should stop being so good. It's so funny how, as soon as he's without Kevin Owens, he suddenly feels like the main character of the show again. Sami gets the "show-opening babyface promo that gets interrupted by Judgment Day" segment instead of Seth Rollins or Cody Rhodes for once (and does it wearing a Kevin Owens shirt; my HEART) in which he makes it clear the next phase of his career involves going after a world title — something that gets reinforced later on during his confrontation with Drew McIntyre. Then, after the obligatory JD interruption, Jey Uso comes out (without his tag team champion partner, Rhodes) to stand with Sami against the stable ... but Sami gets so thrown by the fact that the man who has is back in this situation is Jey and not Owens that he kind of storms off out of sheer frustrated confusion. I love the fact that they end up talking it out almost right away, but I love more that Sami has to track Jey down and apologize after getting angry and dumping all his conflicted feelings about Owens and the tag titles into Jey's lap. This is just entirely my s***, feed it to me with a spoon.
And beyond that, all the Sami/Jey stuff plays directly into what's happening with Drew McIntyre, and now we're getting Zayn vs. McIntyre next week, which is a matchup we haven't seen in a year and definitely never seen with Sami as the massively popular babyface and Drew as the guy teetering on the edge of a heel turn. Sign me up.
Hated: Rhea and Shayna Don't Get Time To Cook (Ruth)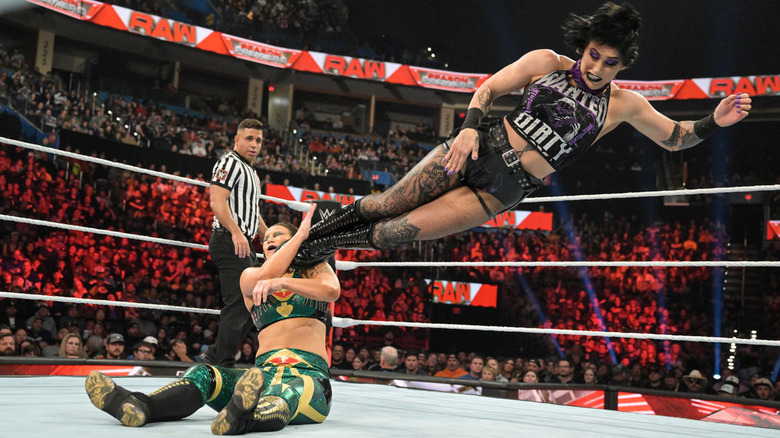 WWE
I think I was so excited to see Rhea Ripely vs. Shayna Baszler and all the intensity that would bring that I completely forgot about the Nia Jax, Zoey Stark, Raquel Rodriguez five-way feud that "Raw" has going on. At risk of sounding hypocritical (since I have said that I love that more women on the main roster are getting screen time) I didn't like this. As the kids are saying now, I wish Ripley and Baszler had some more time to cook in the ring, because I was invested. It's not often that Ripley gets such a formidable challenger, and with WWE telling me weekly that Baszler was the one to retire Ronda Rousey from WWE, I expected one heck of a match.
And one heck of a match it was — for a while. It was a great slugfest (and I'm ALWAYS a big fan of Baszler's "Dragon Ball Z" inspired gear) with some spots we don't get to see too often like Ripley going up to the top rope. Baszler countering the Riptide into an arm submission was amazing, as was Ripley dead-lifting her opponent up from that submission position to slam her down to the mat.
Then, Jax barrels down to the ring to challenge Rhea. Rodriguez comes out of nowhere to try and take out Jax, then Stark comes out of nowhere, flying off the barricade. This of course led to a disqualification in Ripley and Baszler's match, which stunk. It was to be expected, since we're leading up to a crazy fatal five-way (when was the last time WWE did THAT, especially when it comes to the ladies?!) at Crown Jewel. I'm not sure why I thought the result of this match would be any different, but Ripely and Baszler did a great job convincing me things might turn out, for lack of a better word, better.
Again, I usually never complain about the women getting more time on TV, but Jax coming back into the fold and heading right for Ripley's championship just doesn't do it for me. While I like the fact they've incorporated more women into that story to make it more interesting, it often leaves things confusing and difficult to choose who to root for. Personally, I'm still rooting for Baszler, and my next choice is Stark, the two most believable women right now to take the gold from Ripley.
Loved: Backstage Fun With Alpha Academy (Jordan, no relation to Jason)
WWE
Don't take the fact that I'm choosing to single out a backstage segment as what I loved from this episode to mean that I didn't like all the rest of it. This was a good episode of "WWE Raw" overall to me, as indicated but the fact that it flew by. Instead, let's just celebrate wrestlers clearly having fun in a segment that was, well, fun! At the same time, it advanced a few stories at once and involved six talents, including the one and only Akira Tozawa, once again doing his best to make the most out of anything (and any time) he's given. Actually, for a segment that lasted maybe 90 seconds or so, everyone involved got all they could out of it.
Alpha Academy is a case study in taking what you're given and running with it. Chad Gable's ability has never been questioned, but since Jason Jordan's career-ending injury put a halt to whatever American Alpha was going to be on the main roster, Gable's had to endure a lot just to get to the place he's in today. (We do not talk about "Shorty G.") And Otis(e) has found a niche as the comedic big man with an uncanny knack for the ladies that he was never going to have alongside Tucker in Heavy Machinery. Throw in Maxxine Dupri after her defection from Maximum Male Models, and the group has really thrived, up to and including Dupri's in-ring improvements, thanks (in storyline) to "Coach" Gable's tutelage.
This segment touched on a lot, as Dupri coached the group on elongating their muscled through a series of Pilates moves. Gable blew his whistle and gave a tagalong Tozawa conflicting feedback for a quick giggle ("Tozawa, that was terrible! Keep it up, buddy!") before having Otis give him a chop. As he declared that it was for GUNTHER, holding onto his plans to capture the Intercontinental Championship, Gable also stated that the Academy was eyeballing tag team gold. This drew the attention of The New Day, with Xavier Woods clarifying that anything tag title-related simply has to include them, while doing that whole gyrating thing they do. Otis took exception, wiggling his own hips (much to Dupri's approval), and ultimately, we have a first-ever match between these two teams next week, which was met with Tozawa's boisterous "Arigato!" before he continued his oddball workout in the background.
Fun, and productive! Nothing wrong with that.
Hated: Two steps back (Schneiderman)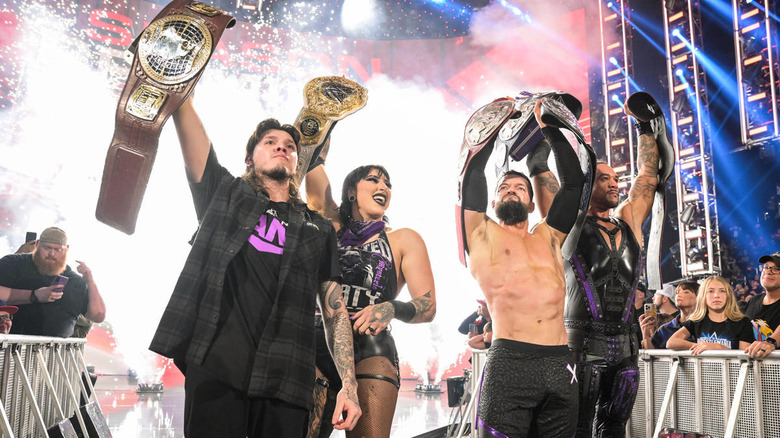 WWE
So Finn Balor and Damian Priest won back the tag titles Monday night, and they did so specifically after Jimmy Uso interfered and clocked Jey in the face, just like he did at SummerSlam. And if you remember how I felt when he did that at SummerSlam, you can probably imagine how I feel now. Basically I would rather just never be reminded that that happened, especially given this bizarre and terrible Jimmy storyline that makes zero sense, so it was annoying that my Monday night respite from Jimmy Uso was spoiled by the appearance of Jimmy Uso. Go back to "SmackDown" where you belong, Jimmy.
As for the title change itself ... look, I get what we're doing here. I understand that we're looking at a Bloodline/Judgment Day alliance vs. Team Massive Babyfaces match for Survivor Series, and that's still more than a month away so we need to draw this sucker out. I'm just getting a little sick of WWE teasing a Judgment Day breakup that never comes. They even did it this exact same way two weeks ago when Dominik lost the "NXT" North American title at No Mercy and then won it back three nights later. To have that happen again, so quickly, just makes me feel blatantly manipulated (as opposed to manipulating me without me knowing, which is the ideal). I just hope this Survivor Series storyline and the presumed WarGames match are worth all this, because it's felt for a while like the right time to pull the trigger on the Judgment Day breakup — not to mention the next stage in whatever's happening with Jimmy, if there is one — and I would hate for WWE to miss these creative windows and push these stories even further past their sell-by date just because Survivor Series happens in November.
"Raw" has been really solid the past couple weeks, and this episode was no exception, with several excellent matches (we didn't talk about it, but GUNTHER vs. Bronson Reed was awesome) and some serious story movement, but this stuff at the end just felt like two steps back after a step forward.