NJPW G1 Climax 32- Night 13 Results (8/7) Jonah Shocks In Main Event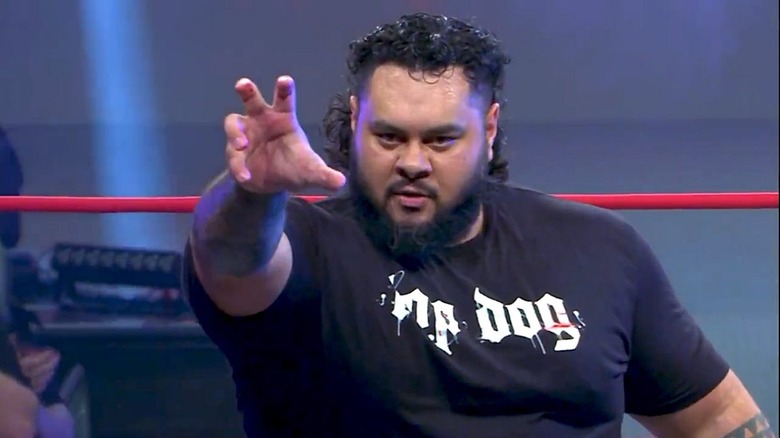 Impact
Welcome to our WrestlingINC.com G1 Climax 32 Live Coverage. Our live coverage starts at 1am ET. Please share tonight's coverage of tonight's event on social media and chime in with your thoughts in the Comments section below.
If you need to catch up: Night 1. Night 2. Night 3. Night 4. Night 5. Night 6. Night 7. Night 8. Night 9. Night 10. Night 11. Night 12
Hiroshi Tanahashi, David Finlay & Yuto Nakashima vs. CHAOS (Hirooki Goto, YOSHI-HASHI & Toru Yano)
Goto and Yano get their moments, but this match is a whole lot of YOSHI-HASHI. It starts to feel like YOSHI-HASHI has stayed in the ring too long, as he starts to get overcome by Tanahashi, Finlay & Nakashima. Nakashima tags in and overpowers YOSHI-HASHI. YOSHI-HASHI fends off a Boston Crab and locks in Butterfly Lock on Nakashima for the submission in 8:28.
Winners: CHAOS (Hirooki Goto, YOSHI-HASHI & Toru Yano)
Tama Tonga & Jado vs. House of Torture (SHO & Yujiro Takahashi)
Tama and Jado jump the HoT members before the match. Jado and Tama control much of the start of the match. Jado gets the upperhand against Yujiro and locks in Jado Crossface but SHO breaks it up. The referee gets distracted, Jado gets Low Blowed and Yujiro hits Big Juice for the pinfall in 7:04.
Winners: House of Torture (SHO & Yujiro Takahashi)
Los Ingobernables de Japon (Tetsuya Naito, Shingo Takagi, SANADA & BUSHI) vs. Suzuki-gun (Lance Archer, Zack Sabre Jr., Taichi & TAKA Michinoku)
Naito and Sabre try to outwrestle each other. Before one can win, SANADA comes in and embarrasses Sabre. Archer and Shingo trade big man blows and strikes, until TAKA and BUSHI begin to mix it up. TAKA almost submits BUSHI but the submission ins broken up. BUSHI hits MX for the pinfall in 8:03.
Winners: Los Ingobernables de Japon (Tetsuya Naito, Shingo Takagi, SANADA & BUSHI)
United Empire (Will Ospreay, Jeff Cobb & Great-O-Khan) vs. Bullet Club (Jay White, KENTA & Gedo)
Bullet Club do their best to divide and conquer the empire, but Cobb and O-Khan get Gedo in a compromised position, tossing him between each other until Cobb lets him fall to the canvas. Plenty of shenanigans abound but O-Khan locks Gedo in the Sheep Killer for the submission in 7:02.
Winners: United Empire (Will Ospreay, Jeff Cobb & Great-O-Khan)
There is a brief intermission.
C Block: Aaron Henare (2) vs. EVIL (2)
EVIL gets Henare on the losing end quickly, Henare simply can't overpower the stronger EVIL. Interference from Dick Togo aplenty but Henare is still able to come back with a big spear. Henare locks in a full nelson but the referee gets taken out. The two on one assault is too much for Henare and EVIL flattens him with EVIL for the pinfall in 10:28.
Winner: EVIL (4)
A Block: Tom Lawlor (2) vs. Bad Luck Fale (4)
Fale uses his strength and his size to his advantage to pummel the already wounded Lawlor, who was knocked out in last night's event. Lawlor tries to fight back valiantly but Fale keeps him grounded. Lawlor uses kicks and submissions to wear down Fale. Fale hits Grenade for a nearfall. Lawlor counters Bad Luck Fall. Lawlor gets a series of nearfalls as he builds momentum, even hitting a Bomaye Knee Strike. Lawlor hits NKOTB for the pinfall in 11:05.
Winner: Tom Lawlor (4)
D Block: Juice Robinson (2) vs. El Phantasmo (2)
The match starts as a sarcastic rib, as neither man wants to hurt the other. Things begin to escalate and they end up outside the ring, where Juice hits a big Piledriver on the ramp, changing the complexion of the match. They begin to get seriously heated. Phantasmo beats a countout. Phantasmo splits Juice's eye open. There is biting and clawing. Juice kicks out of a Styles Clash. ELP kicks out of Pulp Friction. Juice introduces a chair to the ring but Phantasmo is the one to use it for the disqualification in 16:09.
Winner: Juice Robinson (4)
B Block: Tomohiro Ishii (2) vs. Chase Owens (2)
Owens and Ishii start by battering each other with chops. They fight to the outside where Chase nearly breaks his hand on the ring post. Owens sends Ishii's head into the guardrail with a Sunset Bomb. Back in the ring, and both men continue trading chops and elbows and lariats. Ishii starts to battle back but can't keep Chase on the canvas. Chase starts to battle back but can't keep Ishii on the canvas. Owens finally breaks out and hits a C-Trigger followed by a Package Piledriver for the win in 16:50.
Winner: Chase Owens (4)
A Block: Kazuchika Okada (6) vs. Jonah (4)
Okada is determined to slam Jonah, to pin him, to overpower him, but Jonah is having none of it. They battle to the outside where they continue to pummel each other. Back in the ring, Okada starts to get the upperhand on Jonah. Jonah rolls to the outside but Okada hits a huge dive onto Jonah.
Okada rolls Jonah back into the ring and tries to capitalize, but simply can't. Jonah blocks any and all lariat attempts. Jonah hits a huge powerbomb, then a second. Jonah climbs to the top rope. Jonah hits a big splash off the top rope for the pinfall in 21:53.
Winner: Jonah (6)
After the match, Jonah gets on the house mic and reminds everyone that it is one year to the day that he was released from WWE, and now's he's proven he has fighting spirit and "beat the best wrestler in the world," saying the feat "will last forever."
G1 Climax 32 standings as of August 7th (updated throughout the show)
A Block:
Jonah, Kazuchika Okada- 6 points
Jeff Cobb, Lance Archer, Tom Lawlor, Bad Luck Fale- 4 points
Toru Yano- 2 points
B Block:
Jay White- 8 points
Tama Tonga, SANADA, Taichi, Chase Owens- 4 points
Great-O-Khan, Tomohiro Ishii- 2 points
C Block:
Hiroshi Tanahashi, Zack Sabre Jr.- 6 points
Hirooki Goto, Tetsuya Naito, EVIL- 4 points
Aaron Henare, KENTA- 2 points
D Block:
David Finlay- 6 points
Shingo Takagi, Will Ospreay, Yujiro Takahashi, YOSHI-HASHI, Juice Robinson- 4 points
El Phantasmo, – 2 points