WWE NXT No Mercy 2023 Picks: Wrestling Inc. Picks The Winners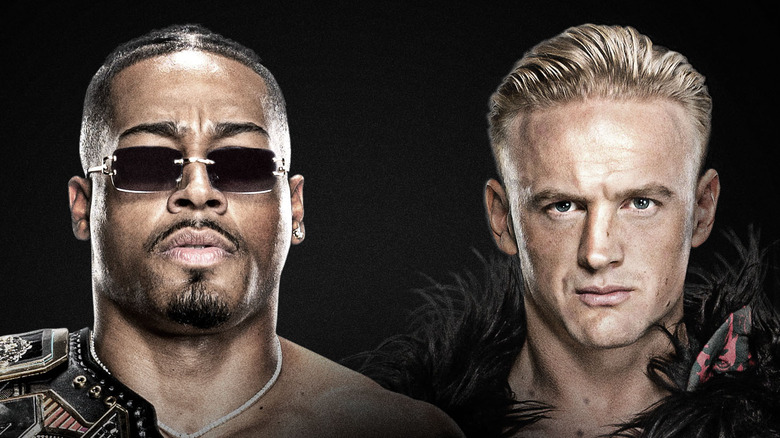 WWE
This Saturday, "WWE NXT" descends on Bakersfield, California, for its latest premium live event, No Mercy. Once an annual main roster pay-per-view, the 2023 version of No Mercy features a mixture of "NXT" and main roster stars, as the ostensibly developmental brand has been seeing an increasing number of incursions from mainstays of "Raw" and "SmackDown" — particularly around championships. Of the show's five title matches, three involve current main roster talent, as Becky Lynch defends the "NXT" Women's Championship against Tiffany Stratton, Dominik Mysterio defends the "NXT" North American Championship against Trick Williams, and Butch challenges Noam Dar for the Heritage Cup. Meanwhile, the tag titles will be defended in a four-way match, former main roster star Baron Corbin takes on Bron Breakker, and Ilja Dragunov seeks once again to claim his destiny by taking the "NXT" Championship from "Him" himself, Carmelo Hayes.
When it comes to predicting what will actually happen at No Mercy, it must be said that the Wrestling Inc. staff has an extremely well-informed perspective. and we have officially made our picks. We've chosen our expected winners for each No Mercy contest by majority vote and compiled them into the following list of official predictions, which we will use to establish bragging rights over one another for the remainder of recorded time. Who do we think will win? See for yourself (and check back after the show to see how well we did).
Kelani Jordan vs. Blair Davenport: Davenport (100%)
WWE
This is a match that wasn't difficult for the WINC staff to predict at all, with 100% of those of us who voted going with Blair Davenport as she takes on Kelani Jordan, who is now without her mentor Dana Brooke following Brooke's release from the company. With an opponent as formidable as Davenport up against someone still getting her feet underneath her in the ring, it's one of the easiest matches to call at No Mercy.
On Tuesday, Jordan said on WWE's YouTube channel that, following Brooke's release, she was angry and ready to take that out on someone. With Davenport's recent attack on Gigi Dolan, Jordan was inspired to take a stand and challenge Davenport to the match at No Mercy. The two previously faced off on an August episode of "NXT" after Brooke advised Jordan to bring out her more vicious side. Davenport got a quick victory over the up-and-coming star.
While we always love to see more women's matches on any premium live event card, this one seems like it will be a quick one, especially since it was set up on WWE's YouTube channel rather than "NXT" television. We predict the Sadistic Superstar will make quick work of Jordan ahead of the NXT Women's Breakout Tournament.
Written by Daisy Ruth
Bron Breakker vs. Baron Corbin: Bron Breakker (100%)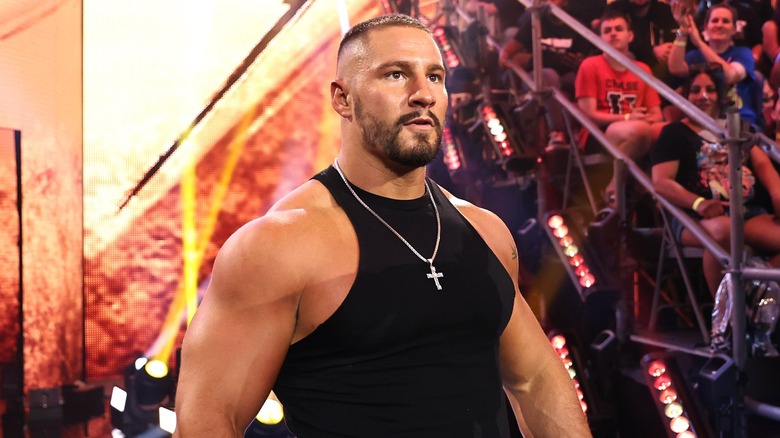 WWE.com
Last year it seemed like Bron Breakker was all but ready to be the next big thing in WWE, which adds a certain tragic tinge to the fact that Breakker has had to resort to increasingly aggressive means to get noticed.
Breakker's 2023 has had its ups and downs, with the second-generation star losing the WWE NXT Championship in April to another future star, Carmelo Hayes. With Hayes' rise in popularity, as well as the rise of the NXT stars like Tiffany Stratton and Trick Williams, Breakker seemed to be fading further and further into the background, turning him into a seemingly rabid, vicious animal. Unwilling to be a bit player on the brand that he once ruled, Breakker's desperation to be seen has led to some heinous acts from the former champion.
Breakker recently crushed Von Wagner's head with the steel ring steps and in his current feud with Baron Corbin, he's been unpredictable, most recently lunging at Corbin from out of frame during a backstage interview, leading to the two men fighting into the NXT parking lot, and eventually crashing through NXT head honcho Shawn Michaels's wall.
Maybe Corbin in the midst of his identity crisis, slumming it in developmental like a high school football star visiting after graduation — can stop Breakker's reign of terror but it appears 100% of the Wrestling Inc. staff believe that Corbin will fall to Breakker, as he looks to scratch and claw his way back to the top of WWE NXT.
Written by Ross Berman
NXT Tag Team Championship Match: Tony D'Angelo & Stacks (67%)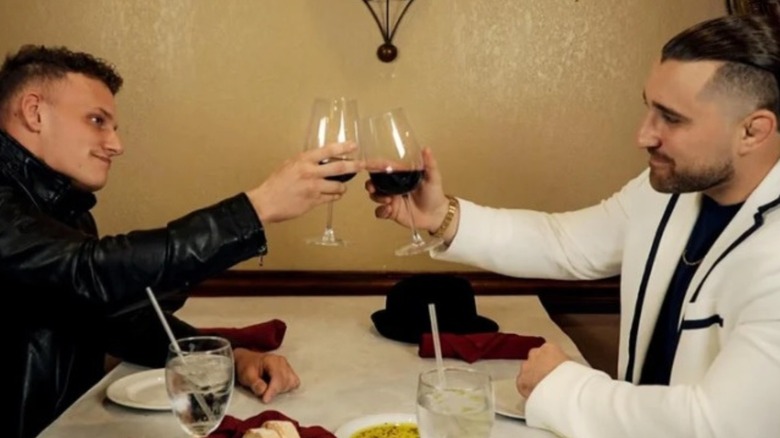 WWE
While just 67% of WINC is going with Tony D'Angelo and Stacks retaining the NXT Tag Team Championships, I think we can all agree that the build to who would be taking them on for the titles at No Mercy was excellent on Tuesday's episode of "NXT." D'Angelo and Stacks will be taking on the Creed Brothers, OTM, and Humberto Carrillo and Angel Garza in a four-way tag team bout. 
Tuesday's episode of "NXT" was all about the D'Angelo family hosting a dinner for the three other tag teams to plead their case as to who should be the ones to head to No Mercy. In the final segment, The Don declared no one would be left out as the premium live event heads to Bakersfield, California, and all toasted to a fatal four-way match.
With so many teams involved, it's a more difficult match to predict, but we have D'Angelo and Stacks retaining here. The pair have been tag team champions since July when they won the titles at the Great American Bash. With how hard D'Angelo and Stacks fought to get their first taste of gold, we're predicting they hold on to it for a while longer. With this many tag teams involved, they're likely to take each other out, with the champions coming out on top at the end and likely one of these tag teams emerging as D'Angelo and Stacks' sole opponents moving forward.
Written by Daisy Ruth
NXT Heritage Cup Championship Match: Butch (58%)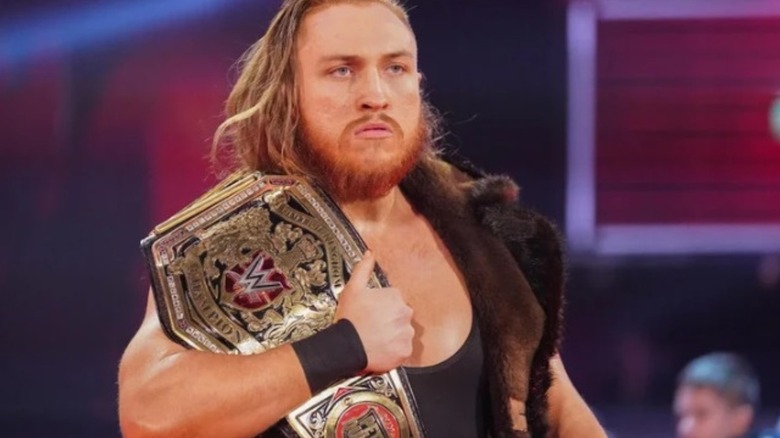 WWE
It's almost split down the middle and it is a difficult match to predict, but 58% of us are going with Butch defeating Noam Dar for the Heritage Cup Championship at No Mercy. While Dar will be of course accompanied by the Meta-Four, Butch will also have Tyler Bate in his corner; Butch made that known on X (formerly Twitter) on Wednesday. Butch said he'll have an "old mate" back, who knows Dar and the Heritage Cup rules well, as Bate previously won Dar's counterfeit Heritage Cup before relinquishing it. 
While the Heritage Cup Championship itself and its counterfeits are confusing to explain, our choice in picking Butch over Dar isn't. While Dar is great in the ring and his matches, be it Heritage Cup rules or not, are excellent, there's just something about the former Pete Dunne. It seems like he really needs something to do. With the release of Mustafa Ali, maybe a partial move to "NXT" from the main roster for Butch is what the brand needs. The Brawling Brutes, in which Butch is involved on "WWE SmackDown," also don't seem to be doing much these days, so it's beneficial on both ends.
Butch and Dar also didn't have a feud in the lead-up to this match due to the tournament, so Butch winning Dar's precious Heritage Cup and his struggle to get it back would make for great television, which is what I think all 58% of us are thinking with it comes to this match. It's going to be a great one, with Butch likely dominating in Heritage Cup rules with his brutality, with both Bate and the members of the Meta-Four likely getting involved to even the falls to make for a longer match.
Written by Daisy Ruth
NXT North American Championship Match: Dominik Mysterio (92%)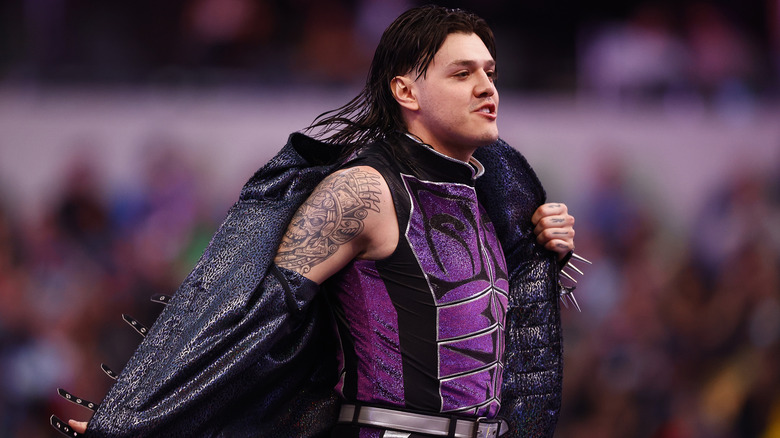 Ronald Martinez/Getty Images
Trick Williams has a unique connection with the "WWE NXT" crowd that is very special and proof that the young star is on the verge of breaking out; that is exactly why he has to lose to Dominik Mysterio on Saturday, just like an overwhelming majority — (92%) — of the Wrestling Inc. staff believes he should.
Trick had a great showing on Tuesday's "NXT" and the seeds have clearly been planted for friction between Williams and WWE NXT Champion Carmelo Hayes, which is why WWE needs to hold off on giving fans what they want just a little longer; Williams winning the North American Championship would be a hollow victory. Mysterio needs to beat Williams so that Williams can regroup and focus on the title he should be chasing: the NXT Championship.
Meanwhile, Dominik has been one of the stars of "NXT" that have boosted the ratings to levels not seen in years. His arrogant run on top of the North American Title division has been a sneaky way to send the second-generation star to developmental and season him a little more, while still presenting him as a bonafide main roster star. "Dirty Dom" is also one slick performance away from becoming a "cool heel," which could be an albatross around the developing star's neck. A win over Williams, especially an underhanded one, would be a good way to remind the crowd that Dominik Mysterio might be one of WWE's fastest-rising stars, but he's still contemptible.
Compounding things further, Dominik has unfinished business with the match's special referee, Dragon Lee.
Written by Ross Berman
NXT Women's Championship Extreme Rules Match: Becky Lynch (75%)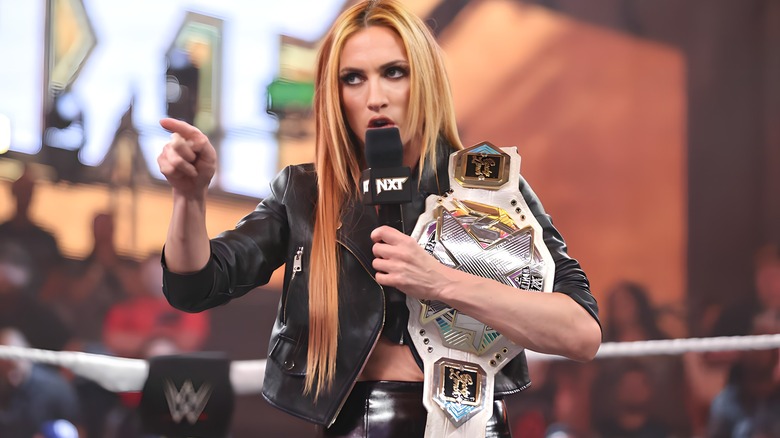 WWE
On September 12, "The Man" came around for the "NXT" Women's Championship reign she'd never actually had, and 75% of the Wrestling Inc. staff see that reign continuing past this Saturday's No Mercy premium live event. Lynch's opponent is Tiffany Stratton, the woman she relieved of the title in a move many saw at the time as surprising; two and a half weeks later, the majority of WINC writers and editors don't see Stratton returning to the Tiffy Top.
While it makes a degree of sense for Lynch to give the belt (and the rub) back to her younger rival now that she's gotten her reign and can finally call herself a Grand Slam Champion, there are good reasons for skepticism. Lynch isn't the first main roster star to come down to give "NXT" a ratings boost in 2023, but she is the biggest, and her title win saw the Tuesday night program pull in its highest viewership in three years. It seems unlikely that WWE would pull the plug on that kind of rating success so quickly, particularly in Lynch's first defense. There's also a possibility that Stratton, who has been in "NXT" for about two years now and is generally seen as one of the Performance Center's more polished products, could be due for a main roster call-up in the near future. And of course, there's the other possibility — that "NXT" is about to host WWE's latest high-profile signee, former AEW star Jade Cargill, who would get a lot more people talking if she showed up to confront Lynch instead of Stratton. If the women's title match main events No Mercy (which, with Lynch involved, is more than possible) be on the lookout for Jade.
Written by Miles Schneiderman
NXT Championship Match: Carmelo Hayes (75%)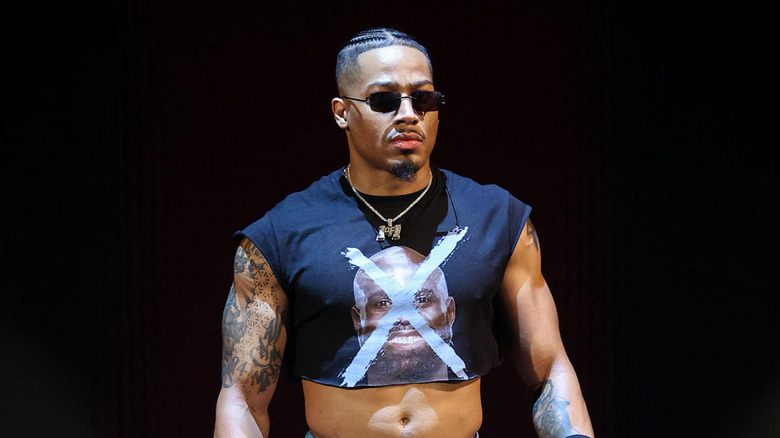 WWE.com
It looks like 75% of the Wrestling Inc. staff believes Carmelo Hayes is "Him."
Hayes's reign with the WWE NXT Championship has been a rousing success, with the young champion seemingly getting more confident with every defense, if that was even possible. The brash champion simply carries himself like a star and that quality is hard to come by in 2023. There are plenty of wrestlers who will tell you they're a star, they might even have some kind of metric or statistic to back it up, but ultimately the kind of charisma that Hayes possesses is a rare gift and he should be the face of "NXT" for as long as possible. Also Hayes makes a great foil for so many of the "NXT" roster that he just feels like a perfect fit as the Tuesday program's main character, especially with the recent ascent of his right-hand man Trick Williams causing friction between the champion and his friend. It feels like Ilja Dragunov will be a stepping stone on the path to Trick and Melo's inevitable showdown.
It's not that Dragunov is not a worthy contender, the former WWE NXT UK Champion is a wrestler's wrestler, an intense presence in the ring that has been a standout performer for years, but while Dragunov might have an iron spirit, that iron is best used for sharpening the skills of rare talents like Hayes. Dragunov will no doubt put up a hard fight against the champion but it should be Melo's night in Bakersfield on Saturday.
Written by Ross Berman
---
Stay tuned to Wrestling Inc. for all your NXT No Mercy news, including live coverage of the event!