WWE Crown Jewel 2023 Picks: Wrestling Inc. Predicts The Winners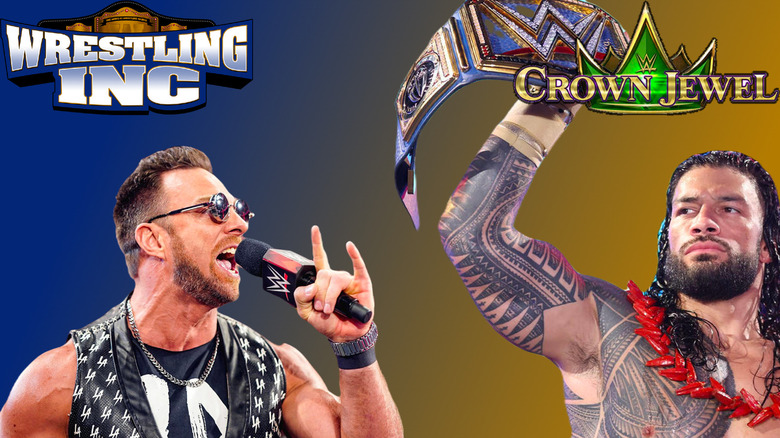 WWE
This Saturday, WWE will return to Saudi Arabia for the fifth installment of Crown Jewel. The premium live event, which will emanate from Mohammed Abdu Arena in Riyadh, features five tentpole title matches, suggesting that the days of WWE hosting glorified house shows in the Middle East are long gone. This is an event with stakes, not to mention a lot of intrigue surrounding the Undisputed WWE Universal Title match.
Roman Reigns is enjoying a historic title run as the Undisputed WWE Universal Champion. With the exception of Cody Rhodes at WWE WrestleMania 39, there haven't been any challengers who've been positioned as a serious threat to his throne — especially since he has Solo Sikoa and Paul Heyman in his corner. However, LA Knight has enjoyed a meteoric rise in 2023, garnering heaps of organic fan support while being tipped for a mega push. As such, the match between him and Reigns at Crown Jewel doesn't seem so easy to predict, but can Knight get the job done?
Rhea Ripley has also been on a dominant run since winning the WWE Women's Championship. This weekend, she will face her toughest obstacle yet as she defends the gold against four other WWE Superstars. Can the Judgment Day member overcome the odds, or will Raquel Rodriguez, Zoey Stark, Nia Jax, or Shayna Baszler cause an upset in Riyadh?
Elsewhere, Logan Paul will face Rey Mysterio, and John Cena will take on Sikoa. With that in mind, let's take a look at the card for Crown Jewel 2023 and predict the winners.
Sami Zayn vs JD McDonagh: Sami Zayn (88%)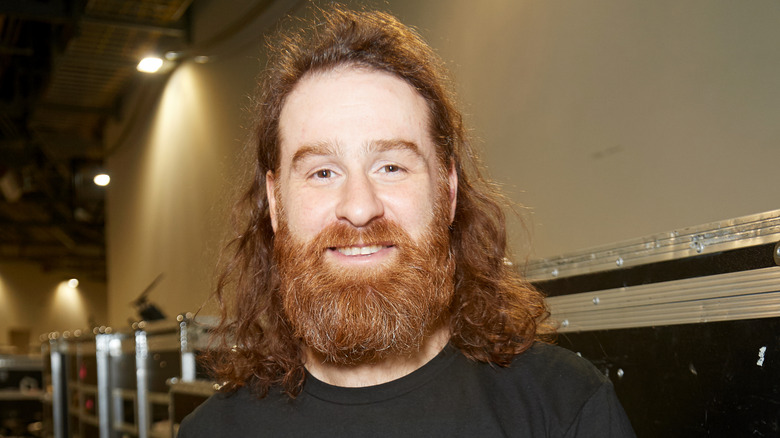 Unique Nicole/Getty Images
Sami Zayn and JD McDonagh are set to clash on Saturday, as McDonagh looks to prove himself to Judgment Day as he faces a thorn in the side of the popular stable. With McDonagh still something of a minor figure on WWE programming, and Zayn a popular star that seems to be on a downward trajectory, 88% of the Wrestling Inc. staff voted for Sami Zayn to win Saturday's kickoff match.
It feels like Zayn has come a long way since Elimination Chamber 2023, and not in a good way. The former NXT Champion was one of the most popular faces in the company, to the point where he was a legitimate contender to Undisputed WWE Universal Champion Roman Reigns. When Zayn lost that match, many felt his storyline with The Usos, which saw him team with Kevin Owens to win the Undisputed Tag Team Championship in the main event of night 1 of WrestleMania 39, would buoy the star, and for much of the summer it did. An injury to Kevin Owens, followed by the tandem losing their titles to Judgment Day have halted Zayn's momentum. Once an outside consideration to dethrone Roman Reigns, Zayn has seemingly taken a backseat to Cody Rhodes, Jey Uso, and the omnipresent Judgment Day. A win over JD McDonagh could be just what the doctor ordered to heal Zayn's bad luck.
It's possible McDonagh could sneak out the victory to finally earn the respect of the Judgment Day, but it's this writer's personal opinion –and a majority of the staff's– that the punchable little twerp ends up on the wrong end of a Helluva Kick.
Written by Ross Berman
John Cena vs Solo Sikoa: Solo Sikoa (63%)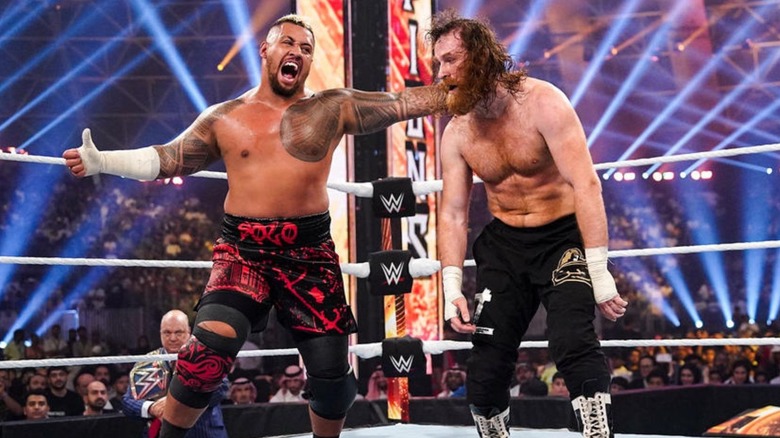 WWE
In the first match involving the Bloodline on the Crown Jewel card, the Greatest of All Time, as he's being touted by WWE, John Cena will take on Solo Sikoa. After Sikoa left Cena lying with no friends coming to his aid — when LA Knight was sent home from "WWE SmackDown" due to a positive COVID test — it's hard to imagine Cena coming back to defeat the Bloodline member. That's why 63% of us believe Sikoa is going over here.
While Cena is as good on the mic as ever in this current run with WWE, made possible only by the various strikes that have gone on and continue in Hollywood, his in-ring is absolutely not where it used to be; we saw that at WrestleMania when he faced off against Austin Theory. With Sikoa being about 10 times more formidable an opponent than Theory, I think Cena has no chance of getting a win in Saudi Arabia, especially in singles competition without the protection of a tag team partner.
With a little over half of us saying Sikoa is going to come out victorious, there is, of course, the 37% of Wrestling Inc. who think Cena is going to get that victory he desperately needs if his current run with WWE is going to continue. But the majority of us, myself included, just don't see it. His time is up, and his time isn't now. Sikoa needs to be going over the "GOAT," and I'm hoping it's a clean victory, cementing his strength not just in the Bloodline, but on the "SmackDown" roster as a whole.
Written by Daisy Ruth
Cody Rhodes vs Damian Priest: Cody Rhodes (81%)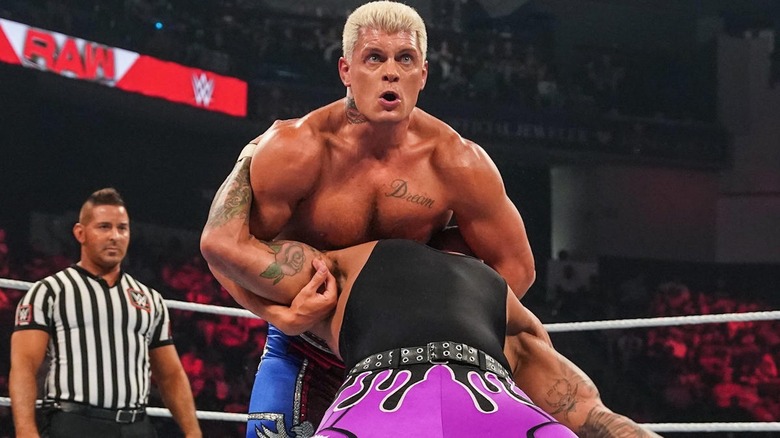 WWE
"The American Nightmare" went all cutthroat on Damian Priest on this week's episode of "WWE Raw" and, other than the whole "Cody never loses" trope, it stands to reason that this very tirade, and its effect on Priest, is precisely why 81% of us see Cody Rhodes prevailing at Crown Jewel.
"Señor Money In the Bank" is cracking, it seems, and Rhodes' assertion that he's a "walk-behinder" had him both seething and reeling to close out "Raw" on Monday. If the trends continue, what's most likely here is that one or all of Priest's Judgment Day allies come down to the ring at some point to assist him against Rhodes, that goes awry, and a Cross Rhodes or a Cody Cutter or both seals Priest's fate, keeping the Cody train rolling and furthering Priest's downward spiral.
From there, with intra-Judgment Day tension soaring, and Priest desperate to right his course, it wouldn't be a stretch to think he'll pivot toward the Seth Rollins/Drew McIntyre contest and finally attempt a cash-in (which we'll get to here, later), if only to prove that he truly walks behind none of Finn Balor, Dominik Mysterio, or Rhea Ripley.
As for Rhodes, what's next is likely inclusion in a multi-person match at Survivor Series, but only in a way that moves his story further in the direction of WWE Undisputed Universal Heavyweight Champion Roman Reigns. They had an interaction on a recent episode of "SmackDown" and it wouldn't be a total shock to see Rhodes and Reigns cross paths at some point during this show as well.
Written by Jon Jordan
WWE United States Championship Match: Logan Paul 100%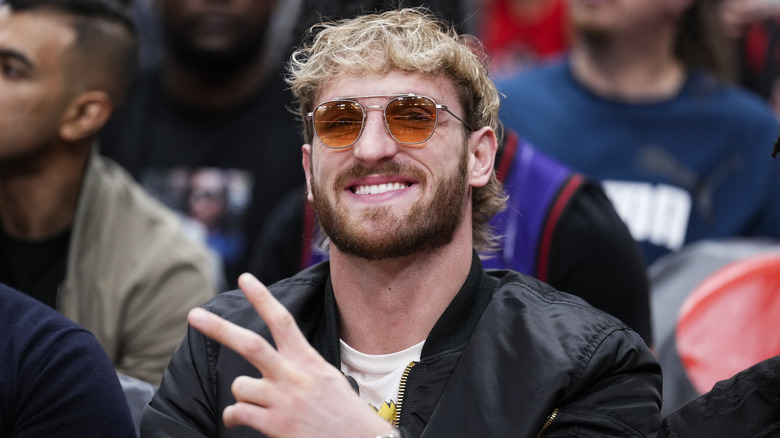 Mark Blinch/Getty Images
Normally I would say "don't count out Rey Mysterio," but that's exactly what 100% of the Wrestling Inc. staff has done ahead of his WWE United States Championship defense against Logan Paul. Mysterio's run with the title has been stellar, and he provides a modicum of parity with his son, NXT North American Champion Dominik Mysterio, but it seems the staff believes that it's time for Logan Paul to finally catch the carrot at the end of the stick.
Paul has been a standout performer in WWE, with many noting that he's seemingly taken to the business like a duck to water, but the YouTuber and boxer has yet to have any championship success in WWE. Not only does the staff think it's the right thing, but from a promotional standpoint, Paul would not recover from losing this match. Paul publicly called out Rey Mysterio after winning a boxing match on DAZN, which means that with this match, so goes Paul's legitimacy with the non-WWE crowd. WWE Hall of Famer Rey Mysterio might be a legend that defies age, but Paul is faster, younger, stronger, and has a massive chip on his shoulder.
Mysterio's run with the United States title has been a fun time, but putting the title on the waist of such a public figure like Paul would do wonders for not only WWE, but for the title itself, which has essentially toiled in obscurity behind Roman Reigns's quest to win all the titles and GUNTHER's historic rehabilitation of the WWE Intercontinental Championship. It's time for the US Title to get a refresh and Logan Paul is the one to do it.
Written by Ross Berman
WWE Women's Championship: IYO SKY (75%)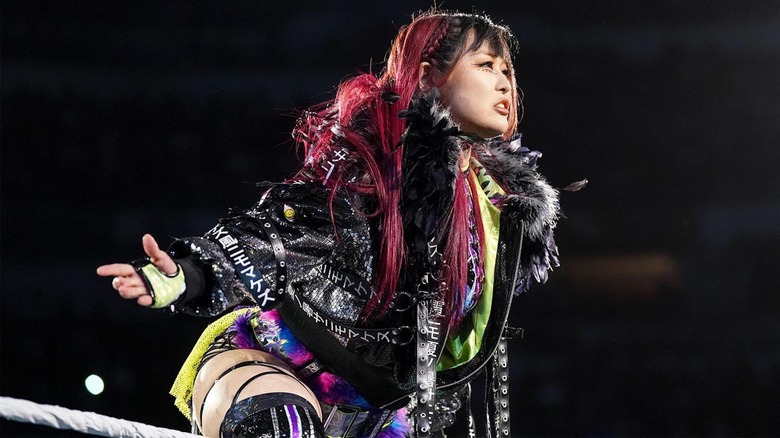 WWE
There's a grudge to settle in this one, stemming all the way back to SummerSlam, when IYO SKY cashed in her Money In the Bank contract and effectively stole the WWE Women's Championship from Bianca Belair, who had just survived a grind against both Asuka and Charlotte Flair. Worsening matters, SKY and Bayley put Belair out for two months with a post-match beatdown on "SmackDown" the next week.
But now, "The EST of WWE" is back and, having sidled right up to new General Manager Nick Aldis, secured her rematch against SKY, looking to get back on top of the SmackDown women's division. Not so fast, says 75% of our respondents, and maybe that's because members of Damage CTRL rarely fight alone. With Bayley likely in the mix and even a still-half-hobbled Dakota Kai, SKY always has reinforcements to lean on; unless Belair can depend on Flair, she doesn't really have a chance of evening the score.
Still, there's a new wild card in the women's division in the name of Jade Cargill. Does she factor in here somehow? No telling, really, with her ultimate destination still very much unknown, but maybe her aligning with Belair could be something to consider. Maybe costing her the title is in the works instead? Nothing at all wrong with two badass alpha women like these two getting after each other in a feud.
Perhaps as things inch closer to Wrestlemania season, it would make more sense for this particular belt to be on a more established name like Belair or Flair than it would on SKY, who can pivot to one of many other feuds after that eventual loss, but we're not predicting that just yet. 
Written by Jon Jordan
World Heavyweight Championship: Seth Rollins (69%)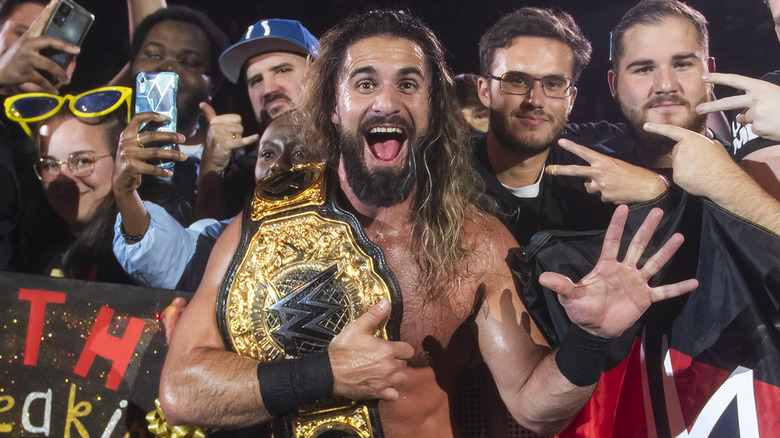 WWE
Over half of the Wrestling Inc. team feels confident that Seth Rollins will successfully retain the World Heavyweight Championship over Drew McIntyre this weekend. However, Rollins has a big challenge ahead of him, and it's been clear over the last several months that the champion is nearing the end of his rope. The story they're telling is that Rollins' body is slowly giving out on him, and it's just a matter of time before the former Shield member can take it no further.
Meanwhile, McIntyre has made it clear he has a chip on his shoulder over his 2020 pandemic-era title run and the former champion is looking to right that wrong. However, we feel it's a strong possibility that McIntyre will serve as the final obstacle Rollins overcomes in his title run before running into a brick wall in the form of Damian Priest and his Money in the Bank briefcase, but more on that soon.
Before he can worry about anything else, Rollins has McIntyre to think of. While it won't be an easy battle for the champion, our staff thinks Rollins can overcome at least one more hurdle to solidify the inaugural reign of the company's new World Heavyweight Championship. Still, the question of whether or not Rollins leaves Saudi Arabia holding the title remains up in the air.
Written by Nick Miller
Women's World Championship: Rhea Ripley (94%)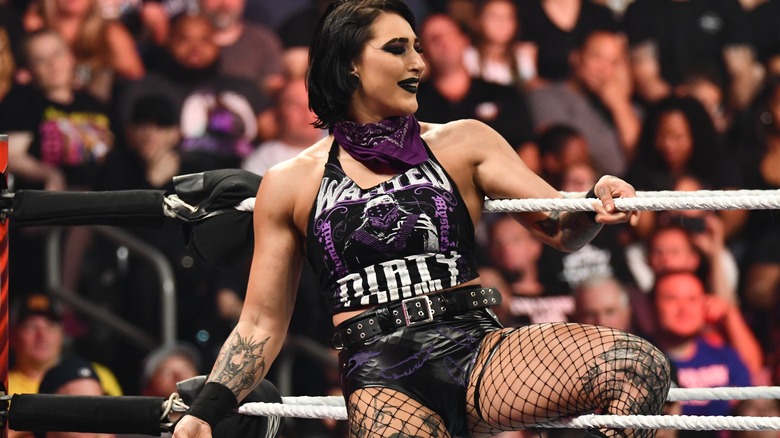 Kevin Tall/Wrestling Inc.
The odds are firmly stacked against Rhea Ripley at WWE Crown Jewel 2023, but she's still the Wrestling Inc. staff's overwhelming favorite to win the match. With all due respect to the other participants involved in the bout, none of them are on the Judgment Day member's level yet.
Ripley has been positioned as a bona fide main eventer since WrestleMania 39, and, in recent months, she's essentially established herself as a leader of one of the hottest factions in all of sports entertainment. There's no way she's losing the title in a throwaway, albeit stacked, title match at a B-level premium live event in Saudi Arabia.
The Superstar who eventually topples Ripley will be someone WWE aims to strap the rocket to. Maybe it'll be one of the participants in this match at a later date, but it's hard to imagine any of them walking away with the gold this weekend. Of course, stranger things have happened in WWE, but as it stands, Ripley is too much of a prized project to lose her gold anytime soon.
Written by Kieran Fisher
Undisputed WWE universal championship: Roman Reigns (100%)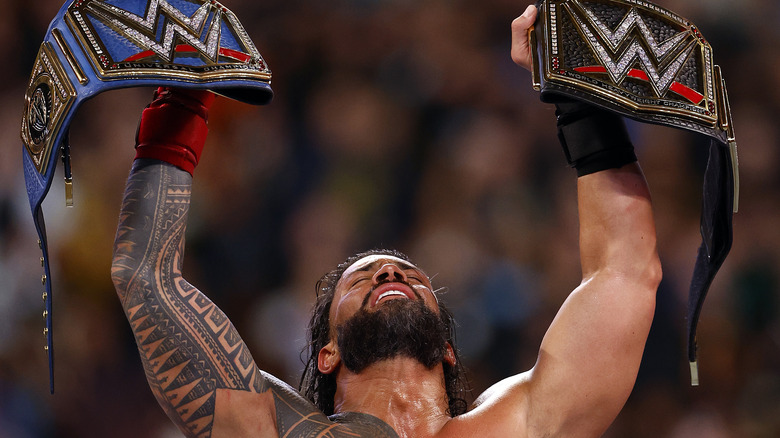 Ronald Martinez/Getty Images
In one of the easiest choices for Wrestling Inc. to make, we believe Undisputed WWE Universal Champion Roman Reigns is leaving Saudi Arabia with his historic title reign still intact. It may be L.A. Knight's game, but it's not yet his time for the championship if you ask us.
While Knight and Reigns' feud leading up to Crown Jewel has been entertaining, with their contract signing on last week's episode of "WWE SmackDown" kicking off the show with Knight sitting at the head of the table, we truly don't think it's Knight's time. I would say the feud has been good, but I question if it's necessarily believable. While Knight may be extremely over with the fans, I don't know how many people really believe he's going to be the one to overthrow Reigns. Personally, I absolutely adore Knight and his mic skills (showcased in his promo on Paul Heyman a few weeks ago), but I am still absolutely invested in Cody Rhodes finishing the story against Reigns, and I believe my colleagues may feel the same.
Will the rest of the Bloodline members interfere to assist Reigns against the white-hot Knight? It's more than likely. Will John Cena run down the ramp to help his new friend? That remains to be seen, with Cena taking on Solo Sikoa earlier in the night, he could absolutely be laid out by a Samoan Spike, leaving Knight to fend for himself. I'm sure it will be a great match, made even better by Crown Jewel airing earlier in the United States than other WWE premium live events.
Written by Daisy Ruth
Bonus: Money in the Bank cash in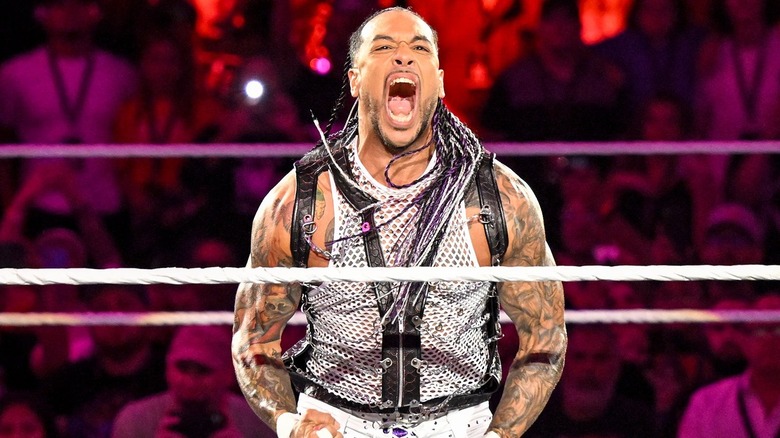 WWE
Damian Priest won the Men's Money in the Bank match back in July and has been holding on tightly to the briefcase ever since. While the consensus on whether or not Seth Rollins will successfully retain the World Heavyweight Championship this Saturday remains split, multiple members of the Wrestling Inc. staff feel that Priest will choose this PLE to cash in his contract.
There have been allusions to Priest cashing in on "WWE Raw" in recent weeks, and with most of our staff believing that Cody Rhodes will defeat Priest this weekend, it's easy to envision a frustrated Priest using the briefcase to rebound from a difficult loss. Plus, it would give Rhodes an immediately valid reason to challenge for the World Heavyweight Championship.
Even if McIntyre defeats Rollins to become the new champ, it would be very fitting for McIntyre's current character to be screwed out of his moment of glory. Pushing the "Scottish Warrior" further down this dark road he's been on could lead to some great character moments in the near future, putting both Rollins and McIntyre in vulnerable positions while Priest and The Judgment Day regain the upper hand.
Whether McIntyre wins or Rollins retains on Saturday, they will have to reckon with Priest soon. It's just a matter of how quickly he decides to act, and what kind of condition he's in following his match against Rhodes.
Written by Nick Miller