AEW Full Gear 2023: Biggest Winners And Losers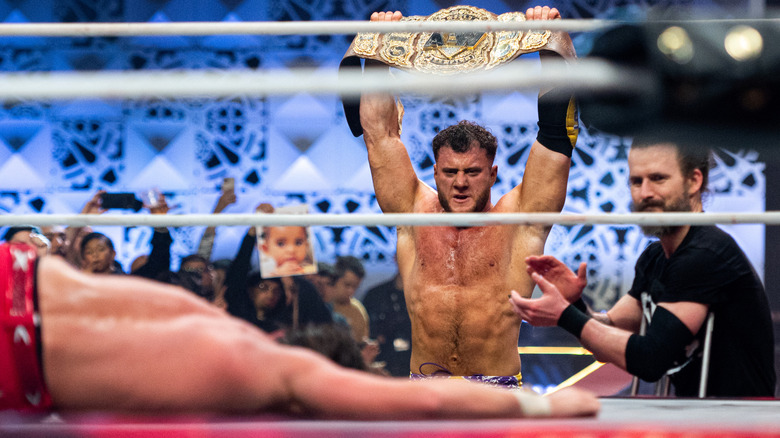 AEW
AEW kept its pay-per-view schedule on the West Coast for this year's Full Gear, bringing one of its staples to the Kia Forum in Los Angeles just a month after WrestleDream transpired in Seattle. But other than wrestling fans in the Pacific Time Zone, there must have been other big winners to come out of tonight's event — and others who had less than an ideal time out in L.A. 
So who came out of Full Gear looking pretty good due to what went down, and who is taking the L from me? Let's get into it.
Winner: Pre-Show With A Purpose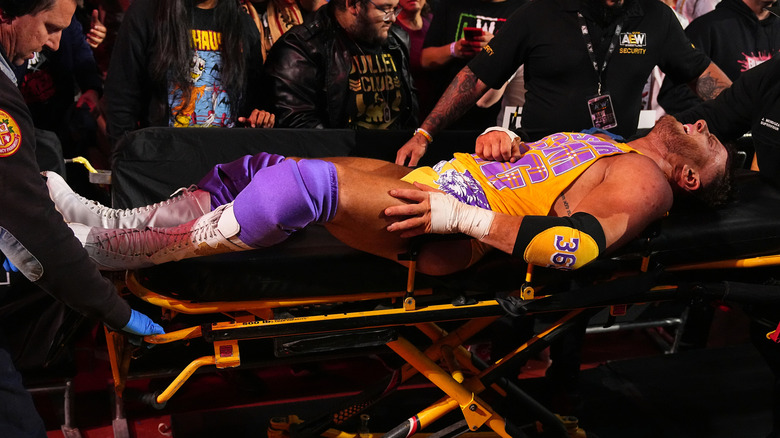 AEW
Often, wrestling pre-shows are just there. Sure, they exist for the collection of video packages trying to secure some last minute buys of the show, but the actual wrestling on it usually doesn't mean much. But the Full Gear: Zero Hour broke formula by throwing quite of bit of uncertainty into the coming main event and creating enough intrigue for any potential buyers still on the fence. 
Samoa Joe teaming with MJF to defend the Ring of Honor World Tag Team Championships certainly set the table for what the future of the AEW World Title picture may look like in the months ahead. However, the Gunns brutally assaulting MJF after the fact, sending him from the arena in an ambulance with a leg injury, made the Full Gear main event on tap all the more interesting — especially with MJF making Adam Cole, arriving on the scene in one of the night's bigger surprises, promise not to let his title be taken from him. Would MJF be able to come back in time to compete? Would Jay White be awarded the championship by forfeit? Would a substitute be allowed to represent MJF in his defense? Lots of questions, very few answers right away — but at least an attempt at some storytelling to put you on the hook for how the main event might shake out. 
Losers: AEW Referees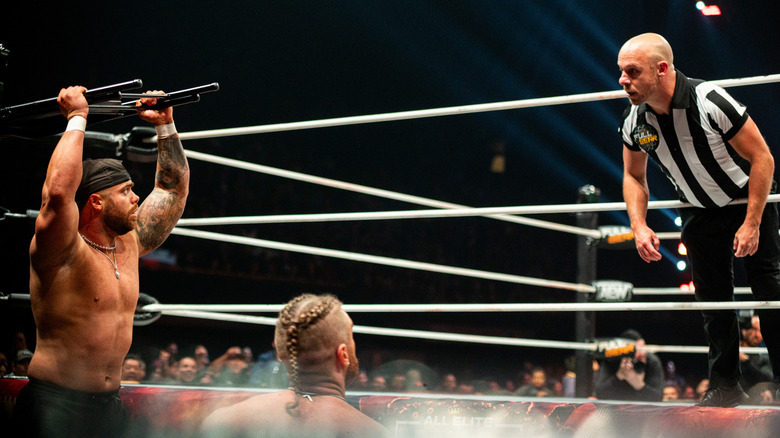 AEW
It was a rough night for the in-ring zebras of AEW, which has become one of the more consistently inconsistent elements of the promotion — particularly in recent months. Referees can serve as whatever device a match may need, but it can be frustrating when they are conveniently ignoring or missing things within a bout that they should otherwise catch — simply because they need to in order for things to make sense. As enforcers of the rules, they risk losing their credibility in those types of moments, and, without some semblance of established rules, then it's all just chaos. 
Ric Flair put his hands on Christian Cage during the opening trios match right in front of the ref — and nothing happened. Shouldn't that be cause for a disqualification? Normally — but not here. Toni Storm had a weapon hanging out of her tights in full sight of everyone — and yet the official didn't catch a glimpse of any of it. The ref's attention is diverted just in time for the Young Bucks to deliver a low blow. All of these instances just undercut the referee's authority, so that even when we get to the main event and Bryce Remsburg finally catches the Gunns red-handed getting involved, it calls into question why that isn't the standard and not the exception. 
Winner: Orange Cassidy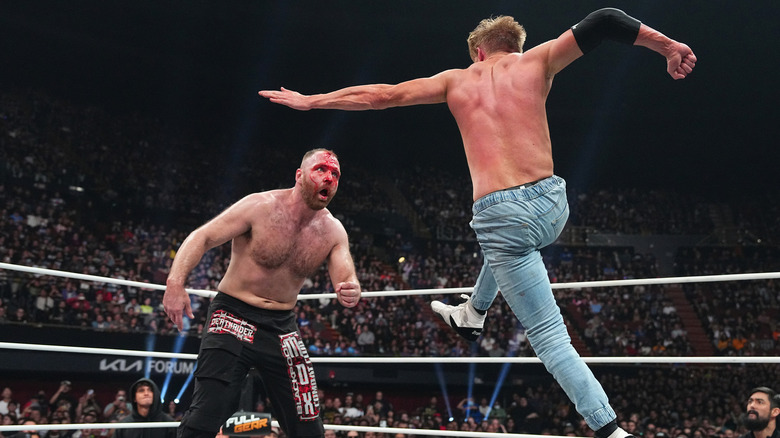 AEW
Orange Cassidy has had a tremendous year thus far in 2023, with so much of it built around his ridiculous run of title defenses as the AEW International Champion. However, there are still so many who doubt Cassidy's long-term prospects as a major player in AEW or who see him bumping against a ceiling due to the comedic nature of his style. But tonight, Cassidy was elevated in a big win by scoring a pinfall over Jon Moxley. 
Wins and losses can matter, and Moxley isn't one who drops matches very often — so when he does, it counts. And now it's hard not to take Cassidy much more seriously after he delivered a barrage of Orange Punches to overcome an opponent he had yet to defeat and a multi-time AEW World Champion. This proves that Cassidy wasn't just a placeholder champion in order to get the International Title back on Moxley after his concussion and puts a big W on his record that moves him up the card for whenever AEW might need to look for some new babyface main eventers. 
Loser: Will Ospreay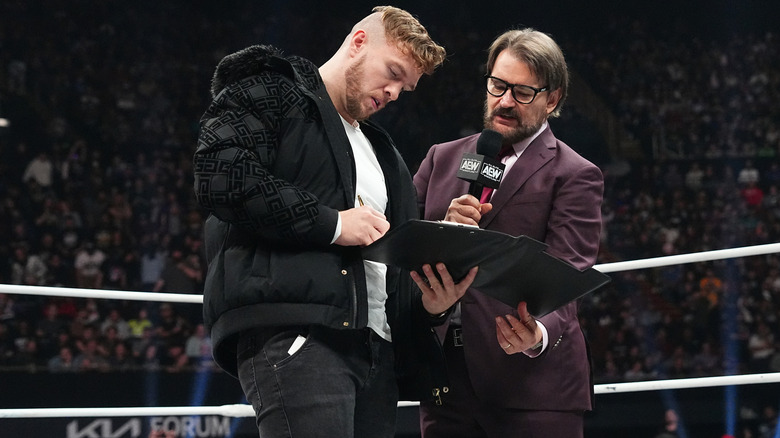 AEW
Will Ospreay was rapidly heading for free agency and was clearly one of the most sought-after professional wrestlers hitting the market in the near future. While Ospreay had signaled that he was open to listening to all offers in order to make the best decision for his family, AEW always felt as if it had the inside track. And now it's official — Ospreay is All Elite, coming to the ring at Full Gear to sign his AEW contract after a major signing was promised for tonight. 
But this already felt sort of inevitable as it was, so for this to be some big reveal followed in the trend of AEW's announcements being underwhelming. Furthermore, Ospreay was quick to note that, while he was going to be a part of AEW, it wasn't fully going to happen yet. He still has obligations with NJPW — Wrestle Kingdom 18 comes to mind — and until all of those are complete, his full-blown arrival in AEW is on hold. 
So, then why the rush? It feels like Ospreay's deal could have been held off until much closer to when he's ready to jump into AEW with both feet. But I guess Tony Khan really wanted that British star to help gear up for the initial All In on-sale for next year's Wembley Stadium show; hence, how we ended up here.
Winner: Julia Hart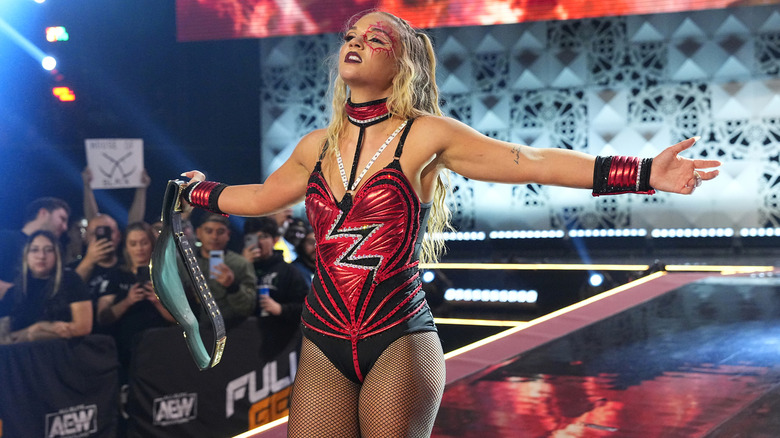 AEW
AEW really has something right now with Julia Hart. She is one of the few wrestlers in the company with a true character who has been through a number of arcs already in her young career — and the fans have responded to that. They have witnessed her transformation from a rookie cheerleader to fully embracing the dark side linked to the House of Black — and she really feels like she belongs to AEW, so to speak, as a result. Therefore, seeing her organic growth rewarded in becoming the new TBS Champion at Full Gear was nice. 
Kris Statlander's reign as champion got flat very quickly after what should have been a big boost in dethroning Jade Cargill, but that win seemed to have painted her into a corner with nowhere else to go. So switching gears may be for everyone's benefit, as a new heel champion who is drawing reactions can help get others over who seek to challenge for her belt. Julia Hart has worked her a** off to improve and get to this point, so good for her. This moment was well-deserved and well-earned.
Loser: Death Match Gore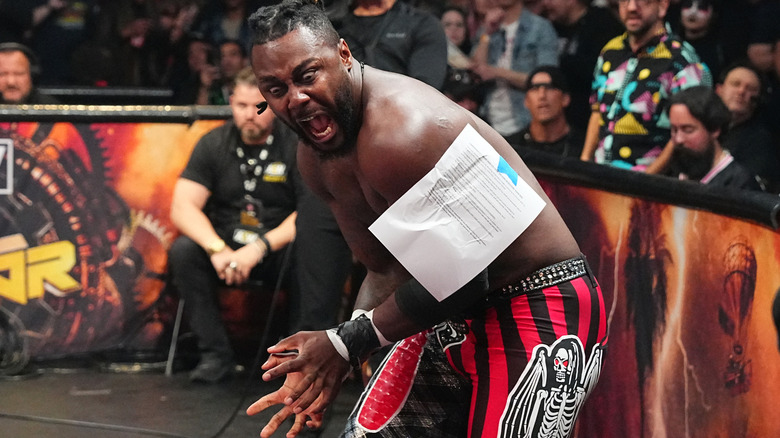 AEW
Look... if you enjoy death match wrestling, good for you. Professional wrestling can come in many different forms, and there's typically something for everyone. This stuff, though, is NOT for me. And the Texas Death Match between Swerve Strickman and "Hangman" Adam Page was proof positive as to why. 
I don't need people stapling each other for my entertainment. I just don't. I don't get any enjoyment out of seeing things like that. But then I saw a man drink another man's blood dripping right off his head — and that's just gross. That's nothing I ever need in any type of wrestling. It's gore for gore's sake, and, not only is it just unsanitary, it's disgusting. And that's before we get into all the various spots with barbed wire and broken glass that didn't even lead to finishes. 
During the match, Excalibur quoted wrestling legend Tracy Smothers, saying, "This is completely unnecessary." Those were my thoughts exactly watching this. 
Winner: MJF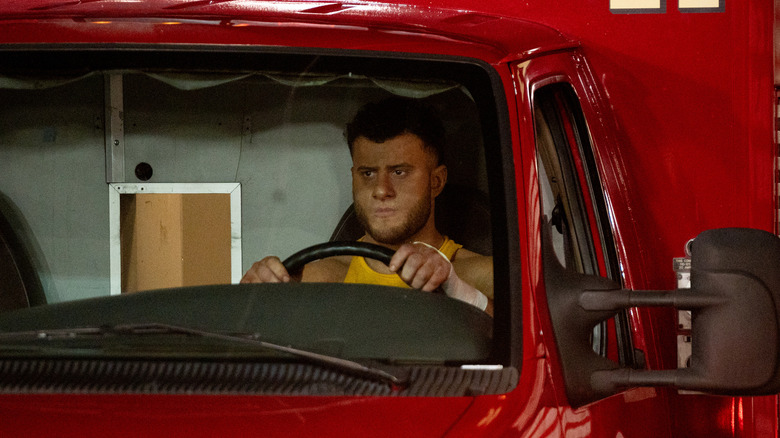 AEW
Heading into Full Gear, MJF vs. Jay White felt like one of those main events that was just going through the motions to give the former a credible contender that he could stick on his resume. Bullet Club Gold had attacked MJF on a few occasions in the weeks leading up to the pay-per-view. Still, he never felt truly vulnerable for this particular title defense — that is, until earlier in the night during Zero Hour when he was sent to the hospital with his role in the headlining match-up in the air. 
That's how solid babyface champions need to be booked. There should be doubt every single time they step into the ring to defend their title that their next opponent may be the one to unseat them. It shouldn't feel like an inevitability that they retain. And having MJF enter into his match with the Switchblade at less than 100% created that uncertainty that perhaps a title change, as unlikely as it was at the start of the night, now at least felt like it could be a possibility.
And did you hear that reaction to MJF returning back to the arena with a stolen ambulance (sans any felony charges)? The L.A. crowd went nuts seeing him overcoming the odds to get back to the show to defend his title and not let Jay White get away with his dastardly plan. Sure, he may be their scumbag, but this is babyface 101 — and MJF is acing the coursework.
Loser: The Ringside Commentary Desk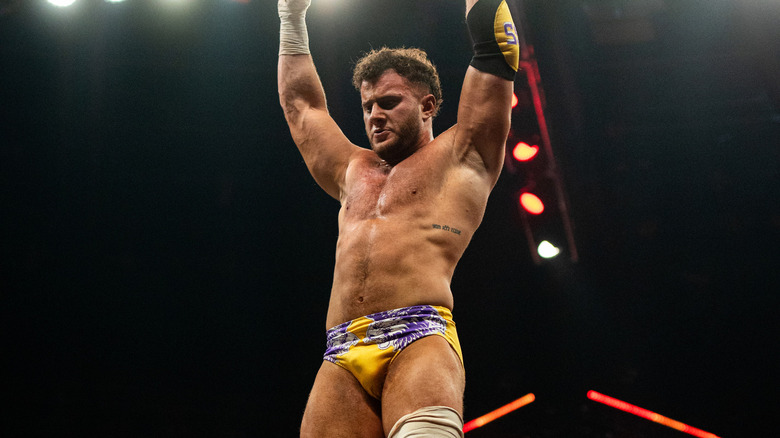 AEW
The ringside commentary desk has one job — okay, two if you really want to be technical and count hosting the commentary team for the show. But the main one is to be there for the wrestlers to break at a key point in the show. They're supposed to toss the lid, clear it (for some reason) of any loose objects that would otherwise harm their opponent, and then place their adversary on top in order to drive them through it shortly thereafter for maximum damage. But when the commentary desk fails and collapses before the big spot, then the desk has failed and deserves serious loser status. 
In some semblance of a defense, the commentary booth saw a decent amount of action throughout the night. A few people got thrown into it and across it that — who knows? Maybe it was structurally weakened a bit in the hours prior to the MJF vs. Jay White leading to its premature crumbling. Looks like it's time for AEW to get stronger materials for its desk, so this doesn't become a repeat occurrence.