Wrestlers Who Ruined Their Real-Life Friendships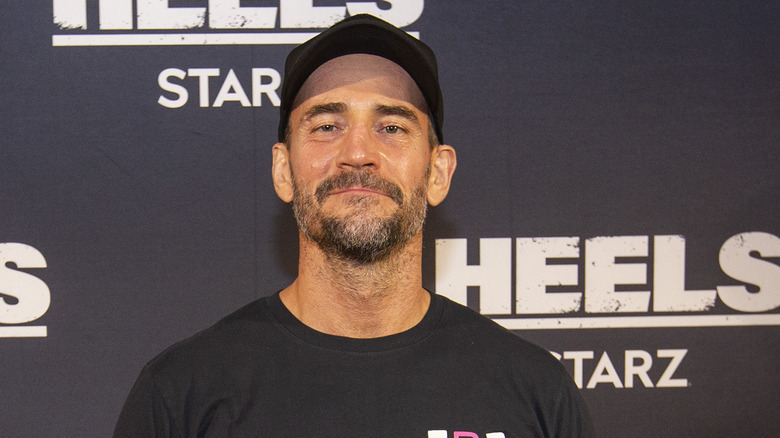 Barry Brecheisen/Getty Images
Real-life friendships and personal relationships forming in pro wrestling is common for obvious reasons, with the hectic nature of the business meaning performers often spend more time with their co-workers than their families. Over the years, there have been great bonds formed between wrestlers from WWE and abroad — Adam Copeland and Christian Cage, Mercedes Mone and Bayley, Kevin Owens and Sami Zayn just to name a few — with their chemistry onscreen translating to closeness away from the squared circle.
However, in an ego-driven industry, friendships and relationships can also break down. Sometimes, these issues remain irreconcilable — CM Punk and Colt Cabana, for example — while other times wrestlers can end up making amends with their friends turned foes after years of turmoil.
In this piece, we look through 10 real-life pro wrestling friendships that were ruined, and the cause of the splits, as well as the current status of each relationship. 
CM Punk and Colt Cabana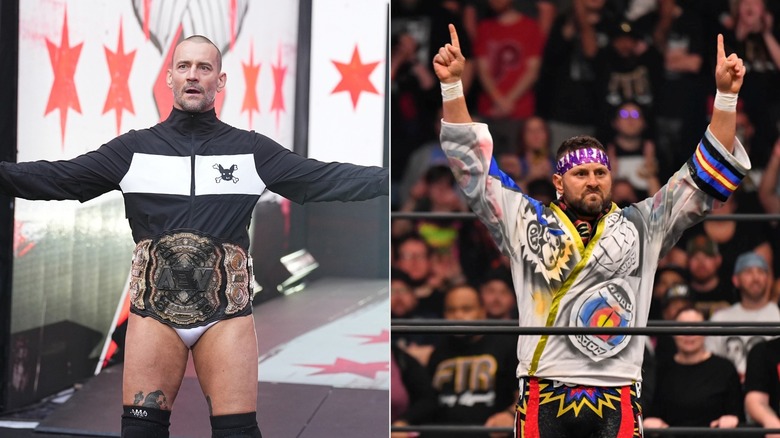 AEW
It's no secret that Phil 'CM Punk' Brooks is a polarizing figure within pro wrestling. After bursting onto the indies in the early-2000s as a straight-edge rebel, Punk would make the jump to WWE and become a household name, before abruptly quitting the company in 2014. After a seven-year absence, Punk would return to wrestling with AEW — and while things looked to be going smoothly for a while, the 45-year-old was eventually fired by Tony Khan following a number of backstage incidents.
Punk's major issue in AEW stemmed from a long-standing conflict with Colt Cabana, a fellow Chicago native who broke into the business alongside the former world champion. Punk and Cabana were close friends for many years, and after his WWE exit, the pair would record one of the most explosive podcast episodes in wrestling history, ultimately landing them in court against Vince McMahon's company and most notably, Dr. Chris Amann. 
During the legal battle, Punk and Cabana's friendship broke down, and for many years, both men had remained coy on the details of their falling out. That was until Punk's infamous All Out post-show media scrum, which saw him go scorched earth on AEW and his issues with Cabana, detailing long-standing monetary problems stemming from the court case. Punk took umbrage with rumors regarding Cabana's status with AEW after his arrival in August 2021, which saw his former buddy removed from television. At this stage, Cabana and Punk have seemingly failed to rekindle their friendship, and given the comments and allegations made by the latter during a very public press conference, it's unlikely the pair are even close to being on speaking terms.  
Adam Copeland and Matt Hardy
AEW
This is perhaps one of the most well-documented friendship breakdowns in wrestling history, and it stemmed from a genuine real-life romantic affair. After wowing fans together in TLC matches, and dominating WWE's tag team division throughout the late-1990s and early-2000s with their respective partners, Matt Hardy and Adam 'Edge' Copeland had built up a strong rapport backstage and were close companions. 
During the course of their friendship, Hardy had been dating Amy "Lita" Dumas for six years, but things took a sour turn in 2005 when it was revealed she had been having an affair with Edge. In the wake of the revelation, Hardy was released by WWE due to unprofessional conduct, and would briefly work with ROH, before unwavering fan support saw the company bring him back into the fold. Upon his return, Hardy attacked Edge backstage, and the pair would become embroiled in a storyline on "WWE Raw" for a number of months, including a match at SummerSlam 2005. After falling short via nefarious means in a 'Loser Leaves Raw' match on October 3, Hardy would be sent packing to "WWE SmackDown" to continue his career, while Edge remained one of the hottest heels on the red brand and became a multi-time world champion.
In a 2021 interview, Copeland would admit the situation was difficult and claimed he 'never enjoyed it', despite the angle becoming a focal point of WWE programming and leading to a main event push for "The Rated R Superstar". In the years that followed, both men moved on from the bitter situation and ended up marrying their respective wives — Beth Phoenix and Reby Sky — and they have since squashed their beef and are working together once again in AEW.
Bret Hart and Shawn Michaels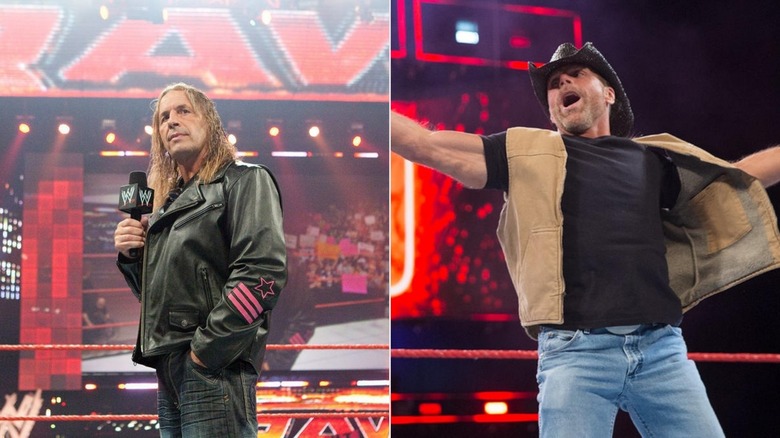 WWE
One of the greatest rivalries of the 1990s pitted two world-class in-ring technicians against each other in the form of Bret Hart and Shawn Michaels. After rising through the ranks in WWE as tag team performers, the pair would break out and lead a new generation in Vince McMahon's company, winning multiple singles championships and putting on classic encounters inside the squared circle.
Early in their rise to the main event, Hart and Michaels were good friends backstage, with mutual respect leading to a personal bond despite a healthy competition. However, as the latter began to receive a larger-scale push in WWE, the success would begin to change his personality, as did as his newfound friendship with Triple H, Kevin Nash and Scott Hall — widely known as "The Kliq" in wrestling circles.
Things would first come to a head at WrestleMania 12, with an Iron Man Match main event leading to a Michaels victory, only for "The Heartbreak Kid" to insult Hart following the bout, demanding referee Earl Hebner "get him the f*** out of my ring." The issues between the stars would continue to brew throughout 1996 and 1997, leading to an explosive finish to their match at Survivor Series, later dubbed "The Montreal Screwjob" after Hart was "screwed" out of the WWE Championship prior to his move to WCW. Hart had been public for many years of his hatred of Michaels, including in his autobiography, but both men ultimately reconciled on a 2010 episode of "Raw", hugging it out in the middle of the ring. Despite an ugly stretch, Hart and Michaels are now on good terms and have both been inducted into the WWE Hall of Fame.
Mr Kennedy and Randy Orton
WWE
Two of the hottest young stars in WWE during the mid-2000s were Randy Orton and Mr Kennedy, with both performers rising through the developmental system together and becoming close friends. Both looked destined for big things and were even travel buddies at one stage, but while Orton would become a major player for the sports entertainment juggernaut, winning a plethora of championships throughout his career, the same can't be said for Kennedy, who never tasted world title glory in WWE. 
During a match in 2009, Orton landed awkwardly from a back-drop administered by Kennedy, leading to a frustrated "Apex Predator" going backstage alongside fellow top star John Cena to McMahon to complain that the Green Bay native was 'reckless'. The incident ultimately led to Kennedy being fired by WWE as a result of Orton's complaints, and any semblance of a relationship between the pair had been thrown out the window. 
While they never fully rekindled their friendship from their early days in WWE, Kennedy would reveal in an interview earlier this year that they have buried the hatchet, and took responsibility for his abrupt exit. "I did talk to him, but let me say this — nobody got me fired. I got me fired," he said. "I was very bitter and upset for a few years, and that resentment was directed at the wrong place ... it should have been directed back at me." After leaving WWE, Kennedy would go on to work for TNA, winning the promotion's world title, while Orton continued to cement himself as one of the greatest wrestlers of the modern era, but has been sidelined due to injury since May 2022. 
CM Punk and Corey Graves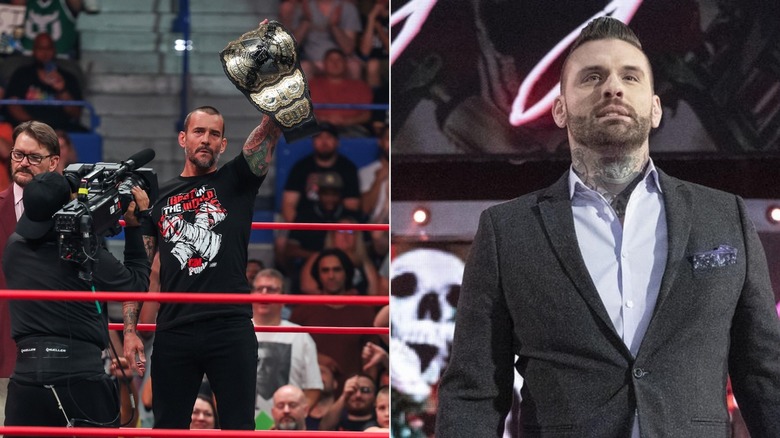 AEW/WWE
Circling back to a previously-mentioned wrestler on this list, Punk's relationship breakdown with Cabana isn't the only one throughout his career. While the former WWE Champion has been described as 'fiercely loyal' by the likes of Joey Mercury and Kofi Kingston over the years, there have been instances where his abrasive demeanor has led to the end of close friendships — and that is the case with WWE commentator Corey Graves.
Despite never working together onscreen, the pair had become tight backstage, but despite the best efforts of Graves following Punk's departure from WWE in 2014, they did not remain in contact, leading to a public dig from the Pittsburgh native via social media after one of his former friend's UFC defeats. "Maybe abandoning everybody who stood by your side, even when we weren't supposed to, only to have you turn your back on us wasn't the right move after all? No anger. Only sadness," Graves said in 2016. Despite their falling out, and the fact both men have not been on speaking terms for close to a decade, a recent interview with Graves shone some light on where he would stand if Punk did return to WWE in the future following his AEW exit due to a backstage incident. 
"I don't really know what happened ... we sort of fell out for one reason or another," he said. "I said some disparaging things in a very public, unprofessional manner — we haven't spoken since prior to then. If it's right for business, who am I to say no? I'm a pro at the end of the day. I would shake the man's hand and move on and see what life holds."
Charlotte Flair and Becky Lynch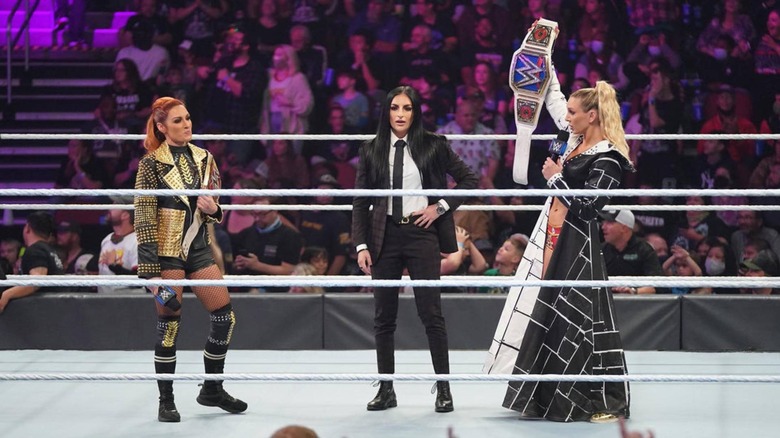 WWE
The only women to be included on this list, Charlotte Flair and Becky Lynch formed a tremendous bond during their rise to the top of WWE, working their way through developmental and onto the main roster together, culminating in an historic main event bout — with Ronda Rousey — at WrestleMania 35. While both performers had incredible chemistry inside the ropes and were heated onscreen rivals, their friendship away from wrestling had remained strong for many years.
Unfortunately, somewhere along the way, Flair and Lynch fell out and are reportedly no longer close. Their backstage issues would culminate with an awkward segment on "SmackDown" in October 2021, which saw the two champions forced to swap belts following the results of the WWE Draft. Lynch had attempted to play ball, but Flair would drop her championship onto the ground, leading to an intense moment between the pair. After both stars went back through the curtain, an altercation ensued which almost turned physical according to reports at the time. 
Flair and Lynch wrestled each other at Survivor Series that year, but have not worked onscreen together for almost two years. During an interview with "The MMA Hour" in the wake of the incident, Lynch would explain her side of the story and why their friendship is no longer. "My star was rising, we were the best of friends and it all worked when she was on top and I was below," she said. "We could all see the way things were going in 2019 ... I don't think she could take that and hasn't been able to take it. I think it's affected her work even now ... she's got that jealousy and that little devil on her shoulder."
Rikishi and Scotty 2 Hotty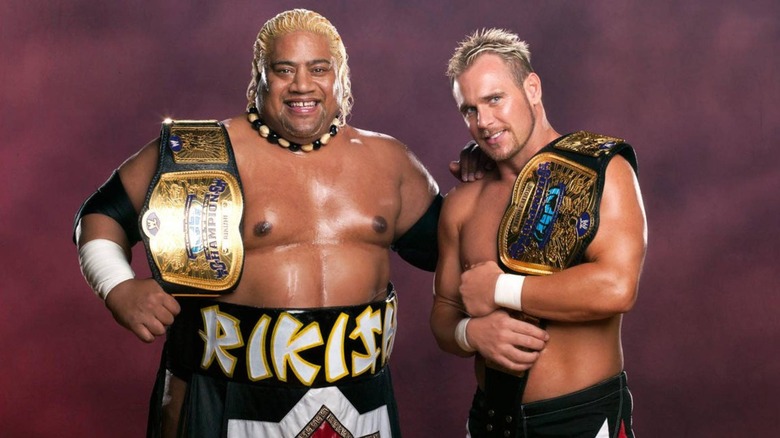 WWE/AEW
As two thirds of most of the most entertaining trios during WWE's Attitude Era, Rikishi and Scotty 2 Hotty were seemingly close friends, and had built up a strong connection during their time with the company. The pair won championship gold together over the course of their partnership, but things took a sour turn in 2015 when only one member of the team was inducted into the Hall of Fame.
During his acceptance speech, Rikishi would fail to mention his former tag team partner, as well as Brian "Grand Master Sexay" Christopher, who also worked with them onscreen prior to his passing in 2018. In the wake of the ceremony, Scotty would take to social media to vent his frustration at Rikishi, claiming he 'deserved a mention' and said it 'hurt' to be left out of the speech given the amount of time they spent working alongside each other. However, both men have since buried the hatchet, with Scotty posting a selfie on his social media account in December 2021.
So, this happened today! Ready for 2022.
✌🏽😎✌🏽 pic.twitter.com/vT0mkte9qC

— Scott Garland (@TheScottGarland) December 13, 2021
While he is yet to earn his own induction, Scotty — real name Scott Garland — has worked in a backstage producer role with WWE over the years, before leaving the company to return to the independent scene. 
Stone Cold Steve Austin and Bob Holly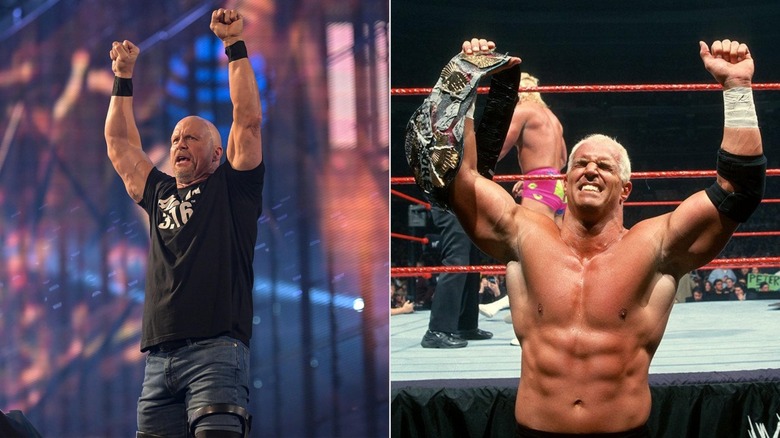 WWE
After rising to prominence in WWE during the mid-1990s, "Stone Cold" Steve Austin was seemingly destined for greatness, and ended up having one of the most successful careers in wrestling history. During his early years with the company, Austin would become close and travel with two fellow performers — Billy Gunn and Bob 'Hardcore' Holly — building a strong relationship with the latter.
However, as the popularity of "The Texas Rattlesnake" continued to rise, leading to multiple WrestleMania main events, Holly's career never took off to that same level with WWE, and the pair eventually fell out.
While there have only been scarce details over the years, Holly claimed that Austin's ego led to the pair drifting apart — despite the fact the Hall of Famer has remained close with a number of his other colleagues from that time period, including Jim Ross and William Regal. 
Hulk Hogan and Randy Savage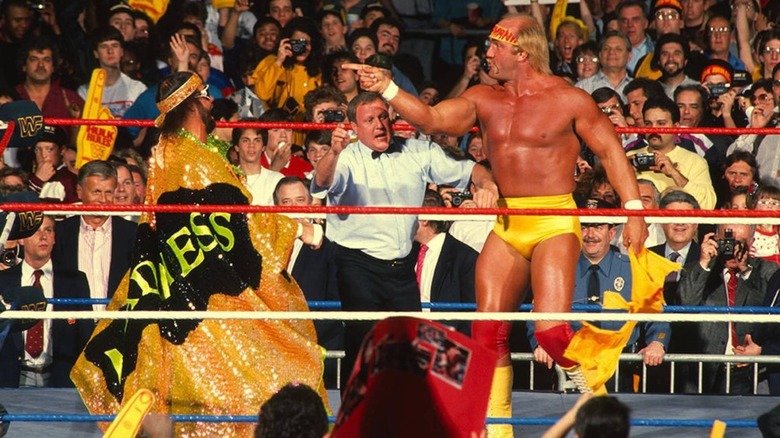 WWE
The 1980s — known as the Golden Era for WWE — featured two larger-than-life characters at the top of the card in the form of Hulk Hogan and "Macho Man" Randy Savage. The pair would become known as The Mega Powers for a lengthy period as the company's two top babyface stars, before an onscreen split led to the main event bout at WrestleMania 5, which saw Hogan emerge victorious to claim the WWE Championship. 
Their on-screen feud centered largely around Miss Elizabeth — Savage's real-life wife at the time — but things escalated to outside of the ring in 1992. Savage and Elizabeth would file for divorce. and according to an interview earlier this year with "Full Send Podcast", Hogan claimed his former ally blamed him for the marriage ending. "When he lived on the beach here [in Tampa], we were together every single day," Hogan said. "And then, when he went through a divorce, he thought I had something to do with it, and so that turned out to be like, an eight-year 'don't talk to each other' thing."
Hogan would reveal in the same interview that he reconciled with Savage reconcile prior to his death in 2011, but the pair's one-time friendship was never fully repaired for close to two decades. Despite the long-standing and public heat between the pair, Hogan would end up inducting his former rival into the WWE Hall of Fame eight years ago, giving Savage a fitting send off in pro wrestling.
Shawn Michaels and Marty Jannetty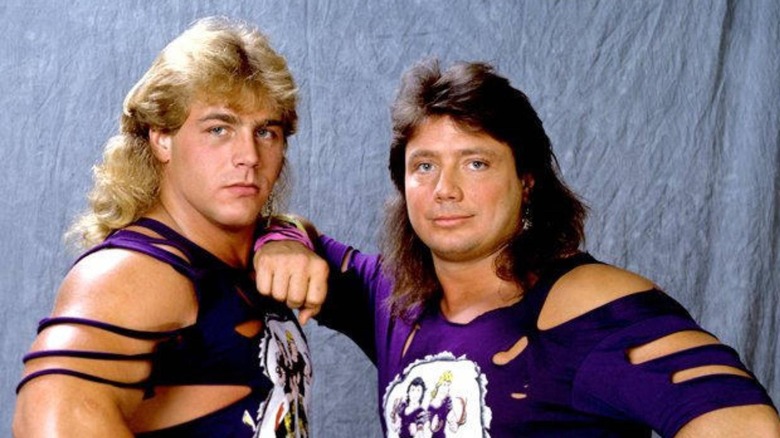 WWE
The final addition to this list is yet another two-time inclusion, with the previously-mentioned Shawn Michaels also involved in another friend-turned-foe scenario in both kayfabe and real-life. In the early stages of his career, "The Heartbreak Kid" was part of an entertaining tag team known as The Rockers alongside Marty Jannetty, endearing themselves to fans across the globe despite never winning championship gold together. Unfortunately, in 1991 — right around the time Michaels' popularity was beginning to rise — the pair would become embroiled in a shoot backstage fight, and it led to the team splitting up in storyline as well during an iconic moment. 
Since falling out, Michaels went on to become one of the most illustrious performers in the history of the business, while Jannetty failed to find singles success. Over the years, the latter has dealt with personal issues relating to drugs and alcohol, and the former duo have not stayed in contact according to a 2019 interview with Michaels.
"I no longer have a contact number for him," he said. "There are times I see him, he is great, he seems great — other times it's less so. It heartbreaking to me, just as it is to everyone else. I don't know what any of us can do in that aspect. He has made a decision on how he wants to live his life."