AEW All In 2023: 3 Things We Hated And 3 Things We Loved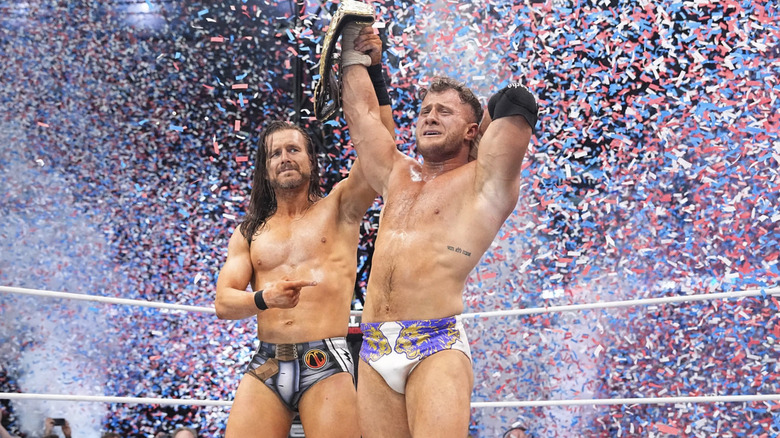 AEW
Welcome to Wrestling Inc's review of AEW All In 2023, the show with the biggest crowd in the history of pro wrestling, unless it's not, but maybe it is, but it might not be, also. That's not important right now. What is important is that on Sunday, AEW performed inside a jam-packed Wembley Stadium in front of a reported paid audience of 81,000, and there is a lot to talk about.
While these reviews have historically been the work of just one person, we are officially changing things up! In this article, you will read the perspectives of multiple Wrestling Inc. staff members as we sift through the confetti to discover the things we enjoyed most about All In, and the stuff that just didn't work for us. Will we cover everything? No, but you have our live results coverage for that if you want to know all the details, and you can also check out our biggest winners and losers. This right there, though, is just some people who work for WINC sitting with their feelings. Which is to say — here are three things we hated and three things we loved about AEW All In 2023.
Loved: The UK Atmosphere (Billy Donnelly, WINC news editor)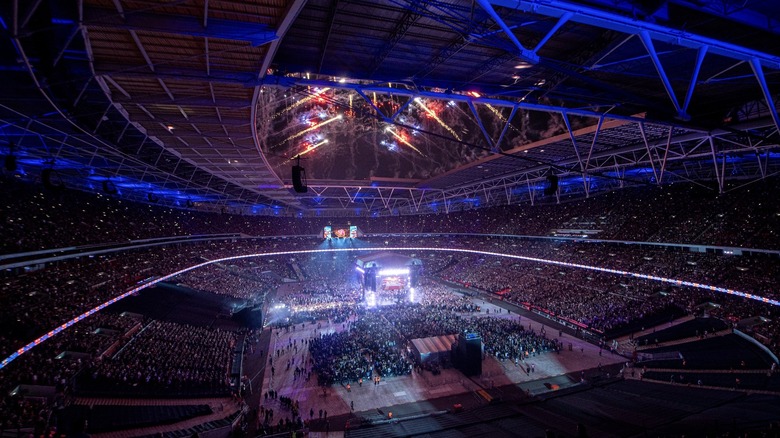 AEW
Look out, American wrestling fans. Your standing atop the wrestling landscape is on shaky ground, because the international wrestling audience is coming for you.
We've seen in recent months with the various events WWE has held outside of the continental United States that other wrestling fans are starved for the live action of these big cards. They are excited. They are passionate. They are loud, and they want to interact accordingly with the show. The fans in the United Kingdom continued the trend at All In, in a big way. For several hours, those inside Wembley Stadium were into everything AEW threw at them. They didn't sit on their hands and just observe a wrestling show in front of them, they made themselves a part of it, with their cheers and boos, their warring chants, and the added electricity they contributed to an already supercharged event.
Over 80,000 wrestling fans sitting in silence is not a good night. But you get that many people into the various things you're doing? That means you're doing something right. It also means that these international locales deserve to be in the regular rotation for such big events. U.S. audiences have taken for granted the gift that has been given to them for so long. And if we're not going to appreciate it, then maybe it's time to give others a try, maybe people who haven't had those opportunities as frequently. The crowd is a character in wrestling, and the U.K. fans at All In made the most of their time in the spotlight.
Hated: Reports of more backstage drama take away from an instant classic (Jon Jordan, WINC news writer)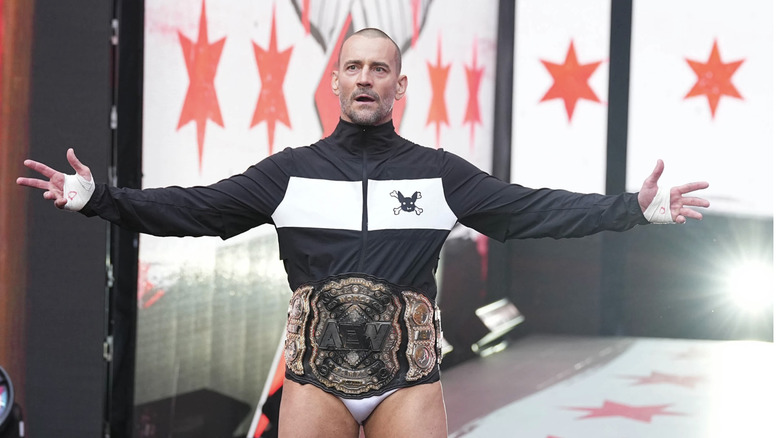 AEW
CM Punk and Samoa Joe, Wembley Stadium, 80,000+ — I don't care if there's a real championship, a fake championship, or a Leatherface championship on the line, this match should have ruled. And largely, it did. But it was also less than it could have been, thanks to reports of a backstage altercation just prior to the match between Punk and Jack Perry.
The culmination of a decades-long rivalry between these two legends deserved the unprecedented stage that this event presented, and we all deserved to soak it in, in all its greatness. I was excited, and I'm not even a big Punk fan, though I've always respected both his and Joe's work, and what this rivalry means in the pantheon of wrestling history. But just as I had exclaimed how bad I felt for whichever match had to follow in the #2 spot, word hit the Wrestling Inc. newsroom of the latest reports of Punk-involved drama backstage. As we relayed earlier, a report from Fightful Select stated that Perry, following his FTW title loss to HOOK, "came at Punk and got choked." PWInsider said that Punk "went after" and/or "hit" Perry. Throughout the night, reports continued to trickle in — Perry was ordered to leave and Punk was escorted backstage by security and you're a jerk, no you're a jerk, and my dad can beat up your dad. Who cares who did what, really, at this point? It keeps happening and it always seems to have the same guy involved. And that just stinks.
Yeah, maybe this has something to do with Perry saying, "It's real glass; cry me a river," following a windshield spot in his match with HOOK. Of course, this fits nicely with previous reports that Punk took issue with Perry wanting to use real glass on another occasion. The point is, I had to divert my attention from this match, which ended in Samoa freaking Joe taking an epic Pepsi Plunge for Punk to retain, to sift through the latest juvenile nonsense.
It's so unnecessary, all of it. And the fact that somebody backstage has to go right to their phone to stooge to the rumor mill that it just happened during the biggest pay-per-view in AEW history may be even worse. We might all be kids at heart, still following professional wrestling as closely as we do, just as those involved in this wild and wacky world must be as well. But they're also grown-ass adults. Is it really too much to ask for them to act that way more often than not?
Congrats on the match and the moment, Punk and Joe. You deserved it. But if this is just gonna keep happening, here's to hoping Punk's "I love you" gesture and the salute to the crowd afterwards were his goodbye forever. Because we all deserve better.
Hated: If this undercard was a sandwich it would be mayonnaise on white bread (Miles Schneiderman, WINC senior lead news editor)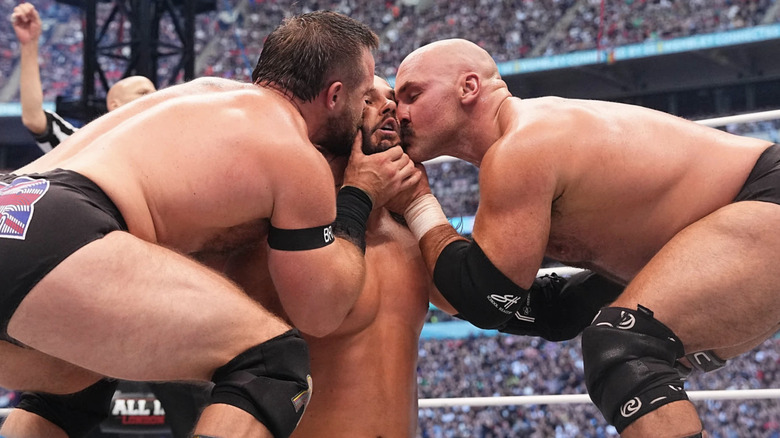 AEW
Is it just me (oh my god I get to use individual personal pronouns now, I'm so happy) or was the undercard for All In kind of boring? Like, okay, obviously the Stadium Stampede match stood out in a massive way, the coffin match was similar (though not as spectacular) and the women's title match actually had a storyline, which is huge for AEW. Everything else, though ... I don't think I'm going to remember very much of it tomorrow. Hell, apart from the finishes, I don't remember anything that happened in either of the trios matches now, as I write this, and one of those involved Kota Ibushi in his second consecutive "why isn't Kota Ibushi doing anything" AEW match.
The real culprits, though, were FTR vs. The Young Bucks and Will Ospreay vs. Chris Jericho. To the extent that AEW was doing the WWE "here are the secondary main events" thing, I think these two matches would have been them — there was a considerable amount of hype behind FTR/Bucks, and Ospreay/Jericho was the only singles match asides from the two world title contests. And yet, I found myself drifting in and out of both of them for various reasons. In the case of Ospreay/Jericho, there's at least a clear explanation — Jericho was very clearly out of his depth in that match, to the extent that it seemed like that was becoming part of the storyline after the pinfall. The tag title match, though, makes no sense to have fallen flat as much as it did (unless one or more of the guys involved had other stuff on his mind, I guess). It was just there, and while the half-dozen false finishes at the end may have gotten the crowd back into it, they didn't do very much for me.
Also, unbelievable choice to keep the tag belts on FTR while one of them is currently dealing with an aggravated assault charge. Tony must really believe Wheeler didn't do anything, because now it's his own fault if he ends up having to vacate another championship.
Loved: Saraya kicks The Outcasts to the curb to win AEW gold (Max Everett, WINC news writer)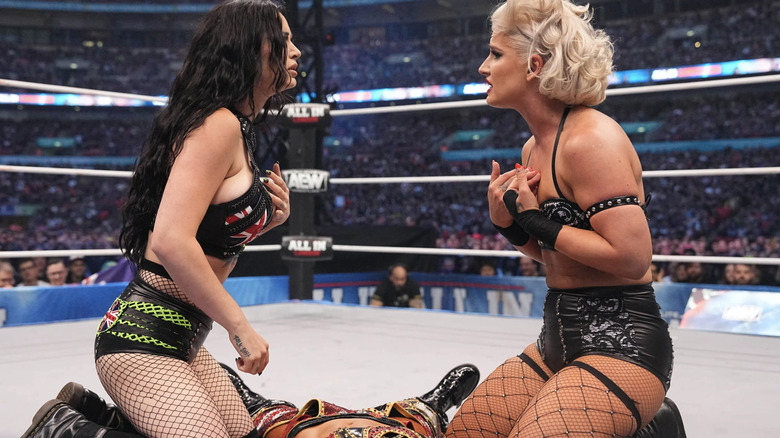 AEW
It was a night to remember for Saraya, who captured not only her first AEW title, but also her first title since losing the WWE Divas Championship back in 2014. Moreover, she did so in front of more than 80,000 fans at Wembley Stadium in her home country.
While Saraya and Toni Storm came into the bout as stablemates, they appeared to be worlds apart in their entrances alone — throughout the contest, a story was told of Storm and Saraya's gradual breakdown in communication as they both vied for a common prize. The final straw came when Storm shockingly struck Saraya's mother, Sweet Saraya Knight, as she stood ringside. Leaving no question as to whether the group was on the brink of collapse, when Ruby Soho tried to mediate the conflict between her comrades, she was rewarded with a forearm from Storm and ultimately walked out on them both. Fast forward to the finish, and Saraya was using The Oucasts' signature spray can to blind Storm, pinning her former friend to win the title.
The Outcasts came together at a time when Storm was fresh off her first title loss to Jamie Hayter, with she and Saraya turning heel in the face of the new champion's immense popularity. A somewhat directionless Soho later joined the fold, and the trio have terrorized the women's division ever since. That is, until the women's title re-entered the fray, with Storm's recapture earlier this year. She may have lost the belt in the lead-up to All In, but The Outcasts' trajectory as a unit felt somewhat disjointed in the face of singles glory. With all that, plus Soho's recent pursuit of the TBS Championship, it appears The Outcasts are ready to resume their solo journeys.
Saraya winning the title the way she did not only spelled her first title victory in AEW, but laid the groundwork for the trio's return to singles pursuits. And it's probably the right time for it, as the faction really feels as though it has run its course.
Hated: Anarchy in the Stadium Stampede (Donnelly)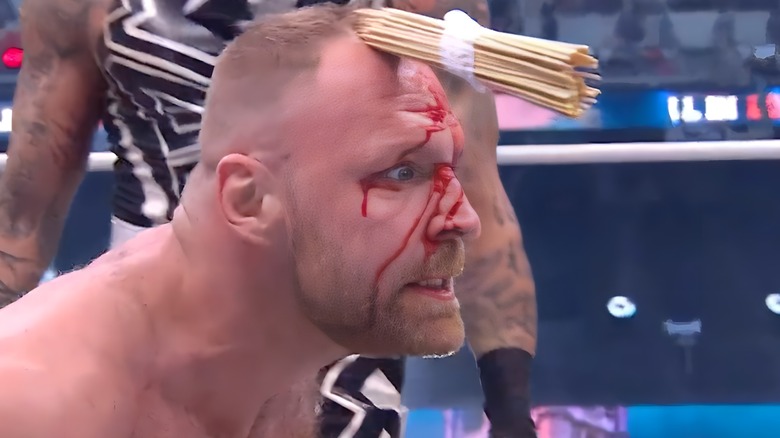 AEW
There's something in wrestling for everyone to enjoy. No matter what your tastes are, you should be able to find something that speaks to you, something that you connect with. I'm also aware that not everything is for me. There are some things that I either don't get or don't like, and that's perfectly okay. Someone else is sure to get something out of it. But that doesn't mean when it's so egregious, I won't share my disapproval — and that's where the Stadium Stampede at All In lands.
Things like this just aren't fun for me. If anything, it's grotesque. I don't need to see dudes getting wooden skewers pounded into their heads for my entertainment. That's not wrestling to me. That's a human demolition derby, and as the kids say, it's cringe.
Wrestlers put their bodies through so much as it is, and they suffer long-term effects for the choices that they make for this form of entertainment. So when is enough enough? Where is the line drawn as things keep escalating to satisfy our hunger for more? We've gone from chairs and tables to barbed wire to now broken glass and forks. I'm surprised actual dismemberment hasn't been introduced by this point.
Hardcore wrestling has its audience, and that's fine. But it doesn't include me. So for this to occupy more than 20 minutes of an otherwise really solid show ... it's never going to gain my stamp of approval. I just don't need crazy bloodshed like this in my life.
Loved: The power of friendship is All In (Schneiderman)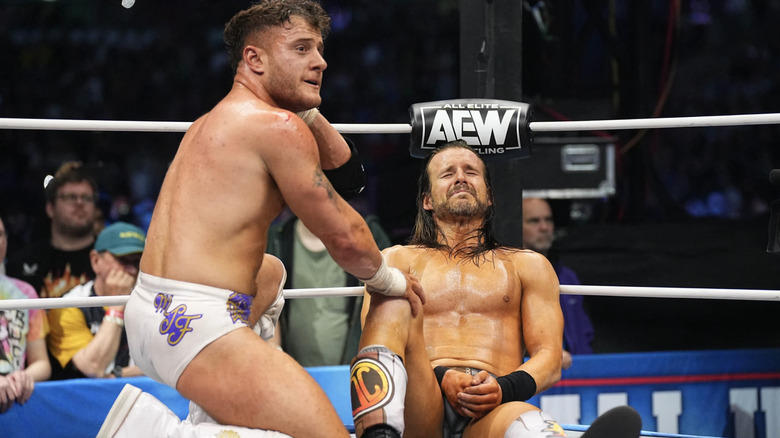 AEW
MJF vs. Adam Cole wasn't just everything I wanted it to be. It was everything I needed it to be.
It's been a hard week, y'all. I had to write the obituary for one of my favorite wrestlers on Thursday, and then I wrote about him again, and then again. I wasn't exactly feeling in the pro wrestling spirit when All In kicked off Sunday morning (which could possibly account for some of my feelings on the undercard, as mentioned above). This PPV, for the most part, just washed over me without making me feel much of anything, and I was honestly a little worried by the time we got to the main. Would I be able to feel things in this amazing story that was so much about feelings? And even if I could, what feelings would those be? The eternal question — were they going to f*** this up?
And lo and behold, MJF and Adam Cole — and, yes, Tony Khan — delivered. They delivered in such an amazing way that I felt my passion for wrestling flood back into me as I absorbed what is, I think, the best AEW match I've ever seen.
I know there are some who would quibble with this. I'm already seeing conversations about how this storyline, as encapsulated by this match, feels more like WWE to some people than AEW. But for me (someone who, yes, tends to prefer WWE's presentation of wrestling to AEW's) this was an absolute masterpiece, built around the relationships between the characters as thoroughly as any Bloodline chapter. The surprisingly straightfoward ROH tag title win on the preshow (which I was not expecting). The match opening with your typical face vs. face mutual respect stuff before MJF crossed a line with Cole, who then began to work heel (I have never seen MJF as the babyface in a babyface vs. heel match and after this one I would very much like to see more of it). The brainbuster on the stairs, which caused Cole to recoil in horror at his own actions. The double clothesline poetically leading to a draw finish, and the callback to their first match allowing us to clearly and obviously see how MJF has grown and changed. The actual finish, in which what I thought was going to be a Cole heel turn transformed into something deeper — Cole making the choice to do right by his friend, and losing the match as a result. Every moment of this match served the story, and it should have. That's what pro wrestling is.
And then after all that, it turned out they had reserved their best stuff for the post-match. After winning with a roll-up, MJF earnestly tries to comfort Cole, saying he just got lucky, reminding him they're still tag champions. Cole, frustrated beyond belief, throws the tag title belt aside. At which point, MJF accuses Cole of doing all this for the world title (which is something many of us thought would turn out to be the case) and then, in one of my favorite moments in literal wrestling history, he tells Cole that if he wants the belt he can have it, and throws it at him.
One of my favorite matches ever is Sami Zayn vs. Adrian Neville (PAC) at "NXT" Takeover: R Evolution in 2014. One of the reasons I love that match is because that match proposes that some things are more important than winning the championship. It's what I've wanted the Bloodline to do for ages now (and which they only kind of, retroactively did at SummerSlam and on the "SmackDown" that followed): Give me a babyface who understands that there are things more important than becoming world champion — not "NXT" Champion, world champion. I never in a million years expected Maxwell Jacob Friedman to be that babyface, but here we are. Mirroring their tag title loss to FTR, he turns his back on Cole and waits for the strike, accepting that the world really is as cold and friendless as he'd always suspected, but now unable to keeping living in a world like that. And then Cole hugs him instead.
There are many different ways for wrestling to be beautiful, but this one may have been unique. The question going into All In was, who would turn on who? And the answer is that nobody turned on anybody, because friendship and love are the most powerful forces in the world, and sometimes they really do overcome the forces of greed and selfishness. Is a turn (likely a Cole turn) still coming? Yes, I imagine it is. But ending the show like this, with that hug, was an amazing and fiercely brave choice on the part of AEW, and I will always be grateful to this match for shining that light into my soul at a time when I really needed it. The company as a whole doesn't often do it for me, but when it comes to this particular story, I have never been more All In.