Where Are The WWE Divas Today?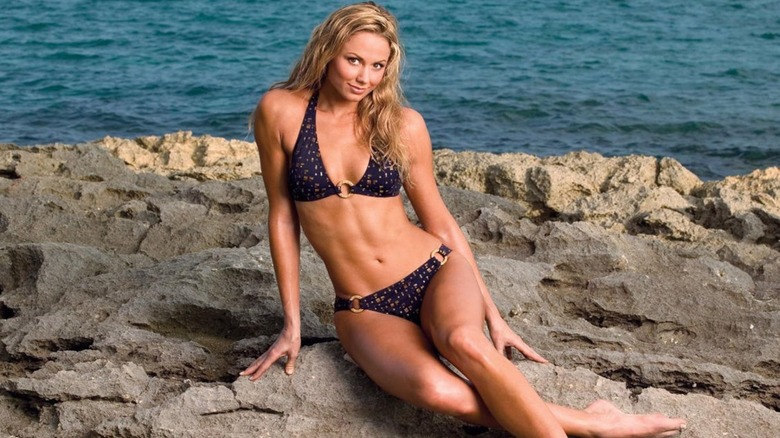 WWE
WWE's Divas Era did not treat the women in the company as legitimate, credible professional wrestlers and athletes — a far departure from today. Bra and panties matches, pillow fights, and the like were prevalent all over WWE programming. Most aspects of this time in women's wrestling have not aged well, but that era did inspire a generation of women who grew up watching the likes of Stacy Keibler, Dawn Marie, and Candice Michelle. That led to the Total Divas Era — named after the highly popular E! reality TV series — which certainly brought new eyes to the WWE product who may otherwise have had zero interest in wrestling.
Here, we're looking at a few of these women you may have forgotten about, or at least might be curious to see what is keeping them busy these days. From dog groomers to nurses, these women have varied careers after their time in WWE. Some went on to be recognized as WWE Hall of Famers, while others became new mothers. Then, there are some who remained involved with the wrestling business.
Sable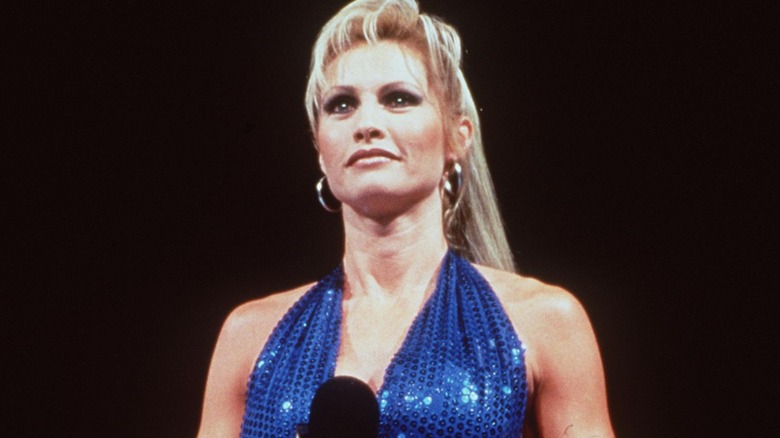 Getty Images/Getty Images
One of the main Divas who defined the WWF — and later WWE — in the Attitude Era and beyond was Sable. When many fans think of Sable, they think of multiple Playboy covers and the aforementioned bra and panties matches and pillow fights. And, of course, Sable also made an appearance in the infamous hand-painted outfit, for lack of a better explanation, during a bikini contest hosted by Jerry Lawler in 1998. While Sable may have been one of the biggest parts of these raunchier moments within the WWF and later WWE, she was considered one of the company's biggest stars at the time. The massive ego her mainstream media attention got her led her to portray a bad girl Hollywood-esquese character within WWE, which also had her performing more aggressively in the ring. Sable also reigned as Women's Champion for around six months in 1998 through 1999.
Sable is, for all intents and purposes, retired from anything even remotely associated with WWE after leaving the company for a second time in 2004 following a feud with Stephanie McMahon over a storyline relationship with her father, Vince. But she does still have some linkage to WWE, being married to Brock Lesnar. Back in Lesnar's time fighting in the UFC, she was often seen Octagon-side for his bouts. However, she has never really resurfaced for any of his WWE matches over the years. The couple live on a farm in Saskatchewan with their two children: Turk, 14, and Duke, 13. Sable will always be remembered as a pioneer for women in the wrestling ring during the Attitude Era, smashing glass ceilings for others who came after her, including many women on this list.
Torrie Wilson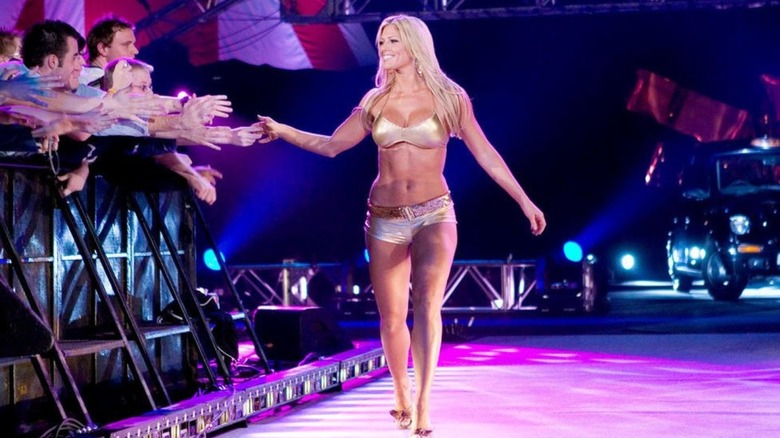 WWE
Torrie Wilson was initially signed to WCW where she played the part of a manager for the likes of David Flair, Billy Kidman, and more. She received more actual wrestling training whilst making the move to the WWF in 2001. She had notable rivalries with many of her fellow Divas in the ring, including Stacy Keibler and Sable. She also had her most memorable feud against Dawn Marie, after the Diva attempted to seduce Wilson's real-life father, Al, to get to Wilson. Wilson was another Diva to never hold the WWE Women's Championship during her time in the company.
Back issues and a contract that wasn't renewed with WWE led to Wilson's retirement from sports entertainment in 2008. Since moving on from the ring, she's started her own business, helping others get into shape, known as Torrie Wilson Fit. She is now an online fitness instructor and blogger. The former Diva made her way back into a wrestling ring in 2018 during the first-ever Women's Royal Rumble match. She also competed at the first all-women pay-per-view, WWE Evolution, in a Battle Royal later that year. Wilson was inducted into the WWE Hall of Fame in 2019.
Kelly Kelly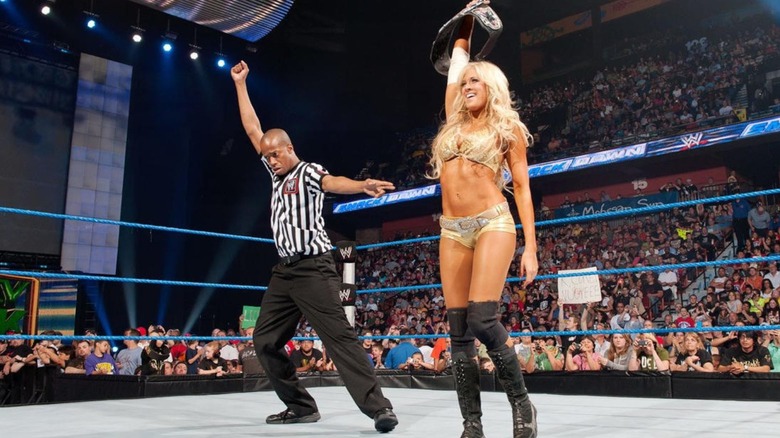 WWE
Barbie Blank, who appeared in WWE as Kelly Kelly, made her debut in the revamped ECW in 2005, appearing as though she was about to flash audience members during her "Extreme Expose" segments. Kelly trained more and grew in the ring, even once holding the Divas Championship in 2011. She was also the first woman with WWE to appear on Maxim magazine's cover at the end of 2011 (though Stacy Keibler did appear on a 2008 Maxim cover a couple of years after leaving the company). The Diva left WWE in 2012, but has since made appearances in the Women's Royal Rumble match.
The star gave birth to twins in 2023. Before giving birth, Kelly had been working with numerous fashion brands, most recently, a maternity brand. The new mom also runs an exclusive content account, where fans can subscribe to see more.
Christy Hemme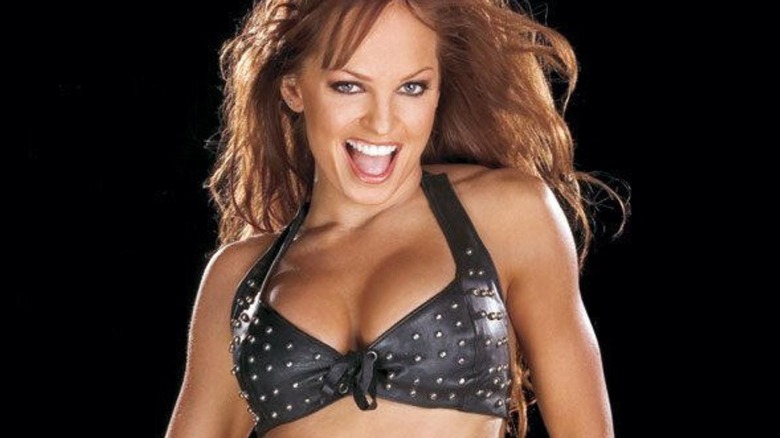 WWE
Christy Hemme charmed WWE audiences with her performance and victory in the 2004 Diva Search, which won her $250,000 and a one-year contract with the company. Hemme was mostly involved in the Divas-era fashion shows, pillow fights, and other antics on "WWE Raw" before seriously training to become a wrestler. She left the company in 2005. After moving on from WWE, Hemme became one of the original Knockouts, as well as a ring announcer in TNA.
The Diva Search winner is also now a mother, often posting photos of her five kids on Instagram. After her initial run with TNA, Gail Kim told "Busted Open" that Hemme, as of 2022, was working behind the scenes for the company. She is also still making fitness-related appearances throughout the country.
Ivory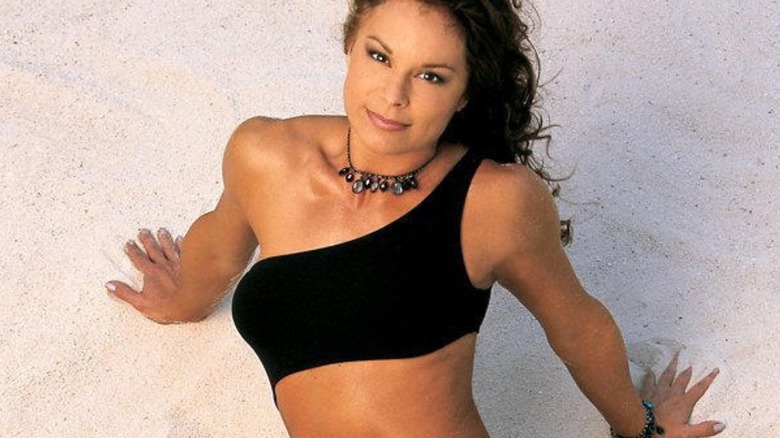 WWE
Stacy Keibler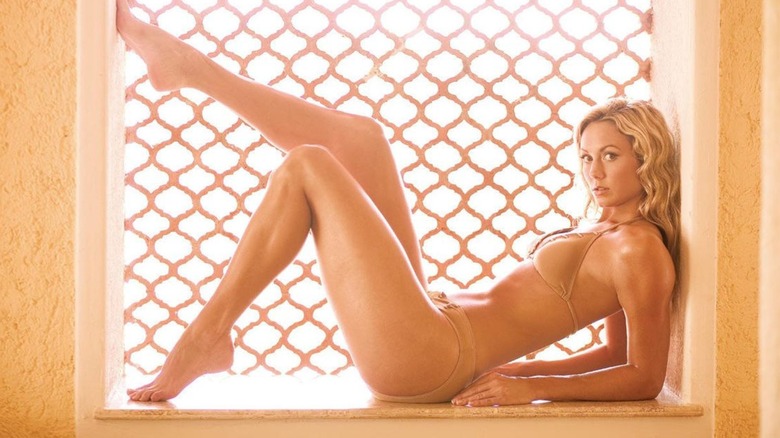 WWE
The former "WCW Nitro" girl turned WWE Diva, Stacy Keibler joined the company in 2001 with the WWF's purchase of WCW. While she was initially a valet and manager, she trained to compete in the ring and had memorable matches against the likes of Trish Stratus, Victoria, and Molly Holly. Even though she was a Diva who could play the part of a good girl or a bad girl effectively, Keibler never held the WWE Women's Championship throughout her time with the company.
Keibler officially left the company in 2006. That was also the same year she competed on "Dancing With The Stars" and won third place. Since leaving WWE, she's appeared in TV roles including on "Chuck," "Psych," and "How I Met Your Mother." The mother of three says she's a lover of holistic wellness and health and even co-founded a men's skincare line. Keibler is one of the most recent Divas to head into the Hall of Fame, inducted in 2023.
Victoria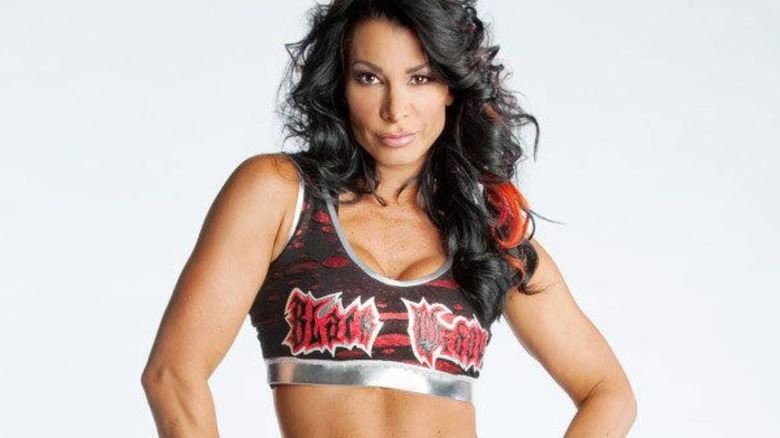 WWE
Victoria, whose real name is Lisa Marie Varon, was one of the most unique Divas in her era of WWE. She debuted as a wrestler in a 2002 episode of "WWE Sunday Night Heat." The master of the Widow's Peak had her share of Hardcore matches and faced the likes of legends like Trish Stratus and Lita. She was also, alongside Lita, one of the first women to ever compete in a WWE Steel Cage match. She held the Women's Championship twice throughout her career, before leaving the company in early 2009.
These days, Victoria hosts the "Grown Ass Women Television" podcast on YouTube alongside SoCal Val and Mickie James. At 52 years old, she also runs her own exclusive content account.
Molly Holly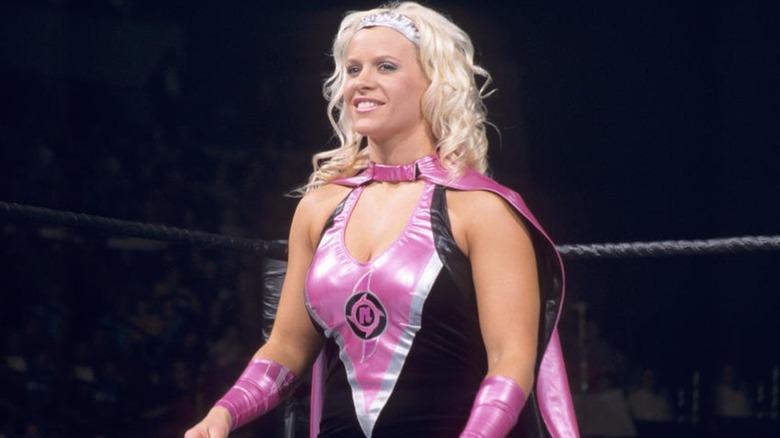 WWE
Molly Holly was one of the most diverse Divas of her time, with gimmicks ranging from "Mighty" Molly, a superhero alongside The Hurricane, to feuds with other Divas, like Victoria, which led to the loss of Holly's hair in a stipulation match at WrestleMania 20, driving her to the brink of insanity in the memorable storyline.
Holly left the company in April 2005. She made occasional appearances across independent promotions after her departure, as well as having spots in Women's Royal Rumble matches, the most recent being in 2022. She was inducted into the WWE Hall of Fame in 2021. These days, Molly Holly, or as she's really known, Nora Benshoof, is a backstage producer in WWE. Holly's name is often featured in backstage reports alongside big women's matches she has helped put together.
Jazz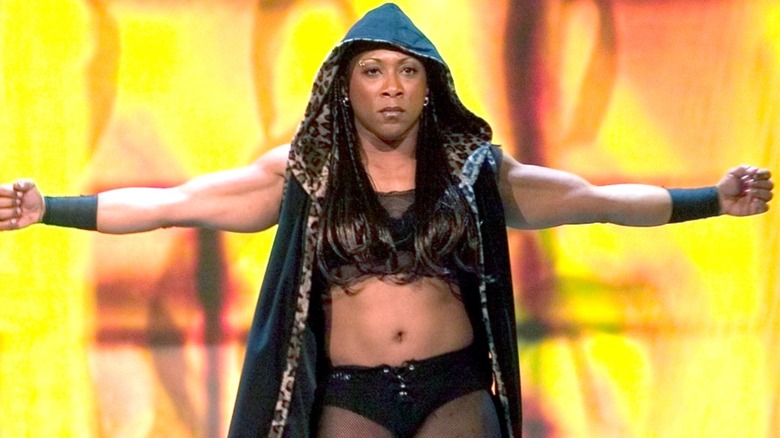 WWE
Jazz was one of the toughest WWE Divas of her time, competing in many grueling matches during her days in the ring. The star defeated Trish Stratus twice for the Women's Championship during her time with the company. She even competed in a Divas Hardcore match, something that was rarely ever seen in the company during the time. Jazz initially left the company in 2004, but would return in 2006 and join the ECW brand. She competed with top women in the company like Mickie James, but never won the championship again. Jazz left the company for good in 2007.
She and her husband, Rodney Mack, now own a wrestling school and gym. Jazz also previously competed in the NWA and had a historic reign as their World Women's Champion, holding the gold for 948 days before vacating the title due to medical and personal reasons. She was also previously involved with Impact Wrestling.
Dawn Marie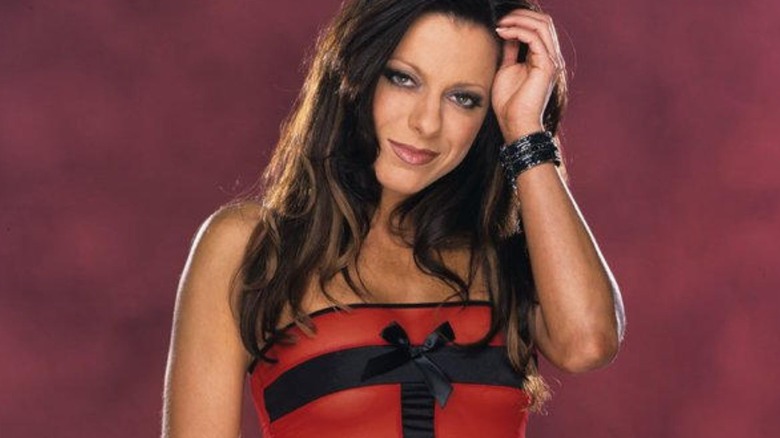 WWE
Dawn Marie is a Diva who may most be remembered for her scandalous storylines, including blackmailing Torrie Wilson through the seduction of her father, Al. Marie debuted for ECW in 1998 as Lance Storm's valet. The star was released from her contract in 2005 after revealing she was pregnant, which led to a lawsuit that was settled out of court.
Leaving wrestling has allowed the real-life Dawn Marie Psaltis, who is now a mother of two, to pursue another one of her dreams, becoming a nurse. She worked throughout the COVID-19 pandemic, even contracting the virus herself at one point. She also is passionate about holistic healing and runs, according to her Facebook page, as well as an alternative health service using crystals for healing in New Jersey.
Kaitlyn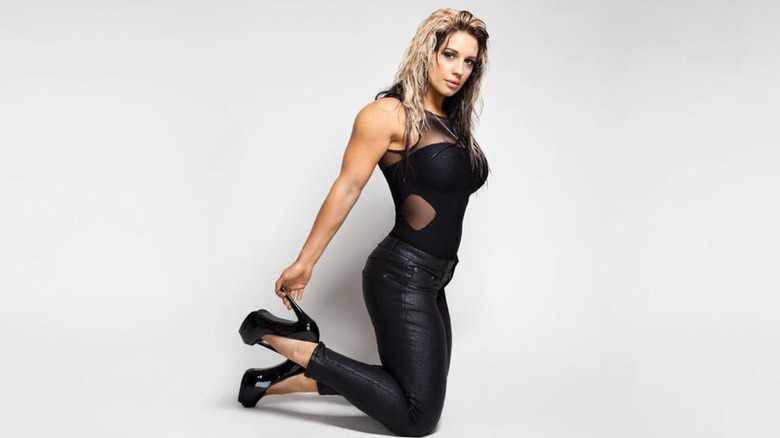 WWE
Former fitness model and bodybuilder Kaitlyn joined WWE in 2010 after winning an all-female season of "WWE NXT," when the now developmental brand was mainly a reality show. When the former Diva started with WWE, she aligned herself with AJ Lee and the duo became known as The Chickbusters. Kaitlyn also competed at Survivor Series in a match that pitted her team against the cast of the E! reality show "Total Divas."
The star held the Divas Championship for a few months prior to retiring at the beginning of 2014. The real-life Celeste Bonin recently said she's open to a return to the ring in WWE after losing in the 2018 Mae Young Classic tournament. The star hasn't been in a wrestling ring since 2019, appearing on the indie scene following her departure from WWE. Kaitlyn, who in the past has been in recovery from drug and alcohol addiction, is currently working as a transformational speaker and coach.
Jillian Hall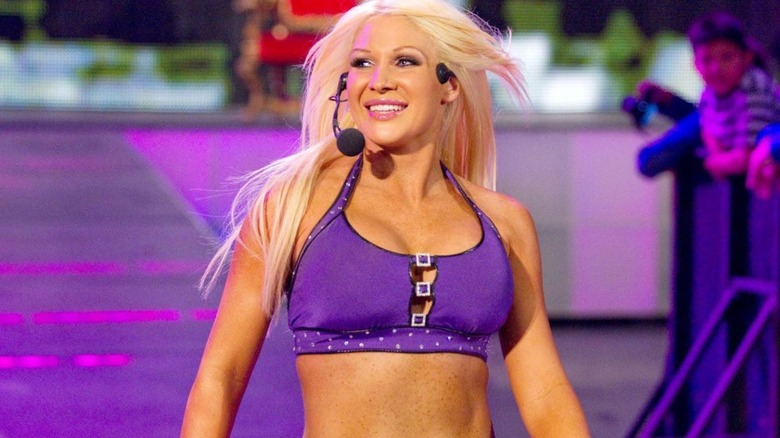 WWE
From being John Bradshaw Layfield's image consultant with a facial growth eaten by the Boogeyman, to a terrible popstar, Jillian Hall was a unique character from the start of her WWE career in 2005. The wanna-be popstar Diva even released an in-character album on iTunes for the holidays in 2007, titled "A Jingle With Jillian." While her gimmicks were often silly, Hall defeated Mickie James in late 2010 to capture the Divas Championship, though she would lose it immediately after. Hall left the company in November 2010.
Hall, whose real name is Jillian Fletcher, is now a mother, and according to her Instagram account, still writing her next chapter in life. She remains active as a fitness model on her account.
Melina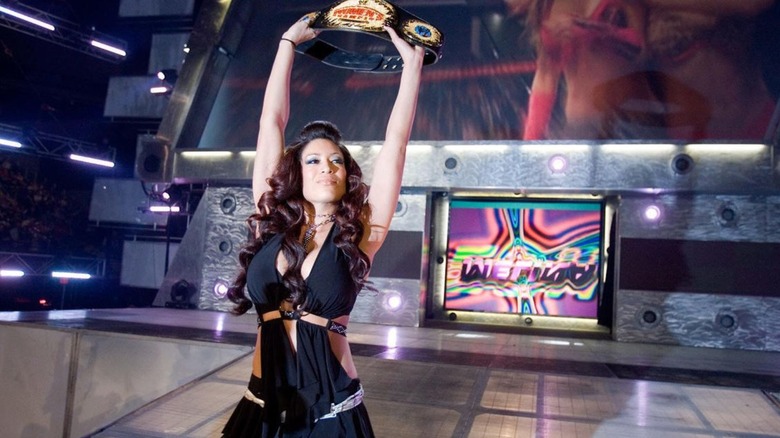 WWE
Initially debuting as the ultra-flexible manager for MNM (Mercury, Nitro, and Melina) starting in 2003, who had one of the most memorable entrances in the company, Melina eventually started wrestling herself, even capturing the Women's Championship within the company. Melina left WWE in August of 2011, having won three WWE Women's Championships and two Divas Championships. She was the first woman in company history to be a multi-time champion with both the Women's and Divas belts.
After a 2022 appearance in the Women's Royal Rumble match, Melina, whose real name is Melina Perez, revealed WWE had no plans in place for her in spite of the amazing crowd response. Now, the star, who still has a passion for professional wrestling, is currently the Director of Wrestling Operations for Ultimate Women of Wrestling. She is also still taking bookings throughout the independent scene and doing signings and appearances.
Eve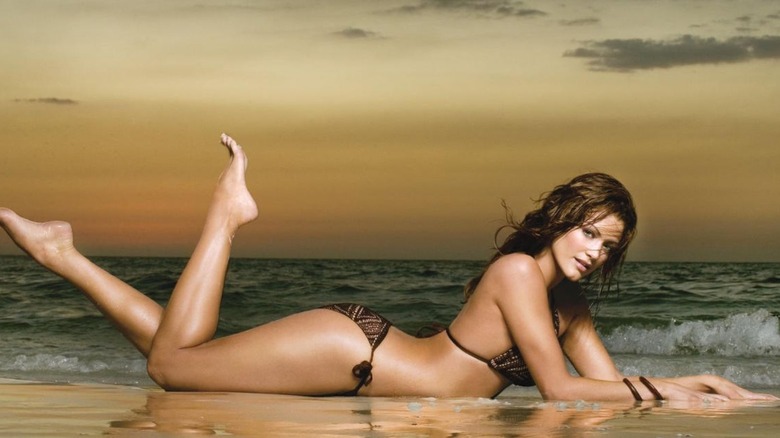 WWE
Eve, also known as Eve Torres throughout her time in WWE, was a former champion herself trained at the Gracie Jiu-Jitsu Academy, who participated in high-profile romance storylines with the likes of Zack Ryder and John Cena in 2012. Eve won the 2007 iteration of the Diva Search and made history by becoming the first Diva Search winner to win the Divas Championship in 2010. She also served as the executive administrator to John Laurinaitis on both "Raw" and "SmackDown."
Eve left the company in 2013. These days, Torres is an instructor for the Gracie Women Empowered Self-Defense program, which she co-founded. Outside the realm of martial arts, she is also the co-founder of the Sleeper Hold Pillow, a travel pillow for frequent flyers.
Jacqueline
WWE
The real-life Jacqueline Moore, a former Women's Champion and WCW star, is the first Black woman to be inducted into the WWE Hall of Fame in the Class of 2016. The former Diva jumped from WCW to the WWF in the summer of 1998 and immediately made her mark as one of the most dominant women on the roster. She was first paired with Marc Mero and defeated Sable to win the WWF Women's Championship. She also refereed both men's and women's matches in the company. Jacqueline left WWE in 2004.
Jacqueline did a stint with TNA, even managing Beer Money. She was also a trainer for "WWE Tough Enough" when the reality show first began. According to her X account, formerly known as Twitter, she's still doing wrestling-related appearances and signings.
Candice Michelle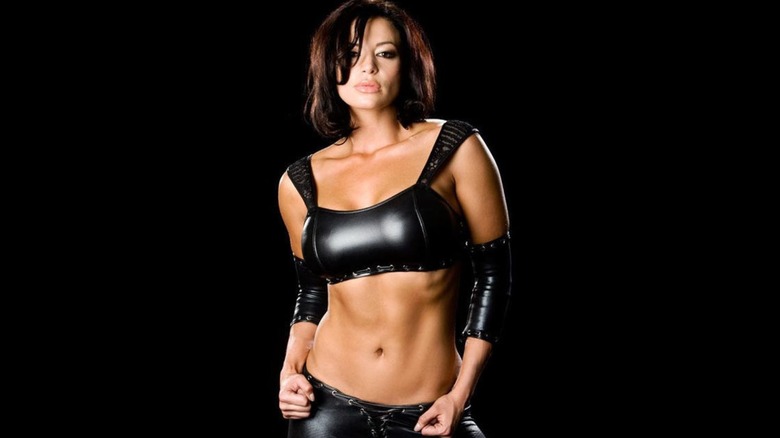 WWE
Candice Michelle made her mark on the WWE history books by becoming the first Diva Search contestant to win the Women's Championship. Michelle competed in the 2004 iteration of the competition. She didn't win, but the Diva would be signed to "Raw." Michelle became mainstream famous as a result of a popular Super Bowl commercial promoting GoDaddy.com while she was still with the company, which led to a minor push for the Diva. Michelle trained with Arn Anderson and went on to defeat the likes of Trish Stratus, Melina, and Mickie James throughout her career.
The real-life Candice Beckman was released by the company in 2009 due to multiple injuries, including a massive concussion. These days, the former Diva is a wife and mother, as well as a crisis coach who has even spoken at a TED Talk in 2018. Through her website, Michelle offers life coaching as well as "champion training."