AEW Full Gear 2023 Predictions: Wrestling Inc. Picks The Winners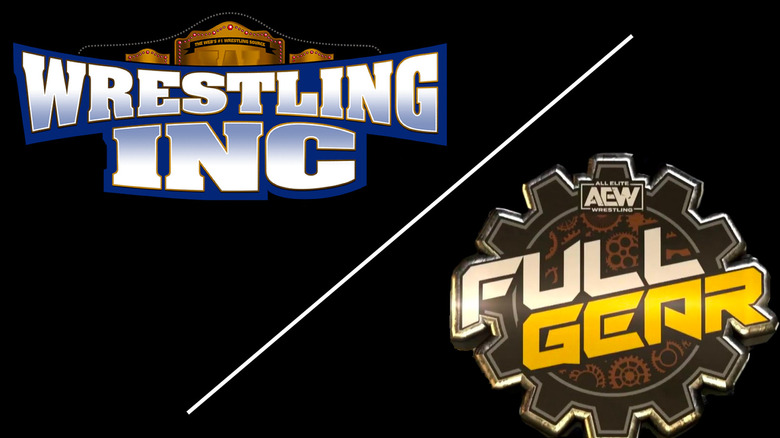 This Saturday, AEW returns to the Kia Forum in Los Angeles for Full Gear, a show that will soon be known as one of the company's original pay-per-views (to distinguish it from the more recent slate of events Tony Khan has started adding to his annual calendar). On paper, it's a stacked card — of the nine matches currently announced, six are for titles and the other three all involve former world champions and highly personal feuds.
It's also a show that's fairly difficult to predict, though of course, that didn't stop the Wrestling Inc. crew from trying. The results of our internal poll confirm that many fans aren't quite sure where AEW is going with Full Gear. Our writing and editorial staff was split on this card to a unique degree, with only three results garnering at least 69% of the vote. To put that in context, only one match from our WWE Crown Jewel picks earlier this month came in below that number, and even our picks for the last AEW PPV, WrestleDream, only had two. For better or worse, this is truly an unpredictable card.
With that in mind, let's get to the predictions!
ROH Tag Team Championship: MJF and mystery partner (79%)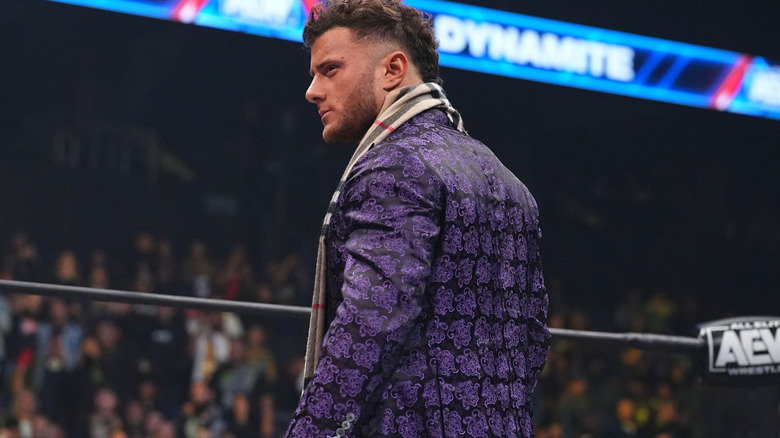 AEW
Much like he did at WrestleDream, MJF is pulling double duty to defend his ROH World Tag Team and AEW World Championships at Full Gear. And, much like WrestleDream, he will be without his title-winning partner Adam Cole as he defends the crown against The Gunns. Unlike in Seattle, however, MJF is slated to have a mystery tag partner rather than going it alone as he did against The Righteous. That could well have been one of The Acclaimed — whom MJF begrudgingly accepted into his inner circle — before they were unceremoniously attacked by a mob led by "The Devil." Now it's looking likely that he will have to accept Samoa Joe's offer of partnership, simultaneously allowing Joe a later shot at his world title should he survive Jay White in the main event.
If it is Joe, MJF will likely have to look over his shoulder throughout the entire bout. Joe's last partnership was with Wardlow, a team known collectively as "WarJoe", and ended with the "Samoan Submission Machine" choking the "WarDog" out and later taking his TNT Championship. Joe's offer of partnership is entirely transactional, and will likely secure his title shot irrespective of whether the tag titles are retained, so it stands to reason that he doesn't actively care about the outcome. Still, the poll put to Wrestling Inc. saw 78.9% pick MJF & his partner, whoever it is, to retain the titles.
Written by Max Everett
Texas Death Match: Adam Page (68%)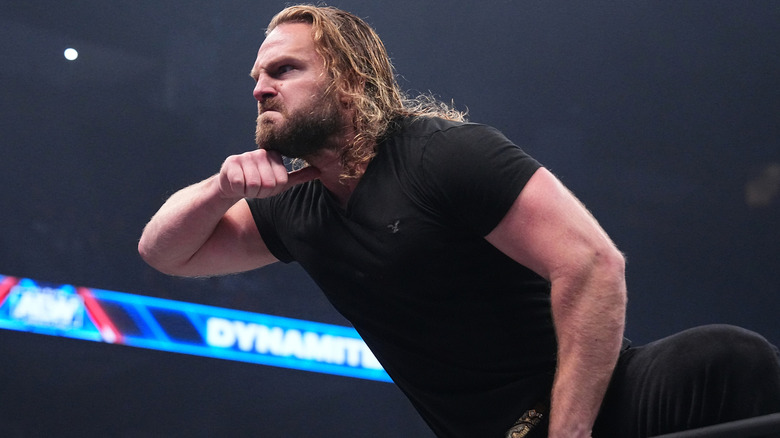 AEW
"Hangman" Adam Page is pissed off. The former AEW World Champion is mired in his usual mental health struggles while also dealing with the sociopathic Swerve Strickland, who recently broke into Page's home and confronted Page's sleeping infant. Page cut a blistering promo on Swerve Wednesday night, as well as on Prince Nana and the high school kid that sells Prince Nana weed, and heading into the Texas Death Match on Saturday, 68.4% of the Wrestling Inc. staff thinks Page will be victorious at AEW Full Gear after coming up empty against Strickland at WrestleDream.
The match will be Hangman's second Texas Death Match this year, having already beaten Moxley in a bloody war at AEW Revolution in March. Not only does Page have a track record with this kind of match, but he's also been desperately stuck in a rut since losing the world title last year. It's not so much that Page should win as much as he needs to win to maintain any kind of status in AEW's main event scene. The days of Page being the bright-eyed babyface franchise star of AEW are over — he's been too thoroughly overshadowed — but a win over Strickland could help save him from being stuck in the purgatory of the ROH six-man title scene with the also-struggling Young Bucks.
Written by Ross Berman
Six-man tag: Adam Copeland, Darby Allin, and Sting (84%)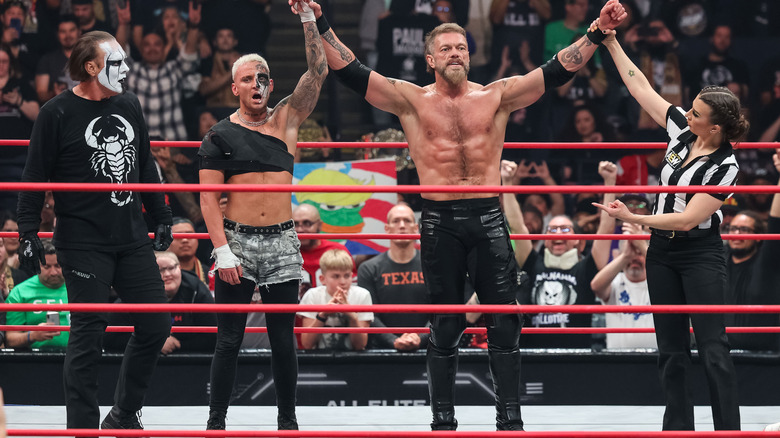 AEW
Aside from MJF vs. Jay White, no match on this card had more prediction conviction from our pundits as this one (84.2%) which represents both Adam Copeland's first AEW pay-per-view match and the first in Sting's recently-announced retirement tour. The latter, we'd imagine, factors in more than anything else in this anticipated outcome, as it is hard to see such a swan song starting off with Sting's first-ever loss in AEW.
That said, The Patriarchy (which is a fantastic name for this stable led by dead dad-hating Christian Cage) seems hellbent on destruction for Copeland, Sting, and Darby Allin. With an attempted Con-chair-to on Sting at WrestleDream (the precipice for Copeland's debut), Cage's ensuing "Go f*** yourself" to his former tag partner on "Dynamite" and attacks shortly thereafter, and the entire faction all too happy to oblige Allin's ongoing death wish at any time, the ferocity factor is certainly where it needs to be.
There's also a wild card in play here (and no, that's not a reference to Nick Wayne, who kind of just seems along for the ride). Tony Khan's recent awkward "gift" to Sting, Ric Flair, is now in the AEW fold, purportedly on board to see Sting off into the sunset properly. But now that Flair's back working for a major promotion, could we see him heel it up as only he can one last time? It'd be fitting if that's how it went down between he and Sting before it's all over, and it's not out of the question that Flair would make his presence known in this one, possibly costing the babyfaces the match.
Written by Jon Jordan
Tag Title Shot vs. Disbandment: Golden Jets (68%)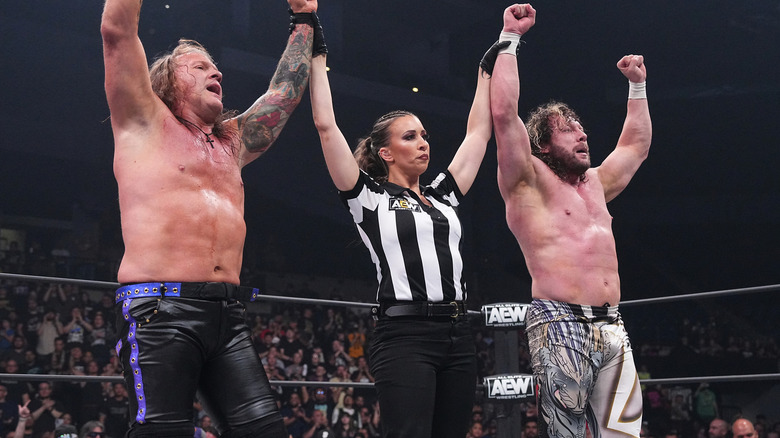 AEW
Not only have The Young Bucks thus far failed to cash in on the AEW World Tag Team Championship match they won at WrestleDream last month, but the majority of the WINC staff believes they're about to lose that match completely.
In a storyline that largely boils down to "more Elite drama," Matt and Nick Jackson will take on their stablemate, Kenny Omega, and his new tag team partner, Chris Jericho, collectively known as The Golden Jets, in a tag team match at Full Gear. If the Bucks win, the Jets disband, which would be surprising considering the recency of the team's formation. If the Jets win, they get the Bucks' tag title shot, which would be surprising considering, you know, the Bucks just won the thing at the last PPV. AEW, however, hasn't seemed terribly interesting in the Bucks' title match since giving it to them, which is presumably why 68.4% of us don't see them keeping it.
Beyond that, even after their big Sega-sponsored street fight victory on Wednesday, it would pretty damn surprising if the Jets' collective beef with the Don Callis Family was over and done with. It doesn't make much sense to split them up from a storyline standpoint, whereas a loss for The Bucks would only heighten intra-Elite tensions. It might seem simplistic, but when in doubt, you're almost always better off voting for "even more Elite drama."
Written by Miles Schneiderman
AEW International Championship: Jon Moxley (63%)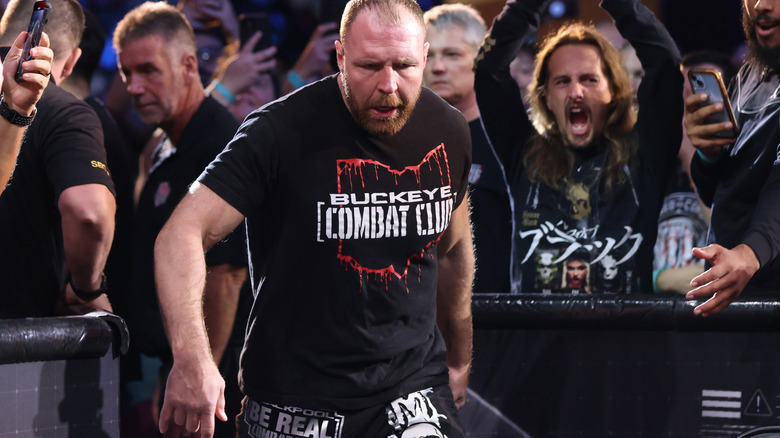 AEW
The last time Jon Moxley fought Orange Cassidy for the AEW International Championship, Moxley beat Cassidy into a lifeless, bloody husk, leaving Chicago's United Center with the title belt. Now Cassidy is set to face Moxley again, but this time Moxley is out for vengeance, likely making him even more dangerous than in the pair's first encounter. For this reason, 63.2% of the Wrestling Inc. staff believe that Moxley will once again best Cassidy.
As far as Moxley's concerned, he should be champion already. The Blackpool Combat Club member suffered a head injury in his title defense against Rey Fenix, costing him the match, and also costing him the rematch, as Moxley wasn't able to get cleared in time for a rematch against Fenix, leading to Cassidy earning the title shot and winning back the belt. Now, we find ourselves right where we were in September. Cassidy is champion, Moxley is the No.1 contender, and while Cassidy has shown an uncharacteristic obsession with his title, it likely won't be enough to overcome Moxley's bloodlust. Cassidy's loss might also send the oft-cool-headed wrestler spiraling, which could make for good television.
Written by Ross Berman
AEW TBS Championship: Kris Statlander (53%)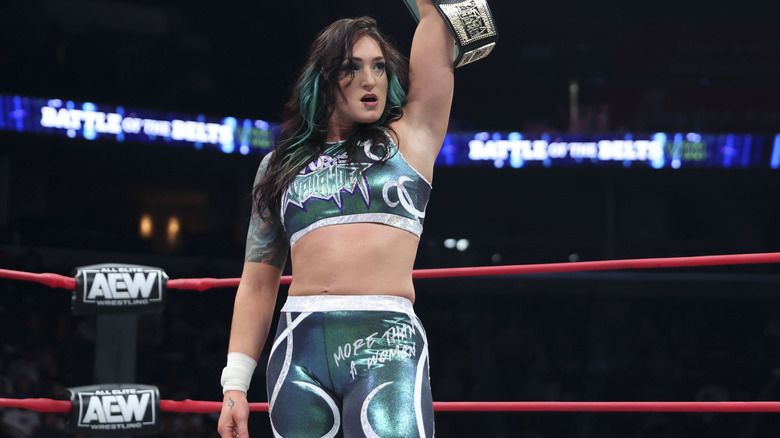 AEW
No match was as divisive for the WINC staff as this one, with just a single vote separating those who believe reigning TBS Champion Kris Statlander will secure her 15th consecutive title defense (52.6%) and those who believe the time has come to crown Julia Hart (47.4%; the match's third participant, Skye Blue, received no votes). Either choice is understandable — Hart put on what many saw as a star-making performance in her singles match with Statlander at WrestleDream, and while she wasn't booked to win that night, the fact that championship gold was in her future seemed fairly evident. Now, she gets her second shot at Statlander's belt, this time in a triple threat match. Not only does that format allow Hart to win the title without Statlander being pinned or tapping out, but the presence of Blue allows for any number of outcomes based on the existing feud between she and Hart. Most notably, the formerly fun-loving Blue has been showing a particularly violent and aggressive side since Hart sprayed her in the face with black mist, and while Blue initially seemed to have avoided a heel turn, a delayed turn that helps Hart win is certainly in play.
On the other side of things ... it's Statlander. The woman Tony Khan chose to end Jade Cargill's historic undefeated streak, currently the champion with the most consecutive defenses in the company. She's been champ since May, nearly six months now, but her reign hasn't really had a signature moment, match, or feud. Does this feel like the right moment to end it, particularly in a triple threat rather than a singles match?
The fact of the matter is, predicting this match is entirely a matter of vibes. You either think it's still Statlander's time, or you think it's Julia's. What Khan thinks remains to be seen.
Written by Miles Schneiderman
AEW World Tag Team Championship: Ricky Starks and Big Bill (58%)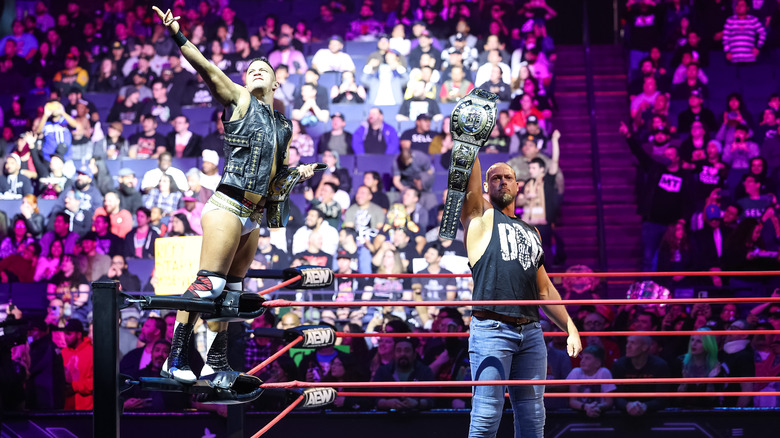 AEW
It'll be a war for the AEW Tag Team Championship at Full Gear as three teams seek the titles held by Ricky Starks and Big Bill. The pair have held the belts for just 40 days since upsetting FTR and securing both Starks' and Bill's first taste of AEW title gold. Since then, FTR have made it their mission to undo that injustice and regain their belts, but The House of Black and La Facción Ingobernable have also lurked in the title picture. LFI's Rush and Dralistico want the titles to stamp their group's authority on the division, while HOB's Kings of the Black Throne — Malakai Black and Brody King — seek to gain the titles as a means of getting to LFI.
The match is a story of multiple working parts and has placed the champions in the middle of a gang war heading into Los Angeles. But the poll put to Wrestling Inc. still backs Starks and Bill to retain their gold, scoring 57.9% of votes ahead of this weekend. While only a slim majority, it's an impressive number for a four-way, with their percentage more than double that of the second place team, FTR, who earned 21.1% of the vote. Black and King came in third with 15.8%, with the remaining 5.3% (aka a single vote) going to LFI.
Starks and Bill have proven to be slippery champions to get ahold of right out of the gate, not only destroying FTR to start their reign but cementing their place via defenses against the Blackpool Combat Club's Claudio Castagnoli and Wheeler Yuta. Starks is also on quite the run himself, winning three out of four matches since capturing the titles, including the aforementioned defense and two singles wins against FTR member Dax Harwood and LFI member Preston Vance.
Written by Max Everett
AEW Women's World Championship: Toni Storm (68%)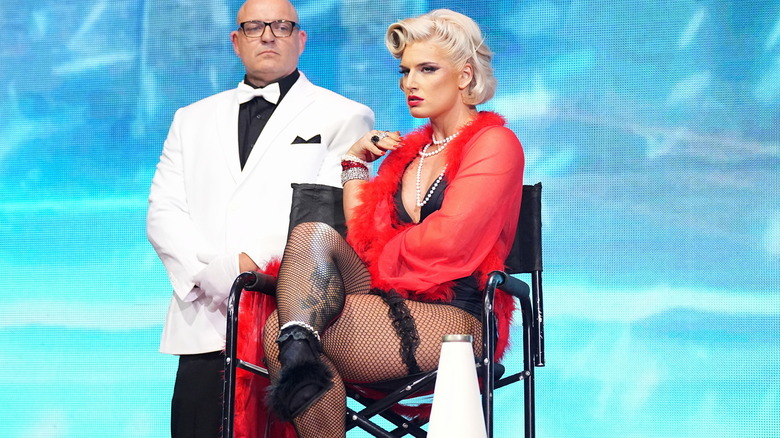 AEW
Mr. Khan, we're ready for Toni Storm's closeup.
Hikaru Shida always wrestles like she's one sensational match away from completely turning the tide on the dire booking of the women's division, but her latest tenure with the belt is likely drawing to a close, according to the Wrestling Inc. staff, 68.4% of whom believe that "Timeless" Toni Storm's Hollywood Homecoming will see the former champion regain her title.
While Shida's matches have been great and she's a strong champion, there's simply more going on with Storm. Her descent into Old Hollywood madness has become one of the highlights of AEW programming, and now with Mariah May on the scene, there's already a follow-up storyline waiting in the wings. She's also building a posse around her, featuring the likes of manservant Dr. Luther and personal Ben Mankiewicz, RJ City. The AEW women's division has desperately needed a character like Storm, who jumps off the screen in every segment. Shida is a great champion, who fights with passion and spirit, and based on her track record she'll likely hold the title again. She's already the most decorated woman in the company, she can afford the loss — AEW needs to strike while the iron is hot with Storm.
Written by Ross Berman
AEW World Championship: MJF (95%)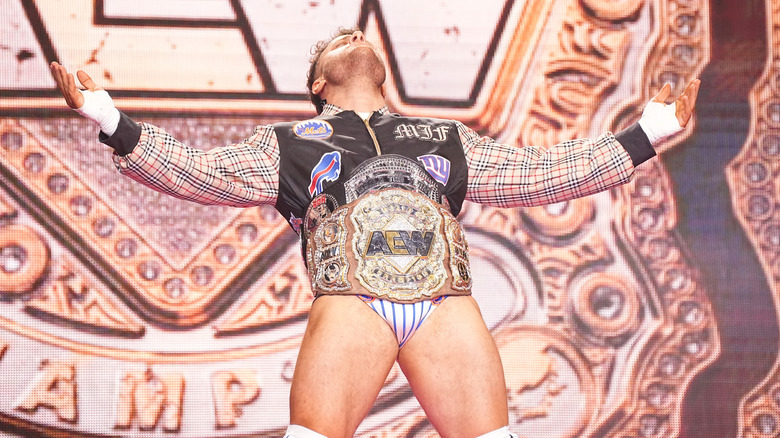 AEW
It's a little ironic that of every match at Full Gear, the one that comes by far the closest to being a unanimous pick is the one with the highest number of mysterious elements in play. The champion, MJF, is also wrestling on the pre-show alongside a mystery partner in a match that could have any number of final outcomes. The only guarantee is that he comes into the world title match decidedly less than fresh and well-rested. His challenger, Jay White, who happens to have possession of the championship belt, also has a stable of literal hired guns, Bullet Club Gold, while MJF's few friends are either injured in real life (Adam Cole) or injured in kayfabe (The Acclaimed). And of course, there's the matter of the people who injured The Acclaimed, the mysterious masked individuals under the apparent leadership of an ominous figure who seems to have stolen MJF's Devil mask.
You would think that the sheer number of variables here creates the optimum conditions for MJF to drop the title, which he has now held for a full year, without losing any of his winning momentum. Maybe he gets hurt in the pre-show match, or in a post-match attack. Maybe Bullet Club Gold interferes. Maybe the masked assailants interfere. Maybe the Devil reveals himself to be a shockingly returned CM Punk. There are any number of potential excuses. And yet, 94.7% of the WINC staff believe MJF is re-gaining the BBB, with just one vote going to Jay White (and yes, it's the same person who voted for La Facción Ingobernable).Whether it's because White has been a little too dominant on "Dynamite" in recent weeks, or because we can't think of any previous instances of somebody stealing a title belt and then winning the title match and keeping it, or just because we're not ready for MJF's inspired reign to end — we don't see it happening at Full Gear, no matter what other crazy nonsense goes down. Somehow, someway, we believe MJF survives to fight another day. Long live Our Scumbag!
Written by Miles Schneiderman
---
Stay tuned to Wrestling Inc. all weekend for all your AEW Full Gear news, including live coverage of the event.