WWE SummerSlam 2023: Predictions For The Biggest Party Of The Summer - Wrestling Inc. Staff Picks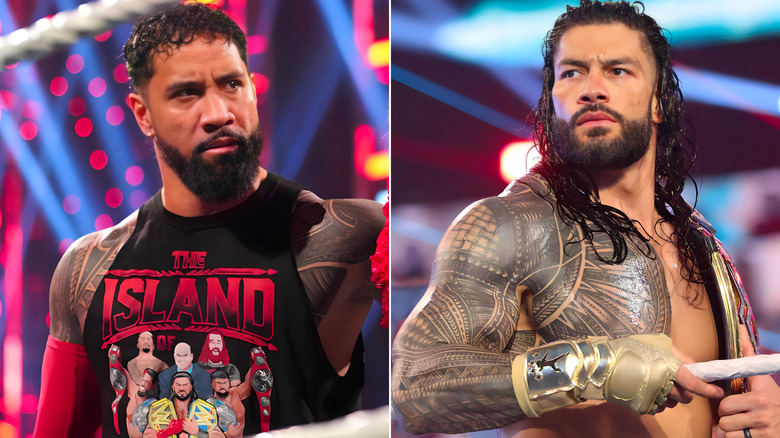 WWE
The biggest party of the summer is almost here. WWE SummerSlam 2023 kicks off Saturday night, with what appears to be (somewhat controversially) an eight-match card and four championships on the line. The city of Detroit is in full WWE mode, complete with a SummerSlam 2023 pop-up shop (photos, anyone?) Questions abound: Is this where WWE starts the widely-desired LA Knight push? Will Ronda Rousey's match against Shayna Baszler be her last? Will either Damian Priest or IYO SKY cash in their Money in the Bank contracts? And is WWE finally ready to end the 1000-day dominion of Roman Reigns?
As people who follow professional wrestling far too closely for our own good, the writers and editors of Wrestling Inc. have our own opinions on what will go down Saturday night, and we've compiled them in the following list of official predictions, choosing our expected winners for each SummerSlam contest by majority vote and, in some cases, asking the dissenters to write up the results. Judge for yourself how that went for us.
Slim Jim's WWE SummerSlam Battle Royal
WWE
Last week, WWE introduced a new addition to this year's SummerSlam card — the first-ever SummerSlam Battle Royal. So far, the battle royal, which is presented by Slim Jim, has six entrants confirmed. While the rest of the field has yet to be announced, Wrestling Inc. staff already has a clear vision of who the winner will be.
According to a survey posed to Wrestling Inc. staff, 87.5 percent of voters believe LA Knight will emerge victorious in the inaugural SummerSlam Battle Royal and beat the likes of Sheamus, Chad Gable, Otis, and Shinsuke Nakamura. Knight, of course, has been steadily rebuilding his stock since dropping his gimmick as Max Dupri last year. Despite his back-and-forth booking, Knight continues to elicit roaring ovations from the WWE Universe, both in televised and non-televised settings. Knight has also produced impressive numbers in the merchandise department as well.
Due to Knight's growing popularity with fans and backstage officials, a recent report suggested that Knight is currently in line for a tentative push. While the timing of that push is unknown, WWE officials may be inclined to finally give Knight a boost at "The Biggest Party of the Summer." Should they wait too long, though, many pundits fear that Knight's steam may wear off and by then, an on-screen push may produce adverse results. With this possibility in mind, the vast majority of Wrestling Inc. staff are confident that WWE will strike while the iron is still hot and crown LA Knight as the winner of the first-ever SummerSlam battle royal.
Before Knight potentially makes history at SummerSlam though, he will go one-on-one with Sheamus on Friday's episode of "WWE SmackDown."
Wrestling Inc. Staff Pick: LA Knight (87.5%)
Logan Paul vs. Ricochet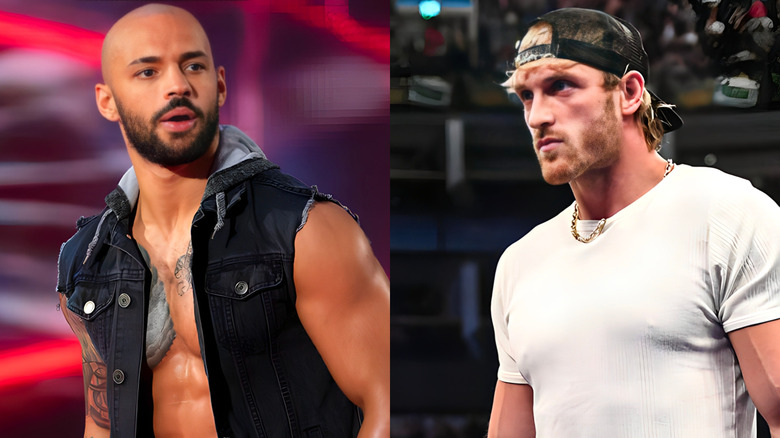 WWE
Only six matches into his professional wrestling career, it's clear that Logan Paul belongs. The YouTuber turned professional boxer turned sports drink entrepreneur is proving to be a natural in the world of WWE, wearing a devilish smirk and exhibiting seemingly effortless charisma as he needles crowds and rivals alike.
But despite his prodigious growth as a performer, one can't help but notice that it's been a while since Paul won a match. His last victory was just over a year ago when he beat The Miz at SummerSlam. Since then, Paul lost a title match to Undisputed WWE Universal Champion Roman Reigns at Crown Jewel last November; lost to Seth Rollins at WrestleMania; and came up short in the men's Royal Rumble and Money in the Bank ladder matches.
Well, 69% of Wrestling Inc. staff agree that Paul is overdue for a win, and expect him to get one at the expense of Ricochet when they collide Saturday night at SummerSlam. For Ricochet, Saturday night's match against Paul is a rare opportunity to seize the spotlight. It is his first singles match at a major WWE main roster event since he was steamrolled by Brock Lesnar in a WWE Championship match at Super ShowDown in February 2020.
This match is dripping with the potential for eye-popping athleticism, and if Ricochet can deliver he may solidify a more high-profile position for himself on the WWE roster.
Wrestling Inc. Staff Pick: Logan Paul (69%)
Ronda Rousey vs Shayna Baszler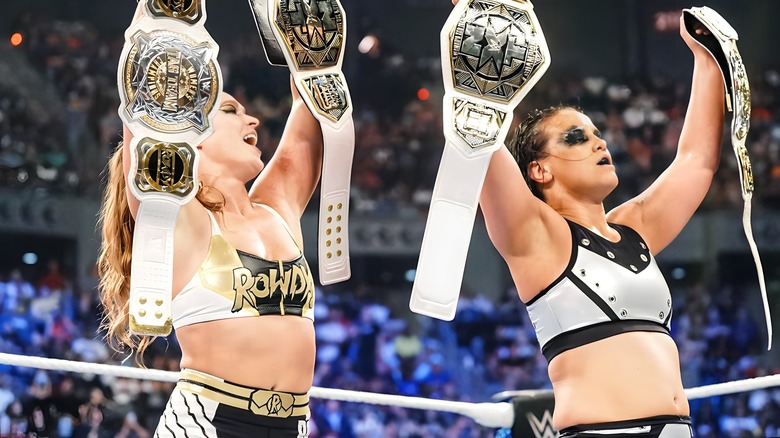 WWE
Shayna Baszler is the favorite to win against her "former friend" and tag team partner Ronda Rousey on Saturday, August 5 at the WWE Premium Live Event, SummerSlam. Eighty-one percent of the Wrestling Inc. staff have picked Baszler over Rousey winning the MMA Rules match. It's safe to say that the chance of Baszler winning is higher due to reports about how Rousey will soon be taking a hiatus from WWE.
The bitter on-screen feud between the two started last month at Money in the Bank. While Baszler and Rousey were defending the WWE Tag Team Titles against Liv Morgan and Raquel Rodriguez, Baszler turned on her partner and attacked her, resulting in Rousey getting pinned and them losing the women's tag team titles.
Baszler gave her reason behind the attack on the"Raw" episode after Money in the Bank. "The Queen of Spades" felt that she had to "claw" her way to get to where she is now, while Rousey was handed everything. Two weeks later, on the July 17 episode of "Raw," Rousey challenged Baszler to a match at SummerSlam.
Wrestling Inc. Staff Pick: Shayna Baszler (81%)
Cody Rhodes vs Brock Lesnar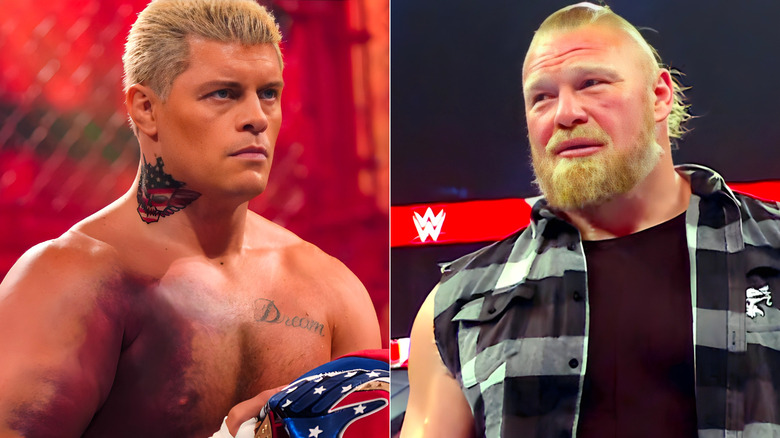 WWE
An overwhelming majority of Wrestling Inc. folks — 87.5%, that is — believe that Cody Rhodes will defeat Brock Lesnar in their third (and perhaps final) match this year. Their rivalry dates back to April 3, the "WWE Raw" after WrestleMania 39, when Lesnar decided it was in his best interest to attack Rhodes instead of actually team up with him.
From there, the two met in the main event of WWE Backlash where Rhodes more or less "stole" the pinfall victory by escaping the Kimura Lock. He didn't fair as well during their second encounter at WWE Night of Champions that same month. By that point, "The Beast" had already broken the arm of "The American Nightmare," making his arm an even easier target for the Kimura Lock. Lesnar would even the score via submission.
With SummerSlam 2023 being billed as the dramatic rubber match with no other stipulation, it only makes sense for Rhodes to win. There's no doubt he will be continuing his quest for a world championship, and another loss here to Lesnar will not serve any other purpose than to give Lesnar an unnecessary win.
While this feud has arguably lacked logic since its start, it needs to end with something of a logical finish. However that may play out, Rhodes needs to beat Lesnar one more time in Detroit.
Wrestling Inc. Staff Pick: Cody Rhodes (87.5%)
WWE Intercontinental Championship: Gunther (c) vs Drew McIntyre
WWE
GUNTHER's dominant reign has brought plenty of prestige back to the WWE Intercontinental Championship. No matter what happens at SummerSlam 2023, he's already carved his name in the history books as one of the title's most successful holders. That being said, the majority of the Austrian's opponents haven't been presented as believable threats, which is why this bout is so intriguing.
GUNTHER has overcome the might of Drew McIntyre in the past, but that was before the Scotsman returned with a new sense of urgency. This will be McIntyre's first tentpole PLE match since he came back from his recent hiatus, and WWE's creative team might want to keep his momentum going. Furthermore, as a former two-time WWE Champion, he has enough credibility to end GUNTHER's historic title run. Outside of Roman Reigns, Brock Lesnar, and Cody Rhodes, does anyone have more of a main-event aura than McIntyre at the moment?
However, the reason why we've picked GUNTHER is two-fold. Firstly, he's well on his way to becoming the longest-reigning I.C. Champion in history, having held the title for almost 420 days at the time of this writing. As it stands, he's within walking distance of eclipsing The Honky Tonk Man's all-time record, which stands at 454 days. Secondly, some fans and pundits are speculating that McIntyre will turn heel in the very near future, and a loss against GUNTHER could be the spark that lights the fuse. If the rumors are true, the turn will give him a new lease of creative energy, so he can afford to eat a pin at SummerSlam.
This match is a tough one to call. However, 69 percent of the Wrestling Inc. staff predicts that GUNTHER will walk out of Ford Field with the gold still around his waist.
Wrestling Inc. Staff Pick: GUNTHER (69%)
World Heavyweight Championship: Seth 'Freakin' Rollins vs Finn Bálor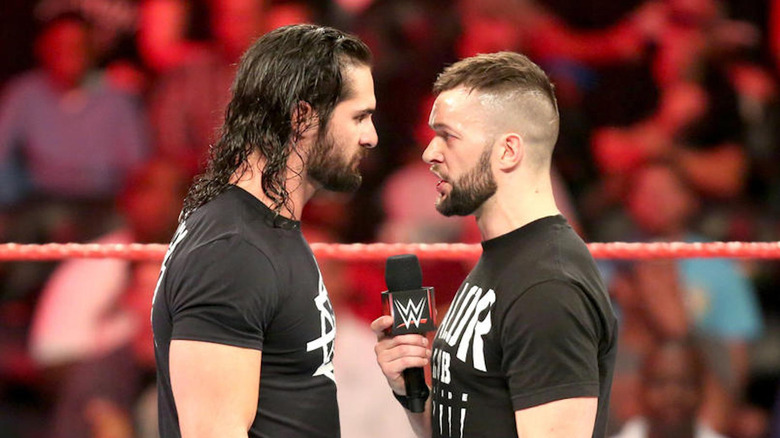 WWE
The saga of Seth "Freakin" Rollins and Finn Balor continues at SummerSlam with these two combatants meeting over a world title for the fourth time since 2016. Balor has just one televised singles win over Rollins since defeating him to become the inaugural WWE Universal Champion, so why – as our poll results indicate – might this time be different?
With 62.5% of the Wrestling Inc. staff giving the edge to Balor, maybe the collective thought is simply that the man is due. After all, what other reason would there be to prolong this feud long enough for Balor to have his third shot at Rollins with the World Heavyweight Championship in sight since the tournament semifinals in May?
Of course, The Judgment Day looms large as well. Balor's faction has been the predominant thread through episodes of "WWE Raw" for quite some time now. Dominik Mysterio's heat continues to reach new heights, especially since becoming NXT North American Champion, while Women's World Champion Rhea Ripley runs roughshod through the women's division alongside him. As a group, their steam doesn't appear to be subsiding anytime soon – and more gold would only add to their allure.
It's the specter of "Señor Money In the Bank" Damian Priest, though, that casts the largest shadow over this match, both for Rollins and for Balor. Priest's ability to cash in anytime will serve as a major distraction for the champion, even in a successful defense, as he'll surely make his presence known at ringside. But does a win here for Balor instantly reignite the oft-teased intra-Judgment Day feud between him and Priest?
A win over Rollins after all this time would be enormous for Balor, but it could also mean another very short-lived championship reign with his comrade Priest waiting in the wings.
Wrestling Inc. Staff Pick: Finn Balor (62.5%)
WWE Women's Championship: Asuka (c) vs Charlotte Flair vs Bianca Belair [Triple Threat Match]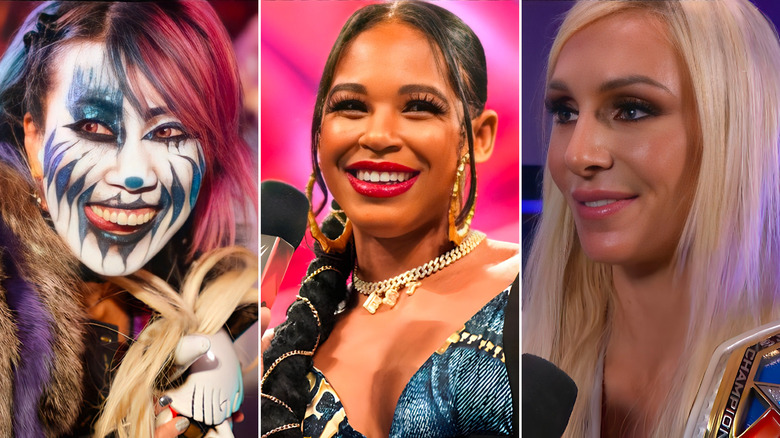 WWE
The only title match for the women's division on the SummerSlam card will see Asuka putting her WWE Women's Championship on the line against Bianca Belair and Charlotte Flair in a triple-threat match. All three women have major credentials when it comes to being a champion in the company, and that is one of the reasons why the Wrestling Inc. team is split on who they think will leave Detroit as champion.
The voting result is currently split between Asuka and Flair, who each got 44% of the vote. Even though Bianca Belair is the longest reigning women's champion of the modern era, she isn't someone that the team believes will walk away with the title in this match. Belair has been showcasing more edge to her personality since she lost the title back at WWE Night Of Champions earlier this year, but her desperation to regain the gold could be her downfall.
The "EST Of WWE" has been hoping for a singles match against Asuka, but Flair's return threw a spanner in the works for that plan. Of course, any time that Flair is involved in a title match she is a potential threat due to WWE's tendency to make her a champion. However, Asuka has been dominant since claiming the title with her aggressive in-ring style being mixed in with her ability to pull out all the stops to retain it with her mist.
However, it is also worth noting that there is a chance none of these ladies will be holding the WWE Women's Championship when SummerSlam is said and done. That's because IYO SKY is looming in the shadows with her Money In The Bank briefcase.
Wrestling Inc. Staff Pick: Split between Asuka & Charlotte Flair (44%)
Undisputed WWE Universal Championship: Roman Reigns (c) vs Jey Uso [Tribal Combat]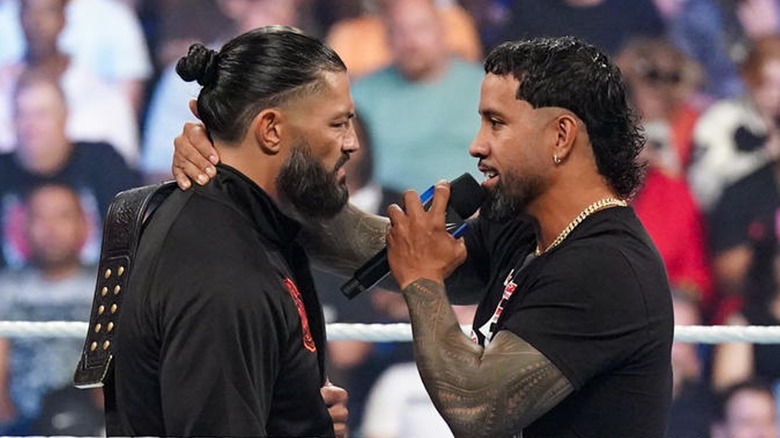 WWE
Almost three years on from their iconic "I Quit" Hell in a Cell match during the pandemic, the story between Roman Reigns and Jey Uso will finally conclude in front of a huge crowd In Detroit, Michigan. The rise of The Bloodline led to an almighty fall, with Jey and his twin brother Jimmy ultimately turning their backs on the Tribal Chief in dramatic fashion, leading to Reigns being pinned for the first time since 2019 in a tag team bout at WWE Money in the Bank. This time around, Jey will challenge his cousin for all the marbles, with both the Undisputed WWE Universal Title and the leadership of the family on the line at Ford Field.
According to a staff poll here at Wrestling Inc, Roman Reigns is expected to come out of SummerSlam with the victory and finish his rivalry with Jey Uso, earning 75% of the vote. While the fans will undoubtedly be behind the legendary tag team wrestler and praying for an upset, Reigns has had a stranglehold on the championship for over 1,000 days and there's little chance his reign will end at SummerSlam, with a likely rematch against WrestleMania 39 opponent Cody Rhodes expected down the line.
Wrestling Inc. Staff Pick: Roman Reigns (75%)